Casey Brewing & Blending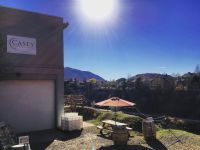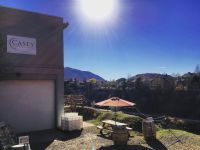 Brewery, Bar
3421 Grand Ave
Glenwood Springs
,
Colorado
, 81601
United States
(970) 230-9691 |
map
caseybrewing.com
Notes: Beers are brewed at / by another brewery.
GRG1313 from California
4.58
/5
rDev
+0.2%
vibe: 4.5 | quality: 4.75 | service: 4.75 | selection: 4.25
Small, very out of the way quality brewery. Limited selection; must have a ticket to tour and taste. Exclusive for a reason. They don't want to disappoint. Very high quality.
Jul 30, 2019
Oconomowocian from Wisconsin
4.83
/5
rDev
+5.7%
vibe: 4.75 | quality: 5 | service: 5 | selection: 4.5
Ended up there on a Friday for the 11 AM tour... and I was the only one. Jon was super cool about it, turns out his wife is from a towns over from me. Great tour, really makes you appreciate all of the work that goes into their beer. Probably learned the most on this tour than any I had been on. Great beers, and ended up sitting in the sun overlooking the river on a beautiful day enjoying a beer with a new friend.
May 06, 2018

MFMB from Idaho
4.4
/5
rDev
-3.7%
vibe: 4.25 | quality: 4.5 | service: 4.25 | selection: 4.5
Nice quaint little place. Hard to find tho, drive right bye and wonder where it was if you're not paying attention. Like that they made it more of a personal experience with a tour and tasting in a small group setting. Excellent selection of sours for onsite consumption as well as bottles to go.
Sep 14, 2017

manbearpack from Texas
4.83
/5
rDev
+5.7%
vibe: 4.75 | quality: 5 | service: 5 | selection: 4.5
I had always wanted to visit Casey and try some of their amazing sours, when I found myself within a few hours of them I had to make the drive. I arrived a little early for the tour/tasting and was immediately greet by Chris who was welcoming and extremely informative throughout the visit. We got to try a few different beers and got a tour of the facilities. The real treat is the on site bottles available for purchase. Even thought I was alone I was still able to try many different brews since many people end up sharing pours of the bottles they purchase, I was sure to do the same when I bought a bottle. To top it off they always have a great list of bottles to go, I left with a case of Casey and some swag, looking forward to getting there again to try more beers. I love the idea of having small group tours/tastings opposed to lining up for releases.
Aug 04, 2017
BradfordStuckey from Utah
4.51
/5
rDev
-1.3%
vibe: 4 | quality: 4.5 | service: 5 | selection: 4.25
This last weekend a friend and I visited this gem in Glenwood Springs. The tours are $20 and only allow 20 people per session available on BPT. Casey is located in a small town outside of Aspen known for its natural hot springs in the area. This was my second time visiting from Salt Lake City(about a six hour drive). The tour is very informative given by a local guy who is one of the only full time employees at Casey. The inside of the place is awesome with barrels everywhere essentially aging the product all around you. The tour guide's name is John and he welcomes questions and seems genuinely excited about what he does. Three 6 ounce tasters are given during the tour with a special 3 ounce pour of their collaboration with Side Project, Jammy(SP version), given at the end of the tour. You are then able to stay and enjoy bottles on premise if you choose which are often shared with other guests at the bar. Take home bottles are given a limit depending on the quantity available. I recommend any lover of sours to travel to this great place to try some excellent sour beers.
Feb 01, 2017
StoutSnob40 from California
4.93
/5
rDev
+7.9%
vibe: 5 | quality: 5 | service: 5 | selection: 4.75
Visited on 8/11.
Casey is an amazing place. Anyone who thinks sharing one of the most sought-after breweries in the country with 20 people obviously hasn't been to many good breweries. And it's 20. Not 30. The only sell 20 tickets per session. There are more than 20 people at shitty breweries..
You get 3 (yes, 3. Not 2) large tasters (about 8 ounces), and the tour was about 20 minutes. When you're not on the tour, you sit around a bar, and the server explains the beers, how they are made, and was incredibly knowledgeable and accommodating. After the 2 hours was up, we purchased bottles and drank them peacefully out on the patio, overlooking the river. I would pay the $20 ticket again ANY TIME. One of the best brewery experiences I've ever had, and everyone in my session agreed. Don't only visit Casey, go out of your way to visit them.
Sep 01, 2016

LCC from Massachusetts
1.69
/5
rDev
-63%
vibe: 1 | quality: 1 | service: 1 | selection: 3.5
The Casey "tour" is not a tour. And it is not intimate. There were at least 20, closer to 30 people on our visit. The tour consists of two small pours, they walk you to the back where, on that day, two guys were bottling stuff, then they walk you back up front for one more tour.
The romantic explanation they give for switching to the tour on their FB page is utter BS. They're just charging you to buy their beer (two-part tariffs as they're known). It's a pretty lousy experience.
Above and beyond that, it wasn't that fun. The "tour guide" didn't seem to know much other than his own subjective opinion of the beers. He didn't have a spiel or planned talk. And we didn't realize the place closed promptly two hours after the "tour" started. There was no heads up, no last call. We didn't get to try the one bottle we were saving for the end. We got booted.
This place really, really sucks. I talked a lot of friends who aren't that into beer to go way out of the way to meet me there. I felt really stupid.
Don't go here.
Aug 31, 2016

spoony from Colorado
4.5
/5
rDev
-1.5%
vibe: 4.5 | quality: 4.5 | service: 4.75 | selection: 4.25
A-Casey is located downstairs in an industrial building that offers very little charm. But the "patio" overlooking the river more than makes up for the harsh interior of concrete and metal walls. What a great place to hang out on a sunny day! The first visit was a mellow affair in December, but subsequent visits have been more lively with more and more beer nerds crowding into the industrial space and small dirt outdoor area.
Ser-Troy (who has worked every release that I have been to) and his staff are always friendly and prompt to answer questions. Sometimes the line can get long, but the crew is alway busting their asses to get things done. They also know their beers and pour them in nice tulip glassware.
Sel-It is hard to score the selection since Casey only offers a few beers on each release, and all are sour or wild. But sour/wild beers are what Casey does, so do not come here expecting a standard lineup of stouts, IPAs, blond ales, etc.
Q-The beers here are some of the best of the style you will find. There are beers that I have liked more than others, but I have not had a "bad" beer yet and I doubt you will be disappointed.
V-Value is, of course, relative and Casey beers are pretty expensive. That being said, Casey compares well price-wise against other beers with similar style and reputation, e.g., Cascade.
O-The whole experience is pretty unique and well worth the higher price of admission.
May 10, 2016

ONovoMexicano from New Mexico
4.52
/5
rDev
-1.1%
vibe: 5 | quality: 5 | service: 4 | selection: 4.25
A very cool spot to visit.
They're only open once a month but that adds to the allure. They have ticketed releases which will attract lots of folks picking up allotments, but even without a ticket, it's worth it to come for the scenery (the brewery is in a narrow valley with mountains on both sides and abuts a river), bottle pours of super beers (no tap pours as of yet), and to meet the brewer and his fam who are all good people.
Mar 14, 2016
Casey Brewing & Blending in Glenwood Springs, CO
Brewery rating:
4.35
out of
5
with
4459
ratings