Oggi's Pizza & Brewing Co.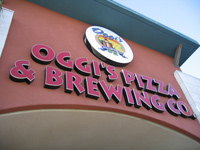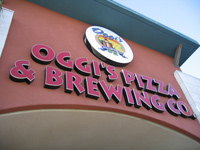 Brewery, Bar, Eatery
425 S. Melrose Drive
Vista
,
California
, 92083
United States
// CLOSED //
Notes:
Reviews by Oxymoron:

Oxymoron from Colorado
3.58
/5
rDev
-7%
vibe: 4 | quality: 4 | service: 3.5 | selection: 3 | food: 3.5
Went to Oggi's while visiting Legoland with my nephew and fam. Easy enough to find for a tourist, located off a busy street near a strip mall. Once inside there seems to be 3 distinct areas. There is a quite sitting area, a full bar in front of the brew room, and another sitting area with 6 bit tvs and a bunch of little tvs through out plus a few video games. We sat at the tv area. Some sports memorabilia lined the walls including one of John Elway (whoo hoo).
The service was friendly but not really knowledgeable. We ordered appetizers, nachos, but mostly drank through the night but the food was typical bar food. The place overall was pretty light but being a Thursday evening it was understandable. The price was pretty a bit high I thought but not over the top.
They had 8 regulars beers, but one was out, and 2 seasonal. Mostly American beers, Pale, Amber, IPA & Cream, but some randoms as well, Hefe & Scottish. The two seasonal were a California Common and a Double IPA. Nothing was over the top but all the beers were above average. I enjoyed the DIPA but it tasted young with some phenolics. For their regulars, my wife and I really enjoyed the Hefe (Sweet Spot Hefe).
Overall this really felt like a chain (Rock Bottom etc). Not that that is a bad thing, it's just is not unique.
Mar 17, 2008
More User Reviews:
John_M from Oregon
3.3
/5
rDev
-14.3%
vibe: 3 | quality: 3 | service: 4 | selection: 3 | food: 3.5
I gather this was once a very good place to get good beer and decent food. Alas, it clearly is not any more.
Oggi's in Vista is located in a strip mall just off of S. Melrose. The place just exudes a chain vibe, reminding me very much of Chili's, but with a lot of TV's (all turned to various sports programs, naturally). Quality here isn't horrible, but for San Diego, it's way beyond disappointing. They have on tap the standard 6 or 7 Oggi house beers, none of which are anything to write home about. I gather they typically have some sort of seasonal as well, which this day was the grasshopper ale, a dry hopped amber. Just the description of this beer sounded so lame, I didn't want to even try a sampler of it. I ended up getting a glass of the Torres Pines IPA. I had asked about getting a glass of hop juice, but was told they don't ever have that beer available at this location. As for the Torres Pines, I had this beer back in Philly and it was pretty good. However, it tasted like a mass produced IPA at Oggi's, and I can't say I was impressed. As for food, I ended up getting a small order of the wings. They were fine, but again, were nothing to get excited about.
If this place were located some place in Alabama or Mississippi, then maybe it would be tolerable. However, given it's proximity to Pizza Port and Stone, this place is a complete joke. While not wretched, given the other options in the area, I can't imagine any reason why I would ever go back to this place. What a disappointment.
Dec 20, 2008
spazaru from California
4.15
/5
rDev
+7.8%
vibe: 4 | quality: 4.5 | service: 4 | selection: 4 | food: 4
Oggi's is a weird deal. Some locations (like Encinitas) that don't have onsite brewing are very underwhelming. Thankfully, the Vista location brews in-house and usually has really interesting specialty brews, and though they charge more for these, it's usually worth it.
Service can vary, and the food is only average, but when they have their best specialties (Witch Doctor Imperial Stout especially), these guys brew some of the best beer around.
Pizza Port gets all the hype in North County San Diego, but I think many of their beers are overrated. Oggi's Stinger Double IPA and the aforementioned Witch Doctor, in my opinion have no equals at Pizza Port.
In kind of a weird location, but worth searching out, if you're near Vista. Good if you're a baseball fan like me also. They usually have 7 or 8 games going during the season.
UPDATE 6/19/07: Went back to Oggi's Vista on a real mellow Saturday night (waitress blamed it on the Del Mar fair). It was nice that it wasn't crowded. The service seems to have gotten friendlier in here and the Bourbon Barrel Stout was awesome. Not sure who took Jeff Bagby's place when he went to Pizza Port Carlsbad, but whoever it is, they are still churning out good specialty beers. Definitely worth a trip.
Jun 19, 2007
tonistruth from Nevada
3.65
/5
rDev
-5.2%
vibe: 3 | quality: 4 | service: 3.5 | selection: 3.5 | food: 4
Came in on a friday evening and it was decently crowded with older families and some younger couples. Might not of seemed so crowded but seating was no in great quanity. TV's everywhere, well lit like a resturaunt as opposed to bar. Simple Amercian sports bar decor. Seems they are quiet bout themselves being a brewing company as well.
Only complaint on quality was the chilled glass my brew came in, though it seemed not to affect the taste, still i dont wanna run the risk. Other than that they had some solid brews, above average food, and clean place.
Our waiter was easy going and had a laughable personality, he made some jokes. Good start, lacking on the refills end though and worse, he didnt even ask if i wanted a full glass of any one of the samples. But order was correct, and if we asked, we got.
Sampler came with only the seven hosue brews, i dont know if there wasn't a seasonal on tap or not, server didnt mention. I looked over to the bar and i counted 8 taps. So who knows. Dont know if any guest beers were in the house.
Food was above average, nothing mind blowing but better than your national chain pizza places.
All and all if you've been to an Oggi's before you dont have to bother, if you haven't, give it a go.
Apr 01, 2007
TheLongBeachBum from California
4
/5
rDev
+3.9%
vibe: 4 | quality: 4 | service: 4 | selection: 4 | food: 4
Stop #3 for the BA Pimpmobile Bus after the Stone 10th Anniversary Session 'A' party.
Not that far from the 78, this is an easy stop if you're visiting the new Stone Brewery, or even the old one in its new guise as Port Brewing, or even for that matter, if you're heading to Carlsbad for one of the Pizza Port annual Beer Festivals.
I had never been here before, despite visiting all the aforementioned locations many times. So dropping by here thanks to the BA Pimpmobile Bus after the Stone 10th Anniversary Session 'A' party was a welcome opportunity.
Despite some wrong turns and a few U-turns and reversing maneuvers, our Bus finally made it here. A scorching hot day had the sun shining off the exterior as we pulled up right outside, after being in the darkened interior of the Back Street Brewing and then Bus itself, the interior of Oggi's was bright, light and airy.
The inside does little to comfort, sets of booths and an open area tables and chairs are regimentally formed. Lots of flat panels all over the place display the latest Sports games. The main bar area lies off to the right as you enter and I decided to hang out at the bar with fellow BA BeerPatriot and wind him up regarding the American "Foot"ball being shown on the Flat Panels.
Beer range consisted of six regular brews, IPA, Stout, Golden, Amber, Scottish and Pale with Three Specials to bolster these normal brews. Something for everyone here and it seems like the Oggi's in Vista suffers from a special touch that results in many specials on sale at any one time.
Food is nothing more or less than you would find at other Oggis', and it's a fair range with quality for money pub grub standing proud but it seems devoid of anything appealing or unique, though I know many Americans like the conformity of sameness when it comes to food. Though BeerPatriots food looked great and the Onions that I stole from his Burger were delicious.
A quick stop here, but nonetheless the Oggi's at Vista had enough time to reveal that whilst it plays on the corporate look of other Oggi's, its own strengths lie firmly with the beers offered. Well worth a stop, the Bus tour has whet my appetite and I will be back again to spend some more quality time here for sure.
Last Visit: Saturday 9th September, 2006
Sep 18, 2006
ChappyCubsFan from California
4.28
/5
rDev
+11.2%
vibe: 4 | quality: 4 | service: 4.5 | selection: 4.5
I've been critical of Oggi's in Temecula. I've been there twice and did not care for any of their beers. But I had heard that Jeff Bagby brewed for Oggi's in Vista, and having tried his beers at the San Diego ale festivals over the past several years, I knew Oggi's had to have something better than what I experienced in Temecula. Boy, what a difference. The Vista brewpub is only about 1/4 mile from highway 76 that connects Carlsbad with San Marcos. It's a perfect stop when touring Stone and Pizza Port Carlsbad. We tried the Ding Ding Double, which was truly excellent. The local crowd was well informed about the microbrew scene, and the bartender knew a lot about their beers, which you don't always see. Oggi's Vista will now become a regular stop when making the trip to Carlsbad.
Mar 12, 2005
Boilermaker88 from California
3.78
/5
rDev
-1.8%
vibe: 3.5 | quality: 4 | service: 4 | selection: 3.5 | food: 3.5
Stopped in here to meet up with the SoCal BA crew and special guests for a pre-fest meal and pint or two prior to rolling out for the Strong Ale Fest. If you're travelling south on Melrose Ave, Oggi's can be a bit tough to see as the front of the building also faces south and there's no sign out front.
The layout has the restaurant divided into two sections, with the bar in between. This Oggi's has the sportsbar motif with multiple TV's around the bar area and back eating area and a lot of pictures and posters mounted on the wall, mostly dealing with boxing.
The menu listed a half dozen beers that are the standard for the restaurant. Apparently, others are available if you consult the waitress or wander up to the bar yourself to ask. The Torrey Pines IPA I had was pretty decent. The food on the menu was varied - pastas, seafood, burgers, etc - and they had lunch and dinner specials. The food was plentiful and decent, if not great. However, their pizza oven was down so pizzas were not availble. The service was prompt, courteous, and willing to put up with a slowly increasing number of bodies that filled up the booth and started lining up a couple tables to meet the demand.
Overall, Oggi's in Vista is a pretty good spot to go take in a game while enjoying some good grub and brews. Worth the stop if you're in the San Diego North County area.
Dec 06, 2004
IceAce from California
4.03
/5
rDev
+4.7%
vibe: 3.5 | quality: 4 | service: 4 | selection: 4.5 | food: 3.5
Staff was helpful and knowlegable about their products.
Draught Selection (12.3.2004):
California Gold (4.5% ABV)
Sweet Spot Hefe (5.2% ABV)
Paradise Pale Ale (4.8% ABV)
McGarvey's Scottish Ale (5.0% ABV)
Sunset Amber (5.4% ABV)
Torrey Pines IPA (6.8% ABV)
Black Magis Stout (7.0%)
Seasonal Draught:
Stinger Double IPA (9.3% ABV)
Caber Tossed Double Red
Hop WhompusSunrise
Goodtimes Barleywine
The food selection is ok...traditional Pizza offerings with California Cuisine.
The atmosphere was fine, with most of the action at the bar .
Dec 04, 2004
Oggi's Pizza & Brewing Co. in Vista, CA
Brewery rating:
3.98
out of
5
with
0
ratings