Oggi's Pizza & Brewing Co.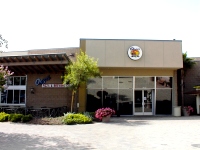 PLACE INFO
Type:
Brewery, Eatery
2300 N. Tustin Ave. (Mall Of Orange)
Orange
,
California
, 92865
United States
|
map
oggis.com
Notes:
No notes at this time.
Added by xlperro
Reviews: 12 | Ratings: 19
3.68
/5
rDev
+4.2%
vibe: 2.5 | quality: 4 | service: 3.5 | selection: 4 | food: 3.5
Update 5/3/10: 32 beers are on-tap as of now, compared to the dozen or so taps before the expansion. Along with Oggi's beers, there are beers like Delirium, Racer 5, Green Flash Imperial IPA, and Salvator being poured. The food is generally good, though I'm not the hugest fan of their pizza.
I finally remembered to give this place a look on my lunch break from work; it's the closest brewpub to my house. Located on the north side of The Village, Oggi's offers eight housebrews, good food, lots of sports memorabilia, and plenty of televisions.
I walked in just before three o'clock, which is when the happy hour specials start. $2.50 pints are offered during that time, so I had to wait a little bit until three to ge that price. Despite the offer, the place was very empty with music playing in te background. But I came here for food and beer, not some rockshow, and the former didn't let me down. Pizza, pastas, salads, and sandwiches make up most of the menu, and I ordered a "Phily Billy" Cheesesteak. To compliment the food, I requested their pale ale. What a fine lunch!
1,084 characters

3.64
/5
rDev
+3.1%
vibe: 3.5 | quality: 3.5 | service: 4 | selection: 3.5
In the interest of clarity, completeness, and other important stuff, this location is in The Mall of Orange AND it was on the Wal-Mart side at the intersection of Meats and Tustin Aves. Preciseness is so important to we beer travelers as time can be a precious commodity.
Another clarification, thanks to my brother - it is pronounced Oh, Jeez! vice Ah, Gheez! He may have been the only person ever to have made that mistake, but why allow others to potentially repeat it?
The entry was on the mall side, vice the parking lot side (another important time-saving distinction) and the m.d.s. was just inside the door. Straight ahead were a sea of booths and high tables and chairs, but to the left and headed aft was the snaking, laminate-topped bar with lots of monitors in the overhead. It was a sports bar with good beer, as others have said, so if that does not bother you, you will dig it. I dug the exposed ducting which gave it a semi-industrial feel.
Beer: My late uncle took us to the one in Mission Valley back in 2002 because he liked it so much. California Gold (4.5); Sweet Spot Hefeweizen (5.2); Paradise Pale Ale (4.8); McGarvey's Scottish Ale (5.0); Sunset Amber Ale (5.4); Torrey Pines IPA (6.8); and Black Magic Stout (7.0), mixed with Hop Juice (9.4). The latter uses hops extract, pellets and flowers but is only available seasonally and not on the occasion of my visit. Try, try again.
1,407 characters
3.36
/5
rDev
-4.8%
vibe: 3.5 | quality: 3.5 | service: 3 | selection: 3.5
A gorgeous sunny day and a trip to Hollingshead Deli was in order to pick up a Growler or two of the excellent Pliny the Younger. After meeting fellow BA's Swillinbrew and OCBrewFish and sampling a few brews, it was decided to head out for a break to the relatively nearby Oggi's in Orange County for a few Brewpub bevvies with fellow BennyPil who met us there.
Situated in the 'Mall of Orange', just look for the Wal-Mart and it sits to left of that, and in front of Cost Plus World Market that also sells a few good bottles if you fancy some beer shopping at the same time.
Exterior has a rather drab pale brick appearance, but it is inviting enough, broken as it is with large windows allowing a glimpse of the Brewery on premises. The small galvanized sheet steel silo and fenced off outside seating area with angled roof for protection from the blazing sun add a little something to differentiate it from all the other nearby utilitarian looking retail outlets.
The interior is broken into two main areas; the front portion near the rather strangely shaped dog-legged bar has lots of high seats and stools. Behind this and in the entranceway there are many tables & chairs, neatly laid out to fill up as much space as possible. It looks a little cramped and the awkward shape of the bar also creates a bottle-neck at the front. Behind the bar the fermenters are hidden but partially visible behind a wall that has some windows, it is easier to see the copper clad Mash Tun from the outside it seems. A large wood panel runs all around the top of the wall near the ceiling. Into this 31 TV's, all of the same shape and manufacturers model, are set into it at equidistant intervals. It's quite eerie in a way when lots of different sporting channels are playing and just sitting and watching some of the punters gazing up into space, worshipping the tube of their choice, it has a Fritz Lang feel to it at times.
Beer range is pretty solid, and of course the quality at Oggi's is dependable, but it tends to be highlighted by the odd rotating special. Sunset Amber, Black Magic Stout, Sweet Spot Hefe, McGarvey's Scottish Ale, California Gold, Paradise Pale Ale and Torrey Pines IPA. I had the latter, a lovely IPA that drinks well, very West Coast in character. Often has the Hop Juice too but sadly not during my visit.
I didn't have any food but BennyPil's Burger and Fries looked like staple Sports Bar fare, as in fact did the rest of the Menu; namely Appetizers (Wings anyone?), Salads, Pastas, Pizzas and Burgers.
Reasonable service but it was early in the afternoon and not too busy. Overall, nice enough and a solid little BrewPub, but heavy on the Sports Bar theme and a little cramped, it looks like it could get full of those awfully annoying nearby shoppers that shout and scream at TV's and bring their bored & restless kids with them. Of course, if the Left Coast Hop Juice was on I could forgive them for that. Does Growler fills too!
Big Thanks to those dangerous Orange BA's Swillinbrew and OCBrewFish for the Birthday ride out here, much appreciated chaps!!
Last Visit: Saturday 4th February, 2006.
3,156 characters
2.85
/5
rDev
-19.3%
vibe: 2.5 | quality: 2.5 | service: 3.5 | selection: 2.5 | food: 3.5
I went here with some friends Saturday night after trying to track down some things at like five different Best Buys in Orange County, had only been to the Corona location before this one and this stuck out as being worse, was looking forward to Hop Juice and of course it was their one beer they did not have while we were there, they had six of their own including Black Magic Stout, Torrey Pines IPA, Paradise Pale Ale, Sunset Amber, California Gold, and McGarvey's Scottish Ale, pints were around four dollars but that was probably because it was during happy hour, nobody was in the place, which is sad if you are located in an extremely busy mall, pretty plain inside and has an old sports bar feel, was not the cleanest and seemed a bit rundown to me, people working there were not exactly the friendliest either, pizza is decent but a bit overpriced, BJs and other brewpubs got it beat on the food side of things for sure, not the best stop but glad I went once, might be worth checking out
998 characters
3.7
/5
rDev
+4.8%
vibe: 3 | quality: 3.5 | service: 4 | selection: 4 | food: 3.5
Stopped here after taking in an Angel's game. About a fifteen minute drive from the stadium.
Located in a large outdoor mall. This is the first Oggi's I have ever been to. The atmosphere is basic. A medium sized restaurant with a bar separated from the booths and tables. Not much for decor but not unpleasant. This is a very sports oriented restaurant. T.v.s are everywhere. A large wall mounted screen in the dining area and monitors covering the walls all around the establishment. Evan a small t.v. in the mens room for good measure. There is a small outdoor patio area with heat lamps.
The service was friendly and we were well attended to. The menu is large and they specialize in pizza. A large variety of styles of pizza are available. We had pizza and a salad and enjoyed them. The food here is well prepared and is a mix of bar food and California cuisine. They serve wine and have a full bar.
The beers are well crafted. The Torrey Pines IPA is hoppy and potent. The amber is nice and I enjoyed the scottish ale. They have a pale, a stout, a blonde and a couple of others on tap. I did not notice any guest beers.
Plain atmosphere aside this is a good spot to have a bite and a couple of brews. A great place for the sports lover and a good place to bring the famliy.
They have growler service. They have a happy hour and special deals and prices on beers and food for Sunday football and Monday night football.
1,437 characters
2.75
/5
rDev
-22.1%
vibe: 3 | quality: 2 | service: 2 | selection: 4 | food: 3.5
Newly constructed in the Orange 'Crossroads' (formerly the 'Mall of Orange'), this Oggi's is just to the south of Wal-Mart and right on the main parking lot.
The dining room and bar are separated by a 5' pony wall as this location attempts to be more of a sports stop than an actual brewpub. The sports bar atmosphere is furthered by the proclimation of 'Thirty TV Sets', including a monitor in the Men's room (I didn't check out the Ladies room).
Food is standard Oggi's; Pizza and southwestern cuisine.
Draught Lineup (as of 12.28.2004):
---
California Gold Cream Ale
Sweet Spot Hefe
McGarvey's Scottish Ale
Sunset Amber
Torrey Pines IPA
Black Magic Stout
Hopjuice DIPA (Brewers Special)
Lindeman's Franboise
Coors Light
The bar also sports a full selection of wine & spirits
I found the glassware less than beer-clean and all draught beers poured without a collar of foam...low execution for a $4.26 pint of beer!
While sports fans will undoubtedly enjoy their visit, true followers of good beer will be somewhat disappointed.
1,059 characters
2.6
/5
rDev
-26.3%
vibe: 2 | quality: 3 | service: 3 | selection: 2
Hit up Oggi's on the way back from visiting the BevMo in Orange. We decided on stopping in here before hitting up Alcatraz Brewing Co with a group of friends. I had heard pretty good things about Oggi's and was quite surprised when neither my buddy or I liked their beers. They tasted very watered down and not cared for...we felt as though they tasted more like extract beers.
We looked at the menu and didn't really see anything as it was all pizza and other meals.
Got the taster set and ended up throwing out most of it. The only beer that was decent was the stout, so we finished that. The rest of it was just not good. The bartender was nice but not attentive, so we just didn't think the experience was worthy of a return visit to try the food.
I was told that the Mission Viejo location was MUCH better and that Orange did not have the same brewmaster. Too bad...I would have liked to have tasted the real Oggi's beer...brewed the way it should be.
968 characters

3.8
/5
rDev
+7.6%
vibe: 3.5 | quality: 3.5 | service: 4 | selection: 4 | food: 4
Came here on a Friday night to have dinner with my fiance.
We ate at the bar so my review will reflect this area. The bar is is to the far left side as you walk in and is partially separated from the restaurant area. The walls are surrounded by TV's and has a sports bar ambiance... pretty good and a tad quaint.
We never saw our waitress so i ordered from the bartender who was nice but put a lemon in the hefe so had to explain why that's a no no. Finally saw our waitress but i just kept ordering from the bar. It was faster... maybe because it was a busy friday night???
The brews were all the oggi's regualrs plus the hop juice which is what i had and it was perfect. My gal kept having the hefe which i have to say is down right tasty. Our pizza was hot and really good. The pricing is basically that of BJ's and Pizza Port, i'm okay with it. There are drink and food specials during happy hour so i'll have to come back then. All in all a pleasureable experience. Maybe during the summer months i'll sip my pint out in the patio.
EDIT: Changed my service score to a 4 from a 2.5. A big jump, but well deserved. I've come in more often now and everytime the service has been quite exceptional and not like the time when i initially reviewed. Waitress checked on me consistently and with friendly service. Food was brought out promptly, napkins, refills, water, all in tow.
1,390 characters

3.43
/5
rDev
-2.8%
vibe: 3.5 | quality: 3.5 | service: 4 | selection: 2.5 | food: 4
My first Oggi's visit was 11/29/08, to the Orange location.
Perfectly serviceable sports bar atmosphere - bazillions of flat screens, various college/pro football memorabilia. Small - not many tables.
Standard tap lineup - Pale, Amber, IPA, Scotch Ale, Hefe, and Stout, available in a sampler. (There was also a flavorless "Light Lager" in the sampler, but I don't think it had a writeup on the blackboard.) Of those, only the Black Magic Stout was above average and worth a follow-on pint.
Silliest thing was that Hop Juice was not posted, and when I asked the bartender, she said it's available in bottles only. Bartender said it hadn't been available on tap since they started bottling it earlier this year, and that BevMo's a better bet if you want to take a bottle home (half the price there).
But why have all your staff wearing shirts advertising your best-known beer, and not even carry it on tap or mention that you have it in bottles? Baffling business decision.
Beers nicely priced - $4/pint.
Menu just straightahead sports bar fare, not so reasonably priced. Excellent buffalo wings, but $12/dozen. They're known for their pizza, but I didn't try it.
Good vibe, but hardly a beer mecca. Comparable to BJ's, but BJ's seems to be a little more adventurous with the beer - they do seasonals, have interesting guest taps that I didn't see at the Oggi's in Orange.
1,380 characters
3.35
/5
rDev
-5.1%
vibe: 3 | quality: 3 | service: 3.5 | selection: 3.5 | food: 4
I used to hit up Oggi's on a regular Sunday afternoon basis and still drop by occasionally. I would never go to Oggi's just to drink: In my opinion, it's first a restaurant, then a sports bar then a brewery. I've had quite a few of their brews and none of them really stood out. The Scottish ale wasn't bad. Their Russian Imperial Stout that made my toes curl, I swear my fork would have stood straight up in the glass.
The food and beer is priced well. If you are looking for somewhere to relax and watch 30 sporting events simultaneously, have a beer and pizza for a few hours, Oggi's is your place.
602 characters
4.3
/5
rDev
+21.8%
vibe: 4 | quality: 4 | service: 4.5 | selection: 4.5 | food: 4.5
Much better then other Oggi's i have been to.
Beer was all good, but it is all contract brewed so I expect that. The Pale Ales were the best, the stout was very good as well. The light crapola was, well, crapola.
Service was great, very responsive. Staff knew the beers and several of the beers from the other regional breweries. Very attentive and friendly.
Wings were awesome, and i am picky. Fresh, juicy, flavorful and sticky. Went twice, more for then wings then beer. The wings were steamy at delivery.
Only gripe is a CA gripe, as the whole state seems to love frosted glasses. The beers are already way cold, and then you freeze the beer in a frosted glass. Gotsta wait for 10 mins not to freeze you tongue.
723 characters

4.33
/5
rDev
+22.7%
vibe: 4 | quality: 4.5 | service: 4 | selection: 4.5 | food: 4.5
Definitely a family place in the restaurant, the bar is more beer focused. Don't go on USC football day, as it get crowded and loud.
The selections and food are always good, a bit standard, but what else are you expecting?
Service is spotty, sometimes good, sometimes bad. The friday night bartender never smiles, but the rest of the staff while meaning well, can take some time.
It's a brew pub, pizza, wings, wraps, salads, burgers, sandwiches, lots of different brews, and some house brews as well.
The food is big and good tasting once you get it, one of my favorite places to go.
Pricing is good, especially during happy hour, appetizer at 1/2 price, along with the house beers(their IPA is quite tasty). The pizza dough is only excelled by the local Zito's and choices are quite extensive.
DOA
807 characters
Oggi's Pizza & Brewing Co. in Orange, CA
3.47
out of
5
based on
493
ratings.