Premeditated Murder Barleywine
| New England Brewing Co.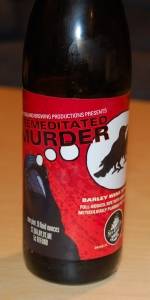 BEER INFO
Brewed by:
New England Brewing Co.
Connecticut
,
United States
newenglandbrewing.com
Style:
American Barleywine
Alcohol by volume (ABV):
11.80%
Availability:
Rotating
Notes / Commercial Description:
Barley Wine Style Ale. Full-bodied. Rife with ominous portent. Meticulously planned to the last detail.
Added by davey101 on 10-25-2012
Reviews: 32 | Ratings: 209
4.24
/5
rDev
+6.5%
look: 4 | smell: 4.25 | taste: 4.25 | feel: 4.25 | overall: 4.25
The appearance is a cloudy brown-maple syrup color with a scrappy off-white head and decent lacing. The nose-hit conjures up a medley of boozy orange citrus, maple-malt, and some nutty peat. The flavor brings many of the same ideas and is a serious, woodsy, toffee concoction that makes you pay attention. The alcohol presence seems a little more prominent than I would like but it's worth it. The body is close to full with a lightly carbonated, fairly thick and slick feel. A very outdoorsy concoction that delivers the proper barleywine theme with a goodly kick. Quality stuff delivered once again from the New England Brewing Company!
★
638 characters
4.05
/5
rDev
+1.8%
look: 4 | smell: 4 | taste: 4 | feel: 4.5 | overall: 4
Thank to Baloss for sharing this bottle str8 from the brewery.
Premeditated Murder pours into the glass a deep dark mahagony red plum looking color, looking like many other darker barleywine offerings. A nice beige head up top with life and able to stick to the glass. Smell is very hoppy with malt trailing at this point in the game. The hops have a spicy aspect to them in the nose. Sweet candi with sugars in the nose with some deep caramel and toffee. Some English malt is noted along with a faint hit of alcohol. Taste is pretty good. Looking for any hops, I get them upfront, after the blast, the malt and yeast shows off their English ingredients. Candi, light chocolate, and grain from all dat der barley. Sadly alcohol comes into play and I can taste it which detracts a bit. Feel is above medium and is a bit sryupy, carb is light, but the ride is pretty smooth, except for the burn. All in all a nice B-Wine to go to on the cheap. I need to find a bottle and keep it down for a while
★
995 characters

4.2
/5
rDev
+5.5%
look: 4 | smell: 4 | taste: 4.5 | feel: 4 | overall: 4
This is an interesting beer. Had a bottle a few days ago and thought it was pretty much of a Malt Bomb. The one I have right now is very hoppy. This one is so much better IMHO, there is so much up front hoppiness that is balanced out with a nice creamy caramel and toffee. Was going to give one of the bottles I picked up as a gift...not now! Well done!
★
353 characters

4.21
/5
rDev
+5.8%
look: 5 | smell: 4 | taste: 4 | feel: 4.5 | overall: 4.5
500 ml bottle. Served at cellar temp.
Pours a clear, bloody, ruby, crimson. Two fingers of thick, creamy, marshmallowy, light sandy brown head. Great lacing. Beautiful. Lots of caramel, toffee, and rich rummy fruit on the nose. Has a slightly singed edge, with notes of herbal hops and vanilla.
Toasted marshmallow up front, followed quickly by rich toffee, caramel, and rummy, tropical fruits. Woody, herbal hop bitterness creeps in. Vanilla and banana around the edges. Woody bitterness into the finish. Warming, but not too hot. Lots of lingering fruit and caramel malts. The malt definitely wins out in this barley wine, but there is enough hop presence to avoid Cloy City. Full-bodied, with a thick, creamy feel. Very nicely done!
★
737 characters

4.35
/5
rDev
+9.3%
look: 4 | smell: 4 | taste: 4.5 | feel: 4.5 | overall: 4.5
From a bottle 10/27/2012
After trying this I have to say drinking this barleywine now does not make any sense. At least if you are a barlewine fan.
Sure try one now, but put the rest away. This brew is really good for a fresh barlewine, alcohol is well hidden and no fermentation off flavors, but if you ever want to see it shine just put it away for a while.
Dark ruby color, chill haze, off white head.
Alot of hop bitterness, which makes sense at this point in its life if you ask me.
Carmel and Toffee and who knows what else will develop.
Very glad I picked up a few bottles of Premeditated Murder. Look forward to enjoying them.
★
638 characters

3.96
/5
rDev
-0.5%
look: 5 | smell: 4 | taste: 4 | feel: 3 | overall: 4
A-Pours a cloudy caramel/copper hue. Head is marvelous. Head is thick and dense; it slowly recedes leaving full sheets of lacing. The best part of the head is its orange coloring. An easily noticeable orange tint really makes the head look way-cool. Really pretty. Never seen a head that color before.
S-The nose is rich but not as intense as I was expecting. There lies much complexity with the aroma however. Robust notes of pure caramel really set the tone. Brown sugar and sweet dough malt are also present. Fruit cake too. This Barleywine is clearly well hopped. Piney and grassy with a secondary layer of tangerine and ruby red grapefruit hops. Balanced and big enough. The nose is full but it doesn't jump out of the glass.
T-The flavor starts off with a huge piney blast of bitter hop flavor. Pine, pine and pine. Hops are also a bit sudsy and even slightly herbaceous. Dank and resinous. Lighter tropical fruit hoppiness also dances along the palate. The malt is equally as noble. Sticky, chewy caramel coats my mouth. Boozey fruit cake and doughy pastry maltiness. Balanced and boisterous.
M-Full bodied and incredibly creamy and chewy. Feels like honey in my mouth. Mammoth body. Booze is prevalent. Alcohol heats my face and cheeks. Hops lends a muscular and lengthy bitterness. A sipper for sure (although it goes down with disturbing ease).
O/D-This was pretty tasty. I guess I have been a bit spoiled by NEBO recently. This is a serious Barleywine with flavor for days, but it falls short of greatness for me. Don't get me wrong, its a growler semi-well spent ($25 is steep), but it just lacks that "holy mother of Christ" quality that most of NEBCO's recent brews have left me with. Another well done brew by one of the countries best breweries in my opinion. Cannot wait for when they release this brew next year after sitting in rum barrels.
★
1,864 characters

4.4
/5
rDev
+10.6%
look: 4.5 | smell: 4.5 | taste: 4.5 | feel: 4 | overall: 4.25
"Barley Wine Style Ale. Full-bodied. Rife with ominous portent. Meticulously planned to the last detail" 500ml bottle into a tulip glass. The Raven/Birds-esque label is just badass!
A - Pours a murky dark red/brown body with a three finger light khaki head. The foam is sticky and clingy coating the glass after each sip. Really excellent lacing and retention here.
S - Very inviting aroma. Figs, bourbon soaked raisins, vanilla, toffee and caramel. Has a hop presence in the form of piney and resiney bitterness.
T - Very nice balance of flavors here. Toffee, caramel, vanilla, and dark fruits. Again some piney hops and light bitterness on the finish. The alcohol is very well in check here, no warmth whatsoever.
M - The feel is slick and coating and slightly chewy. Carbonation is low which is nice.
O - A very enjoyable barleywine. It does lack some depth and complexity, but then again it wasn't placed in a barrel. The alcohol is not noticeable and the aroma and flavors have some great dark fruit and toffee notes with a nice hop presence. This beer does need some time to warm up though. Once it got to cellar temperature it really opened up into something fantastic. Well worth the $6 price of entry, and I simply can't wait to try the rum barrel aged version.
Note: I added this as an American Barleywine since the hops are fairly prominent.
★
1,358 characters
Premeditated Murder Barleywine from New England Brewing Co.
3.98
out of
5
based on
209
ratings.