Lowlander Beer Café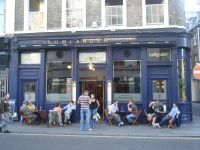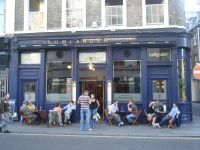 Bar, Eatery
36 Drury Lane
London
,
England
United Kingdom
+44 (0)20 7379 7446 |
map
lowlander.com
Notes:
Reviews by TheLongBeachBum:
TheLongBeachBum from California
4
/5
rDev
+0.3%
vibe: 4 | quality: 4 | service: 4 | selection: 4 | food: 4
Stop #10 on the Saturday pub-crawl, and we were now into double figures; RichLightWeight and I were in desperate need of some food to stave off a Double English SumerianBeerTrance.
Ah, enter stage left the Lowlander Beer Café just in time. Located on a bustling Drury Lane corner where Great Queen Street and Long Acre intersect, the Café has a low key exterior, nothing flashy. A four storey building has a Georgian appearance. The ground floor is clad in wood and all-painted in a regal dark blue. A few seats, and 2 seater tables, cling to the pavement outside. Inside, the warm air was adequately dispersed by a host of ceiling fans way up in the heavens. The interior has a very high ceiling, as the windows all around the corner of this building are full height the inside is extremely well lit and very airy.
The bar sits to the left hand side and has a very continental feel to it. Stainless steel self-draining bar tops and a long row of some 15 taps form the boundary of the bar. Gatherings of glasses are upturned and have trays resting on them. Behind the bar a massively tall array of shelves hosts yet more glasses, but also displays some of the many bottled beers on offer as well as cheeses too. Cream painted walls add to the incredibly airy feel and brightly lit interior. Many Belgium beer & brewery logos adorn the walls high up and all around.
Fifteen self standing chrome taps line the bar, quite the number but sadly they dispense nothing even remotely special, in fact I would go so far as to say that the selection is rather pedestrian and dare I even say boring. Two exceptions were the 't IJ Paas and Poperings Hommelbier. The bottled beer range offers much more for the hard core Belgian fan, with Dutch incursions at least, some 100 bottles, and I seem to recall reading on the menu that the beer range will continue to expand as the cellar builds over time. Solid range of Belgians with a nice and worthy influx of Dutch brews too.
The lower floor has a range of tables regimentally ordered into a Bier Keller like formation. The whole ground floor was full so a lovely waitress showed us upstairs and we had pride of place in a balcony area that overlooked the main floor area. Our waitress was very cool and incredibly helpful. RichLightWeight and I opted for a platter of cheese and mustard and when it arrived it hit the spot 101%. Rich picked up a Grolsch Herfst Bock whilst I opted for a very refreshing Saison Dupont. Service was great, I could not fault our server at all, she was pretty quick and on the ball, always had a beautiful smile and she took a load of crazy shite from two mad Yorkshiremen with great professionalism, even down to our 'joke' cash tip in Slovakian Korunas, all with a smile. Super stuff.
The whole place really does have a Belgium feel to it, but whilst the draft beer selection may disappoint, the bottled range most certainly does not, but like the food it all comes at West End prices. Despite the high prices I would come here again for sure. A very cool place.
Last Visit: Saturday 24th June, 2006.
Jul 05, 2006
More User Reviews:
dreck from Missouri
4.66
/5
rDev
+16.8%
vibe: 4 | quality: 4.75 | service: 4.75 | selection: 4.75
Nice selection of belgians on draft and bottles
Mar 12, 2016
cbmutlu from Turkey
4.01
/5
rDev
+0.5%
vibe: 3.5 | quality: 4 | service: 4 | selection: 4.25 | food: 4
Best Belgian Bar outside Belgium. Plenty of beers to choose from, always a new beer on tap. No shortage of Kwak and its glass. Delicious starters and main dishes.
Mar 18, 2015

BlackHaddock from England
4.18
/5
rDev
+4.8%
vibe: 4 | quality: 4 | service: 4.5 | selection: 4 | food: 4.5
Lunchtime, midweek: my wife, daughter and I had a couple of beers and a meal in here before watching the wonderfully performed 'Shrek' musical at a theatre just down the road.
A corner bar with basic wooden floor and furniture; a long row of Belgian beer taps dominate the room, there is an upstairs overflow area for when it's busy (or for a private party), this area has a view over the rest of the place below.. We were the first through the door but it soon began to fill with tourists and city office workers wanting food and a bevy. The staff and customers gave off good vibes; this is a likable, welcoming place which reminded us of the typical Belgian/Dutch bars we tend to use when in that part of the world. So someone has done a good job in recreating such a bar in this part of tourist infested London.
The beer choice is fairly comprehensive although the beers are mostly the safer, well known beers Belgium produces. I had two bolleke of De Koninck (on tap), my daughter a Bruges Zot (on tap), the wife a coffee followed by a bottle of Karmeliet. The correct glasses came with the beers. They stock 0.75 litre bottles of a few brews: La Chouffe and 3 different Cantillon are the ones I remember.
The food was excellent, although a bit expensive: Bitterbollen, followed by a Club Sandwich, a Pasta dish and a lovely Fish Gratin, every plate was licked clean. A mini warning: 12.5% service charge is added to your bill, on both food and drink, so please take that into account when ordering, or ask for it to be removed and just pay what you think is reasonable for the service you got. I had no qualms about paying it because we were well looked after, might have complained if we'd had a mega drinking session.
Oct 28, 2011

belias from Trinidad & Tobago
3.9
/5
rDev
-2.3%
vibe: 3.5 | quality: 4 | service: 4 | selection: 4 | food: 3.5
Busy little beer cafe a short walk away from Covent Garden/Holborn stations. Unlike most other places in the UK there is table service and though the staff are friendly and efficient for the most part the place gets quite busy so drinks can sometimes be a wait. You can order at the bar though and there is a very good selection of dutch/belgian beers and a few from other nations.
The food is not bad, albeit a bit expensive, and there are traditional belgian favorites such as mussels and fries. The busyness of the cafe does add to the atmosphere and there is generally always a nice energetic buzz about the place on evenings after work.
An expensive, but good choice in the area, with probably the best selection of beer in that part of central London (other than the Porterhouse.)
Aug 04, 2011
DerBayer from Germany
3.53
/5
rDev
-11.5%
vibe: 3 | quality: 3.5 | service: 3 | selection: 4.5 | food: 3
I went to this place with my girl-friend and we had burger and a pie with mash and chips respectively. We thought they were OK for the price and what they were but not overly impressed.
The range of beers is impressive but almost entirely limited to Dutch/Flemish styles so if you feel like a Weizenbock or an DIPA there s nothing there... A range of Flemish beers on tap exists so it s not all bottles
It was crammed and busy but not aggressively so and the service was adequate considering. We may go back there but not as a priority.
Mar 27, 2010
wl0307 from England
4
/5
rDev
+0.3%
vibe: 4 | quality: 4 | service: 4 | selection: 4 | food: 4
This evening my GF and I (finally) visited this cafe. It's just on the corner from my previous Uni. accommodation on High Holborn street and also not far from another modern Belgium-themed beer bar, Bierodrome on Kingsway. But never have I entertained this idea of going in ever since it was opened some years ago. Why? Coz the beer selection in the past was really mundane. But since it seems to have improved a lot through these years, why not give it a chance?
The Belgian beer cafe-style interior awaits us: very closely-arrayed wooden tables and chairs, lots of brewery signs printed on the walls, a long bar with lots and lots of glasses on display... plus a high ceiling, a medium-large sitting space divided into smoking and non-smoking areas, you'd forget that you're in the Covent Garden area, much less the kind of pub you'd expect to find here.
The beer list is extensive, and, dare I say, mu...ch better than the Bierodrome just two hundred metres away. 13 taps serve some big bland brands but decent ones are not to be missed (Hommel bier, Ij Paas, etc.). As to the bottled ones (in total 104 of them), almost all styles of Belgian beers are represented with four options each at least, with some good stuffs available (Drie Fonteinen Oud Geuze, St. Bernadous Abt. 12, Joup, etc.), though the beer list does occasionally mis-match different styles in the same categories (e.g. Rodenbach Grand Cru, Liefmann Goudenband and Gouden Carolus all under the label "Belgian Burgundy Style beers"??!! what on earth is that...). Dutch Bocks are on the menu too, despite being dominated by big boys (Grolsch, Amstel, Heineken). But here and there you'd find Dutch micro-brews, some of them really rare to see in London (Kleine Duimpje, 't IJ, Hertog Jan, De Scheldebrouwerij, etc.). A black board on the wall displays some special offers not listed on the menu, and would attract those into "artisan" stuffs~~
The price is incredibly high... even though it's in the West End it's still ripping-off (4.35 quid for a bottle of Klein Duimpje Hillegomse Hangkous?) But the table service is right in place: efficient, friendly, albeit not brilliantly informative. And the beers, be it draught or bottled, are served at right/cool temp as far as five of those which we tasted were concerned. All in all, this place is quite likable, and I'd visit it once in a lo...ng while, definitely after a sum of overdue salary is in the pocket.
Apr 19, 2006

Dogbrick from Ohio
4.08
/5
rDev
+2.3%
vibe: 4 | quality: 4.5 | service: 3 | selection: 4.5 | food: 4.5
Lowlander is located in the Theatre District near the Covent Garden Tube station. As such the area is very busy with theatre-goers and tourists.
The café is on a corner and is easy to find. It is painted a dark blue color and has lots of windows. Inside there are two levels. The lower level is the café and is laid out like an indoor biergarten. The bar runs almost the entire length of a wall, and there is a daunting array of bottles displayed behind it, and an impressive number of taps. Upstairs is the dining area that is laid out more like a restaurant.
The beer menu here is borderline perfect. Heavy emphasis on Belgian and Dutch beers, and the number on draught alone makes this worth a visit. Delerium Tremens, Orval, Leffe, Affligem etc etc, with some offerings that are rarely seen on tap. They also have well over 50 bottled beers such as Achel, Chimay and many others I have never seen before like Pater Lieven. They have an extensive section devoted to beer info (pouring etc) as well.
The service is where Lowlander falls short. We were seating very quickly, but after that things went downhill. They were severely understaffed, and we actually ended up being served by the hostess (who did not look pleased about it). Next time I think I would ask to sit in the upstairs dining area.
The food here was excellent. The spinach ravioli was unique and very good.
I would definitely put this place high on my list of visits the next time I am in London despite the problem with slow service.
Apr 22, 2004
rastaman from England
3.78
/5
rDev
-5.3%
vibe: 3.5 | quality: 4 | service: 3.5 | selection: 4 | food: 3.5
Pretty nice Belgian/Dutch accented pub. Good bottled selection and pretty good draught selection. You will be able to find most of the Trappiste beers here (except Westvleteren), most of the more well known Belgians (Duvel, Tripel Karmeliet, ect) aswell as some nice dutch specialties from brewers such as Schans and Schelderbrouwrij. The food is nice, but expensive, and the beers are quite expenive too, but its a pretty fun way to start a night out. Good location too, right around the corner from Covent Garden.
Sep 09, 2003
Lowlander Beer Café in London, GB2, United Kingdom
Place rating:
3.99
out of
5
with
11
ratings