TheDovetail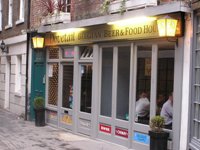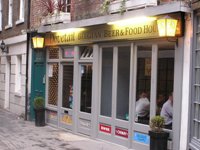 Bar, Eatery
9 Jerusalem Passage
Clerkenwell
London
,
England
, EC1V 4JP
United Kingdom
+44 (0)20 7490 7321 |
map
dovepubs.com
Notes:
Reviews by TheLongBeachBum:
TheLongBeachBum from California
3.5
/5
rDev
+2.6%
vibe: 3.5 | quality: 3.5 | service: 3.5 | selection: 3.5
After a visit to the atmospheric Jerusalem Tavern, a reasonably short walk later soon had our posse safely in the Jerusalem Passage (ooeer madam) and ready for yet more beer. The Friday evening crawl was now kicking into gear; LondonPorter, RichLighWeight and I had visited four establishments and managed 5 Pints, our recent addition BA wI0307 who joined us at Ye Olde Mitre Tavern was still fresh, so much so that he seemed that he seemed a little concerned about the rather relaxed attitude of his 3 BA elders, I'm sure he knew that we were well on our way!
The exterior is classically understated, the first floor has several doors and some of those full height 'fire station' style folding doors that fold up sideways to open up the entire frontage on warm evenings, as indeed was the case on our visit. The entire ground floor is finished in wood, and it is all painted in a rather dull grey. Flanked by a pair of Leffe street lights, the full length sign understates 'The Dovetail Belgian Beer and Food House', with a Dove of Peace painted at the end. A 'lean to' sandwich-style blackboard boasts '101 Belgian Beers' as well as Belgian style food including, Moule, Carbonnade and Waterzooi.
Interior is rather cramped, closely packed tables and chairs with simple décor. The walls have Beers of Belgium posters, coasters, trays and other associated Belgo beery paraphernalia. Stainless steel topped L-shaped bar is set into the right hand corner and mixes with a low-key exposed brickwork, slate like floors as well as some stainless fittings here and there. Strip away the Belgium artifacts and Belgian beer posters and the Dovetail is just another trendy modern Café with a mere hint of Belgium such as the abbey style archway set into the interior brickwork.
Beer range may be listed at 101, but it is a little disappointing. There are five, or maybe even six, taps all located on one T-shaped stainless steel font, but nothing more than average is dispensed from these; I noted Maes Pils and Leffe so you get the picture! This immediately had all of us scrambling for the Bottled Beer Menu, but this too is rather pedestrian and a little expensive to say the least. Just then, one of our group, I forget who, spotted a rare treat in the beer coolers behind the bar, stubby bottles of 'Donkere Duivel Foncé-Dark 8°', a Boon recreation from the long gone Vanderlinden of Halle (which closed sometime in 1997) and a damn fine beer indeed. In fact I have only ever seen this once before whilst I was actually in Halle, Belgium, the original home of Vanderlinden as it happened. I digress. Needless to say, this single beer made the whole visit worthy and memorable. Otherwise I would have struggled to pull something off of the beer list. In short, there is nothing on the list that you cannot find elsewhere in the UK, or for that matter the USA, our American cousins would find all the brews in the better US beer stores.
Service seemed OK, but as Yau pointed out below, it started good but finished rather sloppy, if you're going to pour a brew do it properly or leave it to the punter. Prices were high, but that is to be expected in these parts I guess. Atmosphere was OK, but I got "yuppie vibes" from this place I have to admit.
A warm sunny Friday evening in Summer is probably not the best time to visit the Dovetail to get the best from here perhaps. Even so, it was a pleasant detour from all those rather boring 400+yr old London Pubs. As for the credentials, well, the Belgian beers listed are pretty average, pedestrian and nothing special to be blunt. Given the fact that many of the bars in London now sell a small but specialist range of Belgian beers, I would have expected more effort from the Dovetail being as it specializes in this arena. Still, it's a fine place and nice change of pace. I would not make the effort to the come here specially, but if you visit the nearby Jerusalem Tavern the short detour makes this worthy of a visit.
Last Visit: Friday 23rd June, 2006.
Jul 03, 2006
More User Reviews:
Antilochus from Canada
3.28
/5
rDev
-3.8%
vibe: 2.5 | quality: 3.5 | service: 3 | selection: 3.5 | food: 3.5
Visited on 20.07.2008 (Sunday), at about 6:30. Very quiet at this time, only three other tables taken in the whole place. I'd ballpark about 15 tables inside and 4 under a small cover in the Jerusalem Passage. Staff was fine, gave me a sample of the guest Rodenbach. Beer menu is printed and they have about 100 bottles stocked, with decent brand coverage on the glasses. My Rodenbach Grand Cru (£4.20)was not in the correct glass (albeit in the right style of glass), while the St Feuillien Tripel (also £4.20) was in the appropriate chalice. Two large InBev taps, and a row of other stuff (Delirium Tremens, Jupiler, a few others represented). Rodenbach (non grand cru) was on guest.
I thought the waiter was going to serve me at the table (as another reviewer says) but I waited for about 20 minutes and decided to go to the bar. Indeed, this Belgian cafe was serving English style. No matter. Washrooms were reasonably clean, but not great. I had the pint of fries w/ mayo (which were good), that set me back £2.50 (not bad for Central London) but the rest of the menu was still rather pricey, although it looked quite good.
Not a bad place, I'd visit again.
Jul 21, 2008
wl0307 from England
3.44
/5
rDev
+0.9%
vibe: 3 | quality: 3.5 | service: 3.5 | selection: 3.5
Visited this Belgian beer cafe with London Porter, RichLightweight, and LondBeachBum during a mini-BA London gathering last weekend. I'd been to the other cafe of the Dove chain, Dove Freehouse in Hackney, so I'd expect more or less the same Bohemian atmosphere here. I was wrong.
The place is in a narrow but rather busy alley, and frequented by lots of local office workers as I could see. Some simple-patterned tiles on the walls and simple-furnishing inside the cafe, quite like a Belgain beer cafe alright. The bar has about five to six taps, serving nothing but generic offering from the beer kingdom, Belgium. A covered beer menu is also available on the bar to give people some info. about what bottled beers they have to offer, around 100 of them. After browsing the menu and looking around, we spotted in the fridge something unique and truly worth our visit, "Donkere 8° Duivel 1883" (now brewed by Boon brewery). The barman poured the first two glasses with patience and skill, the third with a little bit of haste, before losing the plot in the fourth glass which ended up cloudy and a very thin froth (thankfully, at least no service charge was mandatory).
The atmosphere was rather off-putting to me--quite crowded, dark-ish, noisy, and humid... but honestly, maybe the weather and the timing of our visit were to blame. Apart from that all was well, but the place, or the group, really couldn't elevate its quality any more if the list of beers is still on the semi-weak side as compared to other better specialist Belgian cafes/bars in London.
Jun 27, 2006
TheDovetail in London, GB2, United Kingdom
Place rating:
3.41
out of
5
with
3
ratings