OK Ale
| Electric Brewing Company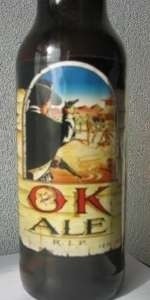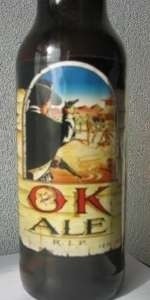 BEER INFO
Brewed by:
Electric Brewing Company
Arizona
,
United States
Style:
American Pale Ale (APA)
Alcohol by volume (ABV):
7.00%
Availability:
Year-round
Notes / Commercial Description:
No notes at this time.
Added by Gusler on 05-02-2004
This beer is retired; no longer brewed.
HISTOGRAM
Ratings: 8 | Reviews: 7
None found.
More User Reviews:
2.68
/5
rDev
-15.7%
look: 3 | smell: 2.5 | taste: 3 | feel: 2 | overall: 2.5
12 Oz Bottle via footy. Very bland pizza, bread yeast and stale beer aroma. Pours a deeper golden, edging on orange core, with silky soap of tinted white atop. Flavor is an average, bland weak hops and watered down sugar. A bit of hop cone resin and faded citrus. Texture is very thin and remarkably watery. No real off-flavors except for some weak corn touches. Some breadiness pervades towards a lime speckled smack. Meh. Not desirable.
438 characters
2.97
/5
rDev
-6.6%
look: 2.5 | smell: 3 | taste: 3 | feel: 3 | overall: 3
Slightly sweet hop aroma that is more candy/bread and spice than the citrus notes I'd expect from a properly hopped american pale. Noticeable malty aromas as well. Tea colored with almost no head. Watery fore followed by a little hop flavor and some mild caramel malt notes and scant else. Not very intense or varied flavor wise.
329 characters
3.72
/5
rDev
+17%
look: 3.5 | smell: 4 | taste: 3.5 | feel: 3.5 | overall: 4
The beer evacuates the 12 ounce brown bottle an unclouded deep amber color with a smallish light tan head, the lace a thin sheet to conceal the glass. The nose is cotton candy sweet, nice malt tone, with a hint of hops, crisp, fresh, and clean to the senses, the start is lightly sweet with a nice malt profile and the top middling in its feel to the palate. Finish has a benign acidity, the hops delectable in their spicy bite, the aftertaste dry and long lasting, a nice mild and refreshing beer for the hot Arizona summer.
525 characters

3.8
/5
rDev
+19.5%
look: 3.5 | smell: 3.5 | taste: 4 | feel: 3.5 | overall: 4
Flashy label picture, gunfight style. No date or other info on the label, unfortunately.
I would have listed this as an amber ale, not an American pale ale.
A clear, light amber pour greeted me, with a foamy ivory head. Sweet malts, nutty and earthy in the aroma. Also noted in the taste a woody, bready dough. As an amber ale, it's very tasty (as a pale, it would miss the style badly).
A light to medium body on this one, I'm guessing it's around 5%, but see from the listing here it's 7% (I looked on their web, but didn't see this info). I really don't think it's 7%, so this would make for a nice drinker in the summer heat.
Thanks to Solomon420 for the desert treat.
691 characters

2.9
/5
rDev
-8.8%
look: 3 | smell: 3 | taste: 3 | feel: 3 | overall: 2.5
A vigorous pour produces a fat-one-finger thick, light tan colored head. The beer is a hazy amber color that shows a bit of a copper hue when held up to the light. The aroma smells of spicy hop and stale malt. It almost has a cinnamon note to it that goes well with the predominant caramel notes. A very light aroma compared to most beers.
Sweet and caramelized up front, the beer finishes with an herbal hop flavor as well as a lightly biting bitterness. There is a certain spiciness running through the flavor profile here, it is almost like black pepper, with even a bit of a wood-like note to it. This has a light body to it, yet has a touch of heft to it that just clings to the palate.
Not a bad beer, just not all that great either. Tastes a bit like a standard Amber ale.
781 characters

3.06
/5
rDev
-3.8%
look: 4 | smell: 3 | taste: 3 | feel: 3 | overall: 3
Enjoyed on tap at the new Tempe brewpub location. Poured a light amber color with a slight haze. Very thin head. Bright citrus on the nose. Palate has a hop focus and citrus zest, but still well within a basic amber ale category (not a hoppy IPA). Easy drinking but nothing inspiring about the beer.
299 characters

3.3
/5
rDev
+3.8%
look: 3.5 | smell: 3.5 | taste: 3 | feel: 3.5 | overall: 3.5
A - Pours with one finger of slightly off-white foam on top of a clear, amber colored body. The foam settles fairly quickly and leaves moderate lace.
S - Rich malt notes of toast, caramel and light brown sugar with spicy hops and a hint of pine.
T - Sweet, bready malt up front with some subtle toasted bread notes. A little bit of amber caramel flavor comes out in the middle with light, herbal hops. The beer finishes with more caramel and toast as well as light hop flavor and bitterness. Some slightly buttery toffee lingers on the palate in the finish.
M - Medium body, moderate carbonation, and a slightly sweet finish.
D - Not bad, the malt character is really quite nice though the hops are a bit subdued for the style. It seems a bit more like an amber than a pale ale to me. An appropriately named beer, it is ok but nothing more special than that.
862 characters
OK Ale from Electric Brewing Company
Beer rating:
3.18
out of
5
with
8
ratings