Dave's Electric Beer
| Electric Brewing Company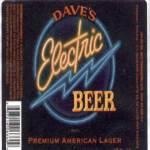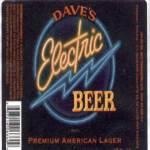 BEER INFO
Brewed by:
Electric Brewing Company
Arizona
,
United States
Style:
American Adjunct Lager
Alcohol by volume (ABV):
5.00%
Availability:
Year-round
Notes / Commercial Description:
No notes at this time.
Added by Gusler on 01-09-2003
This beer is retired; no longer brewed.
HISTOGRAM
Ratings: 9 | Reviews: 8
None found.
More User Reviews:
3.24
/5
rDev
+20.4%
look: 2 | smell: 3 | taste: 3.5 | feel: 3 | overall: 3.5
12 Oz Bottle via footy. Somewhat classic pale beer aroma, loaded with edamame, salted peanuts, dusty floor, and lemon cleaner. Blah. Pours a mildly hazed deep gold, tinted nectarine flesh and lined with a rim of fine white soap. Flavor has surprisingly more flavor and texture. Nothing to go crazy about, but there's plenty of grain sugars, chewy wheat feel, most enjoyably some classic noble hop flavor. Light bitterness. Nibbles of airy alcohols and pale fruit candy. Rides out into a nice crisp finish and smack, littered with cans of almonds. A well done, clean pale lager. Down the bottle some corn stalk and dust settle out, but it seems fitting. Still enjoyable to more noticeable hop flavor.
699 characters
3.42
/5
rDev
+27.1%
look: 3 | smell: 3.5 | taste: 3.5 | feel: 3 | overall: 3.5
This beer comes from a little 30 barrel brewery with a brand new "Tasting Room" to open as we speak. Dave is a fine fellow, talked to him on the phone just the other day, one of those "Home Brewers", gone wild, and the kind we should give all the support to that we can. Dave I promise I will stop in at my earliest convenience, so anyone passing near the "Metropolis" of Bisbee, Arizona, stop in and say high to Dave.
Clear gold in color, the head is impressive in size, brilliantly white in color, frothy in texture and the lace nice clinging sheets. Malt dominates the nose, citrus crisp, fresh, and quite pleasant to sniff. Sweet malt at the start, top a bit skinny, the finish personable in its hop spicy bite, moderate carbonation and a quite dry and thirst quenching. Good beer as I said for a "Hot Summer Day", or when your into something light and cleansing to the palate.
890 characters
2.7
/5
rDev
+0.4%
look: 2 | smell: 2 | taste: 3 | feel: 3 | overall: 3
Pours as a cloudy orangeish color. Resembles Frankiszer but has some sediment floating around in it - probably just active yeast culture.
Definitely wonky - has a smell like that of wheat beer but it isn't a wheat beer. Has a metallic taste (due to the local water being used to brew it).
Has kind of a coriander-orange peel aroma with a touch of wheat (appears and smells like a Blue Moon but with a lot more color).
Mouthfeel is smooth and full. Has a strange aftertaste that almost reminds me of bitterness and sweetness at the same time.
Drinkability is high when drunk in Bisbee but low drunk anywhere else (it's just the climate down there). It produces a rather full sensation when drunk and can be drunk as a session beer but with the rather variable qualities from bottle to bottle, I'd have to say unless you can get it from Bisbee itself, take a pass on this one.
878 characters

2.31
/5
rDev
-14.1%
look: 2.5 | smell: 1.5 | taste: 2.5 | feel: 3 | overall: 2.5
Thanks to NitroGen for this bottle.
Pours a cloudy rusty orange color. Small white head quickly fades to just a ring. Lacing doesn't play a part with this one.
Man, what a smell! It smells like someone set a brown paper lunch bag on fire. In that bag was some wheat toast, nuts, and hair. Yup, burnt hair and even a tad bit of burning cardboard. How is that even possible? Makes me scared to take a drink!
Here goes...ok, not so bad, but not really good either. Almost flavorless, really. A little grainy, a little metallic, a little sweet and sour. I'm not sure what's going on here.
Mouthfeel isn't bad. Active carbonation. Much more drying than other macro lagers. A bit soapy, also. I can see the hard core locals slinging these back on the corner or some guy buying it just because his name is Dave, but besides that there should be no market for this. Maybe throw in the high school party crowd, too.
910 characters

2.3
/5
rDev
-14.5%
look: 2.5 | smell: 2.5 | taste: 2 | feel: 2.5 | overall: 2.5
Thanks to NitroGen for sending this my way.
A - Poured a hazed yellow color with a white head that fades quickly
S - Smells like wheat and cardboard
T - Quite a bit going on here to bad its not very good some wheat cardboard metallic
M - This beer has a light body with higher carbonation to it
D - This might not be too bad if it was really hot out and I was by the pool and wanted something cold to drink
412 characters

2
/5
rDev
-25.7%
look: 2 | smell: 2 | taste: 2 | feel: 2 | overall: 2
Unfortunately this beer is quite variable. At its best it is a good example of the American macro beer. Clean, crisp, golden, and with a mellow hop bite. Basically has a bit of flavor where your standard American lager has none. The last one of these that I had was quite hazy was extremely fruity and nothing like a lager what so ever. It was pretty clearly infected with globs of bacterial growth, yum. So watch out for this one.
431 characters

2.66
/5
rDev
-1.1%
look: 3.5 | smell: 2.5 | taste: 2.5 | feel: 2.5 | overall: 3
Enjoyed on tap at new Tempe brewpub location. Pours very pale golden color with medium sized white head. Nose is somewhat faint with a cereal/malt grainy nose. On the palate it is light in flavor, and could easily pass for a macro lager. A little thin and watery as well, but very easy to drink.
295 characters
2.11
/5
rDev
-21.6%
look: 2.5 | smell: 1.5 | taste: 2 | feel: 3 | overall: 2.5
On tap in the Alley Cafe in Bisbee, AZ. I've heard bad things, but let's find out.
About two fingers of white head. Hazy golden. Smells like malt, with a bit of floral hop, but I'm trying to smell it through this wet paper bag.
The thing is, the wet paper bag isn't there. The beer just has this weird pulpy cardboard smell.
Watery texture, starts sweet and reminds me of an adjunct lager. No hop presence outside of the nose. Has a slight metallic undertone--copper--running through it. It might be that the brewer is using the local water.
Mouthfeel is okay, carbonation seems appropriate.
596 characters
Dave's Electric Beer from Electric Brewing Company
Beer rating:
2.69
out of
5
with
9
ratings