East Coast IPA
| Whalers Brewing Company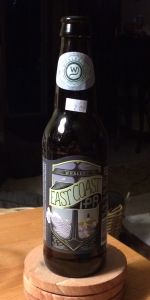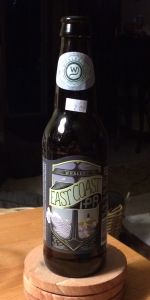 BEER INFO
Brewed by:
Whalers Brewing Company
Rhode Island
,
United States
whalers.com
Style:
American IPA
Alcohol by volume (ABV):
6.50%
Availability:
Year-round
Notes / Commercial Description:
None provided.
Reviews: 13 | Ratings: 54
2.96
/5
rDev
-21.1%
look: 4 | smell: 3.5 | taste: 2.5 | feel: 3.25 | overall: 2.75
On draft at the brewery
Clear light amber in color, white head. Good head retention. Piney, earthy, hop aroma, mild toffee. Taste has an odd vegetative flavor. Thin to medium bodied.
185 characters

3.53
/5
rDev
-5.9%
look: 4 | smell: 3.5 | taste: 3.5 | feel: 3.5 | overall: 3.5
This is a nice beer. Nothing really crazy going on. Absolutely love the color. It's magical. It's a bit bitter which is nice. Tiny hint of sweet in the middle and back end. Overall very drinkable. Worth a try.
209 characters
3.75
/5
rDev 0%
look: 3.75 | smell: 2.5 | taste: 4.25 | feel: 4.25 | overall: 4
Cloudy haze in a light copper presentation. Not much on the nose, just a hint of malt and earthier hops. Taste is quite nice, not very aggressive, notes of jasmine over peachy-grapfruity esthers. As much malt as hops in the flavor profile. Smooth, creamy mouthfeel. A touch of sweetness on the finish.
305 characters

3.75
/5
rDev 0%
look: 3.75 | smell: 3.75 | taste: 3.75 | feel: 3.75 | overall: 3.75
Review from notes, Sample at The Microbrew Invitational 6/3/2017
Deep amber color a bit dark for an IPA and not hazy at all. Earthy grainy citrus not too bad though.
166 characters

3.32
/5
rDev
-11.5%
look: 3.75 | smell: 3.5 | taste: 3 | feel: 4 | overall: 3.25
A: hazy; mahogany in color; 1 finger khaki head that receded to a very thin cap; no lacing;
S: not especially aromatic; what's there is malty, earthy, and floral;
T: malty and earthy with a metallic character in the background from start to finish; mild bitterness at the end;
M: medium bodied; moderate carbonation; moderately dry finish;
O: with the exception of the metallic flavor, this is a nice example of an east coast IPA;
434 characters

3.48
/5
rDev
-7.2%
look: 3.5 | smell: 3.5 | taste: 3.5 | feel: 3.25 | overall: 3.5
Dark copper with an off white head.
Its not hazy but you cant see through it due to darkness. Almost certain to be on the malty side.
Citrus hop aroma and sweet malt, faint caramel?
Pretty simple.
Moderately carbonated. Too much imo.
Bitter up front, sweetness follows, strong hop bite at the end.
Pretty good but could be better. Too bitter for me imo.
360 characters
3.33
/5
rDev
-11.2%
look: 3.5 | smell: 3.5 | taste: 3.25 | feel: 3.25 | overall: 3.25
Flashback IPA. It's 1997 and you're thirsty.
Old school/kinda caramel/biscuit, oxydized, heavily muted citrus hop nose.
Built for the "we need to balance our hops/malt philosophy people"
I'm down for old school representations, but 20 something odd years later, it better be done super tight, and this just doesn't feel like it
328 characters

4.23
/5
rDev
+12.8%
look: 4.25 | smell: 4.25 | taste: 4.25 | feel: 4 | overall: 4.25
Pours a translucent copper and orange hue with a finger of foam. Citrus aroma, taste of caramel malt up front with a complex hoppy finish. This is a really decent IPA.
169 characters
4.5
/5
rDev
+20%
look: 5 | smell: 5 | taste: 4 | feel: 5 | overall: 4.5
IPA's IPA's!!! Are they the future of microbreweries? They sure are the present! Whaler's East Coast introduces a great middle ground to IPA's. Some IPA's are on the weak side, and it makes you wonder why they're not just called Pale Ales, and then some are so intense with lbs. of hop additions it's not even refreshing to drink. The East Coast seemed to be Brewed as a session beer, with a nice malty body and a smooth orange zest-like flavor.
6-Packs are available now. Unfortunately, only in RI for the time being.
519 characters

3.43
/5
rDev
-8.5%
look: 4 | smell: 3.5 | taste: 3.25 | feel: 4 | overall: 3.25
12oz. bottle served in a shaker pint. Pours a translucent copper hue with a half-inch, bright white head that slowly sizzles and pops and recedes into a consistent, soapy slick. Thin swaths of lacing are revealed during the tasting. Nose expresses candied citrus and a piney/earthy quality. Taste is piney/resiny/earthy with a light cardboard and metallic quality towards the back that lingers between quaffs - all on a malty backbone. Mouthfeel is light-medium in body with a bright carbonation and a slight oiliness to the texture. Overall, not a bad first effort - definitely an east coast style IPA; however, a bit too resinous for my sensibilities.
659 characters

2.25
/5
rDev
-40%
look: 2.25 | smell: 2.25 | taste: 2.25 | feel: 2.25 | overall: 2.25
This tastes like a home brew level IPA to me, although the reception at the bar far more favorable for the hometown brewers. Overall just another tick on the list of New England beers.
184 characters

3.4
/5
rDev
-9.3%
look: 3.5 | smell: 3.5 | taste: 3.25 | feel: 3.5 | overall: 3.5
Poured on tap at Mew's Tavern in Wakefield, RI. A auburn colored pour. A bit piney hop presence with a decent malt backbone. Feel is medium-bodied and good level of carbonation. Overall, it's not something I would seek out again.
230 characters
4.17
/5
rDev
+11.2%
look: 4.25 | smell: 4 | taste: 4.25 | feel: 4 | overall: 4.25
On-tap 7/12/2015 at Doherty's East Ave Irish Pub, in Pawtucket, RI served in a tapered pint glass.
A: The beer is a deep amber color, with a large foamy off-white head that fades slowly and leaves a very thick lace on the glass.
S: The aroma contains earthy hops, fruity citrus and caramelized malts.
T: The taste starts out sweet with flavors of caramel and citrus. Then a hearty malt character comes in, followed by a strong but not over-powering hops bitterness that provides a good balance. The after-taste is slightly hoppy and slightly sweet.
M: Crisp and smooth, medium body, medium carbonation, finish is slightly sticky.
O: Tasty, goes down easily, not too filling, good kick, good representation of style, this is a very solid IPA to drink for a long time.
773 characters
East Coast IPA from Whalers Brewing Company
Beer rating:
3.75
out of
5
with
54
ratings