Davenport's Original Bitter
| Highgate Brewery Ltd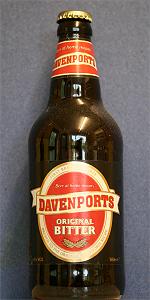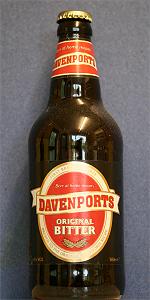 BEER INFO
Brewed by:
Highgate Brewery Ltd
England
,
United Kingdom
highgatebrewery.com
Style:
English Bitter
Alcohol by volume (ABV):
4.00%
Availability:
Year-round
Notes / Commercial Description:
No notes at this time.
Added by JohnW on 04-16-2005
HISTOGRAM
Ratings: 5 | Reviews: 5
Reviews by mdagnew:
3.53
/5
rDev
+17.7%
look: 3.5 | smell: 3 | taste: 3.5 | feel: 4 | overall: 4
500ml bottle bought from The Vintage, Antrim...
Poured a clear light copper orange colour. Slightly off white head poured fairly loose and frothy then faded quite quickly to light patchy covering. Some carbonation bubbles drift to the surface... light patchy lacing...
Aroma - Juicy tart fruits (pears, some apples), bitter orange marmalade, some marzipan notes, faint biscuit malts, grassy, floral honey sweetness, earthy, quite yeasty...
Taste - Light nuttiness mixed with good juicy fruits (bitter oranges, pears), decent peppery and grassy hop bitterness, biscuit malts, bready, honey sweetness, some graininess, faint herbal notes...
M&D - Sharp and dry initially then smooths out... medium bodied... fairly drinkable at only 4%
Overall - A decent enough bitter... not something i'd rush back to but worth a try...
824 characters
More User Reviews:
3.3
/5
rDev
+10%
look: 3.5 | smell: 3.5 | taste: 3 | feel: 3.5 | overall: 3.5
Pours darkish colour with reasonable head, aroma more malty and caramel than bitter or hoppy. Taste is initially softer with the malt overtones, but does finish with a darker bitter flavour. Having drunk the original Davenports bitter from cask 20 years ago in Birmingham, my memory is not so good to be able to campare what I remember of it, though I think the family resemblance is there. More of a traditional style old bitter from the Midlands area, for drinking in the cooler months, I enjoyed it, though nothing special. I have also tasted this new version from cask at the Brewery tap when it was first released, and enjoyed it more then.
John W
Bham UK December 2005
678 characters
2.45
/5
rDev
-18.3%
look: 3.5 | smell: 3.5 | taste: 2 | feel: 2 | overall: 2
Davenports Original Bitter, the label goes on to say:
Based on the original Davenports recipe, this classic, copper coloured ale is full bodied, with a palate rich in malt and fruit, balanced by a bitter finish.
This is a live review, lets see if they are telling the truth?
My brown 500ml bottle has a best before date of May 2009, it is being consummed mid Feb 2009 (now). Poured into a UK pint sleeve glass.
It looks fine and is the copper colour claimed on the label, there is a hint of a haze and the white foaming head sets it off very nicely.
Very English hop, malts and yeast aroma, maybe on the sweet side as the malts assert themselves in the glass.
Oh dear, they forgot to put any taste in the brew. Where has the 4% ABV gone, where have the ingrediants that gave me the aroma disappeared too? I am drinking a fizzy, watery, slightly malty glass of dishwater.
No body and a sad, sad beer indeed. First impressions can obviuosly be wrong, looks and smells OK, pity about everything else.
I've still got two thirds of the pint left, I'm off to find some cheese to help me finish the beer off, can't drink it on its own!
1,138 characters

3.03
/5
rDev
+1%
look: 3.5 | smell: 3 | taste: 3 | feel: 3 | overall: 3
Pours a pale golden colour, a bit flat and stagnant in the body although head is quite nice; slightly off-white and decent dense with some nice lace left here and there where it's sunk. Retaining overall but nice, naturally flawed sinking in spots as well.
Smells almost Belgian. Lots of brown sugar and honey, with some odd sour grain notes coming through. Slight vinous characters and hints of canteloupe as well. Some hop resins but mostly a really burnt-sugar sweetness. Not bad, but can't say I love it.
Tastes fairly bitter overall. Note of burnt sugar on front that descends into oddly burnt flavours with some wood characters, pine resin and some soil on the mid. A good hit of burnt sugar on the very back. Quite medicinal, notes of leather and almost a saltiness to it at times, but it's mostly low and earthy flavours coming through. Again, can't say I'm a huge fan. Definitely lacking in key areas, especially the front and the back has no profile, just flatly bitter and dull.
Texture is not bad, a bit on the thick side which it needn't be, but alright.
Yeah, I know this style of beer is meant to be quaffable in large quantities, but this one is not for me.
1,177 characters
2.68
/5
rDev
-10.7%
look: 3.5 | smell: 3 | taste: 2 | feel: 2.5 | overall: 3.5
Pours a clear golden colour, with a full-bodied head of smooth white foam. Lacing is sublime: thick, sudsy, foamy. It's the perfectly classic English lace down the insides of my glass. Colour is a bit lackluster, but otherwise, pretty good.
Very mediocre characters on the nose, giving a big whiff of malted grain, a little rough sweetness, and a buttery lard character. Certainly, it gives off enough of the English style, but by the same token, it's almost prototypically English leaving nothing to the imagination, and with very little depth.
Taste is possibly even worse. the malt comes through at the start, with a faint barf character on the back, giving a slightly astringent and sour bitterness. Very light body, minimal sweetness and minimal complexity. Feel is light and smooth, but very, very dull.
Eh. Smooth enough. It's a drinkable and skullable beer, but certainly nothing I'm going to remember fondly.
920 characters
Davenport's Original Bitter from Highgate Brewery Ltd
Beer rating:
3
out of
5
with
5
ratings