West Coast Wheat Wine
| Baird Brewing Company / Fishmarket Taproom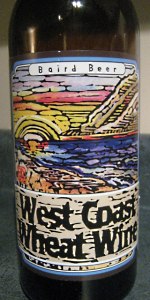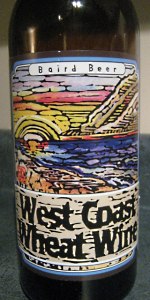 BEER INFO
Brewed by:
Baird Brewing Company / Fishmarket Taproom
Japan
bairdbeer.com
Style:
Wheatwine
Alcohol by volume (ABV):
10.50%
Availability:
Fall
Notes / Commercial Description:
Brewer's Notes: Wheat Wine is a beer style born on the U.S. West Coast in the 1980s (legend has it that the style was conceived and first crafted at a small brewery-pub in Sacramento, California). It has as its progenitor the English Barley Wine beer style. Wheat Wine, as a beer style, is characterized by a massively rich complexity imbued with a tenaciously strong-willed sense of balance. It is a style indicative of the irreverent creativity and unrelenting passion for beer that form the hallmarks of craft brewing in the West Coast of the United States. Baird West Coast Wheat Wine is crafted in homage to the skilled brewing artisans and fearless beer entrepreneurs that have pioneered craft brewing on America's great West Coast.
Baird West Coast Wheat Wine is a heavyweight – this year (2005) tipping the scales at approximately 9.5% alcohol by volume. 50 percent of the fermentable extract is derived from malted wheat, and this lends a quenching drinkability rare to beers of this strength. This drinkability is buttressed further by a 10 percent addition of Japanese candy sugar which lends to the beer a character reminiscent of a Belgian-style Tripel. The hops once again are 100% American West Coast types; this year, though, large additions of Vanguard and Sterling render the hop character softer and spicier than last year's boldly citrus performance.
Added by UncleJimbo on 03-01-2005
HISTOGRAM
Ratings: 24 | Reviews: 20
3.62
/5
rDev
-7.4%
look: 3.5 | smell: 4 | taste: 3.5 | feel: 3.5 | overall: 3.5
Pours a murky non see through apricot hue which leaves a half finger head and little lacing,the smell is pineapple,papaya,strawberry guava and candied wheat,the mouthfeel is medium bodied and a touch syrupy with tastes of pineapple,kiwifruit,paw paw,lemon rind,candied wheat,candied sweet sugar and a touch of grapefruit bitterness on finish and overall a very fruity wheatwine that belittles its high ABV and overall a nice wheatwine and i could easily drink again with the fruitiness coming through in a very good way cheers.
527 characters
4.03
/5
rDev
+3.1%
look: 4.5 | smell: 4 | taste: 4 | feel: 4 | overall: 4
Appearance - Pours a cloudy golden amber hue with 1/2 a finger width of bubbly head.
Smell - Pineapple, passionfruit, starfruit, very slight hint of vanilla.
Taste - Very fruity flavours of pineapple and passionfruit shine through. Slight bitterness in the finish and aftertaste. Slight hint of honey.
Mouthfeel - Medium bodied with light carbonation and slight fluffiness.
Overall - If you want to get into the style, this is definitely a good start. Some very nice flavours in this wheat wine, as well as a nice fluffiness to the mouthfeel. I've had Demeter's Harvest by Half Pints, which is an excellent representation of the style, but besides that, this is still a good second runner up. Worth the try!
712 characters

4.1
/5
rDev
+4.9%
look: 4 | smell: 4 | taste: 4 | feel: 4 | overall: 4.5
From a 650 ml brown bottle, abv listed as 8% on my bottle. Pours out a cloudy gold colour, tall tight spongy white head with excellent retention.
Sharp aroma of pineapple and papaya, a yeasty twang, mild bready grains in the background. As it warms some Cascade hops can be detected.
There's notes of pineapple, papaya and strawberry up front in the flavour, soft sweet grains in the middle, finishing with sweet grapefruit and a bit of astringent pith. Aftertaste is actually pretty clean. Warm alcohol is present throughout in the background.
Medium-full body on the mouthfeel, silky smooth texture with some creamy fullness, low carbonation.
If you've never tried a Wheatwine before this is a decent place to start. Very enjoyable and quite approachable for both the style and the alcohol content. I'll for sure be buying at least another bottle of this, if not more. It should last quite a while at that abv% if I don't get to it too soon.
947 characters

4.25
/5
rDev
+8.7%
look: 4 | smell: 4 | taste: 4.5 | feel: 4.5 | overall: 4
I orginally poured a glass of this at cellar temperature but thought it would be best served at fridge temperature. The pour produces a white fluffy head on a golden brew.
The only smell I can pick up is pineapple. The smell is one dimensional in an interesting way.
The taste is of sweet pineapple and bitter orange. The flavours comprise of citrus fruit of many varieties that are reminiscent of a citrus fruit cocktail. The finish has a good bitterness to it and the mouthfeel is fairly full like a glass of natural fruit juice.
I like it! I really like the prominent citrus fruit smell and taste. The taste of the bitter-sweet fruit and the bitterness in the finish balance well. It's not really complex, just good and tasty.
732 characters
4
/5
rDev
+2.3%
look: 4 | smell: 4 | taste: 4 | feel: 4 | overall: 4
2010 version, 633ml bottle, 8% ABV.
This beer pours a hazy, yet bright, medium golden amber colour, specked with sparse floaties, and supporting one hefty finger of foamy, bubbly, and milky white head, which leaves a few abstract iceberg profiles of lace around the glass upon its steady retreat.
It smells of sweet tropical fruit - pineapple, mostly - bitter orange peel, soft wheat cereal (shredded wheat comes to mind), dry alcohol, and strange musty organic essences that I'm going to peg on the native yeast. The taste is semi-sweet, heavy wheat malt, tangy orange and lemon citrus fruit, mildly piney bittering hops, and somewhat astringent, but generally well-behaved booze.
The carbonation is moderate, just a sort of pithy frothiness, the body medium-full in weight, smooth, and perhaps a wee bit creamy. It finishes still bearing the burden of that massive wheat-strong malt, but with a subversive drying tug from the twin forces of ethanol and bitter hops.
A nice idea for a pan-Pacific shout-out to the modern West Coast American brewing ethos, even though most of the wheat wines in the States seem to originate from the Mid-West and points further east. Anyways, this offering displays the extreme malt characteristics expected from any beer delving into '*wine' territory, with an edginess well attributable to the wheat. Hard to tell outright, though, when the aforementioned bitter fruitiness, in honour of the Pacific Rim influence, is so evident. Overall - drinkable enough now, and a prime candidate for some short to mid-term aging.
1,559 characters

3.65
/5
rDev
-6.6%
look: 4 | smell: 4 | taste: 3.5 | feel: 3.5 | overall: 3.5
633ml bottle poured into tulip April,5,2011
A glows a golden orange with lots of tiny suspended particles and a tight off white thumbs width of head that leaves several random patches of lace
S pineapple, cotton candy, dry cereal, yeast and booze
T what I smell but with some lemon rind and the booze is even more apparent
M lighter and fluffier then expected but the heat is hard to miss
O interesting brew perhaps needing some time to mellow out the booze but still worth trying
another style I'm not very familiar with but could learn to love, not as heavy as a Barley wine and maybe this needs to age even more so
624 characters
4.1
/5
rDev
+4.9%
look: 4 | smell: 4 | taste: 4 | feel: 4 | overall: 4.5
Had this on tap at Baird Beer Nakameguro Taproom in Nakameguro, Tokyo, Japan - http://bairdbeer.com/en/taproom/nakameguro-taproom
A - Tapped a clear orange golden into a taster glass with a thin and slightly milky white head (4)
M - Biscuity, bready wheat malts with dashes of fruitiness suggestive of peaches or apricots (4)
T - Strong wheat malts upfront increasing in intensity towards the middle also with a gradually increasing phenolic flavor; finish is hoppy, fruity, and mildly bitter (4)
M - Medium bodied, slight syrupy with above moderate carbonation and a foamy smoothness (4)
D - Easy sinking despite the strength. Intense malt flavors were interesting and something I could appreciate (4.5)
This was the final of 3 beers I sampled at Baird's Nakameguro Taproom. The first 2 beers I had were the Jubilation Ale 2010 and the Dark Sky Imperial Stout
866 characters
4.12
/5
rDev
+5.4%
look: 3.5 | smell: 4 | taste: 4 | feel: 4.5 | overall: 4.5
Clearish orange-amber colour with a tiny off-white head.
Rich malty aroma with noticeable fruity aroma. The fruit notes seem to be a touch like orange.
Nice, smooth and rounded pale malt flavour. Mild spice and plenty of nice fruitiness. There is a touch of bitterness to balance and noticeable wheat.
Medium-full body with moderately-low carbonation. Nice.
A great little beer. Plenty of flavour like in an English Barleywine with a hint of American hop and a touch of wheat.
480 characters
3.12
/5
rDev
-20.2%
look: 3 | smell: 3.5 | taste: 3 | feel: 3 | overall: 3
A: Bubbly head, dissipates more quickly than I would have liked. Nice medium golden colour with a tinge of red.
N: Phenolic sour flavours but pleasant and not overpowering.
T: Very distinctive but I don't quite know how to describe this - slightly smoked maltiness? Fairly enjoyable.
M: Pleasant and matches well with my comments above.
Drinkable, but I don't quite get the discrepancy between nose and taste.
413 characters

2.88
/5
rDev
-26.3%
look: 4 | smell: 3.5 | taste: 2.5 | feel: 3 | overall: 2.5
Pours a slightly hazy burnished amber colour. Head is thin, but retaining a decent film of off-white bubbles. Very slow, light carbonation. Lacing is tasty, sweet and sticky. Looks good.
Smell is sour and fruity with some overripe apple and strawberry notes. Nice funkiness behind with a slight mustiness, hint of wet cellar and slight leather character. But overall just a slight fruit juicy aroma to it. Decent, but not gobsmacking.
Taste is wow, a bit...weird. Incredibly sweet and fruity but really kind of insipid, with rotting apple and pear notes. Kind of heavier boozey note on the back but not a lot. Really doesn't have much of a finish at all, just has that odd fruity sweetness on the front and a mild hint of bitterness, but nothing pronounced. Really drinks like fruit juice here, with a hint of funk but just very lacking on the finish and needs a great deal more to impress me.
Swills pretty well in the mouth with a lot of viscosity. Weird soupy texture as it goes down, like it's full of sediment but otherwise thin.
Yeah, I'm not a huge fan of sweet beers and this one is just insipid. I get that it's meant to be sweet but it needs something to balance it and clean up the palate. I really couldn't drink this in quantity. A quarter of a bottle is more than enough.
1,289 characters
3.87
/5
rDev
-1%
look: 3.5 | smell: 4 | taste: 4 | feel: 4 | overall: 3.5
Pours a lightish orange colour, with an initially thick head of white, that cascades down until it's only a light film. Looks pretty heavy, and there's some pleasant static carbonation when it's swirled. Overall, looks pretty good, although the lack of head in the end is disappointing.
Nose is lightly sweet, with some whiffs of slightly funky banana esters, and a bit of brown sugar and dates. Quite sweet, and surprisingly, juicily dark. Quite pleasant though.
Taste is also quite sweet, initial big sweet melted sugar front palate, with a welling of slightly wheaty sourness coming through. Sharp finish, not quite a booziness, but not quite hoppiness either. I actually do like the fact that it contains some of the classic wheat beer characters. Feel is good.
Pretty tasty, although it's a little bit wayward, and it doesn't have the exciting depth and complexity as many another wheatwine I've had.
908 characters
3.33
/5
rDev
-14.8%
look: 3.5 | smell: 3 | taste: 3.5 | feel: 3 | overall: 3.5
Thick, sweet (like candy!), with a mild tasty bitterness, very drinkable, but high in alcohol.
This is a nice winter beer... I'm not really a fan of very strong beers, nor of excess sweetness, but they kind of work together here, and there's enough else going on to keep it somewhat interesting. I was quite surprised by how drinkable it was.
Deep dark color and almost no carbonation (though one doesn't really expect it with this kind of beer).
Sort of like a more drinkable barleywine.
491 characters

3.27
/5
rDev
-16.4%
look: 3.5 | smell: 4 | taste: 3 | feel: 3 | overall: 3
An interesting experience, but not to be consumed with jet lag at the end of a long day. Still, cracking this open I really liked the smell of this "wheat wine", a style of beer of which I am completely unfamiliar (and thus completely unqualified to be reviewing, sorry!)
The alcohol content of 10.5 is rather high, but it sneaks up on you and isn't as obviously present as it might be. Nonetheless, this beer was simply too "sweet" for me. Not super sweet, but sweet enough that it occurred that I'm not really looking for this kind of sweet in a beer, and perhaps I should avoid wheat wines in general.
Still, I'd like to try more from Baird!
648 characters
4.18
/5
rDev
+6.9%
look: 4 | smell: 3.5 | taste: 4 | feel: 5 | overall: 5
I got this beer in Osakaya, in Shinjuku Est (East exit from Shinjuku station - the carry an insane amount of belgian beer in addition to the full Baird line up).
Very little to no head, but at this abv, you wouldnt expect it to have any. Cloudy opaque brown with hints of orange and amber.
Served at room temperature, which in this room, was far too cold. A warm yeasty malty aroma. Solid long lasting flavor. Reminds me a lot of old foghorn, only softer. Very long lasting sweet caramel and creme brule flavors. Restrained bitterness. Very smooth, and minimal carbonation. The alcohol is completely hidden. This goes down far too easy. If this was the only beer on tap at a bar and there was no warning as its alcohol content, I guarantee half the patrons in the bar would be blissfully passed out at the bar in no time flat. Awesome.
838 characters
West Coast Wheat Wine from Baird Brewing Company / Fishmarket Taproom
Beer rating:
3.91
out of
5
with
24
ratings