Yabai-Yabai Strong Scotch Ale
| Baird Brewing Company / Fishmarket Taproom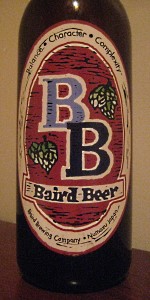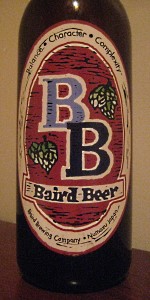 BEER INFO
Brewed by:
Baird Brewing Company / Fishmarket Taproom
Japan
bairdbeer.com
Style:
Scotch Ale / Wee Heavy
Alcohol by volume (ABV):
7.20%
Availability:
Fall
Notes / Commercial Description:
No notes at this time.
Added by UncleJimbo on 10-06-2005
HISTOGRAM
Ratings: 14 | Reviews: 9
None found.
More User Reviews:

2.5
/5
rDev
-34.7%
look: 2.5 | smell: 2.5 | taste: 2.5 | feel: 2.5 | overall: 2.5
3.96
/5
rDev
+3.4%
look: 4.5 | smell: 3.5 | taste: 4 | feel: 4.5 | overall: 4
633ml bottle, generic Baird Beer label, with a pasted-on white label indicating that this is indeed the Yabai-Yabai, which is apparently a Japanese phrase akin to 'wicked', a polar reversal of slang meaning derived mostly in the last generation or so. It also means 'delicious', which after further consideration, seems a hell of a lot more appropriate here.
This beer pours a clear, very dark ruddy amber hue, with two fingers of densely foamy, bubbly, and yet somewhat creamy ecru head, which settles at quite a leisurely pace, eventually rendering some thorough, if crooked, honeycombed lace around the glass.
It smells of lightly roasted caramel malt, dry powdered chocolate, bruised pear flesh, nut butter, and grassy, floral hops. The taste is dry butterscotch-tinted caramel malt, sodden brown bread, tame black orchard fruit, creamy bittersweet chocolate, an ethereal wisp of smoke, and earthy, floral, and herbal hops.
The carbonation is quite sedate in its trilling frothiness, the body rather large and in charge - full, smooth, and creamy, almost like drinking Irish chocolate milk. It finishes still relatively sweet, but with some lingering hops, smoke, and a rising astringent alcohol edge.
It was a wee bit difficult at first to get to the main olfactory and flavour components - this is certainly a mouthful of a beer! Heavy without too much attendant thickness, or anything approaching cloying. After all that, I found a decently rounded scotch ale, the caramel and booze surprisingly understated and beguiling at the same time.
1,552 characters
4
/5
rDev
+4.4%
Pours dark brown with a small head.
Nose shows golden syrup, prunes, figs, brown sugar and port. Very rich and sweet-smelling.
Flavours are not as sweet as the aroma would suggest. Toasty malt, a bit of brown sugar, soft booze and figs.
Very low carbonation, could be higher.
275 characters

3.86
/5
rDev
+0.8%
look: 3.5 | smell: 3.75 | taste: 4 | feel: 4 | overall: 3.75
330ml bottle. Bottled on 2014-07-14.
A: Clear brown. No foam.
S: Intense toasted and caramelized aroma. Hints of plum.
T: Toffee. Quite malty. Hints of vinegar. Medium low sweetness. Moderate bitterness. Finish with caramel bitterness and long lasting.
M: Medium high bodied. Low carbonation.
O: I guess this bottle is too old. But the malty characters are still good.
369 characters

4.03
/5
rDev
+5.2%
look: 4.5 | smell: 4 | taste: 4 | feel: 4 | overall: 4
633ml bottle poured into tulip 2/3/12
A looks pretty dark but has a ruby red glow when held to the light, thin beige head ends up as a thin film pretty fast but leaves several distinct rings of lace
S coco powder, grape based purple candy, molasses, and some faint rye bread
T like a fruity, nutty, chocolate bar, with everything I could smell, with some very faint smoke
M silky entry that creams up quickly from the bubbles, no heat from the booze could lead to danger
O mellow stuff for sure, could use some more smoked malt undertones but perhaps that's just my vision of a Scotch Ale
easy to drink with over a year on it, perhaps a little overpriced considering Traquair ales are the same price per/ml, that being said it was worth trying
752 characters
3.43
/5
rDev
-10.4%
look: 4 | smell: 3.5 | taste: 3.5 | feel: 3.5 | overall: 3
Purchased for me by @epiclurk from Plonk in Canberra.
Pours a deep brown-red colour, with a filmy, pocked but inconsistent head of mild brownish off-white. Some strong but patchy lace. Body is firm, but silky, forming a tight stream of carbonation when tilted.
Nose is disappointingly flat. Some grainy oat-like huskiness, with a faint hint of more depth from roasted grains and a hint of hops. Overall, it's really quite dull and generic.
Taste is also pretty flat, with a faint brown bread character coming through and little else. There's a subtle sweetness coming through, but it gets overwhelmed by the lightness and unsubtle booze that seems to overtake the palate. Feel is light.
Overall, this really falls down as a "strong scotch ale". It doesn't have the depth or the complexity I expect, or even the bludgeoning weight that would warrant the title. Overall, I'm pretty unimpressed.
897 characters
4.2
/5
rDev
+9.7%
look: 4 | smell: 4 | taste: 4.5 | feel: 4 | overall: 4
Purchased from a specialty bottle shop in Shinjuku.
A: Deep chestnut brown with orange tints. A nice creamy head that dissipates slowly as you drink. Bits of yeast from the bottle-conditioning visible floating through the beer.
S: Scents of toffee and dark fruits, overripe apples and cloves. A bit like burnt sugar, almost like creme brulee.
T: A great balance of malt and fruity sweetness. A nice heaviness in the mouthfeel, but not overwhelmingly so, mingled with a perfectly light carbonation. The syrupy sweetness of the dark fruits mixes well with the maltiness to create a a complex yet refreshing brew.
613 characters
4.95
/5
rDev
+29.2%
look: 5 | smell: 5 | taste: 5 | feel: 4.5 | overall: 5
Had this on tap at Vivo in Ikebukuro, Tokyo. One of my favorite Baird brews that I have tried, and that is a high label to give to a beer from such an awesome brewery. The first sensation that protrudes from this brew is the amazing scent of (what else) scotch. It clears nostrils, this brew! Such fun to put up to your nose for a good sniff. My pint was especially warm on this night (perhaps on purpose), and i'm glad the bartender did it that way because all of the wonderful flavors came shouting triumphantly through the glass and into my belly. Strong tastes of something nutty matched the scotch-barrel-grown brew extremely well. I hope to find this on tap again sometime soon. I will have to check out the Baird Taproom and see if they have it because Vivo doesn't have it on tap anymore (although their rotation changes pretty frequently). Get this if you can find it!
877 characters
4.25
/5
rDev
+11%
look: 4.5 | smell: 4.5 | taste: 4 | feel: 4 | overall: 4.5
A - Orangy brownish amber body, with stubborn white clumpy lacing and little head.
S - Nice big aroma of citrus and lush brown sugar and molasses.
T - Solid maltyness with fantastic bitterness, though not over the top.
M - It feels too active to be bottle conditioned. . . . or maybe I am just too used to bottle conditioned that they dont seem flatter anymore. Long lasting flavor, this is excellent.
D - This is just so well put together.
441 characters
3.62
/5
rDev
-5.5%
look: 4 | smell: 3.75 | taste: 3.5 | feel: 3.75 | overall: 3.5

3.89
/5
rDev
+1.6%
look: 3.5 | smell: 3.75 | taste: 4 | feel: 3.75 | overall: 4
3.15
/5
rDev
-17.8%
look: 3.5 | smell: 3.5 | taste: 3 | feel: 3 | overall: 3
Opaque, dark brown colour with a small, short-lasted, pale tan head. Okay.
Lacking in depth with a moderate malt note and some light fruitiness. Slightly herbal.
Again, this is mdoerately malty with a hint of herbal character but it falls dead through the mid-palate. A little disappointing.
Medium-full body with moderate carbonation. Okay.
This is okay as a Scotch Ale but it lacks depth and complexity while being a touch empty on the palate.
449 characters
Yabai-Yabai Strong Scotch Ale from Baird Brewing Company / Fishmarket Taproom
Beer rating:
3.83
out of
5
with
14
ratings