Temple Garden Yuzu Ale
| Baird Brewing Company / Fishmarket Taproom
BA SCORE
83
good
12
Reviews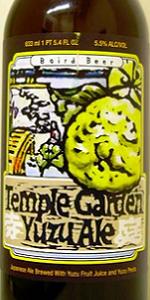 BEER INFO
Brewed by:
Baird Brewing Company / Fishmarket Taproom
Japan
bairdbeer.com
Style:
Fruit / Vegetable Beer
Alcohol by volume (ABV):
6.50%
Availability:
Summer
Notes / Commercial Description:
Yuzu is a Japanese citron fruit the aroma of which is gorgeously spicy and the juice lemon-like tart.
Added by brewdlyhooked13 on 07-21-2008
Reviews: 12 | Ratings: 20
3.55
/5
rDev
-2.5%
look: 3.5 | smell: 3.5 | taste: 3.5 | feel: 4 | overall: 3.5
633ml, weird mirror-world bomber, with what I'll take to be an abstract oil media rendition of the Yuzu fruit front and center on the label.
This beer pours a cloudy, murky orange-amber colour, with one fat finger of puffy, weakly foamy, and bubbly ecru head, which quickly falls away, leaving some sparse beehive lace clumped around the glass.
It smells of musty orange/tangerine-like citrus, a small hard water flintiness, and grainy, biscuity malt. The taste is dry, crackery and grainy malt, mildly tart citrus - lemon and that pseudo-orange from the aroma, i.e. more earthy juiciness - stranger in a strange land yeast, and a certain herbal, leafy, and grassy bitterness.
The carbonation is average - there to represent, but not really in any manner beyond a basic frothiness - the body a so-so medium weight, somewhat creamy, and mostly smooth. It finishes just a bit off-dry, the graininess and earthy hop/fruitiness leaning leeward from the increasingly tacky sweetness.
Another hard to pin down Japanese craft beer, this time perhaps due to the rather exotic fruit additive. While indeed interesting, overall this is just too musty for me to want to procure another, especially at the low-volume, high retail import prices around here.
1,248 characters
3.83
/5
rDev
+5.2%
look: 4 | smell: 3.5 | taste: 4 | feel: 3.5 | overall: 4
"Doubt is the vestibule through which all must pass before they can enter into the temple of wisdom."
--Charles Caleb Colton
Lightly fuzzy tangerine with sunny marigold accents. The crown of foam is golden ecru in color and has a good look. It becomes firmly creamy with melting and ends up laying down quite a bit of moth-eaten lace. Subsequent pours turn fuzzy into opaque.
Since yuzu (citron) peel and juice were used during brewing, I expected more citrusiness in the nose. I've had beer in which no fruit was used that was more citrusy than this. Having said that, the nose is fresh and clean and different, so it earns an above-average score.
The orange color should have been my first clue that Temple Garden Yuzu Ale isn't a pale malted citron bomb, as was expected. There's a fair amount of carmal malt present, which tends to dull the brightness of the fruit a bit. It's still delicious, it just isn't the beer that my taste buds were waiting for.
Think APA with less hop bitterness and a citrus-like flavor that is unlike anything you've ever tasted. Lime more than lemon more than white grapefruit. Maybe a little tart peach and juicy melon as well. It's an interesting flavor profile to say the least.
The mouthfeel is less energetic than it should be. Fizziness isn't good, but there needs to be more lift, especially on the back end. The beer just sort of wanders away on the swallow rather than staying buoyant until the finish. In the end, it seems a trifle thin.
Temple Garden Yuzu Ale is at least as good as Kurofune Porter, the only other Baird Brewing Company beer than I've had to date. It helps if you like citrus and if you enjoy something a little different now and then. Kampai!
1,711 characters
3.78
/5
rDev
+3.8%
look: 4 | smell: 3.5 | taste: 3.75 | feel: 4 | overall: 4
Pours hazy amber with a large, fading white head.
Delicate aroma of biscuity malt and soft fruit and spicy hops.
Very similar flavours. Bready malt and soft floral, fruit hops. Cookie dough-like malt later.
Very smooth and creamy mouthfeel.
Very easy drinking stuff.
269 characters
4.25
/5
rDev
+16.8%
look: 4 | smell: 4 | taste: 4.5 | feel: 4.5 | overall: 4
Another curiosity brought to the US by the Shelton Brothers. I tasted this beer from the 633 ml bottle at Portland International Beerfest, my first 4 oz. taste of the Sunday session - clean glass, clean palate.
ABV is listed at both 5.5% and 5.7% by various sources. Baird website says 5.5%, so that's what I'll go with...
PIB's site says: "Yuzu is the Japanese name for a citron, a slightly less acidic lemon-lime type fruit. We proceeded to shave off and collect the outer peels and hand-squeeze the juice. We then added both the peels and the juice to a rich, malted-wheat accented wort at the end of kettle boil."
Side label reads: "The spicy aroma and tart flavor of Japanese yuzu fruit, picked at a local temple garden, define this other-worldly brew. A luscious kiss of malt sweetness serves as a wonderful balance to the citric tang. This inspired ale surely is proof of the existence of a higher being. "In the simple geometry of the temple garden there is barely hidden depth and complexity." Kampai!"
A: Clear, golden honey/orange-ish color with a bounty of rising carbonation. Excellent finger's-worth of creamy white head, tight bubbles. Clinging lace.
S: Fragrant aroma of tart/bitter yuzu...reminds m eof a lemon/grapefruit hybrid, a little spicy, even a bit flowery.
T: A spicy wheat backing with a perfectly balanced layer of yuzu juiciness and zest. The malt adds enough sweetness to counteract a tartness/bitterness from both yuzu juice and peel. Beneath the citrus a lightly toasted bready ale existed, with a dirty sort of earthiness and a vague spicy dryness. One of the odder beers I've tried, yet wonderfully likable flavor. Gets points for uniqueness as well as for that exotic and memorable flavor.
M: It's not quite pucker-inducing; elicits more of a sharp tingling on the tip of the tongue. When visiting Arizona last fall, I ate some fresh grapefruit picked off the tree; the resulting numbing tingle around my lips is very close to what I get from this beer. Medium carbonation, light-medium body. Refreshing and surprisingly creamy.
D: Really glad I had the chance to try this; it's one I really looked forward to and it didn't disappoint. Tartness could get overwhelming, so I was happy to have a smaller sample this time - though it whet my appetite for more. Hope to see this on the shelves because I'd love a bottle every now and then.
Well done!
2,392 characters

4.36
/5
rDev
+19.8%
look: 3.5 | smell: 5 | taste: 4.5 | feel: 3.5 | overall: 4
22oz bottle purchased through Liquid Solutions.
Appearance: Not the most attractive murky yellow to peach iced tea color with a nice 2 finger foam head that has excellent retention and cakes layers of lacing along the sides of the glass.
Smell: Wow baby this is unique and amazingly delicious in the nose. Very lime like with a pez candy quality about it. Mmmm... this is sublime!
Taste: Yuzu is tasting to me like a hybrid of honeydew, mango, lemon and lime. I almost want to say that the combination tastes "unripened" if that makes any sense to anybody but fortunately there is a counter balancing hop backbone that is stronger than expected. Well done!
Mouthfeel: A good amount of carbonation yet the fruit flavor tends to make it lie a bit flat and thin. A light (borderline medium) body.... Besides appearance, this is the other aspect of this brew that could use improvement.
Drinkability: Very tasty and fairly drinkable.
The bottle says that Bairds Brewery is at the base of Mt. Fuji itself! I'm loving this brew and am excited that it has expanded my beer flavor palette!
1,090 characters
3.36
/5
rDev
-7.7%
look: 4.25 | smell: 3.25 | taste: 3.25 | feel: 3.75 | overall: 3.25
Slightly cloudy translucent brew, topped by a large snow white head with excellent, marshmallow-like retention and lacing.
Aroma is actually slightly hoppy, in an earthy, piney way. Plenty of pale and caramel grains come through on the aroma. Just a hint of juice lurking behind.
Flavor is a bit more juicy than the aroma; slightly tart; very grainy; light tobacco notes; yeast.
Medium-light feel; lively but smooth; semi-dry.
I don't know what Yuzu is supposed to taste like; bottle is 10 months old.
505 characters

3.53
/5
rDev
-3%
look: 3.5 | smell: 3 | taste: 4 | feel: 3 | overall: 3.5
From a 633 ml brown bottle, label states 5.5% abv. Pours out a bright hazy marmalade hue, noticeable suspended particles. Tight spongy and rocky shock white head with, tenacious retention.
Clean citrusy aroma, dry musty grains.
Well then, this is an ideal fruit addition/choice to entice in us folks who crave big citrusy American hops. I'm not sure what the actual hop content is, however either way there is a great lemony citrus presence throughout, somewhat tart, and very quenching. The malt is light and pretty neutral, just a hint of breadiness.
Mouthfeel is medium-light, comes across smooth at times, slick, thin and spritzy at other times. Carbonation is most noticeable in the middle, while the finish is actually pretty full. It's all over the place....
All in all pretty enjoyable ale, let's just call it an enhanced pale ale. The tart citrus character dominates, but works for what this is. This is the way fruit beers should be, at least if you're a hophead....
980 characters

3.97
/5
rDev
+9.1%
look: 3.5 | smell: 4 | taste: 4 | feel: 4 | overall: 4
Bomber from K&L Redwood City.
Pours a slightly hazy copperish color with a nicely formed off-white head and...whoa, what's this...lots of chunks floating in the beer. By the bottom of the bottle, the pours get cloudy as all hell.
Great aroma. Reminiscent of German lagers in a way with earthy and caramel notes from Munich malt, along with a great fruitiness. That's the Yuzu I guess. Seems similar to Asian pear with a citric aspect.
Flavor is Munich malt - caramel, toffee, and earth - with some cereal grains and well-integrated yuzu. Melons, Asian pear, lemon, and lime, maybe some lychee.
Clean and crisp mouthfeel with medium body. Great finish.
Paired well with a Vietnamese noodle and steak salad that my fiance cooked for dinner. Really a drinkable beer and in the upper tier of fruit beers I've had (although not quite outstanding).
847 characters

4
/5
rDev
+9.9%
look: 4 | smell: 4 | taste: 4 | feel: 4 | overall: 4
Peachy-colored haze, opaque; yeasty back end left in the bottle for the tasting. Finger or two of fuzzy off-white head. Citrusy aromas are strong, suggesting lime peel and grapefruit pith. Hops featured include Taurus, Vanguard, and Santiam. Flavors of lime and grapefruit are juicy and wet. The malts, Maris Otter, Vienna, rye, and oat, are delicate, allowing the yuzu fruit to be appreciated. Japanese Korizato (rock candy) adds some light lemony sweetness. Dries out on the finish, but just a bit. Some tang lingers, a slight fuzziness...
Big with the yuzu fruit's citric peel shavings and juice, bright and mellow at the same time. Reminded me a lot of Evil Twin's Femme Fatale Yuzu Pale (sans brettanomyces). Go for it.
726 characters

3.85
/5
rDev
+5.8%
look: 4 | smell: 4 | taste: 3.5 | feel: 4.5 | overall: 4
Poured from a 633mL bottle into my Drie Fonteinen tumbler.
Lightly hazy orange-peel liquid with several streams of micro-bubbles coursing to the surface sustaining the dense creamy ivory head for ages. Soapy lacing pastes the sides of the glass and adheres doggedly.
Yuzu comes through in the nose - a distinctive lime-like, almost herbal bitter note pervades. Light malt undertone with a hint of wild yeast...
Sweet and tart on the palate, slightly biscuity with a low bitterness. There is some similarity here to a best bitter, though this is decidedly more fruit-laden with hints of honey-dew in addition to the citrus. Brisk with a vague herbal tea element.
Creamy yet light bodied, this is rich enough to savor but thin enough to session.
Refreshing, unusual, but not terribly complex - though the depth of flavor improves as the beer warms up. Worth a try, though I doubt I'll re-visit it considering the price...
925 characters
1.54
/5
rDev
-57.7%
look: 3 | smell: 2 | taste: 1.25 | feel: 1.25 | overall: 1.25
Muddy brown / red, white foam which disappeared quickly without trace.
Smells a little citrus, slightly orange.
The taste ..... yes the flavor was it?
I drink something that has no direct taste, a little more muggig. little small sour and bitter.
The beer feels old, but the sticker says 30 / 1-17.
298 characters

4
/5
rDev
+9.9%
look: 4 | smell: 4 | taste: 4 | feel: 4 | overall: 4
Well this is the first beer I have had that has beer brewed with Yuzu. I really like Baird Beers so had to give this one a whirl. This beer has a tartness to it that makes me think of bitter lemons and trust me that is not a bad thing. I could see myself enjoying this on a patio if it was a draft option.
305 characters
Temple Garden Yuzu Ale from Baird Brewing Company / Fishmarket Taproom
3.64
out of
5
based on
20
ratings.