Jubilation Ale
| Baird Brewing Company / Fishmarket Taproom
BA SCORE
83
good
38
Reviews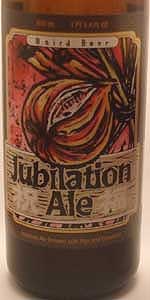 BEER INFO
Brewed by:
Baird Brewing Company / Fishmarket Taproom
Japan
bairdbeer.com
Style:
Winter Warmer
Alcohol by volume (ABV):
7.00%
Availability:
Winter
Notes / Commercial Description:
No notes at this time.
Added by WesWes on 01-02-2009
Reviews: 38 | Ratings: 75
3.55
/5
rDev
-3%
look: 3.5 | smell: 3.5 | taste: 3.5 | feel: 4 | overall: 3.5
My tulip glass fills with a slightly hazy, plum red and one finger of off-white froth that drops fairly quickly, leaving little lace and a film on the glass. A quick swirl brings new life to the head.
Very sweet cherry cough syrup, with some straw, licorice and no figs, but there is some cinnamon.
Ah, there's the fig, in the back, behind the cinnamon, and only in the lingering finish. Flavor otherwise is estranged from the aroma. There is a little bitterness and the hops make no appearance. Some notes of tea can be detected.
This is a full body with syrupy texture and soft carbonation. The alcohol is present, but far less than expected for this style.
While Jubilation is relatively easy to consume, it is just not what I want from a winter warmer. The promise of fig infusion fails to deliver just as this one misses the prerequisites for a sipper or contemplative complexity. Pair this one with beef and enjoy it for what it is, rather than what it claims to be.
976 characters
3.49
/5
rDev
-4.6%
look: 2.5 | smell: 3.5 | taste: 4 | feel: 2 | overall: 3.5
Baird Brewery /Taproom
Jubilation Ale
(Brewed with Japanese Figs and Cinnamon)
LOOK: Pours a sediment ridden copper with a white foam cap that recedes to a fine ring. Chunks floating, unavoidable. It is safe to say its unfiltered.
SMELL: Sweet and malty, with a small accent of dark fruits.
TASTE: Raisin, fig and even apple are in the taste, as well as a semi strong presence of alcohol. Light dry cinnamon and spicyness.
FEEL: Medium bodied, decently carbonated, but the yeast and proteins in the beer coat the palate giving off a slick chalky feel.
OVERALL: An interesting beer that has its strong suits, but still falls short in a few catagories.
656 characters

3.48
/5
rDev
-4.9%
look: 3.5 | smell: 3 | taste: 3.5 | feel: 4.5 | overall: 3.5
From a 633 ml brown bottle, abv. listed as 6.5%. Pours out a deeply hazed dark amber/chestnut hue, with a short creamy off-white head that holds a lengthy retention.
Sweet yet dry malt on the aroma, somewhere between caramel and bready, with mild dry earthy and grassy hops. Very faint spice in the background.
Flavour is dry overall. Wafer-like cocoa malt up front, dark fruit sweetness punctuated with some earthy cinnamon sweetness in the middle, with a bit of a sticky, tart finish and a lingering astringent aftertaste similar to tannin.
Full-bodied mouthfeel, quite thick and chewy in texture at times, moderate carbonation.
A curious twist on the style, I'm assuming it's the Japanese fig added that is providing the more unique characteristic to this. Yet something is definitely contributing to a runaway tannic astringency that is detracting from the overall enjoyment, and lingering on as an unwelcome aftertaste. Aside from that it's quite enjoyable and worth giving a try.
990 characters
3.48
/5
rDev
-4.9%
look: 3.5 | smell: 3 | taste: 3.5 | feel: 3.5 | overall: 4
Glazed terra cotta infused with brick red, polished brass accents, and a generously sized lid of golden beige colored foam. The beer fizzed like crazy on crown cracking, but there doesn't appear to be excessive bubbles at this point. The foam deflates in the usual fashion and leaves the glass pretty much bare.
Call me crazy, but shouldn't a beer that includes Japanese figs and cinnamon smell like either Japanese figs or cinnamon? To be fair, the latter is appeciated with warming. Otherwise, there isn't much here to be jubilant about. Some toasted malt, a faint fruitiness... and very little else.
Thankfully, Jubilation Ale tastes better than it smells. It still doesn't reach the relatively high bar set by the other Baird brews that I've had. Most of their lineup is solid without being special. This one is growing on me, but it still probably won't get to 4.0 for either taste or drinkability.
This seasonal ale tastes like a Belgian dark ale whose Belgian yeast strain has cinnamon esters rather than clove esters. As far as I know, Belgian yeast wasn't used, I was just trying to make a point. Figgy flavors (or figs themselves) always work better in slightly sweet beer rather than slightly bitter beer.
The second pour adds quite a bit of murkiness, so let's see if it also adds more and deeper flavor. Yeah, it does, a little, though I still can't pull the trigger on taste, so let's reward drinkability instead. No appreciable alcohol is a plus.
Warming (and the sediment-laden bottle half of the bomber) turns a 'too small' beer into a 'just big enough' beer. More malt and better bubbles would have improved things.
Again, most of the Baird lineup consists of quality craft beer. If it was less expensive and more easily available, I'd drink it often. Jubilation Ale isn't one of their better efforts and the $10.79 price tag makes it that much harder to recommend. Bottom line: there are plenty of American winter warmers that I would pick up before this one.
1,984 characters
3.47
/5
rDev
-5.2%
look: 3 | smell: 3.5 | taste: 3.5 | feel: 3.5 | overall: 3.5
Cloudy brownish colour with a smooth off-white head. Poor head retention.
Sweet malt and a touch of spice. A little fruity. Some Munich malt type notes. Higher alcohols. Interesting but dull all at the same time.
Malty sweetness with a lightly spiced back end. Some fruit. Nothing all that compelling with just a little alcohol to round it out.
Medium-light body with moderate carbonation. Fine.
A middle-of-the-road fruit beer. The figs seem unidentifiable. Okay.
468 characters
3.4
/5
rDev
-7.1%
look: 4.5 | smell: 4.5 | taste: 2.5 | feel: 4.5 | overall: 3
I thought this looked pretty interesting.
Poured into a big snifter. Thick creamy head settles to a thin cap. Orange marmalade barleywine-ish color.
Aroma is figs, honey. Actually smells more figgy than DFH Olde School. There is a spice that tickles the nose if you inahale deeply enough. Must be the cinnamon. I'm going to have to take the minority view here, because I think this smells pretty damned good. It smells like something I would want to eat for dessert.
BuckeyeNation thinks it tastes better than it smells, and I'm going the opposite direction - I think it smells better than it tastes. There's a little sweetness up front, then this flat earthy flavor with a hint of orange rind. It's not an offensive flavor or anything, I just find it falls a little flat.
Creamy, slick mouthfeel with soft little bubbles.
For me, interesting to sniff, and the 7% alcohol is no factor, but somewhat dull flavor makes for merely average drinkability
958 characters

3.35
/5
rDev
-8.5%
look: 3.25 | smell: 3.75 | taste: 3.25 | feel: 3 | overall: 3.25
I dig the spice. I enjoy the fluctuating color. I like the jammy/figgy smell. But...it's eh. It is just is. Nothing remarkable, which is sad since it sounds fun on paper. Figs and cinnamon should work...but just seems to get lost. Granted, it was bottled almost a year ago so might be better fresh. But...yeah, not really feeling it now.
337 characters

3.3
/5
rDev
-9.8%
look: 3.5 | smell: 3.5 | taste: 3 | feel: 3.5 | overall: 3.5
My wife picked this up for me about a week or two ago.
Appearance- dark amber color, thin head that dissipated quickly
Smell- sweet malt
Taste- light flavor, sweet flavor after warming for a minute or two, dark fruits, not bad
Mouthfeel- medium bodied
Drinkability- I liked it. It was pretty good. Well balanced.
317 characters
3.29
/5
rDev
-10.1%
look: 3 | smell: 4 | taste: 3 | feel: 3.5 | overall: 3
Poured from the bottle into a nonic pint glass.
A dull amber and cloudy brown body giving a faint off white and caramel head with barely two fingers on the pour and no head left to speak of.
Nose is a real pungent brown cinnamon and fruit persimmon. Great mix of persimmon and fig like dark fruit sense, melds nicely with the cinnamon. Feels like a refreshing punch or Asian big soda only bolder.
Palate sort of falls apart. Weak bodied, and not giving much of the flavor hinted from the nose. Watery malt presence doesn't match the sweetness hinted, or give any density either. It's not too bad in feel, but also has a strange faint metallic tinge on the aftertaste.
Overall it's not horrible, but it's not that great either.
731 characters
3.15
/5
rDev
-13.9%
look: 3.5 | smell: 3.5 | taste: 3 | feel: 3 | overall: 3
Got this bottle from West Lakeview Liquors, Chicago.
I was enticed by the "brewed with figs and cinnamon" on the label. What a crock! I couldn't taste of that in this beer. This tasted more like a typical Brown Ale with some extra alcohol thrown in the mix. The first taste was very offputting. The drink got somewhat better as I let it warm up, but still not really my cup of tea.
A very 'average' beer in my opinion. The novelty of drinking a Japanese beer quickly wore off as I slowly finished my glass. Not a repeat for me.
530 characters
3.04
/5
rDev
-16.9%
look: 3 | smell: 2.75 | taste: 3.25 | feel: 3.5 | overall: 2.75
From: Friar Tuck's, Savoy, IL
Date: None on bottle
Glass: Tulip
Baird's Jubilation ale is pleasant for a malt-forward, fairly heavy beer, but lacks distinction in many ways. In particular I am disappointed that the cinnamon and figs were not particularly present in the aroma or taste. When looking at price, in no way would I ever again pay $7 for a 12oz bottle of this.
Pours a 2cm tall head of beige-colored foam, made up of small to medium-sized bubbles, creating a fairly dense look. Retention is average, the head lasting one minute, leaving modest lacing of a few dots and lines and a thin ring around the glass' perimeter. The beer's body is a nearly opaque dark orange-brown color, with light bringing out brighter orange-red hues. Carbonation is visible, mildly active, and plentiful, rising up from the center of the glass and along its sides.
Aroma of rich caramel malts, some pale malt, faint cinnamon and raisin-like esters, somewhat cola-like with warmth. A bit plain and unexpressive.
Front palate of light cinnamon with heavy, syrupy caramel malt sugars, brown bread and biscuits, and light dried fruit esters akin to raisns or dates. Mid-palate of rich caramel malt sugars, yeast, syrupy raisins and dried figs, faint cinnamon. Back of palate continues with the heavy caramel malt sugars, brown bread and biscuits, and dried fruit esters with a touch of ethanol. Aftertaste of thick caramelized sugars, dried figs, and mild bitterness.
Beer is medium to medium-heavy in body, with medium to medium-low levels of carbonation, leading to a smooth, though slightly stagnant mouthfeel. Ethanol felt lightly on the tongue and in the nostrils. Closes with substantial sticky sweetness lingering on the lips and tongue.
1,735 characters
2.95
/5
rDev
-19.4%
look: 2.75 | smell: 2.75 | taste: 3 | feel: 3.25 | overall: 3
Had this on tap at new albanian. This had basically no qualities of a winter warmer, except some very slight spice flavor. The color is an orangy-copper, lighter than any other warmer I've seen.. The flavor had hints of fig and some spice, fairly light on both. The mouthfeel wasnt super but not terrible. Pass.
311 characters

2.6
/5
rDev
-29%
look: 2.75 | smell: 3.25 | taste: 2.25 | feel: 2.5 | overall: 2.5
Bottle served into a Samuel Smith's nonic glass at a tasting. 7% ABV. Reviewed from notes.
A: Pours a one finger khaki colour head of nice cream and thickness, but merely decent retention. Yeast is plainly visible. Body colour is a textbook auburn. Nontransparent.
Sm: Cinnamon. Light fig when I look for it. Pale and biscuit malts. A pleasant aroma of mild strength.
T: Lots of imbalanced fig. Messy pale and biscuit malts. Cinnamon spice throughout is nicely subtle. Decently built and pleasant to drink. Limited hop content.
Mf: Coarse throughout, but just wet enough. Suits the flavour okay, but it's inconsistent.
Dr: Drinkable and enjoyable, but far from great. Hides its ABV well.
Low C-
705 characters
Jubilation Ale from Baird Brewing Company / Fishmarket Taproom
3.66
out of
5
based on
75
ratings.