Teikoku IPA
| Baird Brewing Company / Fishmarket Taproom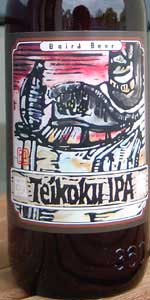 BEER INFO
Brewed by:
Baird Brewing Company / Fishmarket Taproom
Japan
bairdbeer.com
Style:
American IPA
Alcohol by volume (ABV):
5.80%
Availability:
Year-round
Notes / Commercial Description:
No notes at this time.
Added by UncleJimbo on 01-10-2003
Reviews: 31 | Ratings: 59
3.65
/5
rDev
-3.2%
look: 3.5 | smell: 3.5 | taste: 3.5 | feel: 4 | overall: 4
on-tap at club popeye, this was amber in color. citrus, pine, and caramel in the nose. taste follows suit with a big malt sweetness and prominent hop bitterness rounding it out. big in body for the style with a nice creamy mouthfeel and carbonation. a revelation after drinking macro lagers for a week in japan.
311 characters
3.33
/5
rDev
-11.7%
look: 3 | smell: 2.5 | taste: 3.5 | feel: 3.5 | overall: 4
Back home in the states I sampled, though not reviewed, a variety of different American IPAs. I've come to enjoy and appreciate this style, so I only thought it right to start in Japan with an American IPA from the praised Baird brewery.
My Teikoku poured out a flat looking amber color, toned with a pale yellow tint. There was close to no head and the top left a very thin white film with a small group of bubbles resting in the center. Pretty average, but nothing too impressive.
The smells were faint and I felt like I had to work a bit hard for this one. A grassy field/floral scent lingers about, paired with a weak citrus aroma. Smell is a bit cloudy, not as crisp or as clean as I would've hoped for and expected.
Biterness? Wow, a biting bitterness that numbs my tongue slightly and strong hops that tingle down the back of my throat. Very, very pleasant initially, but the bitterness in the aftertaste is a bit too overpowering. Light herbal notes in the taste, as well as citrus rinds. The mouthfeel is warm and the beer wets my palette nicely.
I'm holding slightly mixed feelings about this one. While there's definitely positive remarks to be made for this brew, I personally feel like the style is a bit forced and too drastically overdone. There's a lovely biterness initially and this is pretty drinkable stuff, despite its flaws.
I rate this about average, but not close to some of the other AIPAs I've tried. Worth a try though, for sure.
1,474 characters
3.93
/5
rDev
+4.2%
look: 4 | smell: 3.5 | taste: 4 | feel: 4.5 | overall: 4
A soft creamy head, although irregular, fades into a nice white collar, on a beautiful opaque copper color body. The smell is sweet and fruity, with more of a citric aroma than other Baird beers. A bit wheaty. The hoppiness is quite immediate in the taste. It leaves the sweet notes far away. Citrus, grapefruit. Still hints of smoke and chocolate. The mouthfeel is good, smooth and round. The hoppiness is round; a bit chewy and long lasting, but not overly thick. Quite drinkable.
482 characters
3.96
/5
rDev
+5%
look: 4.5 | smell: 3.5 | taste: 4 | feel: 4.5 | overall: 4
Beautiful big bubbles pop out of the tight, off-white cream head, which sits around for quite a while. Color is frosty, semi-opaque copper orange. Smell is a muted Baird Beer red fruits, not as prominent as the others: light cherry and light whisps of alcohol.
Taste is a basic fruity caramel malt character which is quickly taken over by the bitterness of the hops and flushed around by the carbonation. Light strawberry fruitness returns to mix in with the aftertaste. Not as hoppy as I expected.
Mouthfeel is soft, medium carbonation and a creamy texture. Very drinkable and far from being an overwhelming IPA. It's refreshing to have a good IPA in Japan--and this one is especially refreshing.
704 characters
4.4
/5
rDev
+16.7%
look: 4.5 | smell: 4.5 | taste: 4 | feel: 4.5 | overall: 5
Appearance: Two centimeter width of off white head on a dark opaque orange body.
Aroma: Citrus and marmalade
Taste: Several minutes of long lasting fine bitterness. Orange rinds, and dark long lasting caramel. There is something very juicy about the hoppiness of this beer.
Mouthfeel: Mild refined bubbles and creamy mouthfeel
Drinkability: This is quite a yummy brew. This IPA is supposed to be between the US and English styles, but it is way, way too hoppy to be an English IPA.
This beer is about four bucks a bottle, which means that even though this is a great beer, there is no reason to buy it regularly when, Rogue's Bruttal Bitter, Rogue's American Amber and Anchor Liberty Ale are available for a full buck less a bottle (in Japan).
758 characters

4.15
/5
rDev
+10.1%
look: 4 | smell: 4 | taste: 4 | feel: 4.5 | overall: 4.5
I sampled this IPA at Popeye in Tokyo (on tap).
Re-reviewed 6-24-03 after another sampling at Popeye.
This IPA poured a cloudy, amber color with off-white foam that clung to the glass and left lace. The smell was modest: sweet malt, faint hops with hints of citrus and oak. The taste was dominated by floral and bitter hops with a nice balance of malt. There was a hint of fruitiness from the hops. The mouthfeel was smooth, yet crisp and clean, and hoppy. The body was medium with a dry finish. This was a very drinkable IPA.
530 characters
Teikoku IPA from Baird Brewing Company / Fishmarket Taproom
3.77
out of
5
based on
59
ratings.