Baird Brewing Company / Fishmarket Taproom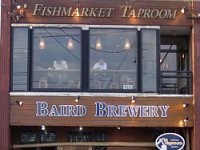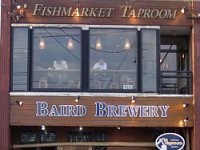 PLACE INFO
Type:
Brewery, Eatery, Beer-to-go
19-4 Senbonminato-cho
Shizuoka-ken Numazu-shi
, 410-0845
Japan
81-55-963-2628 |
map
bairdbeer.com
Notes:
No notes at this time.
Added by UncleJimbo
HISTOGRAM
View: Beers | Place Reviews
Ratings: 8 | Reviews: 4
4.24
/5
rDev
-2.3%
vibe: 4.5 | quality: 4.25 | service: 4.25 | selection: 4 | food: 4.5

4.33
/5
rDev
-0.2%
vibe: 4 | quality: 4.5 | service: 4.5 | selection: 4 | food: 4.5
The Fishmarket Taproom is located in the town of Numazu, about an hour on the bullet train (Shinkansen) from Tokyo (or about 2 hours on the local trains). Their web site gives very good directions, and I found the place easily after the 30 minute walk from the Numazu train station. They are located on the second floor (upstairs from another bar), across the street from the ferry terminal. Numazu is a fishing city near the Izu peninsula, and in the shadow of Mt. Fuji (though don't expect to see Mt. Fuji in the hazy, cloudy summer).
The Fishmarket Taproom is not a large place. I counted about 7 tables with about 4 seats each, and a counter at the front windows, overlooking the harbor, and about 4 seats at the bar. The interior is wood with some brick walls, and the table tops are slices out of tree trunks, and the "stools" are tree trunk sections. There is one TV, though the volume was turned down and music was playing. No Smoking.
Normally about 6 Baird Beers, all unfiltered, and keg conditioned, are available. They often have a guest tap, too, and on my visit this was Rogue Mocha Porter. There is a small but good selection of bottled beers available, also. The pints are 700 Yen.
Baird Beer is a small, husband and wife operation. Bryan, from the USA, does the brewing, and his wife, Sayuri, from Japan, does the cooking (among other things, I am sure!). I sampled several offerings on their menu, all prepared fresh right behind the bar by Sayuri, and the food was quite good. There are traditional Japanese type offerings, as well as some items with a So. Cal./Mexican influence.
Bryan gave me a tour of the brewing facilities, which had been a mere 30 liter capacity for 2.5 years, but which have just recently been expanded to 250 liters. They will also add bottling capabilities soon. This will be good news for Baird Beer fans.
Check the website for hours. But currently they are closed Mondays and Tuesdays, and open at 5:30 pm W-F, and at Noon on Sat-Sun. If you can't make it to Numazu, you can usually sample Baird Beer on tap at Popeye in Tokyo.
5/2004
Check out my interview with Bryan Baird at:
http://www.beeradvocate.com/news/stories_read/585/
2,196 characters

4.55
/5
rDev
+4.8%
vibe: 4 | quality: 5 | service: 5 | selection: 4 | food: 4
it was a record-setting hot ass april day in japan when i visited baird brewing company / fishmarket taproom. the early summer heat made that seasonal ESB extra refreshing. lord that was a deliciously satisfying, long sought-after beer.
Mrs. Baird was really friendly and chatty. on the tv was the end of the mariners vs baltimore game (m's won) she noticed that i was watching, so i mentioned i was from seattle. she said they lived in the U district of seattle before they came to numazu. cool.
this was one seriously nice place, it's my 1st barfly review but i gotta give this place a lot of credit. it was early in a holiday week (like 1:00 pm on monday of golden week, japan's spring break). my wife and i enjoyed bottomless pretzels, american style chicken wings and awesome service. i will soon order a case of their beer.
this place would probably get all 5s from me if i visited in the right context. as mentioned, it was not the ideal time to visit a brewpub, but it was still great.
1,004 characters
4.5
/5
rDev
+3.7%
vibe: 4.5 | quality: 4.5 | service: 4.5 | selection: 4.5
Happened upon this place by luck, I was in Numazu on a business trip and happened across an advert of theirs and decided to check it out. This was probably during my fourth year in Japan. I was already tired of their Macro selections and though, I have had a couple good micros, they were few and far away.
Baird's beers blew me away. Even the styles I wasn't a particular fan of tasted good.
Sadly Baird wasn't there, but the head staff was friendly and answered a lot of questions about the beers (I believe he actually heads up their Tokyo bar now).
555 characters

4.6
/5
rDev
+6%
vibe: 4.5 | quality: 5 | service: 4 | selection: 5 | food: 4
Living in Japan can be a great experience on a lot of levels. While there I found that I had access to a huge range of local Sake and fresh Sake, which in my humble opinion, put to shame anything I had ever imbibed in the U.S.
What I didn't expect to find was a place seving the best beer I have ever had.
When you walk up the narrow stairs next to the door to an ordinary Japanese bar (Monkey Bar), you open the door to the second floor and you are greated with great smells and lots of wood.
The bar, stools, tables and interior are all constructed of great, raw wood...giving the Taproom a warm feeling right away.
The tables and stools are made from rough hewn pieces of trees, some with the bark still attached, comfortable with a uniqueness to each piece that makes one forget that outside is one of the most densely populated countries in the world.
As you hang your coat and peruse the chalkboard filled with regular and seasonal offerings your mouth begins to water with the anticipation of trying ALL the beers, which is of course impossible.
The first beer I ever had at the Taproom was the Angry Boy Brown Ale. I immediately fell in love. As Bryan hand pumps you a pint and hands it to you, you are greated with a great color and slight but thick head. The flavor is a bit hard to describe...with the 5 kinds of malts (Marris Otter Pale Ale, Wheat, Crystal, Chocolate) and the 4 kinds of hops (Nugget, Amarillo, Centenniel, Cascade)...Bryan has hand crafted a complex yet balanced beer with amazing flavor and character.
Bryan Baird is all about the 3 points of beer making...Balance, Character and Complexity. His mission when he brews is to make hand crafted beers that share all these traits. One night when it was just me and him...enjoying some amazing beers and thinking about closing the Taproom, Bryan launched into a explanation of his "philosophy" on beer making and I was struck at just how much he loves his beer. He explained to me how some beers have a lot of balance and character but not much complexity, thus they are easy to drink. Some beers have all complexity and no balance...they are good for 1 beer, as a treat but you don't find them refreshing. The Taproom's beer are brewed so that they have all three of these virtues and, as I can attest, earned their rightful place as the best beer I have ever had.
As you are partaking of the fine brewed creations, you might find that you are in need of some grub. They have that covered too.
Bryan's wife, Sayuri, have crafted a menu to match the beer.
The menu is ecclectic, western food with just a hint of Japanese influence. The spicy potatos, beer wings, chili, nikumaki or the famous sandwich plate (just to name a few) are all perfect mates to the tall pints of brew served here.
The Fishmarket Taproom gets some flak for not being in Tokyo. However it is 1 hour away by Shinkansen from the capital and is worth the trip everytime.
2,929 characters
Baird Brewing Company / Fishmarket Taproom in Shizuoka-ken Numazu-shi, Japan
Brewery rating:
3.82
out of
5
with
1,408
ratings