Great Western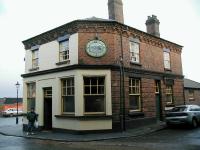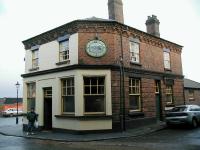 Bar, Eatery
Sun Street
Wolverhampton
,
England
United Kingdom
+44 (0)1902 351090 |
map
Notes:
Reviews by TheLongBeachBum:
TheLongBeachBum from California
4.33
/5
rDev
+0.2%
vibe: 4.5 | quality: 4.5 | service: 4.5 | selection: 4 | food: 4
Another one of those great Pubs that you never forget that you visited. I have only been here a mere handful of times since 1990, but on every occasion it was highly memorable.
The Great Western is indirectly & directly associated with Britain's Railway heritage. Indeed it served an older Wolverhampton Railway Station & is still tenuously linked to the current new Wolverhampton Station, albeit by a rather murky Subway. The 'Great Western' was the name of one of the private Railway Companies based in the locale pre-nationalisation. Some of my Train-Spotting (the activity, and not the film) friends use to walk around this Pub in strange jerky movements. In later years, I would realize that it was the multiple-orgasms that they were experiencing as they viewed the Pubs fascinating and quite extensive collection of Railway Memorabilia. Those in the "know" tell me that there are some 'classic' photos and Nameplates here from the by-gone days of the golden era of Britain's Railways, as opposed to British Railways. What do I know? I am only 33 and have never experienced any golden age of Rail Travel in the UK (save several trips on Class 55 Deltics) – but I digress.
Well as a R(eal)Ale-Spotter, I do know that the beer range is absolutely superb and it is always served in tip-top condition. A great place to drink both the local Bathams and Holdens Black Country beers, especially the Mild's. In addition, there are always several Guest Beers on sale from a variety of Independent Breweries. I once stopped here when they were having a Pub Beer Festival held in a large back tented area as I recall, the beers were all outstanding and they represented great value. I believe that they still occasionally hold these Pub Beer Festivals, check them out if you get chance. Serves lunchtime meals, again great value and often they are more wholesome than the dark fruity Milds sold here.
England has sadly lost a lot, if not all, of its Industrial and Brewing Heritage over the years and joking aside, pubs like this do all they can to help preserve the memory of the golden era of Britain's Industrial and Brewing Might. As an Engineer, I revel in the ability to wonder about this Pub and absorb the pictorial displays with a Pint of locally produced Real Ale in my hand, which is almost always invariably a Dark Mild when here.
The World moves on, but sometimes I fear, in the wrong direction.
Jan 15, 2003
More User Reviews:
BlackHaddock from England
4.45
/5
rDev
+3%
vibe: 4.5 | quality: 4.5 | service: 4.5 | selection: 4.5 | food: 4
Still a classic Railway Pub.
Nearly always busy, with locals and Post Office workers from the huge sorting office close by, it is a very friendly place. The dodgy alleyway from the main station is now brightly lite and safer than in the past.
The Real Ale beers are always in fine form and served with a smile.
Holdens own the pub, so their beers are to the fore, with another Black Country brewer, Batham's also on draught.
The food is good value, large torpedo sized rolls and chips being the prefered choice of the locals.
Railway and Wolverhampton in its heyday pictures cover the walls. The Black Country, is now no longer the hub of British industry, but back a few years, the sky was blocked out by the smoke from all the factories and works, the Black Country name comes from those turn of the century days.
Well worth finding.
Aug 24, 2006

Clembo1957 from England
4.15
/5
rDev
-3.9%
vibe: 4.5 | quality: 4.5 | service: 4 | selection: 4 | food: 3.5
Hard to find if you don't have a local guide but worth seeking out. the Great Western is 'hidden' behind Wolverhampton's Railway Station, opposite what used to be the old Low Level Station which has long been disused. the best route to the pub is through the subway next to the station and down the path, the pub is in front of you. Although the subway has recently been renovated be wary at night!
The Great Western is excellent, good atmosphere, good pub food, and excellent well kept Holdens and Batham's Bitters and Milds. The rear has ben much extended but tastefully done. Busy on evenings people travel from afar for the good atmosphere and beers. Popular with Royal Mail staff from the local sorting office as well as the occaisional rail staff from the station.
Mar 20, 2004
JohnW from England
4.18
/5
rDev
-3.2%
vibe: 4.5 | quality: 4 | service: 4.5 | selection: 4 | food: 4
To me, this is one of the best pubs in the area in which I live.
Tricky to find, you need to go under the railway track from the Wolverhampton Rail Station Car park, then turn right into the old Great Western Railway Station (now derelict) and you can then see it ahead of you.
The interior is filled with old Great Western Railway memorabilia, photos, station signs and the like, all taken from the nearby closed Station, that was the northern terminus of the Great Western Railway line (hence its name)
This is a Holdens pub, so rightly sells all their beers...with the Black Country Special Bitter as the one of the best bitters (if not THE best) brewed in the area. Also sells the mild, and ordinary bitter and sometimes season specials. Also normally has the excellent Bathams Bitter (another local beer) Usual pretend lagersm, Guiness and cider.
Food is excellent local simple Black Country style "faggots chips and peas!" Grey peas pudding... excellent fish and chips...and great value huge fresh roast hot pork rolls.
No food Sundays, or evenings.
Often very busy lunchtimes, with many local workers coming for their mid-day lunch and pint. New larger eating area extension.
No TV No juke box.
Not very often do you see children.
Excellent service from efficient staff.
Busy atmosphere, but feels friendly, lots of little things to look at on the walls, good beer...good prices... what more could you want?
Jan 16, 2003
Great Western in Wolverhampton, GB2, United Kingdom
Place rating:
4.32
out of
5
with
5
ratings