Ackhorne, The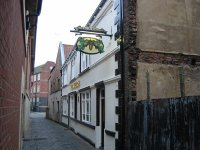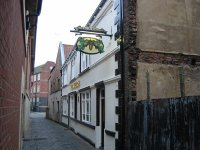 Bar, Eatery
9 St Martin's Lane (off Micklegate)
York
,
England
United Kingdom
+44(0)1904 671421 |
map
ackhorne.com
Notes:
Reviews by TheLongBeachBum:
TheLongBeachBum from California
4.18
/5
rDev
-1.2%
vibe: 4.5 | quality: 4 | service: 4 | selection: 4.5 | food: 4
The Ackhorne is one of those annoying English Pubs that just has to spell its name differently, LOL. Whilst the name is taken directly from the buildings deeds, it is itself a derivation of an older word that is clouded in arguments. Suffice to say, it is pronounced and means acorn.
It is about a 15 minute walk from the Railway Station, and although still in the Centre, it is sort of quietly "hidden". Once you reach St. Martin's Church on Micklegate, turn up the little alleyway and it is on your right. Make sure the Tourists don't follow you.
For a 250 year old building the exterior is rather plain, but do note the crafted glass windows. The interior has altered slightly in recent years but not to the detriment or integrity of the Pub. There is an outside drinking area which is small but a great place to go in the Summer months, although it is at the back of the Pub, it lies directly in the suns path and out of the shadows for most of the day.
Beer range is very good. 5 beers on HandPump; 2 Permanent and 3 ever changing Guest cask-conditioned beers. The 2 regulars are Roosters Yankee, one of Sean Franklins **legendary** beers made with American hops curiously and Caledonian Deuchars IPA is the other, and one of the best beers to come out of Scotland IMHO. Guests are frequently changing but also from independent breweries, check the chalkboard and/or Hand Pump Clips for the current selection. In addition they sell a real English Cider, usually Westons Old Rosie Scrumpy (7.3% ABV, so beware it's also known as "Old Blinder") and a range of Lindisfarne Fruit Wines as well as their well known authentic Mead. Foreign beers start with the ubiquitous Hoegaarden on tap, and about 10 or 12 others in bottles, but they include De Konincke, Liefmans Frambozen, Schneider Weisse and Anchor Liberty Ale. All rounded off with a good range of Single Malt Scottish Whiskys and Bushmills 10 from Ireland. Sells Lunchtime and Evening Meals, the lunchs are very good and I always eat here when in York on a PubCrawl.
Whilst sightseeing in York's Centre, this is a nice quiet escape from the hussle & bussle of York's often busy & crowded streets, for not many tourists make it here - they simply can't find it usually. York CAMRA's Pub of the Year 2001, and deservedly so.
A lovely Pub, full of very friendly people, who are extremely enthusiastic about their primary focus : the quality and range of their drinks and beers, especially the Cask range.
Last Visit: Saturday 19th March, 2005.
Jan 10, 2003
More User Reviews:

Dreyski from England
4.37
/5
rDev
+3.3%
vibe: 4 | quality: 4.5 | service: 4.5 | selection: 4.25
Jun 30, 2018
JohnW from England
4.06
/5
rDev
-4%
vibe: 4.5 | quality: 4 | service: 4 | selection: 4
This fairly small and old world pub is one of the many pub gems of York, though a little off the usual tourist trail. St Martins Lane is a narrow cobbled street off Micklegate, adjacent to St Martins Church.
Bare floor boards and wooden tables in a long narrow room in two sections, a small seating area to the rear, and a raised outdoor covered drinking area for smokers and those preferring to sit outside.
At time of visit, 8 beer were on, all hand pull, plus lagers and cider on taps. We visited here twice and had good service and excellent beer both times, and very much enjoyed it. Beer prices average for York pubs. We would have visited more, but Friday and Saturday evenings it was VERY busy and we could not get in, so went elsewhere. Being a fairly small place, it fills quickly and the narrow rooms give little space for many tables and chairs.
Highly recommended for the atmosphere, beer range and quality, but don't be surprised if you cannot get in on busy evenings!
JohnW April 2008
B'ham UK
Apr 23, 2008
DrewJ from Minnesota
4.33
/5
rDev
+2.4%
vibe: 5 | quality: 4.5 | service: 4.5 | selection: 4 | food: 3.5
On a cold December night, my sick wife and I arrived in York with luggage in hand. We decided to go and get a pint, and I had heard about the Ackhorne from here at BA. Tired, wet, and a little grumpy, we trudged south of the river and started looking for the tiny street on which the Ackhorne sits.
One dark alley later, we walk in and suddenly it is as if thousands of miles of travel-weariness disappeared. The pub was well-lit (for a pub) and before us at the pub lay about five real ales, a cider on draft, and the usual Carling/Guinness/Kronenberg business...but Staropramen as well. The barman was knowledgable and knew how to pull a proper full pint. Being it the day after Christmas, there were two bitters and two Christmas seasonals (which, I'm sad to say, I did not sample - I had no idea about some of this at the time).
As we stood at the bar, a few of the young regulars invited us over to their table for a good talk about the area. The clientele seemed to creep towards the 20/30something age, which was a real delight to talk with our beer geek peers overseas. After having taken two trips through England, I have not found a more welcoming pub than the Ackhorne. While I know that the Maltings - practically down the street - has a better ale selection (something I wish to sample on our next visit), I have a hard time imagining a more comfortable place than the Ackhorne.
Jul 25, 2006
Mark from California
4.2
/5
rDev
-0.7%
vibe: 4.5 | quality: 4 | service: 4.5 | selection: 4
Checked out this traditional pub when on a day trip to York. Was greeted in a friendly manner by both the publican and regulars. Good selection of ale. Caledonian, Yankee Rooster, and a chock of seasonals. Cozy little garden sits back behind the bar and off a little hallway. The bar itself is right straight on from the entrance. We sat off in a little room that had a roaring fire going. A very homey feel is this pubs strong point. We only had a pint so I can't comment on the food. The Ackhorne is situated up a cobblestone street, which only adds to the appeal. This is a recommended stop if in wonderful York.
Dec 25, 2004
Ackhorne, The in York, GB2, United Kingdom
Place rating:
4.23
out of
5
with
5
ratings