Outback X
| Bend Brewing Company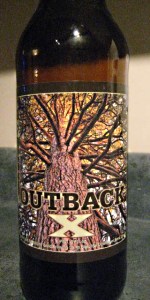 BEER INFO
Brewed by:
Bend Brewing Company
Oregon
,
United States
bendbrewingco.com
Style:
Old Ale
Alcohol by volume (ABV):
9.50%
Availability:
Rotating
Notes / Commercial Description:
No notes at this time.
Added by SurlyDuff on 05-07-2008
Reviews: 12 | Ratings: 32
3.92
/5
rDev
+2.3%
look: 3.5 | smell: 4 | taste: 4 | feel: 3.5 | overall: 4
Bottled shared on the party bus to San Diego, CA.
Pours a clear dark orange with a foamy khaki head that settles to a film on top of the beer. Small dots of lace form around the glass on the drink down. Smell is of malt, caramel, and citrus zest aromas. Taste is of malt, caramel, fruit, and some citrus zest flavors on the finish. There is a mild amount of hop bitterness on the palate after each sip. This beer has a lower level of carbonation with a slightly crisp and medium bodied mouthfeel. Overall, this is a good beer that is pretty tasty and easy to drink.
567 characters
4.22
/5
rDev
+10.2%
look: 4 | smell: 4.5 | taste: 4 | feel: 4 | overall: 4.5
In the tradition to which I've adhered since first starting reviewing around this time of the year, 4 years ago, I am picking the biggest, baddest, American-made bottle from my 'cellar', in honor (sp!) of the Yanks' Repeal Day. This year, it's Bend Brewing's Outback X, procured during a lovely visit to the brewpub whilst camping in the nearby state park back in July.
This beer pours a murky, dark orange-amber hue, with one finger of tight foamy beige head, which seeps away quickly and quietly, leaving some skinny upward tendrils of lace around the glass in its rushed wake. Bursting a bit surprisingly from my souvenir Fish shaker, the aroma bleeds dense caramel/toffee malt, dark fleshy, sugary fruit, molasses, somewhat acrid pine hops, and subtly edgy warming alcohol. The taste does its best to compete, with a very lightly toasted, big-ass caramel malt, brown sugar, some mild black fruit, and a slight, only barely conspicuous lactic funk, ever more so as it is overridden by a healthy dose of zingy pine and earthy hop bitterness. The big ABV is very well obfuscated, inveigling, and deceiving (hey, the forests I explored around Bend reminded me a fair bit of the X-Files...).
Bubbles come and bubbles go, and things ain't any different here - the carbonation barely raises a blip on the radar. The body, on the other hand, bears sturdier analysis - medium weight for uninspiring starters, but well borne out for its smooth, unassuming, slightly fruity smoothness. It finishes, wow - um, huh - clean. A bit off-dry, but barely - the malt has gone to roost, becoming quite grainy, dry, and a bit musty, the earthy, weedy hops equally culpable in the matter.
So, the concepts of 'Drinkable', and 'Old Ale', don't always play well together. Pfft. What we have here is the exception that proves the rule - a complex, morphing beast of a beer, that still never strays from the approachable, and is more often downright beddable. That is, of course, if the x-factor (theme now played out) of the booze doesn't wreck your mojo, crafty as it is. Happy Repeal anniversary, my southern friends!
2,101 characters

3.53
/5
rDev
-7.8%
look: 4.25 | smell: 3.75 | taste: 3.25 | feel: 3.75 | overall: 3.5
On tap at the brewery's brewpub in Bend.
Look: clear dark copper body with a very good beige head and lots of sticky lacing.
Aroma: vague liqueur and light dark roasted grain with a suggestion of sweet syrup.
Flavor: Moderately strong;. Mildly bitter. Good complexity and rich flavor.
291 characters
3.18
/5
rDev
-17%
look: 3.5 | smell: 3 | taste: 3.25 | feel: 3.5 | overall: 3
650 mL bottle poured into a goblet.
Appearance - Dark caramel body. Slight reddish tinge. Nice khaki head.
Smell - Some roasted malts, a bucket of caramel. Hops are a significant presence.
Taste - Almost an oversweet DIPA up front. Pine and grapefruit hop presence, but minimal. Tons of caramel. Roasted coffee comes through in the back end.
Mouthfeel - Medium low carbonation, some alcohol. Medium heavy body.
Overall - Interesting, but nothing subtle. Lots of caramel, and the roasted malt provides just enough to keep it interesting.
543 characters
4.03
/5
rDev
+5.2%
look: 4.5 | smell: 4 | taste: 4 | feel: 4 | overall: 4
On tap at the Belmont Station Fringe Fest.
The beer pours a reddish amber brown color with good head retention and lots of sticky lacing all around. The nose is pretty sweet and malty, with nuances of cherry, vanilla and sherry. The flavor profile replicates the nose pretty closely, though I appreciate the fact there's enough underlying hoppy bitterness to balance the level of malty sweetness in this beer. Mouthfeel is medium bodied to full, with a fairly long finish. Drinkability is pretty good, especially for this level of sweetness and alcohol. The beer is not at all heavy or tiring on the palate, and I found it to be increasingly enjoyable as it warmed a bit in the glass. Very nice beer...
703 characters
2.83
/5
rDev
-26.1%
look: 3.5 | smell: 3 | taste: 2.5 | feel: 4 | overall: 2.5
Another bottle I grabbed in Portland. Opened on 6.12.12
A - Pours a carmel-amber color with a one inch tan head. Some slight lacing is left on the glass.
S - Carmel, malts, very bready.
T - Carmel and very malty, some sweet old candy tones.
D - Good carbonation and a heavy body.
O - Very sweet and malt forward, carmel really dominated here.
347 characters
3.58
/5
rDev
-6.5%
look: 4 | smell: 3.5 | taste: 3.5 | feel: 4 | overall: 3.5
22oz bomber, purchased down @ belmont station a while ago
appearance: sweet label art, served in great lakes chalice - muddy amber body, nice creamy tan head
smell: malty, caramel, tobacco
taste: a definite malt-bomb, tobacco, wood, caramel, light leafy hops, molasses, rum, roasted malt, some dark fruit, toasted nuts
mouthfeel: creamy, medium body
overall: a bit one-dimensional on the malt side, solid but lacking distinction
433 characters
4.27
/5
rDev
+11.5%
look: 3.5 | smell: 4 | taste: 4.5 | feel: 4 | overall: 4.5
22 oz. bottle obtained at BBC last summer, shared with neighborhood beer buddy, split into Chimay chalices, 12.12.11.
Nary any head almost flat, a wee bit of broken bubbles with ring surrounding edge of class over dark brown clear nearly opaque body with red highlights, scant occasional carbonation rising lazily up sides of glass. Stone fruit dominates the nose, some floral hops for balance. Taste is tres complex, dried fruit, plums, dried apricots, some leather and faint smoke, a bit of floral hops much not much, needs to warm fully to appreciate. Mouthfeel is medium, a bit of residual stickiness leading to fairly dry finish. This is pretty light and sweet for an Old Ale, but very tasty and ultra-drinkable, it's easy to see why this won Gold at 2010 World Beer Cup. One thing for sure-Tonya Cornett rocks! IMHO, this is the best beer she brews and one worth seeking out.
882 characters
4.42
/5
rDev
+15.4%
look: 4 | smell: 4.5 | taste: 4.5 | feel: 4 | overall: 4.5
The X is a ramped up version of their Outback Old Ale. I had the honor of trying a vertical flight of the Outback X 08, 07 and 06 at the brewpub.
Clear brown with a scan fizzy brown head. Sweet malty. Woody earthiness and chocolate in the nose.
Earthy wood, sweet malt, and a big alcohol presence. THe alcohol tucks right in though, it doesn't seem out of place or tacked on. Good fruity barleywine quality with pear, figs, and candy sugar in there.
I enjoyed the 07 the most, followed by the 06. The 08 was still a bit hoppy, watery, and the alcohol seemed to cut through a bit sharper. Give it a year and It'll be sure to please.
Grats on winning the best small brewer award at the World Beer Cup Tonya!!
722 characters

3.87
/5
rDev
+1%
look: 3.25 | smell: 3.75 | taste: 4 | feel: 3.75 | overall: 4
Appearance - pours a hazy reddish brown with a half a finger of creamy tan head.
Smell- slight banana a lot of port and stone fruit some chocolate on the end. a bit Belgian-y
Taste- some roastyness smooth and carmely on the front end giving way to slight cofee nutiness by the end. I feel the hops get a bit lost but on the bottle they describe a dried fruit quality and i think this description is accurate.
Mouthfeel- medium to full bodied, cleans up rather well on the pallate but I wouldnt call it dry. lower carbonation.
Overall- I like this beer I think it is definately a more serious sipper. I dont know that I would pair this with much of anything maybe smores ?! The Grahm and marshmellow I think would compliment it nicely but otherwise I think this could stand on its own .
792 characters

3.93
/5
rDev
+2.6%
look: 4 | smell: 3.5 | taste: 4 | feel: 4.5 | overall: 4
A Copper color decent head
S malty smell. Slightly fruity
T very smooth for its style. Very well balanced. Doesn't linger flavors pass over the tongue nicely. Has a similar bite to an ipa at the very front, but very balanced with malt and hops. Leans more towards a strong ale or thick ipa. Has more carmely bannana flovors i didnt expect. Strong malt up front but quickly turns to spicy hoppy then is all quickly gone with a very smooth aftertaste. Commendable
M thick. Syrupy. Just how I like. Exceptional mouth feel. Coats the palate nicely and allows flavors to blend
O great beer. Would buy more if I wasn't so far. Grabbed on a beer hunting trip north and wish I had more.
678 characters
3.83
/5
rDev 0%
look: 4 | smell: 3.5 | taste: 4 | feel: 3.5 | overall: 4
This beer poured lighter then expected, a dark hazelnut brown with a faint red tint. Modest, creamy head with light but persistant lacing. The aroma doesn't hint to the taste of the beer, nothing too extraordinary in the nose. Smooth and crisp on the initial sip, pleasantly bitter with a maple sweetness on the back end. Carbonation was present and balanced. Gets progressively heavier as it warms, a good brew.
412 characters
Outback X from Bend Brewing Company
3.83
out of
5
based on
32
ratings.