Heroe's Bar & Grill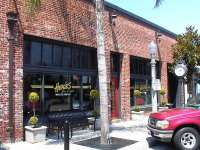 PLACE INFO
Type:
Bar, Eatery
125 W Santa Fe
Fullerton
,
California
, 92832
United States
(714) 738-4356 |
map
heroesbarandgrill.net
Notes:
No notes at this time.
Added by BeerAdvocate
Reviews: 22 | Ratings: 28
3.6
/5
rDev
-13%
vibe: 4 | quality: 3 | service: 4 | selection: 4 | food: 3
I like Heroes. I usually visit once a month or so and I've been going for a few years.
It's always packed and it's always loud. Even when the place is a zoo, I usually have no problem walking up to the bar and getting a beer.
They have some where around 100 taps and there are always a few beers worth trying. They are light on the smaller craftier micro brews but have plenty of Anderson Valley, Firestone and Stone. There's a respectable selection of German/British imports.
The food portions are huge. Really, they're too big. The food is okay. It's never great and rarely bad.
It's worth a visit if you are in the mood to drink a lot.
642 characters
3.53
/5
rDev
-14.7%
vibe: 4 | quality: 3 | service: 4 | selection: 3.5 | food: 3.5
Great college bar if you want a happening spot with a fun atmosphere and a wide range of beer choices. However, for beer geeks this in not a place to find any "special" beers. Although they had what seemed like a 50 draft beers, 80-90% of them are really nothing special -all of these are regularly available at most supermarkets. Out of the 6-7 left that were interesting, 4 were tapped out.
Prices:
The nachos were a good deal, a half order of nachos was enough for 3 people.
Beer:
6$ for a 13oz pint of local microbrew (non-belgian)seems a little high in my book.
Overall:
Great place to party. If you're really looking for good beer, go to Taps Fish House, blows this place out of the water for quality of beer.
720 characters
4.83
/5
rDev
+16.7%
vibe: 4.5 | quality: 5 | service: 4.5 | selection: 5 | food: 5
Great selection of food and beer. More beer on tap than anyone can drink in a week. With about 100 more or less available there are several to make everyone happy. I don't remember if I had four IPA's and five Stouts or five IPA's and four Stouts (I do remember not driving) but the selection was good.
The food was also top notch (especially for a bar) and the employees are friendly and helpful. This is a great place to toss back a few when in the OC. So stop by and eat, drink and bring a designated driver.
512 characters
4.16
/5
rDev
+0.5%
vibe: 4 | quality: 4.5 | service: 3.5 | selection: 4.5
Heroe's Bar and Grill is located just off Harbor Blvd. in the city of Fullerton. Make sure you turn west off Harbor, I turned east and ended up near the train station, go past the sign that says Soco District. Once in there, the place looks like a maritime tavern meets dive bar meets German beer hall, with Christmas lights, that's the best I can describe it. At the bar there are well over 100 drafts, nothing really caught my eye as rare, but there were dozens I would have been happy drinking that night. On a Tuesday night, my birthday incidentally, at about 6:30 pm, the place wasn't that crowded, but the bar was close to capacity, there were about two or three seats left. I ordered a Racer 5 on tap, and it was spot on, delicious. It was $10 for one of those quart/liter mugs, but it worked out to about $5 a pint, which really isn't that bad in Orange County. With Led Zeppelin on the juke box, the Lakers kicking the crap out of the Pacers, and a fresh Racer 5, I was having a good time. While a bit out of my way, when I pass Orangethorpe or La Palma, I feel like I'm in the Far North, it is a place if I was a local Fullertonian I would frequent often. Didn't have a lot of time in there, but from what I saw, it's a really good bar.
1,246 characters
4
/5
rDev
-3.4%
vibe: 4.5 | quality: 4 | service: 4 | selection: 4 | food: 3.5
(Revised 8/18/09)
The highlight for any beer drinker walking around downtown Fullerton, Heroe's offers a large number of taps, a friendly sports bar atmosphere, and huge portions of food. Even when it gets packed, there's plenty of room to stand around while you drink. The bar area is dominated with hundreds of black and white photos, several televisions, and assorted beer signage. Speaking of beer....
Although there's plenty of mass-produced beer here, there's also plenty of solid to very good craft beer here, as well as higher-end imports. The beers always tastes fresh, but they serve their beer in smaller 14 ounce shakers, not 16 ounce pints. The beer is already expensive here....a 14 ounce Newcastle goes for $6, which comes to a $6.86 pint!! It's one of the most expensive pints in OC. Another downside is the beer selection rarely changes. On a more positive note, you get to choose from beers like Arrogant Bastard, Firestone, Anderson Valley, Kostritzer, Lindeman's Pomme, Bootlegger's, Chimay White, Fuller's, and lots more (prices may vary). If you feel adventurous, go for a 32 ounce mug (about $11).
The food is served in HUUGGEEE portions. The sandwiches are quite sizeable, but they give you enough fries to feed a group of three (I'm not kidding). But more importantly, it's pretty good.
Its lack of beer rotation and many mass-appeal macros keep this bar out of the Beachwood BBQ/Hollingshead's class of OC bars. That being said, I would recommend this place to any beer lover or sport bar aficionado.
1,531 characters

4.05
/5
rDev
-2.2%
vibe: 4.5 | quality: 4 | service: 4 | selection: 4 | food: 4
Well, i've been going here since it was the old Heroes at the old place during my Cal State Fullerton days... that was like 15 years ago when i thought Moosehead was living large. I even remember when they got this new beer called Arrogant Bastard. "Hmph, it taste kind of funny... i'll have to pass" Ahhh, the silly days of youth.
Anyways, this place has a nice down home warm pub feel to it. It's in old town fullerton with large windows in the front and the building exterior is all red brick. The inside has lot's of dark wood with many little bar lights, xmas lights, little lights, all adding to make a comfy subdued atmoshpere. Like your living room when the fireplace is lit and the lights on the xmas tree are on. Beautiful long wooden bar with all the 100 plus taps lined up behind. The service is quick, friendly and the waitresses all seem to have the little college gal cutie look to them. Very nice. There's also a nice sized patio out in the back. The vibe is friendly with many families and college kids in the mix.
The food is quite tasty pub fare leaning on the gourmet side, hot and flavorful. The portions are rather large, not quite like Claim Jumper's, but getting there, which is fine by me.
The beers are all the standard micros and macros. You'll find Stone, Rogue, Sierra Nevada, Anchor, Chimay, etc. I wish they would adventure out some and get some micro specialties like something from Pizza Port, Alesmith, Craftsmen... but at least they always seem to have the Stone seasonal that's out.
I'd go here more often if I lived a bit closer. Check this place out. Quite nice.
1,608 characters
4.5
/5
rDev
+8.7%
vibe: 4.5 | quality: 4.5 | service: 4.5 | selection: 4.5
This place has over 100 beers on tap with no shortage of micros to choose from. It can be somewhat overwhelming to decide on what you want, but it's better to have too many choose from than not enough. You can order your beers by the pint or by the giant mug.
The atmosphere is very lively - think sports bar with peanut shell littered floors. The peanuts are free by the way. It's very laid back and a great place to hang out and have a few. I didn't order any food but from what I saw, the portions are enormous. The bartenders don't keep you waiting long and the waiters are attentive.
I just wish I had one of these walking distance from my house.
657 characters
4.55
/5
rDev
+9.9%
vibe: 4.5 | quality: 4.5 | service: 5 | selection: 4 | food: 5
Heroe's is located in the downtown of Fullerton...it is a little off the beaten path, but if you make sure to turn right before you go under the bridge, you will be just fine. Heroe's is a popular location for college students and 20-30 somethings in the area. They have about 80-100 beers on tap and almost all of them are pretty standard fare. They have everything from PBR to Arrogant Bastard. They even get the Double Bastard and some great Sierra Nevada and Anchor Brewing seasonals on tap.
The great thing about Heroe's is the environment and the free peanuts. It is pretty much geared toward "sports bar" and "family" type environments. The floor is littered with peanut shells and the food is fantastic. They also serve pints and giant mugs, so they are rather popular in that regard. I am very fond of the Nachos, the mahi mahi sandwich and the clam chowder in the breadbowl. They have the most amazing curly fries and their portions are GIGANTIC...beware of big plates.
I suggest hitting this place up a the end of the night because they have a lot of different styles of beers to fit every need. Also, they serve all kinds of drinks, so even if you aren't in a beer enthusiast group, you will be just fine.
Enjoy...who knows, maybe I'll see you there! This is one of my favorite spots to hit in the area.
1,324 characters
4.06
/5
rDev
-1.9%
vibe: 4.5 | quality: 4 | service: 4 | selection: 4
located off the southern end of harbor in fullerton, just before the dip in the road to pass under the r/r tracks. santa fe is a pretty small side street so keep an eye for the road signs (hint: its not one of the main cross streets with a light and big sign).
pretty cozy place. the peanut shells on the floor say "come on in, and make yourself at home". well, to me they do. other than that though, this place is pretty clean and modern, just check the restrooms. of course i was there pretty early on a weekday.
sat at a table oppostie the bar and the server was there pretty quickly to wipe it down and ask what we would like. i asked for a beer menu but there was none to be had. unfortunate as it would be much nicer and easier to review the large tap list from the comfort of a table than looking over some strangers shoulder who is sitting at the bar.
the taps are arranged in three banks, all with one row above the other. high ratio of import to domestic (probably higher than i would like, but thats just me) with plenty of german, spaten in particular, and english brews available.
domestic had the usual bmc stuff, (with some taps doubled up at each end of the bar which could be a good thing when its crowded) as well as some stone, firestone walker, redhook, and some others. didnt notice many bottles along or below the bar.
this could be a really fantastic selection, but its just not terribly adventurous (well, ok, other than double bastard). cut out a few bland imports and drop the doubles of bmc and replace them with... well you get the idea.
overall this place is more likely catering to the younger college crowd, and im sure they do it very well. if i went to school, or even just lived nearby, id be here plenty. its a fun place with a better than average beer selection.
1,816 characters
4.14
/5
rDev 0%
vibe: 4 | quality: 4 | service: 4 | selection: 4.5
After meeting fellow local BA OCbrewfish at Hollingshead's Delicatessen, I decided to take him up on his most gracious offer of a tour around Fullerton.
So after a few brews at Hollingshead's Deli and a trip to the Town & Liquor Store we headed into downtown to try out the "new" Fullerton Heroes, I say new because I recall the old Heroes which I visited only once when I first came to the US in September 2001.
We parked in the adjoining car lot. The "new" Fullerton Heroes seems much bigger and better laid out. The whole exterior has a bare brick look, the entrance is set back and into the frontage, which allows room for a couple of tables and chairs at the front on the right as you walk in.
Once inside the bare brick theme is continued inside. Areas to the left and right of the front contains a handful of Tables & Chairs and was frequented by many diners. At the back more space is turned over to seating and right at the back large doors open out to a covered deck area which is a real sun trap and a cool place to hang out. Toilets are on the way to the back and are clean and well kept.
The most important part of Heroes, the lovely looking wooden bar, runs to your left hand side for some distance, it has to, for behind the bar three large stainless steel panels contains twin upper and lower rows of taps which sit back against the wall. In total, some 119 Taps line the back wall and they serve a pretty good range of brews. A great portfolio of brews is welcome, yet sadly, and quite incredulously, there is no beer list – so it is hard to peruse the selection with some comfort. This is a serious drawback I think, I know the range changes but you can at least print a list for the regular brews and maybe add a chalkboard for the special and/or rotating guest beers couldn't you!?! I would think so. It takes a keen eye to know each and every one of the tap handles or even recognize new beers that you haven't tried before, especially when looking at them from behind the bar, it also means that you have to walk up & down the Bar in order to check out the beer range, which can be annoying for those sat at the bar as you stand behind them, or worse lean over them, to check out those hard to read tap handles. The range is wide but does include a lot of macros, imports and those weird fruity Ciders and funky brews, yet in and amongst the taps there will be something to suit everyone, even the most discerning drinker. You can get your favorite in cool 40 ounce Mugs too.
I have tried the food at the Heroes in Claremont, and its good solid Pub grub, it seems like the fare is the same here, though I never tried any during my visit.
Service was good but a tad confused at times. When OCbrewfish asked for one of the Rogue offerings (was it Dead Guy Ale!?) he was told it wasn't on and tapped out, however, the looking at the tap you couldn't tell so the cute looking woman with the lovely brown eyes that served us went to the Tap anyway – and promptly pulled a pint of said beer!! So it was on. Granted it is tough to keep track of 119 Taps but they need to work a better system for doing so – including tagging or bagging the taps that are out.
A very cool place to hang out and I am sure it rocks on Fridays and weekend nights. Recommended, just bust their balls about maybe getting a bloody beer list.
Thanks to OCbrewfish for the ride out to the Town & Country!
Last Visit: Saturday 16th July, 2005
3,471 characters
4.15
/5
rDev
+0.2%
vibe: 4 | quality: 4.5 | service: 4 | selection: 4 | food: 4
I should have reviewed this place when I first found BA. Heroes opened when I became "legal". I have many fond memories of this place, what with me being a Fullerton "Towny", and all. Heroes moved about 3 years back, from Wilshire down to Santa Fe, about 3 blocks. They are near the train station (across Harbor Blvd) and have far more space than the old joint. The beer selection is "dependable" in my opinion. There are always a few Belgians and usually several barley wine or strong ale categorie beers on tap. Old Foghorn (along with the other Anchor varities), Guardian (and 4 other Stone taps), Sierra is well represented (I enjoyed a BIg Foot draft), Old Nick and Salvatore are usually on tap. There are about 130 tap heads and most are Cal micros. There is a patio and the place is set up with scattered tables and a long bar.
Think Goat Hill with a cleaning lady.
Food is better than "pub fare" but the portions are rediculous big.
If any of you guys are taking the Amtrak between San Diego and Los Angeles, stop in Fullerton for a pint or two (especially when heading for Carlsbad from points north ;] )
1,117 characters
3.83
/5
rDev
-7.5%
vibe: 3.5 | quality: 4 | service: 3 | selection: 4.5 | food: 4
A hopping bar and grill in Fullerton. I went there during early january 2004, and they still had christmas lights up everywhere, which made the place much too well lit. However, they had a great beer selection, and serve giant 40oz mugs of good beer. I only had 1, as I had come there from the bar next door, but it was an Erdinger hefeweizen. I didn't count, but I'd guess over 40 beers on tap or more. Good selection!
Atmosphere is young and trendy, but there were also a few families to be seen. Service was cute and flirtatious, which I liked. And we never found ourselves waiting to be served. The only food we ordered were some nachos, which were too much food for the 6 of us. Yes. You read that right, it's a lot of nachos.
I will definitely be back.
764 characters
Heroe's Bar & Grill in Fullerton, CA
4.14
out of
5
based on
28
ratings.