Loose Lips Lager
| Longslice Brewery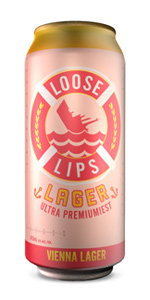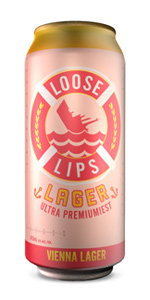 BEER INFO
Brewed by:
Longslice Brewery
Ontario
,
Canada
longslice.com
Style:
Vienna Lager
Alcohol by volume (ABV):
5.00%
Availability:
Year-round
Notes / Commercial Description:
No notes at this time.
Added by mrcasual on 09-23-2016
HISTOGRAM
Ratings: 13 | Reviews: 4
Reviews by yancot:
3.54
/5
rDev
-0.3%
look: 3.75 | smell: 3.5 | taste: 3.5 | feel: 3.75 | overall: 3.5
More User Reviews:

3.25
/5
rDev
-8.5%
look: 3.25 | smell: 3.25 | taste: 3.25 | feel: 3.25 | overall: 3.25
Can from the lcbo for around $3.
32 characters

3.53
/5
rDev
-0.6%
look: 4 | smell: 3.5 | taste: 3.5 | feel: 3.5 | overall: 3.5

3.58
/5
rDev
+0.8%
look: 3.5 | smell: 3.5 | taste: 3.5 | feel: 3.75 | overall: 3.75
473 mL can from the LCBO; dated Aug 21 2017 and served slightly chilled.
Pours golden-amber with some faint chill haze, capped off with roughly one inch of smooth, foamy white head that seeps away within the next 2-3 minutes. A wide collar of froth is the primary remnant, fringing a wispy, soapy film and a thin band of lacing. Looks fine. The aroma is rather low-key, with notes of grainy malt, doughy bread and caramelized malt sweetness giving it a fairly traditional 'Vienna' nose. Suggestions of orchard fruit esters and grassy, floral hops.
A pretty standard amber lager: the malts are in the driver's seat for the most part, with flavours of caramel, toasted nuts, grain husk and bready biscuit carrying through to the finish, where they are eventually countered by some lightly floral, grassy Saaz hop bitterness. Clean, off-dry aftertaste without much in the way of lingering flavour. The fruity esters that I was getting on the nose do not really figure into the flavour profile (which is a plus; Vienna lagers aren't supposed to be fruity). Light-medium in body, with moderate carbonation levels that soften quite a bit as you make your way through the glass. Very high drinkability.
Final Grade: 3.58, a B grade. Loose Lips Lager ain't half bad, but I think deeming it to be "Ultra Premium" is a bit of a stretch. I can think of a few Ontario Viennas that supersede this one (Thornbury's comes to mind, as does Beau's), yet this is still a serviceable, relatively well-made amber lager that I tossed back with no difficulty. I enjoyed the clean malt backbone, as well as the finish - I usually find that ambers/Viennas have too much residual sweetness, but Loose Lips did not have this problem at all. Still a bit of a mixed bag; I don't drink a lot of amber lagers either way, but this is one that I wouldn't mind returning to on occasion.
1,856 characters

3.5
/5
rDev
-1.4%
look: 3.5 | smell: 3.5 | taste: 3.5 | feel: 3.5 | overall: 3.5

3.34
/5
rDev
-5.9%
look: 3.5 | smell: 3.25 | taste: 3.25 | feel: 4 | overall: 3.25
473 ml can served cold into a Flying Monkeys pint glass. Enjoyed with the appetizers pre-Christmas dinner. Thanks to Dan for the share.
Appearance - Pours a thin reddish-orange beer with great clarity and capped with a finger of off-white head.
Smell - Very lager-ish with plenty of grains and a subtle crackery butteriness. Not a lot else, but thankfully nothing vegetative.
Taste- Pretty much like the nose, grainy, some crackeriness, mild bitterness and absolutely nothing off-putting.
Mouthfeel - Smooth, medium carbonation, very easy to drink. High on the drinkability scale.
Overall - While this isn't my favorite Vienna lager (I prefer something a little more hop forward), it tastes pretty good and ticks a lot of the boxes for a good beer. Very good drinkability and certainly worthy of a try.
808 characters

4.35
/5
rDev
+22.5%
look: 4.25 | smell: 4.25 | taste: 4.5 | feel: 4.25 | overall: 4.25
3.5
/5
rDev
-1.4%
look: 3.5 | smell: 3.5 | taste: 3.5 | feel: 3.5 | overall: 3.5

2.92
/5
rDev
-17.7%
look: 3 | smell: 2.75 | taste: 3 | feel: 2.75 | overall: 3
Can, LCBO - decants a golden clear lager with a diminutive white cap which is instantly lost --- aroma is faint, grainy,....missing the toasty Vienna malt presence and malt complexity, hopping undetectable...mouth feel is watery and characterless...flavor is much like a light commercial Dortmunder helles - malts are fluid, noble hopping almost non existent....no malt complexity and missing the deep drying in the finish from proper attenuation...certainly NOT a Vienna which should be a milder version of a Marzen with red malts - Anton Dreher would tell you to pass this one up if you are looking for a Vienna true to style.
628 characters
3.67
/5
rDev
+3.4%
look: 3.75 | smell: 3.5 | taste: 3.75 | feel: 3.5 | overall: 3.75
3.41
/5
rDev
-3.9%
look: 3.25 | smell: 3.5 | taste: 3.25 | feel: 3.25 | overall: 3.75
Great Great Great.
18 characters

4.08
/5
rDev
+14.9%
look: 4 | smell: 4 | taste: 4.25 | feel: 3.75 | overall: 4
Really tasty Vienna Style Lager. Pours a slight cloudy amber, with an off white, foamy head. Some glass lacing. Forward toasted bread malts with a subtle hint of hops to give it a dry, crisp finish. Great session beer for the game(s).
234 characters

3.5
/5
rDev
-1.4%
look: 3.5 | smell: 3.5 | taste: 3.5 | feel: 3.5 | overall: 3.5
Loose Lips Lager from Longslice Brewery
Beer rating:
3.55
out of
5
with
13
ratings