Frog & Princess, The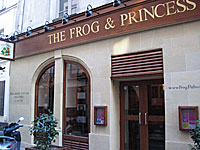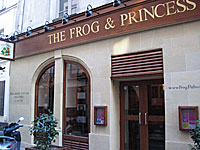 PLACE INFO
Type:
Brewery, Eatery
9 Rue Princesse
Paris
, 75006
France
01 40 51 77 38 |
map
frogpubs.com
Notes:
Opening Hours: 12.00 - 02.00
Getting there: Metro line 10 Mabillon/ line 4 St.-Germain-des-Pres; Bus lines 63/ 70.
Added by BeerGlassesCollector
HISTOGRAM
View: Beers | Place Reviews
Ratings: 11 | Reviews: 11
Reviews by Andreji:
4.5
/5
rDev
+20.3%
vibe: 4.5 | quality: 4.5 | service: 4.5 | selection: 4.5 | food: 4.5
After a year's absence I came back to the Frog and Princess which was my HQ when I had lived in Paris.
The F&P holds a very big place in my heart still.
Doubtless, the location far outweights many others. a simple walk from St.-Sulpice or St.-Germain-des-Prés through the 6ème's beautiful and joyful small rue Princesse, rue des Canettes, etc.
They don't take advantage of that though, the whole bar is indoors and the windows facing the street (and of course the other pubs accross it) are closed.
But you get inside, and the place looks like not much more than a proeflokaal. wooden tables and seats, wooden floor, the tanks at the back and at the side (right by the bar). Those signs their beers have of frogs in different situations. But the staff, the people inside whether it's Student Nights on tuesdays or Pub Quiz on sundays, the music...you just feel at home, away from the usual Paris, retaining still some of that Frog v. Rosbif air from the neverending brit-french quarrels.
Some of the staff- at least those that were still there after a year or so- remembered my name or face, and it was pleasant to know 'home' was still home back home (hmmm....yeah.) usual table. 6pm order two jugs of Froegaarden. Get my beer passport stamped.
Yes, the froegaarden was and still is my all-time frogpub favourite, especially in the summer. They have a very bright selection but the majority british styles makes me always incline for this Hoegaarden spin-off, very rewarding in the summer heat (heck, it can get as hot as summer in there during january student nights). Granted, it's worthwhile to try the Ginger Twist or the Inseine, and during winter you'd be insane not to try their seasonal 'response to the Beaujolais Nouveau': the 'Rosbif's Revenge'.
8pm another two jugs. beer passport stamped again. by now, the dinner parties have started to come in and crowd the tables. the 'brouhaha' in the air mounts, so does the music a bit, but you can still talk. people order the burger or the steaks- which brings in a more american ingredient to this anglofrancophile anglofrancophone establishment.
10pm. the crowd is already in, and student nights have started. another two jugs. beer passport is fully stamped now, and I'll get another free jug later. Nice girls dancing, and you can see the old-timers at their usual places. greet a few, get a girl, dance, drink. nothing's changed since I left.
2,428 characters
More User Reviews:

2.95
/5
rDev
-21.1%
vibe: 3 | quality: 2.5 | service: 3.5 | selection: 3 | food: 2.75
I made The Frog & Princess for happy hour: pints only 5 euro, off from 7. Pricey for mediocre beer but they will also do a free rack of samples, though each was the size of a shot glass. Free is free.
Of the lot, the Dark de Triomphe seemed to be the strongest with some Guinness-like flavor but watery with more chocolate, as described by the bartender. Weak and thin, I now feel that I've tasted what one would stereotype craft beer as in wine-crazy France. As it warms, a clear diacytl buttery note. Brasserie O'Neill nearby felt much more local and and the beer was brewed cleaner.
Both bartenders admitted to the young American couple nearby that neither were particularly fans of the beer in the pub and worked to crush mint for mojitos, a specialty of the bar evidently. Evidently, each "Frog & something" pub does have it's own brewer and separate beers: five in Paris, one in Toulouse, and one somewhere else that I missed. But, in this case, I think I'm going end my pursuit here.
Unfortunately, I left the other pub hungry, so decided to give a starter a try that sounded adventuresome: onion bhajis, described as an Indian dish with onions and spices that's deep fried. Greasy as hell with some tang and rawish hunks of fried onion inside. A sauce similar to tartar saucer at first, but was clearly lighter and something else, tempered the heat a bit.
Next, I tried a pint of the next favorite sample: Ginger Twist. Actually, not a bad beer. The lemon, lime and coriander spices blend well with a full bodied gold to amber lager. It's pretty in the glass bubbling up to clean off white head. Much better brewed beer than the previous pint and it is almost cutting through the grease of the bhajis. Glad I ended with the better beer of the lot, though still just adequate.
The bartender I met before opening had an accent clearly of the British Isle, was personable and, I sense, made the local expats feel at home. Commenting that I liked the queen in track gear beer mat, he went downstairs to get me the Euro 2012 soccer mats from earlier in the summer. A very fun stop, but I wish the beer had been a bit better. I could see coming here if I was a Brit expat who was very lonely for home, but can't recommend it otherwise.
More at http://pintsizedrevelations.blogspot.com/2013/04/the-frog-princess-paris-france.html
2,341 characters

4.08
/5
rDev
+9.1%
vibe: 4 | quality: 4 | service: 4.5 | selection: 4 | food: 3.5
My wife and I were vacationing in Paris and we were just walking around and we passed what appeared to be a brew pub. Upon closer examination, it was a brew pub. We popped in to see what it was all about.
We were surprised to find a British style brew pub in the middle of Paris. The Frog and Princess had about 7 beers on draft and another 2 in cask (brought up by a really old looking beer engine). The beers were a variety of British styles and all tasted pretty good.
We ordered at the bar so the bar tender was really attentive. He spoke perfect English and when I asked him why all the signs in the bar were in English and nothing was in French he said, "Because we're English." very matter of factly. I kind of laughed. IT kind of had a college bar feel to it. Lots of wood, a wooden bar, darts, big screen TVs (playing the Tour de France at the time). Lots of fun. I would recommend it if you need a break from France for an hour.
941 characters
2.83
/5
rDev
-24.3%
vibe: 2 | quality: 2 | service: 4 | selection: 3
Before beginning this review, let me preface it by saying I visited the Frog & Princess on a Saturday night when it was terribly overcrowded and seating was unavailable. Perhaps that explains my rather poor experience there.
In any case, the Frog & Princess is located in the trendy St. Germain des Pres neighborhood on the Left Bank, tucked away on a narrow, intimate, and typically Parisian little street that is home to a lot of popular bars. The crowd is generally Anglophone, and almost exclusively under 25. (Again, this may not be the case on, say, a Sunday afternoon, but it's a safe bet to count on lots of young university students at F & P). The bar is quite hospitable to English-speakers, making it a bit of a tourist trap.
Despite the less-than-encouraging ambiance, I entered the Frog & Princess optimistic about the beer. They have 6 of their own brews on tap, each with its own semi-witty moniker that at once invokes the beer's style and familiar aspects of the Paris experience (ex: their stout is called "Dark de Triomphe"). I had the aforementioned stout while there, and was thoroughly disappointed. It demonstrated a cool cascading effect, and looked invitingly rich and creamy, but the taste was generally insipid and offered perplexing hints of watered down cider. Their brune performed little better than their stout, in my estimation. And after two (and I feel I'm being kind with this word selection) mediocre beers at 6,5 euros a pop, I was in no mood to sample any more of F & P's offerings.
The service is friendly for sure, and the atmosphere might be better on a different day and time, but if you're coming for the beer, please temper your expectations.
1,698 characters
3.8
/5
rDev
+1.6%
vibe: 3 | quality: 3.5 | service: 4 | selection: 4 | food: 4.5
A very expensive place (as is often the case in St-Germain) to down micro-brewed beers, and catch live NFL sunday games during the season. All the staff speak English, and are friendly to non-locals. They have great bar food, big juicy burgers, etc..
The beers are all ales of course, fresh and somewhat interesting. The surprise is that they are all unconditioned, so go down a bit flat. But it is one of the few places in Paris to get anything close to an English bitter, and you can actually taste some nice untamed hops.
If you want to get the same beers and great food, but in a much better atmosphere (i.e., big comfy leather couches, with big screens for watching sports) and for significantly less $$$, go to the Frog and British Library instead, on rue Tolbiac (Paris 13) next to the Librarie Nationale Francois Mitterand.
837 characters
2.74
/5
rDev
-26.7%
vibe: 3.5 | quality: 2 | service: 3.5 | selection: 2.5
This is one of my least favorite brewpubs that I've ever stumbled upon. Walking around Paris, I'd had enough of shopping, and was incredibly relieved when I saw a brasserie that actually made its own beer. Brasserie, meaning brewery, is completely misused in France to indicate any bar that has draught beers.
Middle of the afternoon visit, it was a pretty quiet setting, though I got the impression that it might get pretty packed in the evenings. Playing Nirvana then classic rock on the stereo (good!). It was encouraging that each member of the waitstaff spoke English, but extremely discouraging when they didn't know anything about the beers that wasn't written on the menu.
They were carrying 6 house-made brews on draught (I think nitro? Possibly cask?) and had 5 options for bottled macros. I thought the macros were in bad taste for a brewpub. If you're going to carry someone else's beer, at least promote your own industry!
At 6.5 euros a pint (roughly $8.5) and a spanking 10 euros for well cocktails, the drinks at this place had one of the worst quality:price ratios I've ever seen.
Though I didn't sample the food, I would not recommend the place to any beer lover.
1,193 characters

3.86
/5
rDev
+3.2%
vibe: 4 | quality: 4 | service: 4.5 | selection: 3
Found my way to this nice little brewpub with in a cute little area with some fine little restaurants. I do not think they do samplers but my friend went up to order and somehow she had the bartender come back to our table with 6 glasses of beer for me to sample--yes, a sampler by any other name. The beers were not great but all were either ok or good. I was most impressed by their blond. The quality was good and the service was very good, even though our French was not that good. With 6 beers, a good selection, though the range of varities and the distinctiveness of each beer was only ok. The stout was ok but for a guy who prefers dark beers it was a bit of a disappointment. A ginger ale was the most creative of the bunch (though not their best beer). The crowd was young and into the beer. The smoke in the bar was bad but not as bad as some of the other Parisian bars, where it hung like a toxic cloud that it is (can anyone say ventilation system?) Sorry, I digress. Anyway, the prices were very reasonable and I enjoyed my visit. Should I find myself in the area again, I would stop in and consume their brews again.
1,131 characters

4.3
/5
rDev
+15%
vibe: 5 | quality: 4.5 | service: 4 | selection: 4 | food: 4.5
I visited the Frog and the Princess on a few occasions when I lived in Amsterdam and took trips with friends to Paris. The Frog has a nice selection of food including fish and chips and other British and American standards. The beer selection was also pretty good for France and a nice change from wine and mixed drinks. It was also a very good place to watch a sporting event that you missed from back home or could not get on regular tv. I still cherish my Frog & Princess coasters that are in my collection. If I was to visit Paris again, I would be sure to head here.
571 characters
3.59
/5
rDev
-4%
vibe: 4 | quality: 4 | service: 3 | selection: 3.5
Maybe my favorite Frog pub in Paris. Nice neighborhood, in the Saint-Germain area, copper tanks on the side of the place. I was sitting at the window, where there's a lot of light and where it felt a little cold at the beginning, but as the place got crowded the atmosphere got warmer. In the back of the bar, there are some smaller tables in a darker part; which seemed more friendly to me. The beers are always the same, even though I liked the Inseine better here than at other Frog pubs I had had it. Service wasn't exceptional, a little slow, as there seemed to be only one waitress for the whole place (except for people at the bar). Prices are decent during happy hour (till 8pm), 4 euros a pint, which is cheaper than at some other Frog pubs (the one at the National Library being more expensive). A cool place to hang out around a decent beer.
864 characters
4.05
/5
rDev
+8.3%
vibe: 4 | quality: 4 | service: 5 | selection: 4 | food: 2
This is the type of place that I'd probably hate in Baltimore, but it's a nice change from most of the bars in Paris. And they stayed open until 5:00 a.m. so that drunk Americans could watch the Super Bowl live.
The Frog is an American/English bar on a tiny side street near the St. Sulpice Cathedral (St. Suplice is the closest Metro stop, on the 6). Inside they have a huge bar and a bunch of smaller tables, as well as TVs that carry Sky TV and Canal+ sports. The crowd is generally a racuous group of drunken English-speaking students, 20 something Americans, and people watching football. The staff is incredibly friendly, some of the best in Paris.
The beer itself is pretty good — €5 for an imperial pint, of €for a 5 pint jug. Dark De Triomphe, their Imperial Stout, is the best of the batch. I'm not sure if they've changed cooks since PopeDX visits, but the one time I ordered food here — cheeseburger, nachos — it was terrible. The only other complaint I can think of is the smokiness, which even by normal American bar standards is insane. Your clothes will smell like an ashtray for days. But hey, suck it up, it's France. If you're in Paris and looking for a place that has American football, 80s music, and waiters that speak fluent English, check it out.
1,281 characters

4.45
/5
rDev
+19%
vibe: 5 | quality: 4 | service: 5 | selection: 4 | food: 5
Wow, the Frog & Princess, what memories...
Located on the tiny Rue de Princesse (Métro stop Mabellion or St. Germain des-Près), this place screams welcome to English-speaking expats.
I lived in Paris for 4 months and went to school when I was 20, the F&P was my *first* brewpub. Before I appreciated good beer I was there sipping on real beer. In fact, it's where I "got the taste" for beer. I can't critique their beers too much because I didn't have any comparison, other than to say it was better than any of the macro crap that I've had.
The food was really good (don't go late or the kitchen will be closed). It was a nice mix of classic brit (fish & chips, etc.) and a bit more eclectic stuff.
The atmosphere is always great, though sometimes it's a bit packed (no fault of theirs I suppose). Always Brits, Aussies, Yankees and Canucks about. And everyone gets along great and the service is really good. Oh and they show football (American football) games on Sunday at 7, or at least used to.
If you're in Paris for a while I highly recommend going!
1,063 characters
Frog & Princess, The in Paris, France
Brewery rating:
0
out of
5
with
0
ratings