Bhagwan's Best IPA
| Big Time Brewery & Alehouse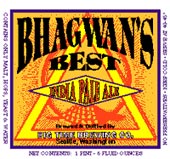 BEER INFO
Brewed by:
Big Time Brewery & Alehouse
Washington
,
United States
bigtimebrewery.com
Style:
American IPA
Alcohol by volume (ABV):
5.00%
Availability:
Year-round
Notes / Commercial Description:
No notes at this time.
Added by stirgy on 01-15-2003
Reviews: 36 | Ratings: 58

4.47
/5
rDev
+12.6%
look: 4 | smell: 4.5 | taste: 4.5 | feel: 4.5 | overall: 4.5
Yes Virginia, dry hopped Bhagwan in a cask does taste amazing. Not much of a head and almost cloudy but the complexity of the nose was a sign of what was to come. Big but swirling hop notes and a very uncarbonated mouthfeel show this beer to come into its own on cask. A Seattle classic IPA that deserves to be tried on cask.
325 characters
4.15
/5
rDev
+4.5%
look: 4.5 | smell: 4.5 | taste: 4 | feel: 4 | overall: 4
This pours dark brown and orange. Nice inch thick head tops off this taste treat. Nose is an exquistite mix of pine and grapefruit yet balanced with caramel and subtle sweetness. Neither the grapefruit nor the pine dominate here both struggle for equal footing. This really is a beer for us West Coasters. The hops are out of control and so wild that you east coasters will likely NOT like this. Mouth is thick and rich. I love every bit of it. I will buy a bottle of this with every visit to the Big Time brewery. Rock on!
523 characters

4.48
/5
rDev
+12.8%
look: 4.5 | smell: 4 | taste: 4.5 | feel: 4.5 | overall: 5
Appearance: pours a clear orange in color with a 2"+ head that lasts a long time. Nice lacing develops. Some carbonation bubbles are seen streaming to the top.
Smell: big floral hop nose, and some grapefruit citrus is detectable.
Taste: nice hearty malt backbone, big floral bitterness, grapefruit, orange, and a touch of honey sweetness. Great balanced beer here.
Mouthfeel: lightly crisp and dry at the start, smoother and still dry at the finish. The bitterness leaves the tongue quickly after swallowing. Medium bodied.
Drinkability: an outstanding IPA that has big flavors and goes down quickly. Ultimate session IPA. Find some of this stuff.
660 characters
4.02
/5
rDev
+1.3%
look: 3.5 | smell: 4 | taste: 4 | feel: 4.5 | overall: 4
i'm enjoying this side by side w/ the non-casked beer.
---
big bubbles and lots of them on this cask conditioned sampler sized beer. sorta hazy yellowish orange. not terribly impressive. clearer than the regular tapped version.
smell is a mild floral bitternees. none of the citrusy tone in the regular beer. Taste is similar to the regular beer. hoppy and floral though not as sharply fresh. the feel in the mouth is smoother though. good beer in this form too, though not really better than the original. The casked one has a slightly gunky flavor, less clean than the real beer though i can't quite pin down why.
624 characters

3.91
/5
rDev
-1.5%
look: 4.5 | smell: 3.5 | taste: 4 | feel: 4 | overall: 4
Mid September 2005. Had at the Big Time Brewery in Seattle, WA.
Presentation- via samplers from the tap.
Appearance- Lightly cloudy golden pour, 3/4 inch head with great lacing.
Smell- Very lighly scented. Maybe a touch of sugary and fruity hops.
Taste- Very bitter flavor. Lots of hops...mostly fruity, but some piney ones as well. Some decent malt flavoring as well.
Mouthfeel- Medium carbonation level.
Drinkability- Well rounded brew. A very well done IPA. This brewery continues to impress.
514 characters
4.32
/5
rDev
+8.8%
look: 4 | smell: 4.5 | taste: 4.5 | feel: 4 | overall: 4
Appearance: Poured to a hazy copper with a nice 2 finger head. Diminished to lace over the next couple minutes.
Smell: A strong hoppy smell rolls off this beer, not much else.
Taste: Powerful hops give way to an almost piney, long finish.
Mouthfeel: Medium
Drinkabilty: So many around town speak with such reverence for this beer, I expected to be a little more wowed. That said, it's a very well-crafted IPA and should please any fan of this category.
465 characters
3.4
/5
rDev
-14.4%
look: 4 | smell: 4 | taste: 3 | feel: 3 | overall: 3.5
22oz: Thanks to Herftydrf for that one. Nicely cloudy orange hue. Unfortunately not much head at all, just a shy ring. Superb IPA aroma we're dealing with here. Upfront citrus (orange, grapefruit) blended with a very solid malt base (mango, wood chunks, pineapple). There's even a yeast hint. Unfortunately, all those salivating flavours are not quite transmitted to the taste where it appears so dry that flavours are quite hard to investigate. I found the bitterness to be just intense enough, yet besides that fruity dryness, I didn't pick much else and the mouthfeel appeared a good bit undercarbonated, almost flat medium body.
635 characters

4.5
/5
rDev
+13.4%
look: 4.5 | smell: 4.5 | taste: 4.5 | feel: 4.5 | overall: 4.5
Thanks to RoyalT for the growler of this he sent my way in a recent exchange! This stuff was awesome. A cloudy dark orange colour with a large off-white head of foam. The aromas are of fresh citrusy hops, with a nice piney edge to them as well. The taste is fresh, citrusy, piney, fruity, and awesome. There is also a nice malt backbone holding everything up as well. The mouthfeel was creamy and smooth, what more could one ask for in an IPA. The drinkability was, of course, awesome as well! Another great PacNW hop bomb.
523 characters
4.22
/5
rDev
+6.3%
look: 4 | smell: 4.5 | taste: 4 | feel: 4 | overall: 4.5
Poured from a 22 oz bomber a cloudy light copper with a head that disappeared quickly. Big citrusy hops aroma, but with hints of sweet fruit & caramel malt. Somewhat acidic in the mouth with very nice citrus & floral hop flavors. Serious notes of sweet fruit (mango & apricot) are evident initially & continue through the finish which is consistent & dry. A unique & enjoyable IPA. Thank you, Kim for hooking me up with this!
425 characters
4.47
/5
rDev
+12.6%
look: 4 | smell: 4.5 | taste: 4.5 | feel: 4.5 | overall: 4.5
Appearance – This one poured a thick, hazy dark orange in color with a modest but inviting head.
Smell – The big, PacNW citrus and pine leapt from the barroom glass. This is a classic, locally-brewed IPA. There was a nice malty sweetness to the nose as well.
Taste – Like citrus hops? Here ya go. The fruity hoppiness was huge in this IPA. There was a bit of malt balance as well, but the citric hop profile clearly dominated.
Mouthfeel – This medium-bodied ale showed some decent carbonation and was dry as a bone. This will suck your cheeks in for sure. You almost want another beer to chase this with.
Drinkability – I was sipping on this as I was the DD for the evening. Otherwise I would have drained the pint glass like a Ferrari zero-to-sixty time.
Update – I had a 2005 batch at skyhand's Beer of the Dead party on Halloween, and this really is a solid IPA. It's not too dry but very hoppy and easygoing.
935 characters
4.68
/5
rDev
+17.9%
look: 4.5 | smell: 4 | taste: 5 | feel: 4.5 | overall: 5
Very hazy gold in color with a nice off-white head. Head leaves a nice lacing down the glass. Hop aroma was floral and citric, but not overwhelming or very assertive. The beer comes across as very crisp in almost every way. Hops are assertive, yet not in your face like some brewers tend to do. Malt flavors (sweetness particularly) are allowed to show and present a very nice balanced feeling to the whole thing. Finishes moderately bitter and malty with a dryness. Some toasted flavors are also evident in the finish. A truly outstanding beer, IMO.
550 characters
Bhagwan's Best IPA from Big Time Brewery & Alehouse
3.97
out of
5
based on
58
ratings.