Wine & Hop Shop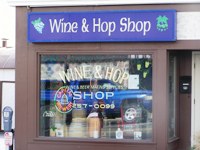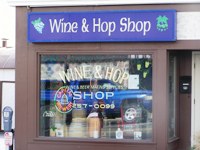 PLACE INFO
Type:
Homebrew
1919 Monroe St
Madison
,
Wisconsin
, 53711
United States
(608) 257-0099 |
map
wineandhop.com
Notes:
No notes at this time.
Added by ethosx19
Ratings: 14 | Reviews: 11
Reviews by uwmgdman:
4.5
/5
rDev
+0.4%
Quality - Everything I have ever purchased from the store equipment or ingredients, have been top of the line. I purchased my equipment kit from the, the delux kit. It had everything I needed, nothing I didn't, and everything has continued to work from day one.
Service - Everyone I've dealt with has always been eager to help. The first time I used grain, someone was there to help me use the mill. For my first batch, they answered all my questions, when I was there buying my equipment and even when I called on the phone with a few last questions before I started.
Selection - Selection is solid. Only once they didn't carry the type of yeast I was looking for, not a very popular one, but they do carry plenty and it is always fresh. The oldest was 3 months old, the freshest was 1 week old, typically it's between 2 and 4 weeks old. The grains are always fresh and have a good selection, even if they don't have the exact grain, there is always a suitable substitute. Hop selection is also good, pellets, plugs, and whole.
Value - The value is good, I priced them vs. online sites for a batch. They are few dollars more, but if you include shipping, it's a wash. Now purchase a $50 grain card, you get 50 lbs of grain, any grain in the store for $1 lb, not a bad deal. Even if it was a couple bucks more, I know I'm getting fresh ingredients, have a helpful staff, and supporting a local business.
1,412 characters
More User Reviews:


5
/5
rDev
+11.6%
vibe: 5 | quality: 5 | service: 5 | selection: 5 | food: 5
The Wine and Hop Shop is truly a Madison gem. They were established over 40 years ago, before home brewing and winemaking were even legal in the US. The staff is really knowledgable and the selection is great. If they don't have something, it will be on the next delivery. With competitive prices and convenience, staying local is an easy decision with a shop like this. They also have some home brew samples on tap to make your shopping experience that much better!
466 characters
4.5
/5
rDev
+0.4%
I went here to get the most of my homebrew supplies they were very nice and if I needed anything all I had to do was ask there wasn't anything that I had on my initial homebrew start list that they didn't have and I started out intermediate instead of beginner and build my own kit instead of one of their prebuilt beginner sets. I was well impressed when I came into this store and they know their stuff. They have plenty of books on the subject many ingredients and gadgets so many that you just wish you had all the money in the world to blow on. I thought they had a nice selection of hops with a nice and easy to follow substitutions list of hops if they had run out of stock. Nice place to find your brew stuff.
717 characters
4.55
/5
rDev
+1.6%
I visited this place while on a weekend trip to Madison in late November 2008.
The first thing I thought when I entered this store was that it isn't a very big place and it is quite busy. That said though, they do have a decent selection of equipment and brewing supplies on hand. I was pleased to see that the hops and yeast were all stored in appropriate coolers and very well organized. I was also very surprised and pleased that the Wyeast smack pack I bought had a packaging date that was less than 2 weeks prior to when I picked it up! Maybe I just got lucky and happened to visit right after they got a shipment, but I'll give them the benefit of the doubt and assume they have super fresh stock.
The staff were very friendly and knowledgeable and seemed very willing to help. They were also more than happy to hand out samples of the home brew beer they had on tap right in the store.
I will make this place a regular stop anytime I visit Madison!
959 characters
4.65
/5
rDev
+3.8%
Couple of reasons I like Wine & Hop Shop so much. If you are extract brewer they will refill your extract container with any amount you want and you save a little bit if you reuse the containers. Kits have been very solid. If you are doing all-grain you don't have to buy a grain mill since you can crush in the store (pretty decent set up) if you buy ingredients each batch right before you brew. Third, a $60 grain card for 50 lbs of grain, good on everything from base malt to Cara-xxx to specialty grains. Also, I think they have dealt with the hop shortage in a reasonable manner. Hops are up to ~$2.75/oz but they have a good selection so it doesn't limit your brewing. Also samples of beer/wine on tap while you are selecting your goods.
744 characters
4.35
/5
rDev
-2.9%
The staff is very helpful and knowledgeable. They always seem willing to take their time with customers and answer any questions. I've tried many of their extract kits and have always come out with a good beer. Their prices seem comparable to other stores I have been to. My only complaint is that they close at 6 and I can never make it there after work in time (not really an issue, I do all my brewing on the weekends). This is a great homebrew shop, and I will continue to buy my brewing supplies here.
506 characters
4.35
/5
rDev
-2.9%
Q- the place has pretty fresh supplies, and its organized very well for both the extract brewer and the all grain brewer so that they can pick up their individual supplies in bulk or small amounts. Occasionally dont have something neccessary but offer to order it up and call you when they get it and hold some for you.
S- they are usually busy, but are helpful and knowldgeable.
S- they have a much larger selection of extract malts, as well as specialty supplies than my previous brewstore, and are good at keeping everything there fresh
V- the main downside is that they can be pretty expensive, some of their stuff is relatively cheap, but others can be pretty expensive
677 characters
4.65
/5
rDev
+3.8%
I know the owner of this store... his name is Dave. You can often see him working in back in the office. He is an older man, although you'd never know because he keeps himself in good shape.
In addition to owning this homebrew supply shop, Dave also has a vineyard. Every year, you can harvest grapes out at his vineyard if you're interested in making wine as well.
Selection is great. Dave routinely stocks the refrigerator with all types of yeast strains from Whitelabs. Also, he carries many different varieties of malts, both in liquid, powder, whole grain, and crushed.
The service is always good. Most of the employees also are homebrewers, so they are generally very knowledgeable about the products they sell.
Definitely go and support this place.
769 characters
4.2
/5
rDev
-6.3%
This is a nice local shop and given that I've lived in places without a homebrew store, I greatly appreciate having this place nearby. The staff is quite friendly and knowledgeable. The owner is a Madison legend in the craftbrewing industry and great for advice when he's around. They also sponsor an annual stout contest for homebrewers, at least trying to bring homebrewers in the area together once a year. I wish they sponsored more contests.
The selection is decent but also limited, especially in hops. They usually have malts that I've needed, including the odd Belgian or smoked malt. Yeast selection is usually pretty good too, but can be hit or miss if you get there a day or two before a delivery. Recently the selection of odd additives and cleaners has seemed to increase. If quality=freshness then they do quite well in this area.
Joining the grain club makes their prices competitive with on-line suppliers for all-grain brewers. (I'm not sure about extract, since I don't do this, but they seem to have a decent selection at least.)
Misc: When in a bind for kegging gaskets and odd parts, they usually will have what is needed. Also has a good book selection. Not entirely complete, but a good way to get started building a library.
Wine/Mead: I don't know a lot about wine kits, but they also have a selection of this. For mead, they have all the potential additives and a wide variety of wine and mead yeasts.
Having a place like this around is great, so I try to support it as much as possible. Definitely recommend it.
1,555 characters
4.35
/5
rDev
-2.9%
Only local place to serve my needs. Small and quaint little shop, but has the goods I need. They have lots of kits and equipment available, and a good supply of bulk grains, hops and yeast. Grain is well kept in plastic bags, the store is kept at low humidity levels. A drill powered mill is available for use if needed. Hops are come and go, you may or may not find what you want, but since my last visit they seemed to be doing much better on keeping a wide variety around, though they do lean towards pellets (about 2:1 pellets:leaf), but that's completely understandable..
White Labs in one fridge, WYeast in an old soda cooler, adequately refigerated. Selection is very nice, but does vary through seasons. The amount of varieties seems to have increased in the past few months, and dates have always been fresh, within 1 month of date printed, usually just a week or two.
You can find most any grain that you'd need, or some variation of it. I'm not to keen on the 1 lb and 3 lb prices, as I always seem to get charged for the 1 lb price, even though 3lb sizes are rarely, or never, available. I can hardly complain, as most everything is there, in good condition.
Service is helpful, and they know what they're talking about. Though some of the employees seem a bit less interested than others. Experience is broad in both wine and beer.
Prices are decent, and I won't complain. They supply what they can for the limited demand. I like that they have a website, even though you wouldn't think they'd need one, prices vary.
1,542 characters
4.15
/5
rDev
-7.4%
A good store with helpful staff. Catalog and price list are online. Prices are okay after club discount and you consider the shipping costs of purchasing from online suppliers. Support the local guys, they are a great at helping with problems and keeping homebrew in the area.
276 characters
Wine & Hop Shop in Madison, WI
Place rating:
100%
out of
100
with
14
ratings