Vine (Bull And Bladder), The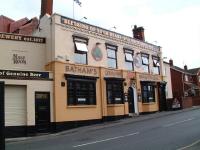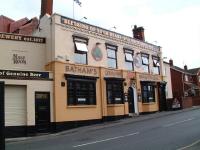 Bar, Eatery
10 Delph Road, Brierley Hill
Dudley
,
England
, DY5 2TN
United Kingdom
+44 (0)1384 482292 |
map
bathams.co.uk
Notes:
Reviews by TheLongBeachBum:
TheLongBeachBum from California
4.31
/5
rDev
-2%
vibe: 5 | quality: 5 | service: 4.5 | selection: 3
The Vine, or the Bull & Bladder, is a legend. Probably one of the least visited, but most photographed Pubs in England. I have visited this Pub many times; so often it was a 'pit-stop' on the way home whilst attending CAMRA Trips to Breweries in the S.W. of England. I also came here when I used to work for a company based in Birmingham - I would pop in before the long drive home to Yorkshire.
What can I say that has not already been scribed about this most famous of Pubs. Well, apart from the fact that this is a genuine example of a Black Country Pub, which you must simply visit to appreciate a true working class drinking environment & a throwback to the Industrial Revolution. It is World Famous for its well known frontage, resplendent with its (slightly altered in recent years to more modern English) Shakespeare quotation "Blessing of your heart - you brew good ale" that runs along the top of the 2 floor painted frontage. But Architecture & the Bard aside, more importantly for me, I know the Vine because it is the Batham Brewery Tap, which is on-site. Brewing since 1877 & still family owned, it is a remnant of older times that someone forgot to close down, and which still thankfully exists. As you walk in there are several rooms front & back, the long bar is on your right & runs perpendicular to the street entrance down a hallway in the Pub. The rooms are all decorated with a variety of Brewery items, photo's & memorabilia – one thing sticks in my mind is the fact one of the rooms is dedicated to a branch of the 'Buffalos' from what I remember.
I shudder to think how much of the fantastically fruity Bathams Mild I have drunk in here over the years. It also sells the Batham's Bitter & XXX (winter seasonal). But for my money, the Mild wins hands down, one of the *very* best real Black County Milds you will ever drink.
Real Ale, due to its short shelf life is normally sold in 9 UK Gallon Casks (Firkins) these days, sometimes 18's (Kilderkins) & maybe even a 36 (Barrel) every now & again. But walk to the back of the Pub, into the opened & expanded outside area & you may, just may, be extremely lucky to see & touch a 'Hogshead'. A mighty 54 (UK) Gallon Cask; they are quite humungous in size & extremely difficult to handle. Little seen these days for obvious reasons, but such is the popularity & turnover of the Batham's Ales here - that this size Cask is still used.
Mightily impressive Brewery & Pub that time forgot - thankfully.
Jan 15, 2003
More User Reviews:
BlackHaddock from England
4.05
/5
rDev
-8%
vibe: 4 | quality: 4.5 | service: 4 | selection: 4 | food: 3
This isn't a pub, it is more of an institution, loved by locals and travellers alike.
Always full of life, often overflowing with characters, this is a serious drink place. On one occassion the little front bar, which can hold about 20 people, had an Irish Folk band playing. They were standing on each others heads in there, I am sure the floor would have given way, if everyone had danced in tune!
The other rooms are not so much fun, but still good drinking rooms, but try and get into the little front bar on the right, people will move up for you, they are a friendly bunch and love to chat to visitors.
Service is fast and friendly, often with some cheek, no pretty barmaids here to drag the punters in, the locals want someone who can pull a pint!
Batham's beers, obviously cask conditioned, are as you would expect at the brewery tap, always in excellent condition.
Hot or Cold Pies are what I eat here, I think there is a bigger choice, but I get 'target fixation' on the beer pumps whenever I visit.
A Black Country Classic, and long may it be so.
Jan 12, 2007
JohnW from England
4.25
/5
rDev
-3.4%
vibe: 5 | quality: 4.5 | service: 4 | selection: 4 | food: 4
There is not much I can add to The Long Beach Bum's review only to confirm his opinions !
A traditional Black Country pub unchanged for years, the Bathams Brewery Tap.... local down to earth working class people with no pretensions. Excellent beers (though I would divert from Long Beach Bum..I prefer the Bathams Bitter - but only because I prefer bitter generally!!)
They only serve their own beers normally, apart from the usual pretend lagers and Guinness. But that is why you go !!
Some bottled beers from Bathams often available too.
A small cosy bar full of locals, a smarter lounge and a large room at the back too.
Also a kitchen area just behind the bar, where you can look at the amazing selection of food (mid-day only) and point to what you want ! From huge steak and kidney pies, cold meats, faggots, curry etc , to sandwiches, and all at give away prices.
While in the area, you must also walk the "Nine Locks" before going into the pub, to ensure you have a good appetite! ( look at local map, only 10 mins walk from the pub)
Another gem in the West Midlands region of England.
Jan 16, 2003
Vine (Bull And Bladder), The in Dudley, GB2, United Kingdom
Place rating:
4.4
out of
5
with
4
ratings