Octopus Ink Black IPA
| The Pike Brewing Company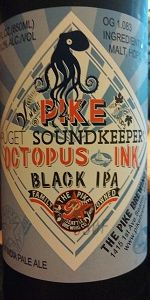 BEER INFO
Brewed by:
The Pike Brewing Company
Washington
,
United States
pikebrewing.com
Style:
American Black Ale
Alcohol by volume (ABV):
8.20%
Availability:
Rotating
Notes / Commercial Description:
No notes at this time.
Added by NickThePyro on 12-09-2013
Reviews: 10 | Ratings: 34

4.14
/5
rDev
+3.5%
look: 4.25 | smell: 4 | taste: 4.25 | feel: 4.25 | overall: 4
My wife and I stopped by the brewery while in the Pike Place Market facility today on our vacation in Seattle. I knew this brewery was very close by, but found one if the entrances to it totally by accident when I walked down an alley way to see the gum wall and realized the brewery was right next door! This is the beer I decided to order. Served in a tulip glass, this beer draws a very dark brown, almost black color that's not interested in letting in any light whatsoever. Has a tan head that's about an inch thick when first drawn that settles to a medium sized ring lining the inside of the glass along with little spots of surface foam and good lacing. Aromas of very roasted caramel and chocolate malt sweetness along with a floral, piney, earthy hop presence. The taste is pretty much the same, with a moderately roasted chocolate and caramel malt presence with a mild to moderate sweetness that gives way to a bit of black coffee bitterness along with the aforementioned earthy, floral, piney, and slightly citrusy hop bitterness. Has a mainly crisp, somewhat prickly, slightly sticky, medium to full bodied mouthfeel with moderate carbonation. Has a nice dry finish, no doubt due in part to the 2 rounds of dry hopping this beer undergoes. Really glad I got a chance to try this one.
Eric
1,310 characters
4.21
/5
rDev
+5.3%
look: 4.25 | smell: 3.75 | taste: 4.5 | feel: 4 | overall: 4.25
Tried it at Pinewood Social in Nashville, too far from the Murfreesboro brewery. Lots of malt. And also plenty of citrus. A small aftertaste charred barrel. Almost like a hoppy Porter
184 characters
4.95
/5
rDev
+23.8%
look: 5 | smell: 5 | taste: 5 | feel: 5 | overall: 4.75
This is in a way, one of the best beers I've ever had. Its aesthetic glows, dances, feints and jabs. Its idea is ambitious and genuine, glowing, freshly forged from the hearts and minds of the makers. Its drinking experience enfolds. It's strong, rich, dark, and balanced; just how I like both my men, women, friends, family and future. WHEW, anyways. This is a great beer because it trailblazes its own black IPA rut, and does so with heart, art, and extra-excellence. At least, according to my tastes. Search this beer out and find out for yourself if this drooling review holds up.
585 characters

3.23
/5
rDev
-19.3%
look: 4.25 | smell: 3 | taste: 3 | feel: 4 | overall: 3.25
Creamy black and foamy brown head with great retention. Light chocolate and roasted malt with a whisper of citrus. A mish mash of flavors, some chocolate lingers nicely but otherwise heavy bittering and biting burnt flavors. Creamy feel.
Flavors are muddled and overrun by hop and burnt bitterness. A very nice creamy feel is about the only other positive I can come up with other than I love the name and it's perfect for a Seattle Black IPA.
444 characters
4.18
/5
rDev
+4.5%
look: 4 | smell: 4 | taste: 4.25 | feel: 4.25 | overall: 4.25
Pike "Puget Soundkeeper Octopus Ink Black IPA"
22 oz. brown glass bottle, no apparent freshness dating
$4.49 @ Total Wine & More, Claymont, DE
While "Octopus Ink" is sure to disappoint hop heads looking for a brash aroma and cutting hop bite, it should please far more imbibers who are willing to accept its pleasant hop aroma and mid-range hop flavors.
It's labeled as a "Black India Pale Ale" but they also expound on their website that it "blends the hoppy flavor of your favorite IPA with the dark malt character of a tasty stout", and I feel that's really a much better description for it. I find it stout-like (well, actually more porter-like as there's no real roastiness) with a good deal of citrusy, piney, and berry-like fruity hops thrown in - as opposed to quite a few black IPAs on the market that offer a more limited maltiness and even higher levels of 'cutting' hops. The grain bill includes pale, crystal, Munich, chocolate malt, light & dark wheat, debittered black malt (obviously for color) and organic cane sugar as adjunct; and the crystal, Munich, and wheat malts help to give it depth that you don't normally find in some of the more hoppy black IPAs.
It is solidly bitter though, with 85 IBUs, so don't think that it's a darkly malted beer that's been dry-hopped parading as a black IPA; it's just more malt based than hop-forward, which leads to balance. I would imagine that even at 8.2% abv you could drink a few of these because it won't destroy your taste buds halfway through the first serving. And I think the addition of the fruity component of the hops helps as well, because straightforward citrus and pine can sometimes be quite sharp.
In the end I think that Pike has really hit the sweet spot with this one, offering a fully-flavored beer that spotlights the hops without leaving the maltiness behind, and one that happens to be really well-balanced and polished as well. Absolutely worth trying! And it benefits a great cause as "A portion of every Pike Octopus Ink Black IPA sale benefits Puget Soundkeeper Alliance. This local, nonprofit protects and preserves the waters of Puget Sound".
2,136 characters
3.99
/5
rDev
-0.2%
look: 4.5 | smell: 4.25 | taste: 3.75 | feel: 4 | overall: 4
I randomly came across this beer while looking in the walk in cold beer cave. This one has 8.2% ABV and 85 IBUs. It is a Black IPA which is a class of beer that I have very recently started trying. For comparison, the only other Black IPA was by Uinta Brewing and was called Dubhe.
Look-This one pours a solid tuxedo black that does not give even under a bright light. The head is foamy and smooth and is tinged brown. A very nice looking beer, but don't be phased by the sediments that naturally float around within.
Smell-This one smells strongly of candied cherries and mocha. A very smooth smell that makes you want to take a sip.
Taste-The taste is very nice. It isn't too sweet either, but has flavors of candied cherries, mocha, brown sugar, tangerine, mango, caramel, cocoa, and toasted oak. The funny thing is this one is sort of an upside down beer in that I get a fleeting hint of hoppiness at the beginning and then it gives way to the mild sweetness for the rest of the time. I hardly taste the bitterness from the hops, but I do get a fleeting hint of them at the beginning. A very nice and dynamic surprise for you awaits in this one as I have described it.
Mouthfeel-This beer drinks smooth and clean. Hardly any carbonation makes this beer a silky smooth Black IPA for anyone to enjoy.
Overall-I'd say that I am glad I found this beer and I look forward to trying other Black IPAs in the future. Pour into a nice glass and serve chilled. Cheers!
1,473 characters
4.18
/5
rDev
+4.5%
look: 4.5 | smell: 4 | taste: 4.25 | feel: 4 | overall: 4.25
Picked up a bomber from TW Arrowhead the first of May for $4.99. No bottling date found but suspect it was brewed at the end of last year.
Beer poured black into my Spiegelau IPA glass with a beautiful tan head that is leaving lacing behind.
Nose is citrus hops and roasted malts.
Taste is full of flavor. Dark cocoa on top of medium roasted malts form a lovely baseline. Hop profile includes mango and peach that appear early on. Grapefruit and a bit of pine oil lingering in the aftertaste.
Mouthfeel is medium bodied and fairly smooth.
Overall I really like this brew! It is very reasonably priced considering the bomber format. I would love to try it on tap or a fresher version of it. It is not highly rated due to the Black Ale style is harsh on most palates. Definitely give it a shot when it comes out next winter!
835 characters
3.42
/5
rDev
-14.5%
look: 3.75 | smell: 3 | taste: 3.5 | feel: 3.75 | overall: 3.5
Pours a very deep brownish black. Mocha head of about 1-2 inches. Head shrinks to about 1/4-1/8 inch and then holds on for dear life. Lacing is spotty, tan and clingy. Aroma is of malt with some brown sugar and caramel with a touch of the hops peaking through. Taste is slightly bitter from the hops, yet the maltiness, coffee and bitter chocolate come through quite well, especially as it warms. Overall, balance seems to be in line. Mouthfeel is good with the hop bitterness being the lasting flavor. Nice beer, one of the best I have had so far from Pike Brewing....
570 characters

3.87
/5
rDev
-3.3%
look: 4.25 | smell: 3.5 | taste: 4 | feel: 3.75 | overall: 4
Dark cola almost black with a thick mocha head. Settles eventually into one corner of the glass (circles have corners! Shut up!) with a thin veneer mostly taking care of the rest of it. Good lacing.
At first the nose has almost a corn sweetness to it. Some roast and brown sugar as well. As it warms a bit more complexity develops though I can't quite place my finger on it. Sweet and dark, trending towards chocolate? Primarly a bunch of grains and roast, though.
Predominantly roasty, I get a nuttiness that seems super familiar but that I can't quite place my finger on. Roasted sweet grains match with a piney(?) bitter from the hops. Finish carries the bitter theme with a touch of yeast/grain. Occasional brief spikes of sugar. Overall smoothe tasty and another dangerously drinkable for 8%+
799 characters

4.49
/5
rDev
+12.3%
look: 4.25 | smell: 4.5 | taste: 4.75 | feel: 4 | overall: 4.25
Initial blast of refreshing citrus and grapefruit hoppiness packs a pretty big punch. Finishes very roasty with burnt bakers chocolate notes and a faint smokiness. Great stuff. I was surprised by how easy this was to drink at 8% ABV. The hoppy flavors help make the beer feel a little thinner and thus more drinkable, however the overall flavor of the beer certainly does not suffer.
383 characters
Octopus Ink Black IPA from The Pike Brewing Company
4
out of
5
based on
34
ratings.