Auld Acquaintance IPA
| The Pike Brewing Company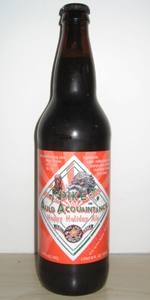 BEER INFO
Brewed by:
The Pike Brewing Company
Washington
,
United States
pikebrewing.com
Style:
American IPA
Alcohol by volume (ABV):
7.00%
Availability:
Winter
Notes / Commercial Description:
No notes at this time.
Added by Knuckles on 07-26-2005
This beer is retired; no longer brewed.
Reviews: 7 | Ratings: 13
Reviews by OldFrothingSlosh:
4.1
/5
rDev
+6.5%
look: 4 | smell: 4 | taste: 4 | feel: 4 | overall: 4.5
On-tap at the brewpub.
Their winter brew available in mid-September. Whatever works for them. Ruby-red in appearance with distinct lacing of the glass with off-white head. Aromas are not overtly hoppy, but certainly noticed. Balance comes from a very sweet malt presence. Flavor is similar to the nose. Good balacning from the malts to attenuate the hop infusion. Spicy zip noted as well. Ever so slight warming effect from the ABV, but nothing intrusive. Bitter finish sits on the palate. Very nice start to my visit to the brewpub.
536 characters
More User Reviews:

4.05
/5
rDev
+5.2%
look: 4 | smell: 4 | taste: 4 | feel: 4.5 | overall: 4
Good starting head, leaves ample lace. The liquid is neutral amber; mild haze.
Slightly sweet--smell of raw honey. Light hop in the background.
Malty, but with lots of subtle spice like orange peel and cinnamon. Slightly sweet. Rich body, like whole milk. Good hop to balance, but this is not an IPA, at least not the 2009 version.
This is my first Holiday/winter beer of the season...a very good start.
406 characters

3.53
/5
rDev
-8.3%
look: 2 | smell: 4 | taste: 3.5 | feel: 3.5 | overall: 3.5
On the menu this is listed as the Winter Special Beer, but it was on tap in July.
Appearance: very hazy and cloudy dark copper / almost brown in color. The head consisted of a few surface spots when the pint arrived. Just looked pretty sad.
Smell: easily detectable malt and fruity sweetness, and a bit of bitterness is also picked up.
Taste: nice malt level, brown sugar, hint of nuttiness, and some decent bitterness. Alcohol was slightly noticeable. Some mild ripe fruit sweetness comes through at the end.
Mouthfeel: lightly crisp from start to finish. Very short aftertaste as malt sweetness and hop bitterness linger for a few seconds on the tongue. Medium body.
Drinkability: not a bad tasting brew, but it sure looked awful .I see this beer is listed as an IPA and I am not sure if the style is correct for what I experienced - I thought this was more of a higher hopped winter warmer.
910 characters
4.15
/5
rDev
+7.8%
look: 4 | smell: 4 | taste: 4 | feel: 4.5 | overall: 4.5
As most of my reviews of Pike beers will prove out, I like the beers and the establishment more than I should (perhaps). That said, this is one of their much more interesting efforts (and far superior to their IPA). Auld Acquaintance is the Pike's winter holiday offering, and for some freakish reason, they've got it out in the middle of July. I'll take it. Thank Salma Hayek's pants for that one, because it's just too goddam hot (yes, we native Seattleites are temperature wusses). This beer is a hoppy winter IPA in the same vein as Sierra Nevada's Celebration or Boundary Bay's Cabin Fever. It also compares quite favorably to both (in my opinion). On to the review.
Appearance: Very deep, dark red (almost black in the center of the pint glass). Beautiful, and slightly intimidating.
Smell: Mmm...hops. Haven't the faintest fucking clue what type they use in this beauty, but it smells good to me on a day like today. Hops don't just act as a preservative, they also refresh. I'm looking forward to this beer very, very much.
Taste: One thing the Pike always does well (but not always that interestingly) is balance. The malt, hop and yeast characters of their beers always compliment each other perfectly, with no one aspect overpowering the other and getting in the way of the experience. This beer is no exception. A very nice hoppy nose that leads into an initial sweet, almost maple-y malt introduction, followed by a bracing hop finish. The perfect beer for today.
Mouthfeel: The brewers at the Pike can have some issues with mouthfeel (in particular, the Oatmeal Stout). This beer has no such issues. Just the right level of malt viscosity to let me know that there is definitely some malt spine to back up the smack talk of those hops.
Drinkability: It's a shame that I was on the clock, as I could have downed a few more of these. I've polished off many a pitcher of this stuff during the Christmas season, and was quite pleased to be able to enjoy at least one of them today. A great, great beer, and probably the second best beer brewed by the Pike (the XXX Stout being far and away their best).
2,127 characters
3.88
/5
rDev
+0.8%
look: 4 | smell: 3.5 | taste: 4 | feel: 4 | overall: 4
Looks decent, but the smell seems too malty, and not hoppy enough for an American IPA.
Taste is quite an improvement. Good balance, I can really detect the blending of malt and hops, with the hops adding just the right amount of zest for the malts. Hints of citrus, bread and yeast.
Nice mouthfeel, just the right amount of carbonation. Very nice.
When I had this, it was relabelled as "Opening Day Ale."
413 characters
3.41
/5
rDev
-11.4%
look: 3.5 | smell: 3 | taste: 3.25 | feel: 3.75 | overall: 4
22 ounce bomber bottle to wine glass
Appearance: Orange- brown color(held against light, hazy, minimal off white head, minimal lacing
Smell: not a lot of aroma, slight toasted grain smell, hint of alcohol
Taste: slight bitterness
Mouth feel:
Overall Good Beer but will
not buy again
288 characters
4.2
/5
rDev
+9.1%
look: 4 | smell: 4 | taste: 4.5 | feel: 4 | overall: 4
Got this on tap at the Horse Brass in Portland. It is definitely the most impressive Pike brew I have tried. Slightly lighter than earthy brown with a decent head, this appeared rather cloudy. It had a figgy, fruity nose which was reflected in a wonderful early malt kick before a marvellous hoppy aftertaste hinting at lemon.
This brew seemed to my somewhat alcohol addled mind to have the perfect balance between malt and hops, offering a seamless transition between two rather distinct and marvellous flavours.
517 characters

Auld Acquaintance IPA from The Pike Brewing Company
3.85
out of
5
based on
13
ratings.