Dismiss Notice
Dismiss Notice
Pike Entire - Wood Aged Stout
| The Pike Brewing Company
BA SCORE
84
good
63
Reviews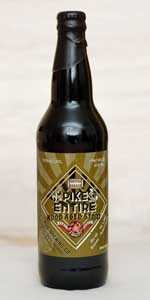 BEER INFO
Brewed by:
The Pike Brewing Company
Washington
,
United States
|
website
Style:
American Double / Imperial Stout
Alcohol by volume (ABV):
8.00%
Availability:
Year-round
Notes / Commercial Description:
No notes at this time.
Added by barleywinefiend on 12-06-2008
Reviews: 63 | Ratings: 112

3.76
/5
rDev
+1.9%
look: 4.5 | smell: 3.5 | taste: 4 | feel: 3.5 | overall: 3.5
Thanks go out to Dajtai007 for this recently traded beer.
Pours a gorgeous, black, viscous mass with only the slightest hints or dark root beer brown when it was being poured. Nice dark tan head with great lacing.
Smells of hops, heavily roasted malts and coffee.
Taste is much like the nose with high alpha hops, oak woodiness, light lactose, heavily roasted, almost dry malts and a light coffee presence.
Medium bodied with medium to high carbonation and mouthfeel.
★
471 characters
4.15
/5
rDev
+12.5%
look: 4 | smell: 4 | taste: 4 | feel: 4.5 | overall: 4.5
Special thanks to unclejedi for sharing this one and allowing me to hop on the Barrel-aged Bandwagon.
Appearance: Pours a dark brown, near black body capped by a frothy, off-white head.
Smell: Fragrant nose of Pike's XXX Stout served one final shot of bourbon and then buried alive, six feet under the ground in a simple wooden coffin.
Taste: Roasted malts with slight chocolate and coffee overtones and a restrained sweetness lead followed by 2x4 planks of oak and even white pine. Touch of anise spiced prunes. Thin sliver of lemon rind. Earthy, vaguely spicy hop character with resinous bitterness. Quarter jigger of bourbon. Given a chance to warm a bit, the flavors really start to come alive. Finishes dry and roasty with lingering wood flavors.
Mouthfeel: Medium-full body. Medium carbonation. Smooth mouthfeel that I can't help but find agreeable.
Drinkability: The drinkability factor is quite high, helped by the fact the alcohol was so well hidden. The XXX Stout made even better. Don't you want that?
★
1,017 characters

4.38
/5
rDev
+18.7%
look: 4.5 | smell: 4 | taste: 4.5 | feel: 4.5 | overall: 4.5
Bomber poured into my Delirium snifter, Pike Entire is a murky black with a dense, creamy, super dark, red tinged tan head that leaves heavy lace.
Smell is noble hops (EKGs?) and sweet malt, a bit oaky. Solvents come out as it warms.
Taste is great. Big vanilla and coconut flavors and caramel malt tempered by a satisfying roast keeps it bittersweet overall. Nice acidity and surprising bright herbal hop notes provide very interesting depth. Alcohol lingers on the malty finish, with a touch of fusels. Lots of flavor, but not to overt, well done.
Mouthfeel is very smooth, with a fairly light body.
Drinkability is very high. This is a fantastic beer. I'm bummed I only got the one bottle, but am all the more grateful that I at least got to try it. Hopefully they'll release more. A must try for stout fans.
★
819 characters
4.67
/5
rDev
+26.6%
look: 4.5 | smell: 5 | taste: 4.5 | feel: 5 | overall: 4.5
I really need to keep better track of trades, I can't recall who sent this, but whoever it was, cheers to you for this great extra.
Pours a quite beautiful deep brown, appearing black without being held to light. A nice tan head is also present.
The smell is just phenominal. Chocolate, coffee, vanilla, wood. Comes together in such a way as to be greater than the sum of it's parts.
Taste follows scent with the wood a little more up front and a bitter chocolate/coffee bean aftertaste. Just fantastic and near perfection.
Mouth is full bodied and creamy with low to medium carbonation.
Drinkability is great, this goes down easy with nary a hint of its ABV. Highly recommended.
★
689 characters
4.12
/5
rDev
+11.7%
look: 4 | smell: 4.5 | taste: 4 | feel: 4 | overall: 4
22oz bottle acquired in a couple of trades. Black waxed.
Poured a dark black color with reddish-brown edges and a large sized off white head. Aromas of wood, chocolate, roasty, some bourbon, some vanilla, and caramel. Tastes of wood, roast, vanilla, chocolate, coffee, and lighter bourbon. The barrel aging was done nicely and wasn't overpowering - blending this with 50% BA was the right choice. Alcohol content well hiddne. Some lacing left on the glass.
★
458 characters
3.58
/5
rDev
-3%
look: 4 | smell: 3.5 | taste: 3.5 | feel: 4 | overall: 3.5
Thanks to the folks at 99 Bottles in Federal Way, WA for grabbing one of these for me. Much appreciated, I will return to your store!
Poured with a thick dark tan head that faded back fairly quickly. The beer is black with brownish highlights around the edges. There was some spotty lacing early, but not much later....
Aroma is of light coffee and slight alcohol. Not sure I'm picking up too many wood notes. Dark roasted malt notes as well.
Nice malt flavors up front with a light roasted nature. More subdued than anticipated, but good. Then a moment of vanilla. After this some sharp grain notes and then a soft bitterness. This is where you sense the wood. Not so much bourbon like, but indeed wood like in nature. You are left with a lingering dark roasted/burnt toast flavor in your mouth
The body is a bit lighter than I had expected. Not as thick as some other big stouts. But I notice this is listed as an export stout and not a R.I.S. Slightest tingle of carbonation brings the flavor to life.
Drinkability is good. The alcohol level is well known so it's a sipper.
Good beer.
★
1,093 characters
4.03
/5
rDev
+9.2%
look: 4.5 | smell: 4 | taste: 4 | feel: 4 | overall: 4
Pours a dark black and very thick looking. Develops a thin brown head that dissipates quickly into a nice color. Good laciness. Nice aroma of malts, coffee and alcohol. Strong coffee and bourbon flavor with a decent woody finish. Some hints of alcohol in the taste. Good body and texture. Suprisingly this was not overly heavy as I would expect. Good flavor, would make an excellent session beer especially in the winter.
★
421 characters
4.12
/5
rDev
+11.7%
look: 4 | smell: 4.5 | taste: 4 | feel: 4 | overall: 4
Big thanks to SuzyGreenberg for tossing this one in.
Pours a deep impenetrable black with a nice fluffy mocha colored tan head that lingers for a significant amount of time and leaves good lacing.
Nose is complex for sure. Lots of roasted malt and chocolate with hints of coffee and vanilla. Oak is apparent and a slight dark fruit presence as well.
Wow! Impressive for the pike. A huge roasted malt profile and alot of bitterness. Taste starts of like mad roasted coffee bean. Coffee and chocolate through the middle. A very dry stout. Some woodiness and vanilla, albeit slight towards the end. The finish has a big coffee bean bitterness and a very very dry finish and aftertaste.
Mouthfeel seems nice and viscous at first but sort of dies as it reaches the finish. Feels like its gonna be a thick and chewy one, but thins out considerably. Hard to explain. The carbonation is good, but the finish here is damn near abrasively dry. Quite strange.
Drinkability is pretty good aside from the crazy dryness, the abv is well hidden and this one goes down pretty easily.
Overall a very unique stout. I would like some thicker and more sustained mouthfeel, and a little less of that mad dryness on the finish. The bitterness is one thing, but this beer just sucks the moisture right out of your mouth on the finish. Aside from that, a very nice stout. Great roasted malt and wood profile and a nice coffee presence that I am assuming is acquired solely through the use of roasted grains. A good and complex stout. One to try for sure.
★
1,537 characters
4.4
/5
rDev
+19.2%
look: 4.5 | smell: 4.5 | taste: 4.5 | feel: 4.5 | overall: 4
22oz bottle at 55 degrees, obtained through Malt and Vine. $14.00 including shipping.
Pours opaque black with a brown, dense rush of three inch froth as the shoulders on the tulip glass squeeze the body.
Several minutes of extreme patience reveal a rocky, settling head of whipped foam. As the brew drinks, the head recedes to a solid skim coat on the surface, and the walls of the glass are sprayed with webbed, ripped lacework.
Aromatics lead off with dark chocolate, espresso grounds, charred vanilla, oaky bourbon, and an intriguing vineous tartness.
A hint of wine-like dark fruits and boozy fusels follow through along with lingering bitter chocolate.
Full bodied and chewy, with a velvety but slightly smacking mouthfeel.
Bakers chocolate, coffee beans, charred oak, vanilla-steeped molasses, and dark fruits start the palate. Earthy bourbon and oaky tannins slowly step forward as the brew warms, as well as a building vineousity.
Finishes with lingering chocolate drizzled over charred oak, a splash of tart Cabernet vineousity, and warming vanilla spiked bourbon.
Wowza. Great beer. I was very surprised by the complexity. The dark fruits and vineous undertones really set this one apart from the masses of big, bad RIS's. The body is not as massive and chewy as some, and the bourbon is somewhat subdued, but this brew is full of finesse, which many lack.
Tasting like a smaller version of Berserker from Midnight Sun, and thats not too shabby!
★
1,464 characters
5
/5
rDev
+35.5%
look: 5 | smell: 5 | taste: 5 | feel: 5 | overall: 5
There isn't much to add that the three previous members haven't already said. I was turned towards this beer in a quest for an Abyss or two. My local beer contact turned me towards this one as an alternative. Same price as the Abyss. I am glad I took her recommendation...this is a fantastic beer.
This is my first "review" as I have been waiting for one that blew me away. This is it! I hope you all get a chance to sample this! By the way...I got my hands on three bottles of Abyss today! I love this style of beer on cold winter nights here in the Pacific NW!
★
564 characters

4.2
/5
rDev
+13.8%
look: 4.5 | smell: 4.5 | taste: 4 | feel: 4.5 | overall: 4
From notes. On tap at Brouwers Big Wood Festival in Seattle. Since the bourbon element was prominent I listed this as a separate beer than the bottled version of Entire Wood Aged Stout.
Black! Thin tan head and lacing.
Strong bourbon, malty sweetness, roasted grains. Bourbon mellows.
Bourbon, wood, malt, dark grains and hops.
Low carbonation, very full bodied. Thick, pleasant texture.
For the size, not bad. Definitely one to savor slowly.
★
459 characters
4.6
/5
rDev
+24.7%
look: 4.5 | smell: 4.5 | taste: 4.5 | feel: 4.5 | overall: 5
A: Poured from a bottle to a 22oz Pilsner. Nice tannish head, sticks around awhile with minimal lacing
S: Coffee, hint of dark chocolate, and slight bourbon scent.
T: Much like the smell I had a coffee flavor almost mocha with the chocolate, slightly bitter at the end with a nice dark malted taste. The bourbon taste is a bit stronger than the smell, but I am ok with that as I love me some bourbon.
M: Nice feel to it, just the right amount of carbonation and a smooth consistency.
D: I could get in trouble with this one. Real easy to drink, drank it faster than I intended to but that was because it tasted so good! But BAM there's the ABV greeting me. Thats ok, but definately one I will sip next time and enjoy a little longer.
I definately like this one and am looking forward to drinking my aged bottle when the time is right. Highly recommended.
** Later addition... has a nice coffee aftertaste that lingers in my mouth.
★
936 characters
3.88
/5
rDev
+5.1%
look: 4 | smell: 3.5 | taste: 4 | feel: 4 | overall: 4
A: Poured a deep jet black with good carbonation and a brown head.
S: Nose was roasty, bitter chocolate and a hint of coffee.
T: Taste was dry with the ABV being well hidden. Bitter cocoa on the end ery light hint of bourbon.
M: Mouthfeel is pretty nice and smooth with a bitterness.
D: Drinkability is good.
With the brew being a little less than half of barrel aged and blend of non barrel was good. Not to wood or bourbon heavy.
★
439 characters
Pike Entire - Wood Aged Stout from The Pike Brewing Company
84
out of
100
based on
63
ratings.