Pike Dry Wit
| The Pike Brewing Company
BA SCORE
80
good
33
Reviews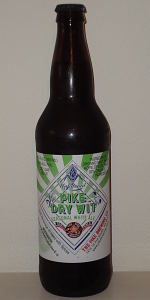 BEER INFO
Brewed by:
The Pike Brewing Company
Washington
,
United States
pikebrewing.com
Style:
Witbier
Alcohol by volume (ABV):
5.00%
Availability:
Spring
Notes / Commercial Description:
No notes at this time.
Added by blackc5 on 05-04-2010
Reviews: 33 | Ratings: 61
3.23
/5
rDev
-7.2%
look: 4 | smell: 3.5 | taste: 3 | feel: 3.5 | overall: 3
Swirl poured from a 650ml bottle into a glass mug. Two finger bubbly white head which soon diminished to a thin layer. Hazy apricot colour. Good lacing. Spicy over bread smells.
Surprisingly mild taste. Coriander dominated spice followed by a citrusy dry slightly sour finish. A bit of an off flavour in the finish.
Light body. Drinkability is moderate. Just not that much there to come back to. A few tweaks could make this much better.
437 characters

2.92
/5
rDev
-16.1%
look: 2.5 | smell: 3 | taste: 3 | feel: 2.5 | overall: 3
Pike Dry Wit Seasonal White Ale--5 oz. Taster at Pike Pub May 9th, 2010. 5.0% ABV. 20 IBU's. Light head. Clear bright pretty gold color. Spicy peppery coriander mild orange hop hint front. Slightly cloying mild sweet Belgian wheat Wit body. Slightly hot spicy mild citrus end. A touch odd to me. (3.25 / 5.0)
Pike Dry Wit--Seasonal White Ale--Unfiltered--92% Organic Ingredients--Malt Beverage Brewed with Spices-2010 22 oz. Bottle. 5.00% ABV. 20 IBU's. 1.046 OG. (2.0 / 5.0) Thin fizzy no lace white head. No sediment. Cloudy dull lemon gold color. Mild coriander citrus peel mild hop wheat ester front. Dry thin dull mild sweet wheat coriander infused rough spice body. Dull dry crusty mild hop Wit spice end. Weak. Unbalanced. Bland. Tastes better very cold. Sampled 5/29/2010. 2 @ $4.75 Each.
797 characters
3.94
/5
rDev
+13.2%
look: 3 | smell: 4 | taste: 4 | feel: 4 | overall: 4
A - Pours a cloudy, yet pale, golden colour with a paper thin layer of head which dissipates rather quickly and leaving no real lacing.
S - Scents are complex, but the bananas and cloves are the strongest, bit of pine hops also noticeable, and a spicy pepper finish.
T - Wow, pleasantly surprised by this one. The fruit flavours (bananas, pears and apple) are not overpowering, which is nice, and the spices (cloves, nutmeg, coriander and cinnamon) create a nice balance. The finish is a bit grainy and wheaty, but by no means a turn off, and obviously a requirement for this style.
M - The pour gave the impression it might be a little syropy, but it was pretty light and went down smooth.
D - Pretty tasty. Much less fruity than I was expecting, and I really liked how the spices balanced this one out. Would I pick up another bomber of this, probably, but I'm not rushing out to get it. Overall, would recommend this to any witbier fan, as the flavours are unique.
971 characters

3.06
/5
rDev
-12.1%
look: 4 | smell: 3 | taste: 3 | feel: 3 | overall: 3
From a 650 ml brown bottle, green and white label. Pours out a cloudy honey gold hue, thin creamy white head that subsides fairly quickly.
Wheat grain, lemon and lime citrus, faint spice, and faint bready malt on the nose.
While not much of a Wit this would make a decent American Wheat Ale, that's my first impression of the flavour. Clean grainy wheat up front, a zip of citrus followed by some spicy hops. Nothing more or less.
Light body, thin, moderate carbonation.
Pike continues to slip with their quality, which is a shame as I know they are capable of better than this. A Wit isn't that complicated of a style, or one outside of its customer's palates. Unfortunately they seem to be phoning in this particular style.
729 characters

3.65
/5
rDev
+4.9%
look: 3.5 | smell: 3.5 | taste: 4 | feel: 3 | overall: 3.5
Poured from 22oz bottle into a pint glass.
Appearance: light straw-colored body with a touch of haze and a finger of white foam which dissipated rather rapidly. Not too bad.
Smell: wheaty, grainy and dry. I'm not getting much in the way of spices, though it is somewhat soapy. Actually, the overall effect isn't bad; it's just not quite as sweet or fruity as I usually find witbiers to be.
Taste: wheaty and citrusy with a touch of what I think is coriander. Flavor is much less grainy than the aroma. There's a touch of rawness toward the end which I don't love, but overall it's a pretty good wit.
Mouthfeel: this beer seems to have a pretty low level of carbonation; combined with a rather thin body that leaves little to recommend its mouthfeel. It's acceptable.
Drinkability: well, as most wheat beers are to me, this is relatively drinkable. It's light and refreshing in flavor, though parts of the flavor rub me the wrong way. I would love to see this beer with a bit more carbonation and with a bit better finish -- that could rate it right up there with the best.
1,077 characters
3.74
/5
rDev
+7.5%
look: 3 | smell: 4 | taste: 4 | feel: 3 | overall: 3.5
I first had this at the Closing Ceremonies for Seattle Beer Week 2010, I've been looking forward to a full sized glass. Pours far more yellow than is typical for the style. The beer had a nice, tall, fluffy white head that had good retention and lacing.
The aroma is bold and assertive. Wheat, spice and yeast let you know that this isn't a namby-pamby example of the style. On the tongue there is sharp bite not typical for the style. Lots of flavors are grabbing the taste buds and shaking them around.
The body is, perhaps, a bit heavy for the style. Drinkability is very good, but further research is required to see how many of these can go down during a sitting.
Wits are my favorite summer brew, and this one is not typical. It's very enjoyable, you should try a few.
778 characters
4.05
/5
rDev
+16.4%
look: 4 | smell: 4 | taste: 4.5 | feel: 3.5 | overall: 3.5
Pike Dry Wit
Unfiltered Wheat beer. 22 oz bottle.
Appearance - Straw colored and cloudy, but plenty of effervescence. The head is short, but tight. Much like foam on a cappuccino. It left behind a wonderful thick lacing on the glass.
Smell - The first whiff is floral. Yeasty and bready, then the more subtle spices come through. Possibly some lavender?
Taste - Beer has been called liquid bread, and this deserves the moniker. It is very much artisianal bread in a glass. Malty tastes, balanced by citrus and possibly coriander spices. Reminiscent of Herbs de Provence. It finishes with hints of white pepper.
Mouthfeel - Medium to full body. The carbonation keeps it feeling light, however. The lingering feel is not unlike that of champagne.
Drinkability - Very refreshing. Ideal on a spring day. I would definitely have another. In fact, there seems to be more in the bottle right now....
897 characters
4.22
/5
rDev
+21.3%
look: 4 | smell: 4.5 | taste: 4 | feel: 4 | overall: 4.5
Had this on tap at Pike - it is their new spring to early summer seasonal.
A - Poured into a pint with a nice, moderate, white head. Good retention and some lacing. Cloudy, this beer is a straw color, bordering on gold. Very crisp looking.
S - A bouqet of aromas here - the spices are at the forefront. Definitely coriander, orange peel and lavender. Some other floral notes as well. Somewhat fruity, definitely yeasty. Great.
T - This is intriguing, and I may re-review this score after having it a few more times. It is definitely a stronger spiced witbier than most, but in a good way. Lots of lavender and other floral notes, definitely coriander again, wheat, and some hints of orange zest as well. Little in the way of bitterness, which is good for the style.
Very strong, there are no doubts about the spicing here. Not subtle in anyway, it nevertheless delivers and is quite tasty and refreshing. I look forward to trying it again soon, although I imagine some may find it slightly overpowering compared to standards such as Hoegaarden.
M - As expected, this is crisp and twangy. Moderate to high carbonation, and the spice adds some kick. Medium bodied, with a dry clean finish.
D - Left me wanting another, and I would have if I had had the time, but I was also wanting to try their newest DIPA batch (improved - awesome!) as well, and moved on to that. This one goes down easy, tastes great, and is definitely refreshing.
1,438 characters
Pike Dry Wit from The Pike Brewing Company
3.48
out of
5
based on
61
ratings.