Pike Pale Ale
| The Pike Brewing Company
BA SCORE
82
good
65
Reviews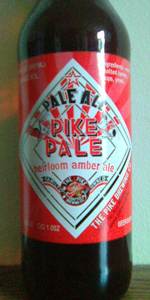 BEER INFO
Brewed by:
The Pike Brewing Company
Washington
,
United States
pikebrewing.com
Style:
American Pale Ale (APA)
Alcohol by volume (ABV):
5.30%
Availability:
Year-round
Notes / Commercial Description:
No notes at this time.
Added by BeerAdvocate on 08-28-2001
Reviews: 65 | Ratings: 155

3.83
/5
rDev
+6.1%
look: 4 | smell: 3.5 | taste: 4 | feel: 3.5 | overall: 4
Pike Brewing Company--Pike Pale Ale--1998 22 oz. Bottle. 5.00% ABV. (4.5 / 5.0) Rich clear copper amber golden color. Buttery rich crystal malt body with hints of nuts and toffee. Light hop aroma and finish is just enough to accent wonderful body. Sampled 2/1/1999.
Pike Brewing Company--Pike Pale Ale--1999 12 oz. Bottle. 5.30% ABV. (3.5 / 5.0) Touch of hops in front. Rich classic copper pale color. Hop profile is subdued and bested by crystal malt chalky body. Gutteral Hop finish. Certainly Unique. Sampled 1/1/1999.
Pike Brewing Company--Pike Pale Ale--1999 Small Pike Logo 12 oz. Bottle. 5.30% ABV. (3.75 / 5.0) Luring rich clear bright copper color. Nutty malty front with light floral hop character. Nutty crisp crystal malt body asserts itself as brew warms but remains smooth and balanced. Light hop end. Sampled 6/17/1999.
Pike Brewing Company--Pike Pale Ale--2003 12 oz. Bottle. 5.30% ABV. (4.5 / 5.0) Mild lacy head. Hazy rich copper amber color. Rich floral Cascade hop front. Sweet creamy nutty caramel doughy biscuit malty Bottle Conditioned body. Rich clean balanced citrus hop end. Refreshing tasty tangy brew. Nice! Sampled 12/28/2003.
Pike Brewing Company--Pike Pale Ale--2004 12 oz. Bottle. 5.30% ABV. 32 IBU's. (4.0 / 5.0) Clear rich bright dark amber red color. Light lace head. Crisp mild floral hop malt fruit aroma. Tangy crusty biscuit sweet caramel toasted nut mild fruit citrus body. Cloying mild hop citrus end. Sampled 4/6/2004.
Renamed Pike Pale heirloom amber ale With 2006 Release.
Pike Brewing Company--Pike Pale Heirloom Amber Ale--2006 Release--12 oz. Bottle--5.30% ABV--32 IBU's. (4.0 / 5.0) Pale Ale--Nice lacy head. Clear bright thin rich amber color. Mellow malty floral hop front. Crisp malty mild sweet doughy caramel mild fruit citrus body. Crisp mild tangy hop spice thin citrus hint end. Balanced. Sampled 12/8/2006.
Pike Brewing Company--Pike Pale Ale. 5.00% ABV. 32 IBU's. Light head. Clear bright rich thin amber color. Mild Cascade Hop front. Malty doughy nutty chewy caramel biscuit classic NW Pale Ale body. Clean smooth mild hop spice end. (3.75 / 5.0) 5 oz. Taster On Tap @ Seattle, WA Pike Pub & Brewery 5/9/2010.
2,183 characters
3.18
/5
rDev
-11.9%
look: 4 | smell: 3.5 | taste: 3 | feel: 3 | overall: 3
This beer pours a hazed burnt orange with a nice cream colored dense head. The aroma is a fresh baked bread and light malt with a tad of fruitiness and a hint of alcohol. The taste is an acidic hop bitter with a sweet bread background. I can detect a very faint mint(?) in the background along with alcohol on the tail. This is a light bodied beer that finishes slightly sweet.
Notes: A very different pale IMHO. It's unique in flavor but not necessarily bad, just unfamiliar. Not sure where some of these flavors come from, maybe cinamon or clove. Cheers!
559 characters
3.83
/5
rDev
+6.1%
look: 4 | smell: 3.5 | taste: 4 | feel: 3.5 | overall: 4
Dark copper in color with a light tan head.
Aroma is different for a pale ale and consists of caramel malt and floral hops.
Taste shows a good balance. This is far from a hoppy APA, more along the lines of an English bitter. Caramel, toffee malt backbone with floral, piney hops. The 2 play together well in this one. Smooth.
Mouthfeel just a tad thin.
Very easy going and drinkable.
Overall a solid pale ale. Would make a good session beer.
454 characters
3.82
/5
rDev
+5.8%
look: 3.5 | smell: 4 | taste: 3.5 | feel: 3.5 | overall: 4.5
Beer is a orange/reddish, light brown color. It's mostly orange though. It has a lace of a head, shows some carbonation, and looks very clean and crisp. It smells slightly grassy, slightly floral, and slightly malty. No smell overtakes this aroma and they're all very subtle. It was hard to pick up on any of them.
The taste is very malty upfront and on the tail end, with a spritzy bitter touch in the middle. It's mostly just a straightforward malt flavor though that is attempting a balancing act with the bitterness. The bitterness is compounded by the dry mouthfeel and aftertaste.
I'm not crazy about this beer, but it is extremely sessionable in my opinion, so points for that. I would have this with a cheeseburger for sure.
734 characters

3.3
/5
rDev
-8.6%
look: 3 | smell: 3 | taste: 3 | feel: 4 | overall: 4
Pale orange with minimal white head. Heavy sweet malty aroma with some fruit and light grass hops. Aroma is just too sweet for me. Flavor is sweet but has slightly better balance with the hops. Malts, molasses, light citrus hops, a touch of earth, and a malty, bready finish. Syrupy mouth. Decent, but not what I'm looking for in a pale ale.
341 characters
4.43
/5
rDev
+22.7%
look: 4.5 | smell: 4 | taste: 4.5 | feel: 5 | overall: 4.5
Wow, I popped the cap off this bad boy, took a huge sniff off of the bottle and then scatched my head as to where to place this scent. Maybe spiced cider? Nutmeg? I don't know for sure but it has got to be one the most unique beers I have smelled (and tasted for that matter) since our holiday ale the guys and I brewed up one fall. The taste is top knotch. The color and head was great also. This brewery is definately on my hit list on my next visit to Seattle.
463 characters
2.44
/5
rDev
-32.4%
look: 4 | smell: 2.5 | taste: 2.5 | feel: 2 | overall: 2
Nice, really dark red color for a Pale. Little to no head, some moderate off-white lacing. I don't know if it was just the bottle I happened to get, but the scent and taste of this one was really flat. I don't mean that the beer itself was flat, the carbonation and all seemed fine, but the taste was just not there that night. There were some obvious citric notes in the scent, but nothing too specific. The flavor and mouthfeel were horribly off balance, all bitterness with nothing to smooth it out. The bitterness just overwhelmed any flavor that made an attempt to get to the palate. I don't mind bitter beers, some of my favorites are IPAs and Double IPAs, but this was just way off for the style and it didn't offer much to make it a worthwile experience otherwise. I'd try it once more (at the brewpub next time) just because I think it's not impossible that there was something wrong with the bottle I had, although I have no reason other than the flavor to think so, but if it came out this way again it'd be my last Pike's Pale.
1,039 characters
4
/5
rDev
+10.8%
look: 4 | smell: 4 | taste: 4 | feel: 4 | overall: 4
A staple on draught and from the bottle throughout the Pacific Northwest, this one has sadly changed siginificantly in the past few years. While its still exceptionally characteristic of a traditional pale ale, featuring a rich golden hue, striking balance of hops and malts, and a spritzy and pungent kick on the palette, its not the stalwart classic it once used to be.
I've recently become a litlte more accustomed to their Scotch style ale -- Kilt Lifter -- as a better replacement, albeit slightly different style.
Having said that, this Pike is still a clear winner. Always consistent visually, aromatically, and tastewise. Its an easy drinking beer, and thanks to its bitter kick, is a super accompaniment with good food.
735 characters
2.91
/5
rDev
-19.4%
look: 4.5 | smell: 3.5 | taste: 2.5 | feel: 3 | overall: 2.5
From a 22 oz bottle purchased locally. Poured into a 0.5 L glass. It's been a while since I've had this in Seattle, let's see how it's made the bottle trip to Los Angeles. Aroma is floral and a little spicy hop with some caramel and toasted malt in there. A clear burnt amber color with a thin, tight tan head. Nutty and toast malt flavors with a clean bready biscuit malt backbone. Balanced just slightly to the bitter with some earthy hop flavor coming through. I think it has lost some of it's freshness, there is a touch of staleness to the malt and a bit of lemony tea to the hop profile. I will have to compare this again then next time I'm up in Seattle.
661 characters
3.17
/5
rDev
-12.2%
look: 3 | smell: 3.5 | taste: 3 | feel: 3.5 | overall: 3
bought this selection at John's Marketplace in portland oregon, loved the label design, very cool, and the fact that it is from the extreme northwest. Very dark pale ale to me, poored in a frozen pint glass and enjoyed with company, they liked it as well.
I would recommend although I have a feeling this is one of those brews that tastes drastically different at the actual brewing location, I plan on visiting next week.
425 characters

3.85
/5
rDev
+6.6%
look: 3.5 | smell: 3.5 | taste: 4 | feel: 4 | overall: 4
Pours a nice amber orange with a slight haze likely from hop oils. Not much head, but it replenishes itself and creates nice lacing on the sides of the glass. Smells mostly sweet with just a hint of hops.
Tastes very nice. Sweet and herbal. A well done pale amber ale. Body is nice. The beer tastes better with every sip. I would definitely order this if I saw it.
365 characters
3.95
/5
rDev
+9.4%
look: 4 | smell: 4 | taste: 4 | feel: 3.5 | overall: 4
This pale ale from the great north woods of Seattle pours with a wonderful nose of malts (I guessed Caramel, but it turns out to be a mélange of pale, Munich, crystal, and malted wheat) all adding up to evoke the sweet breadiness of an English biscuit.
The Pike Pale pours with a tight half-inch head with more lacing than your grandma's Irish curtains. Designated a pale, this "heirloom amber" is surprisingly well balanced, with its hop profile of Magnum, Willamette, and East Kent Goldings not really making their appearance until the brew warms a bit.
The clean mouthfeel seems to lend itself to maximum quaffablity as Bay Area Indian summer temps are on the rise.
672 characters

3.94
/5
rDev
+9.1%
look: 4 | smell: 2.5 | taste: 4.5 | feel: 4 | overall: 4.5
A: Nice amber-yellow.
S: Like the Naughty Nellie, also hard to pick out an aroma. Could be the serving temp (cold, sub 40).
T: Fruity/nutty malt. Fantastic tasting beer.
M: Low carbonation, a nice recognition of the british style.
D: Very drinkable. Nice to see a pale ale from the west coast that doesn't overdo it on the hops.
332 characters
4.76
/5
rDev
+31.9%
look: 5 | smell: 4 | taste: 5 | feel: 5 | overall: 5
If you are a pale ale fan, you can't do any better than this quality brew. Fresh out of the tap yields an extra citrus taste element not noticable in the bottle. Pike has done a superb job of making the pale with just the right amount of bitterness without a strong aftertaste. So smooth you'll drain the glass before you thought you could.
343 characters
2.29
/5
rDev
-36.6%
look: 3 | smell: 1.5 | taste: 2.5 | feel: 2.5 | overall: 2.5
Let me prefice this by saying I live in Seattle and am not the biggest fan of this places beers.
Appearance – Orangy brown. It kind of glows when held up in the light. It's really sad when the appearance is your favorite part of a beer.
Smell – This does not smell like most IPAs. Kind of spicy. A hint of cinnamon and cloves. Quite frankly, I'm not getting anything special here.
Taste – This does not taste like most IPS I've had either. Kind of spicy but I'm not a fan of this.
Mouthfeel – Nothing too great. Very thin. I'm not a fan of this.
Drinkability – I don't like this too much. I've had a number of other pale ales lately that are far superior to this. I would not order this or purchase it again in most cases.
742 characters
Pike Pale Ale from The Pike Brewing Company
3.61
out of
5
based on
155
ratings.