Space Needle Golden IPA
| The Pike Brewing Company
BA SCORE
83
good
14
Reviews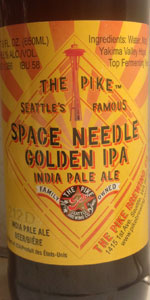 BEER INFO
Brewed by:
The Pike Brewing Company
Washington
,
United States
pikebrewing.com
Style:
American IPA
Alcohol by volume (ABV):
6.50%
Availability:
Rotating
Notes / Commercial Description:
No notes at this time.
Added by hopwave on 08-05-2013
Reviews: 14 | Ratings: 94

3.5
/5
rDev
-4.1%
look: 3.5 | smell: 3.5 | taste: 3.5 | feel: 3.5 | overall: 3.5
12 oz can poured into a short stemmed glass. L: Golden color as named. Clear, and nice white carbonation. S: A bit piny and spicy. A bit of graininess. T: Well balanced between Pacific NW hops and a solid malt backbone. F: Medium-light body. O: I consider it a mildly stronger APA.
287 characters
3.49
/5
rDev
-4.4%
look: 3.25 | smell: 3.5 | taste: 3.5 | feel: 3.5 | overall: 3.5
Thought this beer to be quite nice. Almost a honey note in it that I kind of like with an IPA on occasion. It seems to mellow the bite some. I'm not familiar with Yakima Valley hops being from the east cost but I can only assume that's what provides the uniqueness.
265 characters
4
/5
rDev
+9.6%
look: 4 | smell: 4 | taste: 4 | feel: 4 | overall: 4
On-tap at brewery:
Pours golden yellow with a thin lasting head that leaves lacing.
The smell is floral with pine and some bready notes.
The taste is floral/pine. Bready pale malt balances it in the middle. Refreshing bitterness in the finish.
This easy-drinking IPA shows off the floral/piney hops well while keeping a pale, bready malt balance until the bitter bite in the finish. A nice American Northwest-style IPA.
423 characters

3.69
/5
rDev
+1.1%
look: 3.75 | smell: 3.5 | taste: 3.75 | feel: 3.75 | overall: 3.75
22 oz bottle. No bottling info
Pours a hazy golden-orange body with a slightly off white head good lacing, some retention
Smell is not very pronounced but what I am getting is a floral pine with malt
Taste has the malt leading with a slightly bitter hop finish
Average full feel
Overall an average IPA. Nothing wrong with it, but nothing really stood out either.... I prefer their regular IPA
398 characters
3.74
/5
rDev
+2.5%
look: 4 | smell: 3.75 | taste: 3.75 | feel: 3.5 | overall: 3.75
For a golden IPA it pours more a hazy copper or classic IPA color. Had a bit of lacing from the bottle and has a light aroma of nothing special that I found. Taste is pleasant but a bit thin to me but is a good juicy feeling as it goes down. Good beer but not what I exactly expected.
284 characters

3.97
/5
rDev
+8.8%
look: 4 | smell: 3.75 | taste: 4 | feel: 4.25 | overall: 4
I had this beer on-tap in a pint glass at Summit Public House in Seattle.
Appearance: foggy orange hue with a finger of frothy tan foam leaving a good lace on the glass. Quite good!
Smell: very sweet malt base with a sweet, grassy, herbal hop character atop. I like it.
Taste: herbal, earthy hops atop a sweet malty base. Bitterness is good for the style. A solid IPA; not a west coast citrus bomb, but quite good nonetheless.
Mouthfeel: medium body with a huge carbonation and a great creaminess, especially for the style. Woo!
Overall: really a quite solid and drinkable IPA. I dig it.
594 characters
3.88
/5
rDev
+6.3%
look: 4 | smell: 3.5 | taste: 4 | feel: 4 | overall: 4
Pike Brewing Co. "Space Needle Golden IPA"
22 oz. brown glass bottle, no apparent freshness dating.
$6.99 @ Total Wine & More, Cherry Hill, NJ
Appearance: Very hazy deep gold/amber body with golden glowing highlights along the edges and base of the glass. A massive head of rocky off-white froth slowly settles to a finger-thick lid, and then later, floating islands of creamy foam. Both the head retention and lacing are quite good.
Aroma: Softly piney, fruity, biscuity, and delicately citrusy. It's a surprisingly restrained aroma for a west coast brewery... perhaps this is an old sample, although there's no way of knowing that given the lack of any freshness dating; at least I don't find any distinct oxidation.
Flavor: Biscuity and caramelish malt make up a solid base for the hops to work off of, and although they don't make such a strong appearance in the aroma, they're certain present in the flavor: they're spicy, piney, herbal, citrusy/fruity (orange, apricot, mango, plum, pineapple), and grassy. As you progress through the glass the spice, pine, and grassiness builds on your palate making the bitterness appear fuller than it is. It's a very dry, bitter, herbal, spicy, leafy and grassy finish.
Mouthfeel: Medium bodied and smooth, almost creamy, across the palate.
Overall: I find this to be an interesting mix of both the English and American IPA styles. The malt definitely has an English bent to it with a little more caramel than you otherwise might find; and although American hops are used, they're fairly varied in their flavor profile, delivering some of the characteristics we'd expect of an English version. Additionally I feel that a fair amount of the fruitiness is actually coming from the yeast, the more apple, pear, plum notes to be precise, which is very English in nature. Finally, when enjoyed a bit warmer, say at cellar temperature or slightly higher, it really takes on more of a British character in that the malt opens up and balances/reigns in the hop flavors.
2,012 characters
3.65
/5
rDev 0%
look: 3.75 | smell: 3.75 | taste: 3.5 | feel: 3.75 | overall: 3.75
Poured from a bomber into a shaker pint, the beer is a hazy, golden-orange coloring, with some sediment and carbonation action in the body, and a fluffy, foamy, clingy, white head. Aromas of a solid biscuit and caramel malt backbone, with some citrus notes, candied sugar, roasted notes, subtle cedar and pine, and a balancing bitterness. Flavors are more citrus forward, with lemon and orange making it up, followed by an interesting herbal spice blend, some medicinal characteristics, a tangy caramel backbone, and some subtle resinous qualities. The herbal notes provide an almost astringent feel throughout, on an otherwise mid-bodied beer. The aftertaste is roasted, slightly bitter, and with a tart sweetness from the citrus. Smooth, slightly dry, slightly bitter finish. Interesting brew.
795 characters

3.11
/5
rDev
-14.8%
look: 3.5 | smell: 3 | taste: 3 | feel: 3.25 | overall: 3.25
Pours an attractive yellow amber with a decent head in the Timmermans goblet. A pleasant tingle of carbonation. Faint woodsy scent.
There is just a touch of sweet malty flavor at the beginning, with a hint of pears. The the scratchy bitterness takes over. Lots of resiny, barky, herbaceous hops dominate the flavors. Quite a bitter finish without much in the way of aromatics. A grapey hint, then the medicinal rasp.
This is quite drinkable if you like the big hop hammer, but it's not very interesting in any way, and it ends up down that same bitter road. From the 22 oz bottle purchased at Pioneer Market in La Conner.
623 characters
3.98
/5
rDev
+9%
look: 4.75 | smell: 3.5 | taste: 4 | feel: 4 | overall: 4.25
Pours a slightly hazy amber with a very thick and rather persistent fluffy eggshell head that pillows nicely. Aroma is more fruity than hoppy - largely apple and pear, but with an underpinning of Mandarin orange. Hoppy flavor has a nice fruity undertone, and here the citrus dominates the pomme. Texture is firm, smooth and fairly fizzy, leaving a nice hoppy finish.
366 characters

3.01
/5
rDev
-17.5%
look: 3.25 | smell: 3.5 | taste: 2.75 | feel: 2.75 | overall: 3
I agree with everything UCLABrewN84 said in his review. But this is not my taste so it will not be in my cart again. I'm thinking that any beer that is sold as Space Needle should represent Seattle Craft and this beer does not do this. this is a nich beer that satisfy those who just like the Bitter end of IPA's....not my Brew for sure.
337 characters
3.68
/5
rDev
+0.8%
look: 3.75 | smell: 3.75 | taste: 3.5 | feel: 4 | overall: 3.75
A: Pours a hazy golden burnt orange in color with light amounts of gentle carbonation along the edges of the glass and some golden yellow + apricot highlights. The beer has a half finger tall sudsy light beige head that reduces to a few small patches of thick film (made up of moderate sized bubbles), a very thin film covering the majority of the remainder of the surface of the beer, and a medium thick ring at the edges of the glass. Significant amounts of lacing are observed.
S: Moderate aromas of bready/biscuit malts with a light amount of caramel sweetness along with tropical/mango, citrus/grapefruit pith, and pine hops.
T: Upfront there is a moderate flavor of bready and biscuit malts with a light to moderate amount of caramel sweetness. That is followed by moderate flavors of tropical/mango, citrus/grapefruit pith, and pine hops. The hops taste a little past their prime but as there is no bottle dating, it is tough to tell.
M: Just heavier than medium bodied with moderate amounts of carbonation. Light amounts of dryness in the finish.
O: I was a little disappointed in this one - I really like the idea of a hoppy golden ale but the hop flavors were a little abrasive and past their prime (in my opinion) giving it hints of herbalness. It is worth a try but I guess I should have grabbed the anniversary edition that I also saw for sale.
1,361 characters

3.8
/5
rDev
+4.1%
look: 3.75 | smell: 3.75 | taste: 3.75 | feel: 4.25 | overall: 3.75
Poured into a Seattle Beer Week pint glass. Pours a light to medium copper amber with a half finger white head with great retention and lacing. Aroma of tropical fruit; pineapple and mango, sweet bready malt and slight citrus hops. Flavor follows, with great tropical fruit juice, bready malt, light citrus and light citrus hops with hints of pine. Excellent medium, creamy body. Leans towards the golden ale side of the labelled golden IPA, with rather subdued hops. I'd like some more hop kick from this, but have to say it is still a nice moderately hoppy golden ale. I was very taken with the original Space Needle Anniversary IPA which this is riffing from, but this one does not have the bright hop flavors I remember from that one. Ah, the memories.
756 characters
3.44
/5
rDev
-5.8%
look: 3.5 | smell: 3.25 | taste: 3.5 | feel: 3.5 | overall: 3.5
Not sure if this is a Alias of the anniversary that's still on the shelves... this bottle has the yellow labels.
22oz bottle poured into a snifter... pours dirty yellow with a small white cap. smell/ taste is tropical mango, pinapple , orange combo... a little harsh and abrasive and dry at the end but still quite good if your looking for a hop fix.
353 characters
Space Needle Golden IPA from The Pike Brewing Company
3.65
out of
5
based on
94
ratings.