Vendome Wine & Spirits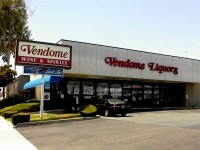 PLACE INFO
Type:
Store
3115 Yorba Linda Blvd
Fullerton
,
California
, 92831-2307
United States
(714) 524-0800 |
map
vendomes.com
Notes:
No notes at this time.
Added by BeerAdvocate
Reviews: 24 | Ratings: 36
4
/5
rDev
+2.3%
vibe: 4 | quality: 4 | service: 3.5 | selection: 4.5
BEER TASTINGS ARE BACK!!
EVERY TWO WEEKS!!
I recently attended their Pliny Challenge, and it was an amazing experience.
It was a blind IPA & DIPA tasting, featuring Pliny the Elder at an undisclosed time, for the devoted to try and find. Personally, I am not a fan of Pliny, but there were others there who swore by it, and could not find it. Out of 35 people, 2 found it, and one of those was a brewer for Taps. They also included a score sheet so we could pretend to be a judge for a day, and once all the scores were tallied up, Pliny scored 6th out of 7 beers.
The beers they had were:
Hop Stoopid by Lagunitas
Pliny the Elder by Russian River
Hop Juice by Left Coast
Ranger IPA by New Belgium
Hop Wallop by Victory
Hercules DIPA by Great Divide
and
Ruination IPA by Stone
Stone and Great Divide were the over all favorite.
Aside form the beer tasting, they keep getting new craft breweries in, like Eel River and BrewDog. They keep a solid amount of beers to please anyone that comes in, and also have an ass load of wines and spirits.
My one stop shop!
1,065 characters
4
/5
rDev
+2.3%
Great store that has lots of good beer, virtually all of it in coolers. The selection is awesome and sports not only California brews, but imports and lots of Unibroue from Canada. Plenty of singles to choose from. Strip shopping center with decent off-street parking.
Almost missed this as the street sign is difficult to see and read; hard to tell if it says Vendome or Venidome on the sign. Glad I had the street number from BA Beerflys, almost always a great source of information for real beer hunters. BeerFly Guides in this state are really on top of the beer scene here.
581 characters
4
/5
rDev
+2.3%
I normally don't go through Yorba Linda too often, but a few months back, I was in the area, so I checked this place out based on a tip from herbjones.
I missed this place the first time I drove by. It's on the north side of the street. Keep your eyes peeled!
They have a very good selection of micros. If you're in the Yorba Linda area, you don't need to go much farther than Dome for your brews
400 characters
4
/5
rDev
+2.3%
I stop by this place once in a while to pick up beers as it's on the way to my friends house and never thought to see it listed on BA. Most of the beers are in coolers against the back right wall as you walk in. If you're facing the register - it's straight back. The selection is great and the prices seem decent. You really won't get help for the most part - just think oversized liquor store with an unusually good beer selection. It's no John's Marketplace in Portland but it's one of the better places local.
513 characters

4
/5
rDev
+2.3%
Vendome has a nice variety of all types of booze, and their beer selection is no excpetion. Around 80% is in coolers, which is a plus, with the rest on shelves. I am not sure why some beers are in the cooler and others are not. For instance, there were some Ballast Point beers that I think probably deserved to go in the cooler over some Belgian ales that would be fine sitting on shelves. The organization in general could probably be overhauled.
One of the staff helped check for a beer I was looking for, so they seemed attentive, even if there wasn't much staff and they didn't seem interested in talking beer.
I have to say the selection is quite solid. All the usual suspects, plus plenty of imports, including a few more rare ones such as the Nils lineup from Sweden and I spotted an Ølfabrikken Abbey Ale. Too bad none of the porter was around. Prices were moderate to a touch above normal, though if you are looking for something just to drink they usually have something on sale. This is not a destination, but worth checking out if you are in the area. I spent $0 on my latest trip but there have been times I have dropped $100 here.
1,148 characters
4.05
/5
rDev
+3.6%
08-06-05 Review Update: Vendome still carries one of the best assortments of German beers in the area, IMO. They also carry a good selection of beers by Victory; Golden Monkey, V-12, Storm King, Hop Devil and my favorite, Prima Pils. They also had Stoudt's double IPA six-packs. Prices are pretty decent. Still worth stopping in if you're in the Brea/Yorba Linda/Placentia area.
---xxx---xxx---xxx---
Located on the north side of Yorba Linda Blvd in Yorba Linda, Vendome Liquor has a nice open layout with the beer section located in the right rear of their rectangular building.
Along the right wall are the refridgerated beers. In front of them are some low shelves stocked with a nice assortment of German, British, and Belgian ales. Notable on the shelves were offerings from Allgäuer, Aktien Brauerei, Ayinger, Paulaner, Schneider & Sohn, Späten, and Weltenburger Kloster from Germany, and a nice range of Fullers, Young's and Samuel Smith's plus St. Peters and Wychewood. From Belgium, I found Abbaye des Rocs Grand Cru, Maredsous 8 and Dobbel, Affligem, Orval, and a number of others. A large assortment of Unibroue beers, including Quelque Chose and La Terrible, are available as well as bombers of Victory's Golden Monkey.
In the reefers, I noted Flying Dog, Stone, Humboldt, Alesmith, Rogue, Lost Coast, Lagunitas, and a host of other U.S. craft brews. The craft brew selection is quite impressive as is the quality. The service was only average: in the nearly thirty minutes I wandered around looking at the selection, no one came up to inquire if I needed any help. The guy at the register was friendly, however.
Vendome Liquor has a wide variety of interesting brews as well as good regular standbys. Worth checking out if you find yourself in northeast Orange County.
1,793 characters
4.2
/5
rDev
+7.4%
Vendome was the first good store i found in the OC. Great cold beer selection. Some hard to find Belgian gems that you don't see at chain stores.
The wine selection was small but good wine was at hand for sure. They also do singles of any beer in the cooler. The only big selection of quality spirits,Beer and wine in Placentia! They had a good pic of cigars also and there tasting bar is real cozy and inviting. The prices are normal for a private owned operation. But pricey compared to corprate stores. The selection and good vibes in the store make up for the slight upcharge.
580 characters
4.2
/5
rDev
+7.4%
Just off the 57 Freeway in Fullerton, the Dome or Vendome Liquors is a quick left turn into a small strip mall type area, about 2 miles down on Yorba Linda Blvd. Walking in, the beer is on your right. Inside they have a large selction of microbrews, from Stone to Anchor to Deschutes, Bear Republic, lots of stuff. Most notable I saw were Stone Double Bastard and Allagash Victoria Ale. They have a large selection of Belgian and German brews too, including stuff I have never seen, such as Erdinger Oktoberfest. Picked up a De Ranke Bitter and Saison Voison, both in 330 mL, for $3.99 each, they do have a lot of the Belgian stuff in small bottles, so you can try them without having to pop for the $10 bottle of 750 mL brew, which is cool. Service was fine, the lady at the cash register rung me up fast and promptly. A good place to buy beer in Fullerton, if you are ever driving down or up the 57, check it out, it's a good store.
934 characters
4.2
/5
rDev
+7.4%
This is a specialty store that offers a wide variety of alcohol and alcohol gifts. It's a bit dirty, but I've been in grimier places.
The workers there say hi when you walk in, but are unhelpful for anything else. I called and asked for a specific beer and the woman who answered had to transfer me to someone who knew their stock. I was informed they did have Pliny the Elder, but there was a limit of two per person. When I went in I looked through the cases and I didn't find my pliny and after 10 mins or so I decided to ask, who I assume is the manager, where the pliny was. He informed me that they keep it hidden since it was in such high demand. and I told him I would like two for myself and two for my girlfriend who was with me. He came back with 6! He thanked me for waiting and said I could have an additional two for being patient!
As for the selection, they did have some rarer beers, such as pliny, and had much of what we're all used to, such as stone. Definitely a reliable place to find something you will enjoy.
The price for the pliny was the same as where I've seen it at other places, if not a little cheaper.
I'll definitely go back, but if you need help you'll have to ask.
1,205 characters
4.3
/5
rDev
+10%
I love Dome Liquors. Not only is it close to my location so that I don't have to drive the extra 20-40 minutes (depending on traffic) to get to Hi-Time. It is the place where I can pick up my Ommegang essentials, some Stone, Alesmith and some English and Irish beers. Also, they are pretty much all cold. You can get pretty much anything you want already chilled, whereas BevMo in Brea only has a few in the case.
Dome is also nice due to the tastings that they host. Every friday they have a great wine tasting and they are planning on amping up their beer tastings. They used to have a guy that planned them, but he moved on, so they are in transition. I did talk to the guy and he told me they were definitely going to try to work with some local breweries. This is excellent news.
When you go in, be sure to get on their mailing list so you can get the updates. It's worth it. The tastings are fantastic and the people you meet are great! It makes you feel like more of a "family" of beer/wine lovers vs. a sterile liquor store.
1,039 characters
4.35
/5
rDev
+11.3%
man, the brea/fullerton area is getting serious about beer. dont know what the reason is, but i like it.
anyway, if atmosphere was a category here, i'd give this place a 5. really nice inside. well laid out, clean, and well looked after.
beer is located in the coolers along the right side after walking in past the check out counter. imports and domestic are separated with each organized by packaging (ie. 750ml, bombers, six packs).
good selection with the usuals you would find in most good beer stores. others that are less easily found like lost coast, lost abbey, and they still had two 3L of double bastard.
didnt have a chance to speak to the guy working, but considering how much they post in the forums, im sure they would be happy to help if you were looking for anything special.
when i finally make it to bevmo, this place will be a certain side trip.
***
ok made it back. had to up the selection after seeing the stuff outside the fridge. plenty more import stuff. belgian, german, and english. a lot of things you wont find in most places so if you're itching for something other places dont have, do yourself a favor and check this place out.
on the downside, i picked up a lost abbey here thinking it wouldnt be at bevmo, then saw it there for less! burned.
1,294 characters
4.35
/5
rDev
+11.3%
This is actually a pretty good liquor store. They have stuff that I've never seen in hi-time or bevmo. Selections not complete but essential. The German beers are the highlight of this store, followed by the Belgians, and then the Americans. And yeah this is one of the few stores where you can take out a single from a sixer. Not much service but the cashiers all seem pretty nice. I bought the newest Sam Adams Longshots here and a few Germans. This store deserved more attention and whoever lives around the Fullerton or Brea area should definitely check this place out.
573 characters
4.44
/5
rDev
+13.6%
vibe: 4 | quality: 4.5 | service: 4.5 | selection: 4.5
I made an online purchase from this store last month and was very happy. This was my first online purchase so I was a bit apprehensive. I've since found out my fears were unfounded.
I picked up a box of Pliny the Elder. Not knowing how fresh it would be I crossed my fingers. Well my package arrived and what do you know it's less then 3 weeks old. SCORE!
The website is easy to navigate and they do carry a great variety of things I simply cannot get in Wisconsin.
All in all it was a great experiance and I will be ordering from them again.
547 characters
4.5
/5
rDev
+15.1%
vibe: 4.5 | quality: 4.5 | service: 4.5 | selection: 4.5
I love Vendome! If I lived closer I'd spend a lot more time here. But I still make it up there at least once a month. I always find stuff I want to try that Whole Foods/TotalWine/BevMo don't have. They consistently have a great selection of new beers, too. If the big chain stores get you down, definitely check out Vendome!
324 characters
Vendome Wine & Spirits in Fullerton, CA
3.91
out of
5
based on
36
ratings.