Singha Light
| Boon Rawd Brewery Co., Ltd
BA SCORE
72
okay
12
Reviews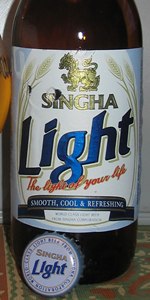 BEER INFO
Brewed by:
Boon Rawd Brewery Co., Ltd
Thailand
boonrawd.co.th
Style:
Light Lager
Alcohol by volume (ABV):
3.50%
Availability:
Year-round
Notes / Commercial Description:
No notes at this time.
Added by WesWes on 02-24-2008
Reviews: 12 | Ratings: 24

1.84
/5
rDev
-30.3%
look: 1 | smell: 2 | taste: 2 | feel: 1 | overall: 2
Pours a five finger white head that fades quickly leaving traces of lace. Crystal clear pale yellow color. Light-medium carbonation and very light bodied. Slightly sweet nose. Flavor is sweet adjuncts mostly corn, watery finish. Poor example of a light - Sam Adam's Light is much better. Buy only if you don't like beer or are a bottle collector. Not worth $1.85 for a 330ml bottle from Beverage Warehouse Winooski, VT.
★
419 characters
2
/5
rDev
-24.2%
look: 2 | smell: 2 | taste: 2 | feel: 2 | overall: 2
Pours extremely clear, pale straw yellow. Slight head dissipates almost immediately.
Aroma is pale malt with a slight sweetness.
Taste is sweet with some grainyness. A hint of hop in the finish.
Mouthfeel is light and thin.
A very light, rather tasteless beer.
★
264 characters
2.18
/5
rDev
-17.4%
look: 3 | smell: 2.5 | taste: 2 | feel: 2 | overall: 2
Appearance - This is a pale straw yellow in color with a decent white head.
Smell - The grain is a bit rancid but it's not so bad as to offend.
Taste - The grain takes a huge downturn at the taste. It's very artificial with a rock candy kind of finish that seems moldy.
Mouthfeel - This light-bodied lager has some good carbonation but is clumsy in the cheeks.
Sinkability - I actually like this better than the Gold simply because there's less of it to offend but this is by no means a good beer.
★
501 characters

2.5
/5
rDev
-5.3%
look: 2.5 | smell: 2.5 | taste: 2.5 | feel: 2.5 | overall: 2.5
The beer pours an almost clear color with just a tint of yellow. The head is white and quickly fades to spotty lacing. The aroma is below average. It has a very weak and watery pale malt scent along with a dry lager yeast aroma. This is loaded with rice I'm assuming. The taste is below average as well. It has a seltzer water taste with just the faintest touch of malt flavor. It's crisp and clean, but lacking flavor. The mouthfeel is average. It is a low bodied beer with good carbonation. This could be a great warm weather beer for people who really don't like beer. There's no taste or aroma. It's one and done for me.
★
624 characters

2.59
/5
rDev
-1.9%
look: 4 | smell: 2.5 | taste: 2.5 | feel: 2.5 | overall: 2.5
Pours a light gold color with a one-finger head into my glass. Seems normal here.
Aroma is full of corn and breadiness. Seems the usual light beer aroma. A bit sweet.
Taste is bready and a bit sweet. Not much else to detect. The usual light lager.
Mouthfeel is full of lingering breadiness and sweetness. Not bad. Easy to drink.
Not a bad light lager. Not too impressive though.
★
382 characters

2.74
/5
rDev
+3.8%
look: 3 | smell: 2.75 | taste: 2.75 | feel: 2.5 | overall: 2.75
630ml brown glass bottle purchased at a Tesco Lotus in Bangkok. Branded silver pry-off crown cap.
Pilsner / pale malts. That's it. Not watery or metallic.
Smooth, wet, light to medium-bodied, somewhat refreshing, and not too thin or too thick.
Drinkable and approachable, though certainly unremarkable. I'll probably revisit this of only because there's not too else available in Thailand, but it's far from impressive.
HIGH C- (2.74) / BELOW AVERAGE
***
05/31/16 brief 2nd impression from a 330ml can in Chiang Rai.
Crisp and overcarbonated, with some graininess and pils malts providing its unremarkable flavour. I don't dislike it, but it's certainly shallow and simple.
Drinkable refreshing stuff, but I wouldn't pick this over other Thai beers with more alcohol.
C- /BELOW AVERAGE
★
794 characters
2.75
/5
rDev
+4.2%
look: 3 | smell: 3 | taste: 2.5 | feel: 2.5 | overall: 3
330ml can poured into a pils glass with no freshness date details.
A:
Clear pale yellow color with average white fizzy head with short retention it quickly dissipate then left small lace, medium carbonation.
S:
The smell contains lager yeast, grain, light malt, bread and a bit grassy note.
T:
Kick off by touch of grain and lackluster malt then mingle with vague hop bitterness, rather dull flavor overall.
M:
Light body, sharp carbonated generates pricky touch to palate, dry and clean finish.
O:
Light and refreshing not bad in its own style but still not reach the standard of good beer anyway.
★
603 characters

2.78
/5
rDev
+5.3%
look: 3 | smell: 2.5 | taste: 2.5 | feel: 3 | overall: 3.5
This is an oft tried alternative to water while I'm in Thailand. Now I am not trying to be funny or disrespectful here, but if I feel like having a beer, I would anyday pick up the regular Singha always - in fact I prefer that over a lot of beers. But in case I want a thirst quencher without the guilt, Singha Light would be an OK option.
The beer pours paler in comparison to the regular, with a very faint grainy smell to boot. No head. No lacing - just some bubblework and the pale yellow colour to confirm. The taste is weak - yet refreshing with some hot, oriental cuisine. Its like wet grains with some bite from the carbonation. Its a real lightweight, but a little abrasive if had too cold.
I could gulp a couple down to wash the grease. But there are better alternatives.
★
781 characters
3.03
/5
rDev
+14.8%
look: 3.5 | smell: 3 | taste: 3 | feel: 3 | overall: 3
Had a bottle with spicy Thai noodles at White Orchid in Saucon Valley. At 3.5%, this beer is pretty low-alcohol, even for a light beer. Still it's not too watery or thin to make me wonder if I'm just drinking tonic water. There's a light bready malt taste and a touch of sweetened lemon for the flavor, and that's really it. Not much going on, but that's the point. Above all else, it's completely inoffensive, like a good light beer should be.
★
444 characters

3.2
/5
rDev
+21.2%
look: 3 | smell: 3 | taste: 3 | feel: 3 | overall: 4
This is called Singha Light but has no similarities with Singha Lager. It pours a very light straw yellow, the smell is a very faint malt. The taste and mouthfeel overall is just a faint beer taste. There is light beer, and there is Singha Light, this is like water with the essence of beer, very lightly sprinkled with a malty taste and nose. Where this brand shines is it's drinkability, you can drink a case and run a marathon, or drink a case and shoot some guns. Since there aren't many good light beers or imported lights, it hard to compare, but this would rank higher than any other lights out there.
★
608 characters
3.27
/5
rDev
+23.9%
look: 3 | smell: 3.5 | taste: 3 | feel: 3.5 | overall: 3.5
Poured in an American Pint glass. Light golden yellow in color. Virtually no head to speak of, merely a few bubbles that disappeared immediately. Tasted strongly carbonated, very hoppy, with a faint bitter finish. Not much to smell other than grain. Nothing really distinctive about this beer, but not as boring or tasteless as other light beers.
★
346 characters
4.15
/5
rDev
+57.2%
look: 3.5 | smell: 3.5 | taste: 4.5 | feel: 4 | overall: 4.5
Pours pale straw yellow. Slight head which dissipates within seconds.
Aroma is pale malt with a slight sweetness.
The taste is pretty sweet like it is infused with a honey of some sort.
Mouthfeel is very light like most light beers.
This beer is light yet refreshing. Higher rating on the taste because it is definitely one of the better light beers that I have tasted over the years.
★
389 characters
Singha Light from Boon Rawd Brewery Co., Ltd
2.64
out of
5
based on
24
ratings.