William Brennan's Golden Pils
| Capital Brewery
BA SCORE
81
good
15
Reviews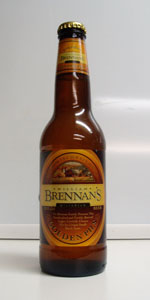 BEER INFO
Brewed by:
Capital Brewery
Wisconsin
,
United States
capitalbrewery.com
Style:
German Pilsener
Alcohol by volume (ABV):
not listed
Availability:
Year-round
Notes / Commercial Description:
No notes at this time.
Added by cokes on 06-06-2003
This beer is retired; no longer brewed.
Reviews: 15 | Ratings: 20
2.74
/5
rDev
-19.9%
look: 3.25 | smell: 3 | taste: 2.75 | feel: 2.25 | overall: 2.5
Poured into conical pint glass.
A: Transparent golden-orange body. Airy whitish head.
S: Crisp and mild. Boring.
T: Very crisp, with a little bit of syrupy aftertaste. The rice or corn in an adjunct lager is noticeable.
M: Slightly more full-bodied than a typical lager, with a slightly richer aftertaste.
O: Not a bad beer, but nothing I'd pay more than microbrew prices for.
381 characters
2.68
/5
rDev
-21.6%
look: 4 | smell: 3.5 | taste: 2 | feel: 3 | overall: 2.5
I wasn't real impressed by this beer. Kind of a bitter aftertaste. Nice golden color though, very little head. I thought I'd like this a little more as Brennan's has a great beer selection in their store. I might give it another shot though as my wife did really like it.
271 characters
3.47
/5
rDev
+1.5%
look: 3 | smell: 3.5 | taste: 3.5 | feel: 3.5 | overall: 3.5
12 oz bottle poured into a pilsner glass. 3149 on the neck (Aug. 14, '09).
A - A tall pour puts up close to three fingers of totally white head but it sinks back down with some haste leaving it with almost no lace. The color is a crystal clear and fairly well carbonated pale straw yellow.
S - A light skunk haze forms then dissipates from this light aroma beer. Pilsner malts and a mineral water salt thing give it a slight feel of authenticity while the aroma, regrettably, has little hop contribution.
T - Hops really don't have much to do with this brew. The flavor is basically a pretty solid helping of pilsner malts. A subtle hint of minerals gives the flavor a hard edge.
M - Strong carbonation leaves the finish with a sharp bite and paired with the hard mineral flavor, it's a hard beer. Medium-light bodied.
D - Not bad but I think Capital can do better than this. The lack of hops is sort of unnerving with it being a pilsner but otherwise it's an alright beer with decent drinkability.
1,003 characters
3.63
/5
rDev
+6.1%
look: 4 | smell: 3.5 | taste: 3.5 | feel: 3.5 | overall: 4
Grabbed this one as an extra recently. Another gem that I had never heard of but decided to give a try last night with dinner. Served cold and poured into a pint glass, it was consumed on 10/06/2009.
The pour was nicely done, typical for the style with a crystal clear golden color and a big two inches of white head. Fell down smoothly leaving a decent amount on the sides and the bottom of the glass. Nice carbonation was apparent throughout the glass as well as rich bubbles of foam came whirling up to the surface. Aroma was lighter then I would have liked. Grain and bready malts with a light touch of pine in the background. Crisp and clean taste, lightly dry with little to no aftertaste involved here at all. Light on the palate and highly carbonated. Smooth, easy to drink, and relatively refreshing.
Overall a classic example of the style though nothing here is really sticking out to me in terms of setting it apart from the crowd. Still decent though and not a bad offering.
994 characters
3.33
/5
rDev
-2.6%
look: 3.5 | smell: 3 | taste: 3.5 | feel: 3 | overall: 3.5
A - clear, golden color with a decent head
S - kind of a faint nose with grainy malt
T - tastes of grain, lemon, and a bit of cereal. Pretty straightforward and clean. Also it is a bit more flavorful than your typical pislner. Finshes with a bit of grassy hops.
M - thin but well-carbonated
D - not my favorite pilsner, but it was decent enough. I was originally going to pass on this until the beer expert at Brennan's told me that this was brewed by Capital. I couldn't pass it down and I wasn't disappointed.
515 characters
4.25
/5
rDev
+24.3%
look: 4 | smell: 4 | taste: 4.5 | feel: 4.5 | overall: 4
Pours a clear golden with large effervescent bubbles. Malty, bready aroma wit a kiss of hops. Medium-bodied mouthfeel that's soft from the carbonation. Initial flavor has a nice bready, maltiness to it. There's a slight fruitiness and nuttiness that exists in the middle. Hop bitterness toward the back is balanced nicely with the pilsner's malt sweetness. There's some graininess from the hops that emerges though. The crisp finish ends cleanly.
This is the first of Brennan's own label that I've tried and I have to say that it's a very solid and enjoyable pils. I should have expected no less from Capital Brewery.
618 characters
2.5
/5
rDev
-26.9%
look: 2.5 | smell: 2.5 | taste: 2.5 | feel: 2.5 | overall: 2.5
Appearance: Pours a clear golden body with a thin white head.
Smell: I can't get over how frigging devoid of any aroma some of these beers get. There's no aroma beyond a light, light floral note.
Taste: Sourdough breadiness and a touch of lemon with a metallic bitterness on the quick finish. With such a near-absent aroma, I guess I shouldn't have expected much in the way of hops.
Mouthfeel: Thin-bodied. Medium carbonation.
Drinkability: Bland and lifeless.
472 characters
3.24
/5
rDev
-5.3%
look: 2 | smell: 3 | taste: 3 | feel: 4 | overall: 4
Purchased at Brennan's in Brookfield Wisconsin.
Pours a very dull yellow with a mild and quickly dying head.
Smells like a little bit of weedy pilsener and an even littler bit of hops. Pretty damn tame.
Tastes even tamer. No fruit esters of spoilage. No skunking, either. Just tameness. How does that happen? That's not age, is it?
Incredibly light. Like, a light macro only with a nice, lightly hoppy afteraste.
If I had any reason to think this was spoiled, I wouldn't have posted this review. I'll try it again if I ever get a chance, but as for right now I'm going to have to say "pass" on this.
EDIT: I think my palate was still messed up after having drank some foul Gleuk bock. It got more flavorful as it warmed. Still, it was pretty bland, but better than I had initially graded it.
812 characters
3.47
/5
rDev
+1.5%
look: 3 | smell: 3.5 | taste: 3.5 | feel: 3.5 | overall: 3.5
Pours a hazy, extremely light-yellow color with a 4 inch puffy head. Maybe I poured too aggressively. As the head recedes it leaves behind a large amount of lacing.
Aroma is quite strong, a base of corn-like grains followed by a grassy hops, white spices, and a citrus background.
Flavor was lighter than I expected from the aroma. Cracker dough, straw grains, and citrus flavors.
Mouthful is nice, slightly thick from grains, but a little foamy. I really should have served this one a little colder. That's what happens when I jump styles in the night.
Drinkability is good. Not my favorite style, but I think if served colder, it would be a good quencher.
I asked the beer expert at Brennan's and he said that although this may seem similar to Capital Special Pils, they had assured him they were a different recipes. He seemed confident, but hopeful.
868 characters
3.88
/5
rDev
+13.5%
look: 4 | smell: 3.5 | taste: 4 | feel: 4 | overall: 4
Faded gold with a sparse cloud of fine yeast being buffeted by multiple streams of bubbles. The eggshell colored cap is the beer's best feature. It's frothily creamy and is impressively tacky. As it deflates, thick sheets of Swiss cheese-like lace are plastering themselves all over the glass.
I don't know if the nose is quite hoppy enough, but it's still a good one. It's nicely balanced between lightly sweet cereal grains and moderately musky noble hops. I'm guessing that Saaz and/or Tettnang are present... which isn't exactly going out on a limb.
Wisconsin Golden Pils is much hoppier than it smells. Prior to cracking the crown, my thought was that this would be a second-rate 'store brand' beer that Capital shied away from being associated with (since the brewery of origin is noted only by fine print on the neck label). I couldn't have been more wrong.
I like Golden Pils more than I like Capital's own Special Pilsner. Although, to be fair, I have to revisit that one now that I have more palate experience. There's just enough pils/pale malt to provide a solid platform from which the hops can do soaring, majestic swan dives. This is still a balanced beer, in a hopheaded sort of way. The flavor is sweetgrassy with a hint of zippy lemon zest. I have a feeling that my bottle is pretty fresh.
The mouthfeel is exactly where it ought to be for a German pilsener. It's midway between light and medium (probably favoring the latter) and has a creamy silkiness that is the mark of all well-brewed beer. This stuff was built to session.
While visiting Brennan's Farm Market last month, I couldn't pass up a few bottles of the 'house beer'. When I learned that it's brewed by Capital, I thought it had a chance to be pretty good. I never dreamed that it would be this good. If you find yourself in Madison, be sure to drop in for a sixer or two. This is good stuff.
1,889 characters
3.7
/5
rDev
+8.2%
look: 4 | smell: 4 | taste: 3.5 | feel: 4 | overall: 3.5
Brennan's Golden Pils pours a hazy golden-amber beneath a frothy head of white that holds pretty well and leaves some very nice rings of lace throughout the glass. The nose is interestingly hoppy and malty with a kind of worty, grassy character that comes through in the flavor as well. The malt is very grainy and straw-like, and in combination with the grassy, spicy, and mildly herbal hops, it's very reminiscent of partially fermented beer. I immediately thought of a kellerbier, but it's a bit fuller and more malty than that. It's not sweet, but it has some residual maltiness to it. Solidly bitter, however, it still finishes dry with lingering notes of grassy, spicy, and herbal/mineralish hops.
703 characters
3.39
/5
rDev
-0.9%
look: 3 | smell: 4 | taste: 3 | feel: 3.5 | overall: 3.5
A - Applejuice color and clarity without much of a head. A thin wisp of haze is all that covers the brew after a minute or two. Swirling brings up a better head than pouring....weird.
S - Good crisp German pilsner smell with some sweet smelling malty aromas and nice gentle hops. All is as it should be.
T - Crisp, clean, well hopped and bitter. A good basic pils. LIght orangey hop touches and clean saltine cracker malts.
M - Extremely dry and sandy feeling. This stuff sucks the spit out of your mouth! I like it!
D - I'm not a huge fan of pilsners, but they do have one outstanding characteristic that is also found in this beer...and that is sessionability. I could drink a few of these and not get bored.
722 characters
4
/5
rDev
+17%
look: 4 | smell: 4 | taste: 4 | feel: 4 | overall: 4
I got this beer at Brennan's market in Madison, thinking they brewed their own. Later, closer inspection of the bottle revealed that this beer is made by Capital Brewery, and sold exclusively at Brennan's. This beer has a clear, dark golden color. There are lots of rising bubbles. Sweet malty aroma with herbal hops. The flavor is pilsner malt with a lemony citrus flavor. Turns bitter with slightly spicy German hops. This is no light on flavor pils. It's crisp and refreshing. Good version.
493 characters

4.22
/5
rDev
+23.4%
look: 3.5 | smell: 4 | taste: 4.5 | feel: 4.5 | overall: 4
A nice honest pils from a good Wisconsin brewer, Brennan's (known, too, for their most excellent market).
Appearance: Truly golden (!), clean, with the right amount of CO2.
Smell: Fairly floral German hop aroma, and a little malty sweetness in the nose. Pleasant.
Taste: Very good. Starts with a complex, yet earthy, grassy malt sweetness, but finish with a dry hop flourish.
Mouthfeel: Wonderfully balanced for a pils, leaning towards being a more beefy lager beer slighly emphasizing the malt, but there's a enough reassurance in the dryness of the finish that you'd expect from a well-made pils.
Drinkability: Real nice. I had this fresh bottle after a dinner of spiced cod (paprika), and a Punjabi eggplant salad. Very tasty, and it the spot.
754 characters
3.95
/5
rDev
+15.5%
look: 3.5 | smell: 3.5 | taste: 4 | feel: 4 | overall: 4.5
Brewed by Capital and sold only at Brennan's Markets.
Pours a sparkling gold under a slight white foam.
Nose is grainy, grassy and subdued.
Saltine cracker dryness up front with a quick pang of fruity sweetness a la caramelized apples. Husky midsection is quelled by a alluring hop spice. Akin to a fleeting amalgramation of nutmeg, vanilla, rosemary and dried leaves. I figured this would be dumbed-down, but that is not the case.
Light bodied and immensely drinkable.
This is the rare beer that I will recommend from Brennan's, given its track record of mistreating their beers. But three months from now, these will be old like the rest of them. Nevertheless (and fresh), this is yet another worthy lager produced by Capital. Similar to, yet spicier than their Special Pilsner.
791 characters
William Brennan's Golden Pils from Capital Brewery
3.42
out of
5
based on
20
ratings.