Rustic Ale
| Capital Brewery
BA SCORE
71
okay
37
Reviews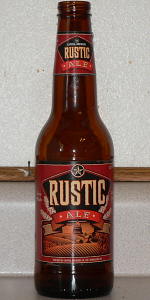 BEER INFO
Brewed by:
Capital Brewery
Wisconsin
,
United States
capitalbrewery.com
Style:
American Amber / Red Ale
Alcohol by volume (ABV):
4.50%
Availability:
Summer
Notes / Commercial Description:
No notes at this time.
Added by dirtylou on 07-03-2008
This beer is retired; no longer brewed.
Reviews: 37 | Ratings: 45
2.18
/5
rDev
-24%
look: 4 | smell: 1 | taste: 2.5 | feel: 3 | overall: 2
Ugh.
A: Poured a very nice hazy amber, decent head
S: Rotten garbage. Like old lettuce or something..very unappealling
T: Couldn't get past the nose, as the taste was similar. Nice and malty, some slight hop backbone.
M: Medium
T: No. Can't do it.
252 characters

3.16
/5
rDev
+10.1%
look: 3.5 | smell: 2.5 | taste: 3.5 | feel: 3.5 | overall: 3
Pours a golden, orange and rusty color,with a soft looking off-white head that leaves nice lacing,this is off to a nice start. The nose is tame and combines floral aromas with caramel malts. Pretty tasty considering a style that can often be less than impressive. Caramel malt and good balance of grain and hops makes a very drinkable balanced Ale. A light body and low carbonation help my glass to empty quickly,slightly creamy even. Pleasantly surprised by this uncompromising Red Ale. This is much better than AB American Ale. Give it a try.
544 characters
2.78
/5
rDev
-3.1%
look: 3 | smell: 2.5 | taste: 2.5 | feel: 3 | overall: 3.5
Pours a clear copper gold with a small off white head. The aroma is medium sweet malt, nutty and light grassy hops. The flavor is nutty toasted malt and light grassy hops. Light to medium bodied, thin texture. Finishes long and malt dominated. Not Capitals best offering by far.
278 characters
3.3
/5
rDev
+15%
look: 3 | smell: 3 | taste: 3 | feel: 4 | overall: 4
It poured a clear amber/copper hue with a one finger head and lite carbonation.
It had a nice mellow malt scent.
It had a mellow flavor of malt and hops. Overall the taste was very neutral, neither leaning towards strong malt character nor leaning towards floral or bitter hops. It had a nice medium body that went down easy.
It is a drinkable beer. It is very neutral. So neutral in fact that I think 6 out of 10 random beer drinkers would enjoy it if they did not have their favorite beer available.
504 characters
3.45
/5
rDev
+20.2%
look: 3 | smell: 3 | taste: 3.5 | feel: 3.5 | overall: 4
12 oz bottle poured into a pint glass.
The beer pours a burnt orange color, toned with red. The head is immediately impressive but dissipates quickly. Lacing/stickage is above average, considering how fast that head went away.
It smells heavily of malt, no hops present. There is a deep rustic/earthy smell, matching the sweet caramelly malt aroma.
The taste agrees with the smell. Malt dominated, hops MIA. The malty flavor disappears quickly, making me sad, but the flavor remaining is still that of a tasty caramel amber.
Since I like malt dominated beers, I'll give this 3.5, but honestly I was left craving that afterbite of the hops.
Mouthfeel was a bit grainy, with ample carbonation biting the tip of the tongue. As the beer swills in the mouth, it develops a more settled, medium feel to it, just to the sheer malt domination.
Overall, an easily drinkable beer. Putting away a 6-pack over the course of a long easy conversation probably wouldn't be hard if you wanted to. The beer lacks some important defining characteristics, and I must say this is probably one of the more disappointing beers from Capital -- but I do have high expectations of them.
Try the Capital Amber if you're looking for a better beer in this class.
1,240 characters
2.06
/5
rDev
-28.2%
look: 3 | smell: 2 | taste: 2 | feel: 2 | overall: 2
Pours barely red and more orange, light white head fades quickly. Smells of light caramel malts and light grains.. ugh. Taste is not much better, Light malts, no hops and that off adjuncty taste to it. Odd bitterness not deriving from hops add to the weirdness of this beer. Very light mouthfeel moderate carbonation. This is a forgettable one. Come on capital you're better than this.
385 characters
1.74
/5
rDev
-39.4%
look: 3 | smell: 1.5 | taste: 1.5 | feel: 3 | overall: 1.5
Ugh. What is in this thing? It leaves an absolutely awful aftertaste of something not right. I can't even describe it. A horrible stale taste that lingers and won't go away. It tastes like something burnt and stale. Like when popcorn is burnt and that burnt popcorn smell just lingers and lingers. Kinda like that, but not exactly.
Send me a beermail if you want to try this disaster. I have a 5 pack that you can have. Ugh, what a wretched concoction. This has to be some kind of mistake.
490 characters

1.44
/5
rDev
-49.8%
look: 3 | smell: 1.5 | taste: 1 | feel: 2 | overall: 1.5
i bought this beer at binny's and tried to return it because it tastes so awful. There were absolutely no hops, it was all malt, and it was terribly unbalanced. this beer is just all wrong. a v o i d. it's a shame because capital makes some good beers...this one makes me think they're losing their edge...
306 characters
2.48
/5
rDev
-13.6%
look: 3 | smell: 2.5 | taste: 2 | feel: 3 | overall: 3
Poured crystal clear beer bottle brown, maybe a little lighter. Tiny little white head and a little lacing. Very weak hop aroma. Even weaker taste, with more malt than hops. Disappointingly watery. Poor representation of an amber. Mouthfeel was medium with medium/light carbonation. Drinkable in a glass of water kind of way.
325 characters
2.85
/5
rDev
-0.7%
look: 2.5 | smell: 2.5 | taste: 3 | feel: 3 | overall: 3
received as an extra on a trade . Not sure from who but regardless, thanks for the opportunity.
Poured into East End pint glass.
A. dark gold body, thinnest white head that's gone before I sit down to watch the football game. looks like a darker version of Bud.
S. Smell? there's barely a smell at all. The slight smell that's there is sweet and bready. smell says Macro.
T. Taste like you 1 and 1'd a mix of Bud and MGD. sweet bready malt, not so great aftertaste. not appealing. like a fuller flavored Bud
M. thin and grainy a good bit of carbonation. are you sure this isn't bud?
D. If you like Bud. behold the craft version of it. I'm sure this would be good at a picnic or something, but not to start out my Turkey day.
Overall: I'm pretty sure it's Bud. Gotta be. What a disappointing way to start out my Thanksgiving drinking. Fuck this I'm drinking the rest and moving on to some hype. Would not recommend to friend, except maybe patronwizard.
958 characters
2.95
/5
rDev
+2.8%
look: 3 | smell: 3 | taste: 3 | feel: 3.5 | overall: 2.5
Appearance: Amber with a very slight red hue. Thin head that dissipated quickly.
Smell: Faint aroma with slight biscuit notes. No hops present.
Taste: Slightly watery. The biscuit notes in the aroma come through slightly, giving it a fairly pleasant sweetness, but not quite enough. Little hop character to speak of.
Mouthfeel: Nothing remarkable, but not bad. Adequate carbonation.
Drinkability: The wateryness hinders the drinkability.
442 characters
2.3
/5
rDev
-19.9%
look: 2.5 | smell: 2.5 | taste: 2.5 | feel: 2.5 | overall: 1.5
There's so much that's not right about this beer, unfortunately... Where do I begin?
Aroma - Corn & cabbage - DMS - very grainy and nutty malt, low caramel, with very subtle earthy and slightly spicy hops. Very malty aroma, needs a lot more hops to balance.
Appearance - Very fizzy on the pour, but low white head quickly dies to nothing. Ends up with low carbonation. Crystal clear, decidedly amber in color (i.e., amber-yellow-almost-orange like the prehistoric flies are captured in, but not red in any way).
Flavor - Very grainy, nutty, and toasty, toasty, toasty. A hint of apple ester. Also some honey character. Hops are VERY subdued, earthy, a hint of spice but it's hard to find. Balance is sweet, just enough hops to take the edge off with bitterness without much contribution in flavor.
Mouthfeel - Medium to medium-light body. Seems sort of thin and definitely well-attenuated.
Overall - Did not meet expectations at all with respect to hops. This beer was advertised as using local Wisconsin hops and malt, and while the malt comes through loud and clear, WHERE'S THE HOPS?? That's what I really was looking for. There's no balance, it's all about the malt and there's not anywhere near enough hops to balance. Capital, if you're listening, I'd say you need to triple the flavor and aroma hops next time!! Otherwise, with respect to malt, it's a great start. Just currently misses the mark significantly. But for those who don't like hops at all, but like toasty, nutty malt, this wouldn't be a bad beer to try.
1,529 characters
Rustic Ale from Capital Brewery
2.87
out of
5
based on
45
ratings.