Manoomator
| Capital Brewery
BA SCORE
82
good
14
Reviews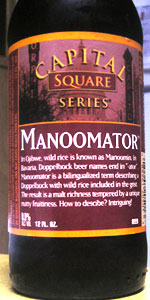 BEER INFO
Brewed by:
Capital Brewery
Wisconsin
,
United States
capitalbrewery.com
Style:
Doppelbock
Alcohol by volume (ABV):
8.00%
Availability:
Rotating
Notes / Commercial Description:
No notes at this time.
Added by feloniousmonk on 02-06-2012
This beer is retired; no longer brewed.
Reviews: 14 | Ratings: 32

3.74
/5
rDev
+5.1%
look: 3.75 | smell: 3.5 | taste: 3.75 | feel: 3.75 | overall: 4
Served in a flared pokal at Bliss.
You'd think Capital had done everything with bocks already, but then they found a way to get some wild rice in on the party. This stuff pours a clear amber-auburn topped by a finger of light cream foam. The nose comprises caramel, sweet bread, light dry corn, and a slight tinge of not-entirely-unpleasant vinyl (you know, when it's all perfume-y and whatnot). The taste brings in more of the same, with an ever-so-slightly stronger bit of vinyl and a touch more corn. The body is a straight medium, with a light moderate carbonation and a mostly smooth feel. Overall, the wild rice does its thing and helps Capital create yet another d-bock that I would never mind having in my glass.
721 characters

3.62
/5
rDev
+1.7%
look: 3.5 | smell: 4 | taste: 3.5 | feel: 3.5 | overall: 3.5
Manoomator, Capital Square Series. "In Ojibwe, wild rice is known as Manoomin. In Bavaria, Doppelbock names end in -ator. Manoomator is a bilingualized term describing a Doppelbock with wild rice included in the grist. The result…" …whoa, nope, not this time. Later, maybe.
Clear and coppery-colored. No head at all. Despite that, bubble continue to rise to the surface.
Rich, sweet, malty aromatics, with apparent alcohol notes. Grain/cereal notes, mineral.
Taste: hits the mouth with richness and sweetness at the start, bold, flavorful, tasty. One problem I have is that while I like eating wild rice, I very rarely like drinking it.
In fact, I don't really think it helps a lot in the malt bill of a beer. Doesn't add any flavors that I can detect.
Brisk carbonation blasts the palate. Bright. Full and fierce. Almost stinging. Body isn't as full and flush as I'd like, though. Maybe it's the rice not talking.
Calms down a bit after a while. But I'm not getting more flavor here.
Wild rice doppelbock. Not a fan.
1,029 characters
3.92
/5
rDev
+10.1%
look: 4.25 | smell: 4 | taste: 3.75 | feel: 4 | overall: 4
Bread with a faint nuttiness on the nose. Pours brilliant orange gold under a ½" foam cap. Bread, kettle sugars, and a light nuttiness on the palate and an odd spiciness form the wild rice. Medium body, medium carbonation.
225 characters

3.56
/5
rDev 0%
look: 4.5 | smell: 3.5 | taste: 3.5 | feel: 3.5 | overall: 3.5
12oz bottle, pours copper with stunning clarity, the foamy off-white head holds good retention and leaves a little lacing on the glass. Aromas are malty sweetness with caramel and toffee. tastes are sweet as expected, with notes of brown sugar, honey, toffee, nut, lager yeast, and some herbal/grassy hop on the end. Mouth-feel is medium bodied with adequate carbonation, but comes off as being cloyingly sweet on the finish. Alcohol is well concealed. Overall, I guess I was expecting something more unique. I get a bit of nuttiness from the wild rice, and I see what they were getting at, but I don't think I would have caught on to the wild rice had they not told me it was in there. Still a decent try, as it is true to the style as far as flavors go, but doesn't stay true to the Reinheitsgebot.
800 characters
2.76
/5
rDev
-22.5%
look: 4 | smell: 3 | taste: 2.5 | feel: 3 | overall: 2.5
Serving glass: Poured from bottle into Mug.
Appearance: Clear orangish amber with thin off-white head.
Smell: Cherry, some spicy hops and lots of graininess. Actually quite muted for a Doppelbock.
Taste: Cherry and hops mostly, which is borderline medicinal. At the finish there is an odd taste that is both sickly sweet and sharply drying. Slightly grainy with a little bit of a macro beer aftertaste (from the rice?).
Feel: Moderate carbonation with a body that is slightly too thin for the style. However, it is somewhat boozy, maybe due to the lighter body.
Overall: Capital is the American king of Doppelbocks, but not this time. While not a bad beer, it is muted in flavor, while also having some odd notes. Plus it is boozy, but doesn't taste as if it should be. Guess it was a good experiment, but maybe they shouldn't have released it.
849 characters
3.39
/5
rDev
-4.8%
look: 3.5 | smell: 4.5 | taste: 2.5 | feel: 4 | overall: 3.5
Reviewed from session notes.
Pours out a coppery amber with almost no head at all, just a faint ring of floating foam, minimal lacing.
Smells like fruity cherries, raspberries, and medium levels of sweet chestnut marzipan spread over semi-toasted whole grain bread with some muesli cereal on the side. What an unique nose!
The flavor is more like raw chestnuts mixed with lesser amounts of other nut varieties, a lighter sort of toffee malt, and an unfortunately somewhat medicinal kind of bitterness that I didn't really care for personally.
Body is light, crisp, and refreshing, lightly carbonated.
In summary, I really liked the nose but didn't like the flavor of this one. It had a strange sort of alkaline / medicinal bitterness that I just couldn't quite get used to.
778 characters
3.73
/5
rDev
+4.8%
look: 3 | smell: 3.75 | taste: 4 | feel: 3.5 | overall: 3.5
From: Binny's, Glen Ellyn, IL
Date: None on bottle, "00412A10559" stamped on bottom
Glass: Ayinger Celebrator doppelbock glass
Capital has (had? not sure if this will be produced again) an interesting doppelbock variant in their portfolio with Manoomator. Bordering the line between a Helles and a Dunkel Doppelbock, the malt bill leans toward the former in order to let the flavors imparted from the wild rice show what they can. The wild rice seems to ever-so-slightly enhance the nuttiness of the malts used while lightening the overall flavors, producing an interesting doppelbock that is lighter in the darkly sweet malt and dried fruit flavors than a typical dunkel offering, but also enhanced with interesting esters and nut-like flavors. I enjoyed drinking this and all the Capital Square Series offerings throughout the season, and will be sorry to see the 4-packs go.
Pours a 1cm tall head of off-white foam, composed of small to medium-sized bubbles, with average retention, lasting about a minute. The head recedes to a thin cap atop the body, thicker around the perimeter of the glass, and leaves little lacing in its wake, nothing more than a few scattered spots. Body is a transparent orange-tinted amber, with light bringing out brighter orange and even yellow tones to the extremities of the beer. Carbonation is visible, average in intensity and number.
Aroma is heavy with brown bread, caramel, toffee, dried dates, and very minor hints of toasted hazelnuts. Not an unappetizing aroma, but not particularly strong or robust.
The overall flavor is of a lighter doppelbock with caramel and toffee being the dominant flavors, but bread, toasted hazelnuts, bittering German hops, and dried fruit esters adding balance and complexity. Front of palate is fairly light, sweet toffee-esque malts with hints of toasted bread and hazelnuts. Mid-palate of medium-intensity, sweet caramel malts, toasted bread crusts and hazelnuts, spicy and slightly bitter European hops, and occasional hints of roasted malt. Back of palate picks up European hop bitterness and spiciness, mild caramel, toasted nuts, and roasted malt, with dried fruit esters (dates, faint berries). Aftertaste is bready, nutty, and a little cloying in an almost cough syrup sweetness sort of way. I do not detect ethanol at all during my tasting.
The beer is medium bodied with medium to medium-low levels of carbonation, leading to a generally foamy and smooth mouthfeel with no fizzy sensation. As time goes on sipping this 8% beer, the carbonation fades and this becomes a bit placid across the palate: not exactly a good effect for a sipping beer. I'm not detecting any ethanol heat or burning in the nostrils or on the tongue/throat. Closes rather dry with significant stickiness lingering across the palate.
2,794 characters
3.85
/5
rDev
+8.1%
look: 3.5 | smell: 3.5 | taste: 4 | feel: 4 | overall: 4
12 oz bottle poured into a Kasteel goblet glass.
Appearance- Reddish copper in color. 1 finger cloud white head that dissipates quickly into a thin layer on top.
Smell- Smells are faint but mostly getting carmel, bread and some sour hop.
Taste- Very interesting flavor with some roasted noted and a nice hop balance. I guess it is a rice flavor as stated on the bottle. Definitly a starch up front with some smoke and a nice sour hop finish/balance.
Mouthfeel- A full medium mouthfeel that has a bit of silkyness to it.
Overall- Great balanced beer. You get your starchyness up front with a middle roasty flavor and a sour hop finish. Very well crafted.
659 characters

3.95
/5
rDev
+11%
look: 4 | smell: 4 | taste: 4 | feel: 3.5 | overall: 4
Received a 12 FL. OZ. bottle of this in a trade w/ ChrisF. Poured from the Maroon/Gold labeled bottle into a 12oz Schlafly Tulip Glass. Has no freshness date to be found but a $4.09 sticker on the front label.
Aroma- A very sweet and strong aroma. Tons of caramel, malt, and dark fruits even!?!? Slight booziness but may be from the higher a.b.v. in this Bock.
Appearance- Pours a 1 finger, bubbly head that has average retention. The body color is a dark amber/brown and semi-hazy. Leaves good lacing behind.
Flavor- A very rich example of this style with touch of dark fruits and sugar again. A bit toasty from the roasted grains and has a medium hop bitterness on the finish. Well represented!
Mouthfeel- Medium-Full Bodied, Medium Carbonation, Sweet, and very fruity on the finish. Not very tradition.
Overall Impression- A nice Dopplebock but I question, could this be passed as an Eisbock? Very strong for the style but enjoyed almost everything about it. Glad I got to enjoy something from this brewery! Have been looking forward to a Capital Square brew since I was in MN. Get some of this if your a Bock fan!
1,126 characters
3.85
/5
rDev
+8.1%
look: 3.5 | smell: 3.5 | taste: 4 | feel: 4 | overall: 4
Clear pale orange, minimal initial head, with a lasting ring.
Caramel malt the predominant smell, a hint of wet grain (i.e. rice).
Caramel, sugar, alcohol, apricot, an herbal hop note, and yes, I do sense a vague wild rice note which sort of counterbalances (undermines, if you prefer) the sweetness.
Very smooth and crisp mouthfeel. Somewhat lighter than typical for the style, but quite drinkable.
Interesting take on the style, and gets points from me for using local (and native) ingredients. Not necessarily the best doppel I've had from Capital, more of a novelty one-off, but it's growing on me.
612 characters

3.5
/5
rDev
-1.7%
look: 3.5 | smell: 3.5 | taste: 3.5 | feel: 3.5 | overall: 3.5
The wild rice in this beer does produce a unique accent in the nose and palate of this amber colored brew. Some apricot and caramel malt combine to produce a good aroma. It is a bit sweet on the palate, with malt and sugar teaming up. OK carbonation and hops at the end, but a little one noted through the center.
313 characters

3.38
/5
rDev
-5.1%
look: 4 | smell: 3.5 | taste: 3 | feel: 4 | overall: 3.5
A. Pours crystal clear with an amber to mahogany appearance. Head is off white of two fingers that recedes quickly but stays skimmed for the entire beer.
S. Candied sweetness from the malt hits you first. There is a bit of alcohol in there too followed by toasty grains. Pretty nice overall.
T. I was expecting a mouthful of flavor and complexity given this is a Doppelbock but, sadly, it didn't deliver the goods. Tasted more like an amped up red lager with bread and candied malt sweetness. The wild rice used in the "grist" per the label doesn't come into play at all.
M. Medium bodied with moderate carbonation. Makes for easy drinking, which may be this beer's strong suit.
O. For some reason I have a soft spot for Capital's Doppelbocks but other than the outstanding EisPhyre, none of them are earth shattering. Manoomator continues down that path. Worth a try but not worth going out of your way to get it.
922 characters
2.55
/5
rDev
-28.4%
look: 2.5 | smell: 2.5 | taste: 2.5 | feel: 3 | overall: 2.5
12oz Bottle poured into a mug.
A - Small off white head immediatly dissipates to a minuet ring around the glass. The beer is a light amber with very brilliant clarity.
S - There is a nice toasty character but also a distinct red ripe fruit quality. Some candy sugar, honey quality.
T - That little toasty character carries over but is surrounded with alcohol. I can pick up some of that red ripe fruits here as well. Some chocolate notes but the taste is very quick. Spicy alcoholic finish. The flavor seems to be good, clean fermentation.
M - About as thin of feel as I could imagine for a doppelbock. I would describe it as medium-full bodied. Carbonation was light. I would describe it to be semi-sweet, actually pretty dry for the style.
O - Light color was a bit of a twist. Not the malty nose I would have expected. Still little malt to the taste as well and didn't hide 8% very well. The mouthfeel was too thin and too dry. A bit of a curveball but in all honesty I am not overly familiar with Doppelbocks and pretty much going off of what I assumed from the style.
1,080 characters
4.08
/5
rDev
+14.6%
look: 4.5 | smell: 4 | taste: 4 | feel: 4.5 | overall: 4
A- brilliant, orangish amber, one finger of white head, minimal retention.
S- sweet caramelized nuts, hints of smoke, dried fruits
T- caramel, wild rice, smoke, nutty, fruity
M- clean, crisp, bright, refreshing
O- great execution of a wild rice doppelbock, the rice is there but not overpowering, while the malt body is light enough to show the rice, it is rich enough to be a great doppelbock. If you like doppelbocks this is a great creative version.
456 characters
Manoomator from Capital Brewery
3.56
out of
5
based on
32
ratings.