Hop Cream
| Capital Brewery
BA SCORE
82
good
34
Reviews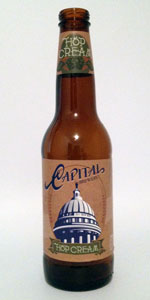 BEER INFO
Brewed by:
Capital Brewery
Wisconsin
,
United States
capitalbrewery.com
Style:
Cream Ale
Alcohol by volume (ABV):
5.30%
Availability:
Year-round
Notes / Commercial Description:
No notes at this time.
Added by TMoney2591 on 05-19-2012
This beer is retired; no longer brewed.
Reviews: 34 | Ratings: 136

3.19
/5
rDev
-10.4%
look: 5 | smell: 3.5 | taste: 2.5 | feel: 3.5 | overall: 3.5
Poured chilled into a Perfect Pint.
A=Dark, rich golden color...creamy two finger head that was very slow to dissipate.
S=Clover honey and citrus and grass. I hate to say it, but it reminds me of the smell of mowing the lawn--cut grass and gasoline.
T=Extreme hop flavor with a sweet backdrop...clearly, Capital is trying to offer an alternative to New Glarus' Spotted Cow, but with more hops. But the hops is a bit too overpowering for my taste and takes it to the extreme for the style. Second half was rather sour and unappealing.
M=First few sips left a film in my mouth, which was not enjoyable. Moderate carbonation. Nice moderate body.
O=This beer got more and more nasty as I got near the bottom. Too sour and too much hops for cream ales.
752 characters
4.2
/5
rDev
+18%
look: 4 | smell: 4 | taste: 4.5 | feel: 4 | overall: 4
Dark yellow with a frothy head. Crisp green pepper and grapefruit notes atop something not unlike Spotted Cow. A beer like this is presumably not in Capital's lager-comfort-zone, but I feel like they pulled it off nicely. Nicely balanced, and compared to most cream ales I've had, the hops add a nice burst of flavor. Only picked up a single, will have to look for more. This, along with Lakefront's Wisconsinite, may become go-to summer beers.
444 characters

4.2
/5
rDev
+18%
look: 4 | smell: 4 | taste: 4.5 | feel: 4 | overall: 4
Very nice beer from capitol brewing. Picked this up on my way back to IL from WI.
Just like the bottle says there is a very good upfront hop presence that fades into a smooth tasty finish.
It pours a nice creamy head as well. Note: If you are looking for a super hoppy beer this is not it, this is more for people that like hops in smaller quantities.
353 characters
4.67
/5
rDev
+31.2%
look: 4 | smell: 4.5 | taste: 5 | feel: 4.5 | overall: 4.5
This is a new brewery in the Florida Panhandle so I gave it a try. Really surprizing flavor...yes, a very well balanced hoppy cream ale. You should try this if you are a fan of either of these...who isn't? This is a very drinkable offering from Capital City Brewery (good job Kirby)...gonna get some more while I can!
317 characters

3.35
/5
rDev
-5.9%
look: 3 | smell: 3 | taste: 3.5 | feel: 3.5 | overall: 3.5
Pours dark straw - clear. White head that falls quickly - reasonably sticky lacing. Smell is delicate, hop hints. Taste up front was hard to determine - started (again) delicate, hop back with some malts interspersed with hops. Sharp mouthfeel at at the front, didn't experience "cream" but was not disapointed. Overall, a nice offering.
337 characters

4.44
/5
rDev
+24.7%
look: 4.5 | smell: 4.25 | taste: 4.5 | feel: 4.5 | overall: 4.5
Totally impressed by this beer. What little I was expecting of a cream ale is upon need by the awesome balance of hop bitterness and malt smoothness. If you took Spotted cow and I ejected some hop flavor, you'd get this .. incredibly refreshing. Wonderful aroma.
262 characters
2.68
/5
rDev
-24.7%
look: 3.5 | smell: 3 | taste: 2.5 | feel: 2.5 | overall: 2.5
Sigh. I was excited that Capital made something other than a lager....but alas.
Really very little hop flavor. Just a little bittering. Really lacks flavor.
Appearence is decent with a light lingering head.
Almost no aroma. Light floral. Maybe some noble hops.
263 characters
3.33
/5
rDev
-6.5%
look: 3.5 | smell: 3 | taste: 3.5 | feel: 3 | overall: 3.5
Not bad, not good just a nice average summer porch pounder kind of beer. I will give Capital credit for trying something a little different. As much as I like Capital beers, many of them taste exactly the same to me. It was refreshing to see them deviate from their standard bocks to try an "IPA" type of beer. That said, the taste was pretty mellow. There was some hoppy bitterness but it was pretty muted and I only got a very faint feel of it being a creamy beer.
466 characters

3.38
/5
rDev
-5.1%
look: 3.5 | smell: 3 | taste: 3.5 | feel: 3.5 | overall: 3.5
Served in a Chicago Bears shaker pint glass.
According to the limited information provided me by the label, I'm assuming this thing is meant to be a hoppy cream ale. Right on. It pours a clear brass topped by a half-finger of diaphanous dirty white foam. The nose comprises light vanilla, light banana, light cracked wheat, light vegetation, and very light pine needles. Everything's pretty weak and nondescript. The taste holds notes of grass, mixed greens, very light grapefruit peel, light wheat, and a mild bit o' what may or may not be black pepper. The body is a light medium, with a light moderate carbonation and a sorta/kinda dry finish. Overall, a nice little brew, nothing entirely eye-catching, but something easily drinkable and generally enjoyable.
765 characters
Hop Cream from Capital Brewery
3.56
out of
5
based on
136
ratings.