Lake House
| Capital Brewery
BA SCORE
81
good
12
Reviews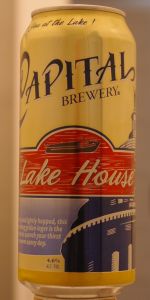 BEER INFO
Brewed by:
Capital Brewery
Wisconsin
,
United States
capitalbrewery.com
Style:
American Pale Lager
Alcohol by volume (ABV):
4.60%
Availability:
Summer
Notes / Commercial Description:
No notes at this time.
Added by RoamingGnome on 05-27-2013
Reviews: 12 | Ratings: 83

3.1
/5
rDev
-8.6%
look: 3.5 | smell: 3.5 | taste: 2.75 | feel: 3.5 | overall: 3
Served in a Lagunitas mason jar.
I wish I had a lake house somewhere (so long as it doesn't have some spooky timeline-derailing mailbox out front)... Anyway, this stuff pours a clear pale-ish brass topped by a finger of lightly off-white foam. The nose comprises sweet biscuit, light white bread, and lemon-flavored Pez. The taste brings in more of the same, with the breads taking a back seat to the lemon, which, unfortunately, now more closely resembles stale lemon rinds than Pez pieces. The body is a hefty light, with a light moderate carbonation and a slightly-watery feel. Overall, were it not for that funky lemon bit, this might have been a decent little thirst-quencher, but instead it just makes me sad.
716 characters

3.52
/5
rDev
+3.8%
look: 3.25 | smell: 3.75 | taste: 3.5 | feel: 3.25 | overall: 3.5
One of my great pleasures in recent memory is an at-least once a year visit to Madison, Wisconsin. It was during one of these forays that I stopped in at Riley's Wines of the World in furtherance of The CANQuest (tm). They are always acCANmodating to me & I look forward to my next visit.
From the CAN: "See You at the Lake!"; Slightly malty and lightly hopped, this clean refreshing golden lager is the perfect beer to quench your thirst on a warm sunny day."
I Crack!ed It open & gave it a gentle Glug which still raised a brief finger of fizzy, foamy bone-white head with limited retention, quickly becoming wisps. Color was a lightly hazy Straw-Yellow (SRM = > 2, < 4), although it may have been a chill haze as it seemed to clear as it warmed. Nose had a honey-like lager sweetness that I often associate with a clean, adjunct-free lager. Mouthfeel was medium. The taste was honey-like accompanied by a light lemony tartness, which made it really dry and refreshing. Finish was clean, dry and a good CANdidate for the summer cooler.
1,039 characters
3.58
/5
rDev
+5.6%
look: 3.5 | smell: 3.5 | taste: 3.5 | feel: 3.75 | overall: 3.75
Pours clear deep golden yellow with a thin head that leaves spotted lacing.
The smell is clean with a hint of pale malt grain and a subtle hint of lemon.
The taste is also clean, with a kiss of honey sweetness with a mild, refreshing hop touch in the crisp, dry finish.
It has a smooth, refreshing, light body.
This is an easy-drinking, inoffensive, light pale lager. It is what it is intended to be and does a nice job at it! A solid choice for a light, refreshing brew. It could be good for something simple and refreshing year-round!
540 characters

2.95
/5
rDev
-13%
On tap at Capital Brewery. 12oz poured into a plastic cup 9/2/2014.
A- Clear, lighter golden-yellow body with a one finger white head with OK retention and nice lacing. [3]
S- Grainy pale malt breadiness and a bit of lemon. Nothing much more, nothing much less. [2.75]
F- Bready pale malt sweetness, earthy noble hops and some lemon marmalade. [3]
M- Lighter in body but still flavourful, crisp, refreshing and well carbonated. It is what it is advertised to be. Grainy slightly sweet finish. Quite drinkable. [3]
O- Decent pale lager. Nothing crazy, certainly has no flaws that I can point out other than the fact that it's relatively boring in terms of what it brings to the table. [3]
Final score: 2.95
711 characters
2.64
/5
rDev
-22.1%
look: 3 | smell: 2.75 | taste: 2.5 | feel: 3 | overall: 2.5
Aroma's beer and minerals, hint of refinery. Flavor's on the sweet side. Kind of reminds me a bit of a world beer. Totally forgettable. Lingering sweet finish that isn't refreshing at all.
194 characters
4
/5
rDev
+18%
look: 4 | smell: 4 | taste: 4 | feel: 4 | overall: 4
A-Nice golden color...perfect head
S-Nice malty bready aroma
T-Bready maltiness in front....just a hint of lemony hop on the finish but definitely a malt forward laGER.
M-A nice weight to this....not thin, spritzy and watery at all....more of a firm rounded body but not too big.
O-I much prefer this to Supper Club. This has a nice bready maltiness that strikes me as a helles lager type of beer. I'd recommend this as a great summer BBQ beer or just a great beer any time you want a nice fresh lager with flavor.
518 characters

3.24
/5
rDev
-4.4%
look: 2 | smell: 3 | taste: 3.5 | feel: 3.5 | overall: 3.25
Lake House pours a pale yellow color with no head. There is a sweet and malty aroma, but overall light. The taste is pale, with nice pale malts making up the beer, subtle sweetness. Easy to drink, and solid body. Overall its a more flavorful pale lager, and the very subtle hop flavors does make this one slightly better then others.
333 characters

3.84
/5
rDev
+13.3%
look: 4 | smell: 3.75 | taste: 3.75 | feel: 4 | overall: 4
Capital Brewery Lake House
Poured from 12 oz bottle into shaker pint. Served chilled.
A) Golden brew with over a finger of white suds. The head settled to a dusting. Decent amount of lacing.
S) Pale malt, grainy, grassy, twist of lemon. Refreshing aroma.
T) Follows the nose... Grainy, bready, grassy, hint of citrus and a slightly sweet finish.
M) A lighter body with the perfect amount of carbonation, creating a crisp, refreshing, easy drinking brew.
O) Really enjoyable brew... At 4.6% it is a super summer session option. So much better than any BMC offering after mowing your lawn. Better than Capital's Supper Club in my opinion. Glad to recommend this brew.
671 characters
3.54
/5
rDev
+4.4%
look: 3.75 | smell: 3.5 | taste: 3.5 | feel: 3.75 | overall: 3.5
Pours a medium gold with a small pure white head that fades quickly.
Smell is all malt and it gives off a bit of a wheaty smell although I don't think this is a wheat beer.
Taste is pretty much the same as the smell not great but not bad.
Even though it looks like there is not much going on in the carbonation area it feel really light and crisp.
This is an easy drinking summer beer.
385 characters
3.51
/5
rDev
+3.5%
look: 4.5 | smell: 3.5 | taste: 3.5 | feel: 3 | overall: 3.5
Appearance - Nice golden color. Clear and bubbly. Short white head with good retention.
Smell - Light pale malt. Sweet and bready. A little lemon.
Taste - Light sweet pale malt. A little lemony sourness in the finish.
Mouthfeel - Medium-light. Crisp and effervescent.
Overall - More flavor than an average macrobrew, but not by much. Mostly it's just inoffensive.
367 characters

3.69
/5
rDev
+8.8%
look: 3.25 | smell: 3.5 | taste: 3.75 | feel: 4 | overall: 3.75
For what the style is supposed to be, it was pleasant. I had some brought back to me and for a warm/hot summer day, it's great. Not the IPA that most folks (me too) look for, but nice FOR THE STYLE.
A: Straw yellow...nice lace to start..but didn't last through the whole beer.
S: biscuit, mild hops
T: a solid pale lager..better than some lagers I've had from Germany (travel may be an issue). Taste had bit 'biscuit, grass, and hint o'lemon
M: smooth..easy going..could have multiples if I didn't have things to do or had more
O: A "B" beer that I would go to after a nice mountain or road bike ride to refresh from. The screw top left me a bit weary at the beginning..but once in a glass..got past that.
710 characters

3.17
/5
rDev
-6.5%
look: 3 | smell: 2.75 | taste: 3.5 | feel: 3.25 | overall: 3
A-Hazy golden color with a thin head and lacing.
S-Smells of sweet malt and lemon zest.
T-A light lager breadiness and sweet malts.
M-Crisp and refreshing. The colder the better for this one.
O-Capital definitely got this one right. This is the exactly the beer I want to drink while sitting at The Union looking over Lake Mendota. In a time where every other summer beer seems to be mixed with lemonade, Lake House will be my only day drinking beer.
458 characters
Lake House from Capital Brewery
3.39
out of
5
based on
83
ratings.