We need your support. Become a Premium member now

for as little as $1.99 a month. And, if you join this month you can help us beta test our new app!
Five Points Grill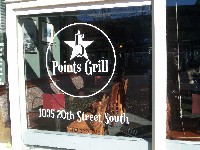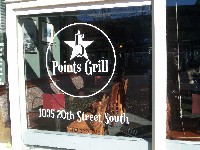 PLACE INFO
Type:
Bar, Eatery
1035 20th St S
Birmingham
,
Alabama
, 35205-2605
United States
(205) 939-3001
// CLOSED //
Notes:
None provided.
PLACE STATS
Reviews:

12

Ratings:

pDev:

6.2%
HISTOGRAM
View: Place Reviews
Ratings: 12 | Reviews: 12
Reviews by Bonhoeffer:
3.85
/5
rDev
+3.8%
vibe: 4 | quality: 3.5 | service: 3.5 | selection: 4.5 | food: 4
I would have sworn i did a beerfly review of this place a couple years ago. Not sure what happened to it.
Anyway, i'll toss my .02 in here for the benefit of anyone traveling to or through Birmingham. If you like good beer, this is one of the places you'll want to hit. One of the best selections in town. (As always, keep in mind that the overall selection of beer in Alabama is utterly pathetic at this point due to the arcane laws, but that will change. Just realize that any place with anything other than BMC on tap is a jewel here.)
Food is always good, not outstanding. Service is usually acceptable to better than average. The place has a good feel to it. Location is prime.
Sweetwater on tap is the best thing about it. Sweetwater IPA is my fave. They also have Weihenstephaner, Sammy Smith's, Anchor, etc. Most of the good beers available in the state.
871 characters
More User Reviews:
3.55
/5
rDev
-4.3%
vibe: 4.5 | quality: 4 | service: 2.5 | selection: 3.5 | food: 4
Rolled over here before the Magic City Beerfest for some brunch with friends. I haven't been here since it was The Mill and that seems to have been ages ago.
Place still looks great. Has a nice upscale feel, but still feels cozy and inviting. We sat in the outdoor patio cafe setting which looks onto the Five Points. Can get a bit loud because apparently people don't know how to drive in an area where multiple roads converge. Ah well. It was still enjoyable and the inside was very pleasant as well.
Service did kind of suck, but I think that may have just been my server. Everyone else seemed rather attentive, but my guy took probably 10 minutes to get a beer. The bar was of course blamed, but having been a bartender I know that is a scapegoat.
The food was rather good. I had an open faced Rueben that was quite tasty and the meet was fresh and seemed of high quality. The fried okra was incredibly fresh and just lightly fried. Everything else that went by the table looked and smelled great. Really regretted not getting some of the breakfast food. Quite good and enjoyable.
The beer was nice. They had multiple taps and about half of them were good people brews. My buddy had a Hoegardden and I had a Good People Belgian Pale. Pretty nice and enjoyable.
The prices are a touch high IMO, but you tend to get that in B'ham area. Otherwise I really enjoyed it and I think I will be back many times with my lady friend for weekend brunches.
1,455 characters
3.1
/5
rDev
-16.4%
vibe: 4 | quality: 3 | service: 3 | selection: 3 | food: 3
For a while this was my premier hang out for Sunday brunches and my favorite place for work related dinners. I am not sure when it happened but the last few visits left me disappointed. 12oz pints at $6 are not a draw and adding the occasional incompetent waiter, snappy bartender, cold Pizza and very limited restrooms does not help.
Coming to think about it, I have to admit that I only went back because of Good People Brewing, the local brewery in Birmingham. Many years ago this place was a brewpub and Good People is using the equipment. I am not sure what the affiliations are but the Grill has always some fresh Good People beer on tap and that makes it worth spending $6.
681 characters
3.88
/5
rDev
+4.6%
vibe: 5 | quality: 4.5 | service: 2.5 | selection: 4 | food: 4
When the weather is right, this is a great place to sit outside and enjoy a tasty brew. Best part about this place is the Sweetwater microbrews on tap. Delicious. They also have a decent selection of imports and not-so-run-of-the-mill brews for this part of the country. Service was not so great, but is easily overlooked if you're not in a hurry and just want to relax and have a beer. Food is really good. I recommend the burger, which is huge, as well as the buffalo chicken sandwich. In the heart of Five Points, the location is prime.
539 characters

3.45
/5
rDev
-7%
vibe: 4 | quality: 3.5 | service: 4 | selection: 3 | food: 2.5
five points grill, the grill, the mill, whatever you want to call it has been around for a while and it's in a great location. their beer selection is pretty good for birmingham but there are a few places close by that are better. most of their taps are sweetwater, they were the only place that served exodus porter before it was discontinued (shame on you sweetwater!). good atmosphere, service is good, but the food is a major disappointment. it used to be good but has gone downhill. go to surin, highlands, ocean or somewhere else within a block and then come here for a couple of beers.
592 characters

3.48
/5
rDev
-6.2%
vibe: 4 | quality: 3.5 | service: 3 | selection: 3.5 | food: 4
The food's good, but I think it's just a little too expensive for what you get. I knew this place used to be a brewpub, but I had always heard it had closed down. But then I walked by to see the brewery equipment in the window and noticed a bright, neon "Brewery" sign outside. I got excited, ran in with my girlfriend, and asked about the house beer. It's just an old sign, apparently. The bartender wasn't even aware it was still up and said they would probably take it down.
The beer selection is pretty decent, but I didn't think it was too incredible compared to other areas in Birmingham. They do have some decent taps. I settled for some Sierra Nevada and had an appetizer before leaving for The Garage.
713 characters
3.83
/5
rDev
+3.2%
vibe: 4 | quality: 4 | service: 3.5 | selection: 4 | food: 3.5
Updated 12/27/08: Under new management, not a whole lot has changed, which is to say that "The Grill" is still a decent place to get a decent craft brew with a focus on local offerings. One thing which has changed is that the formerly dormant brewing equipment has been bought out by "Good People Brewery." Five Points Grill serves a rotating selection of Good People's brews, including, when it's available, a Roggenbier (which is hard to find just about anywhere, much less in hops-deprived Alabama). Most definitely worth a visit.
11/26/08
Five Points Grill, a.k.a. "The Grill" is sadly no longer a brewpub. Formerly known as The Mill, this establishment no longer brews its own beer. The large stainless steel tanks, visible from the street, now stand empty.
As a restaurant, Five Points Grill is clearly above average. Situated directly on the popular Five Points area of Birmingham, it offers indoor and outdoor seating directly across the street from "Brother Brian's" fountain. The full menu is reasonably priced with several specialty items, service is prompt and professional, and the quality of food is a cut above average. A Saturday and Sunday Champaign brunch is offered and it is heartily recommended. The restaurant is clean, with plenty of wood and an open pub-like atmosphere with large picture windows giving a good view of the Five Points area.
Beer selection is larger than normal but relatively unremarkable. Twelve taps feature Blue Moon, Harp, Woodchuck, Stella Artois, Sierra Nevada porter, Hoegaarden, Newcastle, Guinness, and Black Dog ale among other more pedestrian offerings. About eighteen bottles were listed, including Heineken, Red Stripe, Bass, Modelo Negra and Especial, and Sierra Nevada pale ale, a personal favorite. However, there's nothing even remotely exotic, though I had never tried the Black Dog ale. Eight white wines and ten reds are also offered at modest prices.
Overall this is a very good spot to take a meal in Southside Birmingham, and decent place to get a brew. Unfortunately, until current or future owners decide to start brewing on site again, there's not a whole lot to draw most beer aficionados here.
2,166 characters
3.88
/5
rDev
+4.6%
vibe: 4.5 | quality: 4 | service: 3.5 | selection: 4 | food: 3.5
I frequent this place for their selection (Keep in mind where I live). They have about 25 taps (about 20 of the microbrew/import variety). This is the only place I know of in Alabama where you can get Sweetwater IPA on tap, which is what I usually get, and the only place you can get Sweetwater Summer Hummer. It's a nice looking place, with a standard brewpub atmosphere. They recently lined the bar with plasma TV's, so it's a good place to catch sports (although space is limited). The bartenders do very well and are attentive- cannot say the same for the waiting staff, who tend to be (a) inattentive and (b) short (not in the physical sense). As for food, they have standard pub fare, as well as some other more up-scale offerings- I typically get a burger, but their prime rib and shrimp and grits are both good. Prices for food and beer are reasonable- $7 for a burger and side, $4.50 for most pints (nothing over 6% ABV, remember). Overall, I'd say this is a pretty decent place, and probably the best of its kind in Birmingham, but there are not many of its kind.
1,073 characters

3.8
/5
rDev
+2.4%
vibe: 4 | quality: 4.5 | service: 3 | selection: 4 | food: 3
The Grill is one of the better places in Birmngham for a good draught beer. The atmosphere is good with a long L shaped bar and plenty of stools. The only complaint is that if you are in there after 10pm Thurs -Sat it can get quite loud due to the live bands. If you are there to enjoy a good beer and talk, do it before 10pm. The Grill does get some good local music if that is what you are interested in for the evening. The service at the bar is good, but the beer knowledge is not. As for the eating a meal the service has been consistently slow for as long as it has been open. The food is pretty decent though. With the beer selection in Alabama being thin, the Grill has one of the best draught selections in town and they seem to turn the inventory enough to keep it fresh. My favorite beers on tap are the Sweetwater beers. If you are in from out of town this is definitely one of the better places to visit. There are many other good places to eat in the Five Points area. If you want a really nice meal, try Highlands Bar and Grill, Oceans, Sakura, or Surin West and then go the Grill for a pre and post Beer.
1,120 characters
3.78
/5
rDev
+1.9%
vibe: 4.5 | quality: 3.5 | service: 3.5 | selection: 4 | food: 4
Atmosphere:
In the heart of Birmingham's Five Points South, the atmosphere at the Grill is vibrant and eclectic. At lunch, it has a bustling professional crowd, at dinner, it has local regulars as well as out-of-towners who are visiting for an event. Inside, the décor consists of a long-"L" shaped bar, granite-topped tables, large windows, and hanging baskets. If you sit in the smoking section, your wall-sized windows open to the Grill's currently inoperative brewing equipment. The bar has plenty of seating, TV's, and a coin-operated video game. My one complaint about the bar is that it has a lingering mildew smell that did not pair well with my beer. The patio is definitely the place to be if the weather permits. There, you will have an excellent view of five-points, which is always a happening scene. For example, on my last visit, two homeless men got in a fight and the local bike cop broke it up. You might get pan-handled on the patio and you may run into the occasional annoying pigeon (please don't feed the pigeons), but the large umbrellas and view of the Five-Points Frank Fleming Fountain make the Grill one of the best outdoor seating establishments in the city.
Quality:
Not sure what falls into this category, I suppose it is sort of a catch-all for things not covered by the other categories. Restrooms are usually clean and working but could be nicer. Hours are late on weekdays and later on weekends. The Grill also opens early (I think 6:30 a.m.) to sell muffins and other baked goods.
Service:
Generally the servers are nice and knowledgeable. Honestly, service may be extremely good or not so great on any given visit. I think the reason is that The Grill is not opposed to hiring people with no previous waiting experience, but does a great job in training them. Many stay for a number of years before moving on to more prestigious restaraunts in the area.
Selection:
The Grill was one of the first restaraunts in town to carry Sweetwater on tap and is one of the only ones to carry the full non-seasonal line (Exodus Porter, 420, Blue, IPA, and Sweet Georgia Brown). It also sells Weihenstephaner Hefe Weissebier on tap, the only BA top 100 beer available in Alabama. Major props for expanding the beer list with the bar, rather than simply repeating the inevitable macro selection. The bottled beer selection includes the usual Alabama craft and macro beer suspects.
Food:
Food was better when the original chef was still in the kitchen. Nevertheless, for basic Americana selections, it is hard to beat the serving portions and variety which includes sandwiches, pasta, brick-oven pizza, and a variety of meat entrees. Baked goods are still fantastic.
Value:
Plan to get an appetizer (spinach artichoke dip), ask for the free bread, and split a meal (they will put on two plates free of charge). If you do, you can easily afford that extra pint o' something good and will find the proportion between the lighter wallet and heavier stomach is an excellent one.
3,023 characters
3.84
/5
rDev
+3.5%
vibe: 4 | quality: 3.5 | service: 4 | selection: 4
This is a nice looking dark wood and tree covered patio place in the middle of the 5 points district in Birmingham. Long U-shaped dark wood bar greets. The taps were spread around the bar, and featured Sweetwater Brewery beers from Atlanta, GA. They also had some other southern beers such as Abita Turbo Dog and Purple Haze. I tried the Sweetwater Georgia Brown and the my sweetie had the Sweetwater Blueberry. They also had the Exodus Porter on tap. Just a little bummed they no longer make their own beers. The bartender was competent and friendly but really didn't know much about beer. Overall, not a bad place at all. The sweetwater beers are worth checking out. I just hope for your sake, theres not an 'bama game on...wow those people are obsessed. I was there 3 weeks before the first game, and had 3 different people start an Alabama football conversation with me. I'm not even from Alabama !
902 characters
3.68
/5
rDev
-0.8%
vibe: 4 | quality: 3.5 | service: 4 | selection: 3.5 | food: 3.5
The Mill is located in the heart of Five Points South. Its a great place to people-watch, a great place to drink beer, and an OK place to eat. They have bands on weekend nights starting late, and offer non-pub style food. Several salads and pasta dishes are on the menu, as well as pizza, calzones, and lasagna. Don't go for the italian food. Have a beer and some fish n chips or a burger, but if you are looking for a good dinner have it before going to The Mill.
At this time they are serving beers from Sweetwater Brewing in Atlanta, and trying to hire a new brewmaster. Thats good. The beers now are better than were offered previously, although not a huge variety. They have a blueberry ale, a brown ale, a very good porter, and 3 different IPA's. Not a bad one in the mix, but not a huge variety either.
Its currently my only local brewpub, and they aren't even serving their own beer anymore. The two beer samplers I had were easily the best part of my meal however, and I can't wait to try the new offerings from the brewmaster-to-be.
1,049 characters
Five Points Grill in Birmingham, AL
Place rating:
3.71
out of
5
with
12
ratings