Unertl Ursud
| Unertl Weissbier GmbH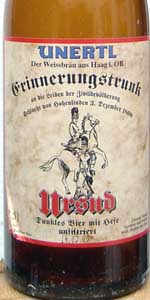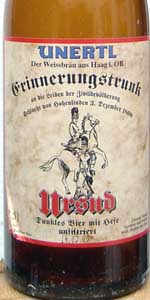 BEER INFO
Brewed by:
Unertl Weissbier GmbH
Germany
unertl.de
Style:
Dunkelweizen
Alcohol by volume (ABV):
5.80%
Availability:
Year-round
Notes / Commercial Description:
No notes at this time.
Added by BeerAdvocate on 05-13-2003
HISTOGRAM
Ratings: 13 | Reviews: 9
Reviews by rinhaak:

3.55
/5
rDev
-5.1%
look: 3.5 | smell: 3.5 | taste: 3.5 | feel: 4 | overall: 3.5
Pours the color of grade B maple syrup (albiet with a foamy head), and yields aromas of clove, apple, cinnamon, and a little bit of banana. The nose is fairly subtle and underspoken.
There is a general clove spiciness in the mouth, as well as brown sugar, a richer malt flavor than I expected, a hint of cocoa, and very little banana. As it warms, it gets steadily sweeter: colder temps seem to mask the sweetness a bit.
Sweeter than what I generally prefer in a weizen, but certainly drinkable. Pairs nice with pork.
520 characters
More User Reviews:

3.4
/5
rDev
-9.1%
look: 3.5 | smell: 3.5 | taste: 3.25 | feel: 3.5 | overall: 3.5
Murky dark brown color with beige head. Aroma has some fermented fruits like plums and apples with a bit of brown sugar. Taste starts also with some tart, fermented fruits. You also get some dunkelweizen flavors like banana, but overripe and mushy and some yeast spice. Medium body and carbonation. I don't know if I got a bad bottle but it seems a bit too tart for the style.
376 characters
4.05
/5
rDev
+8.3%
look: 4 | smell: 4 | taste: 4 | feel: 3.5 | overall: 4.5
I am not quite sure why we remember a French victory at the battle of Hohenlinden with a fine German beir. SO, Prosit zum Alte Komeraden.
Poured from a .5L swing top bottle to a tall beir glass the liquid is very dark even for a Weizen Boch Much like a stout. The carbonation is good and the head is very tall, fizzes like coke, is creamy looking and leaves lots of lace. Quite an interesting brew.
The smell is basic Dunkles Weizen, a strong fruity and yeast aroma.
The tast follows lots of dark fruit, dark yeasty bread and a wild hop finish. Flavor is quite enjoyable, slightly sweet but well balanced in the finish.
The mouthfeel is good medium body at best and not very thick, with good carbonation.
The drinkability of this brew is very good. Quite a good unique and interesting brew.
Prosait, Mk
809 characters
3.25
/5
rDev
-13.1%
Comes in a bottle with a porcelain top, picked up at Bierland in Hamburg. Darker than I expected about SRM 34 (very dark brown). Faint phenol aroma, flavor is malty with a hint of sweetness, finish is faint roasty. The mouthfeel is thin, the head is foamy fine, and the SHV value is less than 90. Bottled 3/11/14
312 characters
3.66
/5
rDev
-2.1%
look: 5 | smell: 4 | taste: 3.5 | feel: 3 | overall: 3.5
500ml Bügelflasche. Mindestens haltbar bis: 20.12.11.
This one pours a really nice color. It is a dark, deep, cloudy brown. The head is brownish and large, but dissipates quickly. It leaves some interesting lacing though.
The smell is rather rich. It has a big banana note paired with a big roasty note. There is also some lemon and clove.
The flavor is a bit tangier than the nose would lead you to think. There is a good bit of banana, but also clove and phenols. The roasted malt is there and also a hint of cocoa.
It is a solid beer, maybe a bit on the sweet end but solid nonetheless.
594 characters
4.38
/5
rDev
+17.1%
look: 4.5 | smell: 4 | taste: 4.5 | feel: 4.5 | overall: 4.5
Pours hazy dark brown with large and dense tan head with excellent retention, patchy lacing. Aroma is complex sweetish and lightly roasted malt, some spicy yeast.
Taste is mild roasted and sweet malts with some degree of roastiness, light esters and subtle spicy notes. Mouthfeel is smooth medium with slightly less than moderate carbonation with soft and elegant alcohol warming.
Excellent, I think this is the best Dunkelweizen I have tried so far.
452 characters
3.92
/5
rDev
+4.8%
look: 4 | smell: 4.5 | taste: 3.5 | feel: 4 | overall: 4
Leathery brown with oxblood highlight and a rocky, clingy fresh cream-coloured head. Wax, clove oil and sourdough rye together make a big nose. Apple and brown bread malts, phenol hit in the middle and warm spice cake to finish. Kola end and tight tingly linger. Medium, some stick, fizzy.
Nose is huge but body doesn't live up to it. Could use a bit more fruit, too, but plenty hardy and an enjoyable sipper.
411 characters
4.21
/5
rDev
+12.6%
look: 5 | smell: 4 | taste: 4 | feel: 4.5 | overall: 4.5
So we are commemoratring the battle of Hohenlinden are we? well first things first this is not a straightforward Dunkelweizen but rather has plenty of hops added to it so more of a Hopfenweizen almost
It pours a very dark brown near black with vigorous fizzy head
It smells of wheat wheat wheat and some hops but the bananan and clove is not prevalent enough
Tastes like the above but I can taste some fruit basically hEFEWEIZEN mixed with some hops
Medium carbonation full body
Overall highly commended but not as good as Schneider Brooklyner Hopfenweisse
561 characters

3.42
/5
rDev
-8.6%
look: 4 | smell: 3.25 | taste: 3.5 | feel: 3.5 | overall: 3.25
3.53
/5
rDev
-5.6%
look: 3.5 | smell: 3.5 | taste: 3.5 | feel: 3.75 | overall: 3.5
Dunkelweizen with a nutty twist. Roast grain favors, with some coffee bitterness. Other flavors: wood, chocolate, dried fruit. Nice dark brown with a lasting beige head. This one has some character...
200 characters


3.15
/5
rDev
-15.8%
look: 3.5 | smell: 2.75 | taste: 3.25 | feel: 3.25 | overall: 3.25
Unertl Ursud from Unertl Weissbier GmbH
Beer rating:
3.74
out of
5
with
13
ratings