Orval Trappist Ale
| Brasserie d'Orval S.A.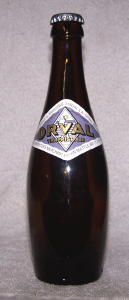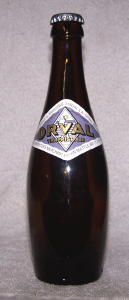 BEER INFO
Brewed by:
Brasserie d'Orval S.A.
Belgium
orval.be
Style:
Belgian Pale Ale
Alcohol by volume (ABV):
6.20%
Availability:
Year-round
Notes / Commercial Description:
This beer is 6.2% when released in Europe, US labels say 6.9% due to labeling laws.
Many agree that the somewhat unpractical addition of this sometimes undesired yeast strain is what grants Orval its age worthiness, not to mention unique aroma, making it a one of the few beers worth cellaring.
Added by Bierman9 on 09-18-2001
HISTOGRAM
Ratings: 5,514 | Reviews: 2,374
1.86
/5
rDev
-55.7%
look: 3 | smell: 2 | taste: 1.5 | feel: 2 | overall: 2
A: 11.2 oz bottle. huge head, lasted several minutes, apple cider like color when poured.
S: strong fruit/yeast aroma....possibly banana
T/M: strong carbonation....very strong afterbite
D: Not very impressed especially for large price tag, was hoping this one would have been better
285 characters
1.85
/5
rDev
-56%
look: 4.5 | smell: 2 | taste: 1.5 | feel: 2 | overall: 1.5
I was extremely excited at getting my hands on a couple of botles. It all ended there. Pours a craggy, rocky head that simplifies to frothy after it dissipates a bit. Then, I smell some odd combination of soap and apple. "Damn, I hope it doesn't aste like this..." I thought. It did. I didn't finish it.
It was considerably hazy, and maybe I didn't decant it well enough, or it was bad. I'll try another later on and update, if need be...
440 characters
1.85
/5
rDev
-56%
look: 3.75 | smell: 1.75 | taste: 1.5 | feel: 3 | overall: 1.5
A: Looks pretty good, as one would expect. Enormous amount of head, leaving good lacing. The head is so big it is actually too much.
S: The first thing that hits, and unfortunately a little off-putting. I racked my mind for a few minutes as it reminded me of something, but I couldn't put my finger on it. Best way I can describe it is Parma ham.
T: Pretty horrific. Lite, dry to the point of sourness. Quite bitter, but overall really rather unpleasant. Awfully disappointing.
M: Seems pretty good, but the taste is so unpleasent that it overpowers, what would potentially be a great mouth feel. I really can't even begin to process whats going o in my mouth.
O: I assumed I had a bad bottle until reading some of the other reviews. I still find it hard to believe that this isn't a bad bottle, and this is how this highly acclaimed beer is meant to taste, am I so pore of a judge? Having been an avid beer enthusiast for the last 20 years, I have to assume this just isn't for me. Strange having enjoyed pretty much every other Belgium beer I've had.
I will give this another try as this was purchased in Japan, so may well be a bad example, but unfortunately I think it may be how this beer is intended.
1,212 characters
1.73
/5
rDev
-58.8%
look: 4 | smell: 1 | taste: 1.5 | feel: 3.5 | overall: 1.5
11.2oz pours cloudy light brown with a big foamy tan head. Mix of banana and stale urine in the aroma. I don't even want to drink it, but I will. High carbonation and creaminess in the mouthful, taste is similar to the aroma, with some spices and noticible alcohol. Some stale sourness. Very rough. Is it possible I got a bad bottle? Are my tastebuds off tonight? I haven't read any other reviews of this yet - if I'm way off from others then perhaps I've got a dud on my hands. Either that or this REALLY isn't my thing.
521 characters
1.69
/5
rDev
-59.8%
look: 3 | smell: 1.5 | taste: 1.5 | feel: 2.5 | overall: 1.5
I was highly anticipating trying Orval after having tried all the other Trappists (except Westvleterten) and thoroughly enjoying them. The appearance was nice and the foamy thick head looked like laundry detergent. The smell, however, was quite off-putting.
I'm all for unique beers but the smell reminded me of walking into a doctor's office. There was a faint smell of grapefruit but I mostly smelled what others have noted - hay, horse blanket, medicinal, and as one other reviewer noted, "stale urine.". These are not exactly welcoming smells. Just because something has an identifiable smell (like horse blanket) does not mean its pleasurable. The taste was extremely sour and tart, astringent even, and was very dry. This was not a drinkable beer for me. I'm wondering if the high scores on BA are attributable to the reputation and history of Orval. I appreciate good beer, and maybe my palate is just not as evolved as others for a beer like this, but I can't put Orval in the same class as Rochefort or Chimay.
1,020 characters

1.52
/5
rDev
-63.8%
look: 3 | smell: 1 | taste: 1 | feel: 3 | overall: 2

1.5
/5
rDev
-64.3%
look: 2 | smell: 2 | taste: 1 | feel: 2 | overall: 1.5
Over carbonated. I took the cap off and heard a noisy champagne-like blop. The head is a big all-over-the-place cloud. Smells like a cigar butt that has been floating in a beer. It has other strong flowery aroma but not a good one. Flavor is very bitter with a really dry aftertaste. I got my first review straight from a Belgian store shipped from Belgium. I got my 2nd one from a local liquor store in Miami. The bottle is awesome but there is something wrong with this beer.
477 characters
1.25
/5
rDev
-70.2%
Purchased in Vermont for $5.99. Have not had this beer since 1980 and now I know why.
Appearance: Looks like a standard solid beer, nice head.
Mouthfeel: A bit over carbonated, but not the problem.
Body: Not watery, but not the problem.
Smell: I am not a fan of sours and this smells bitter and sour.
Taste: Bitter, sour and very dry.
Overall: Just don't get this one, and I get a lot of things. Will wait another 35 years before trying again- or maybe not. If I was on a beach, on a hot summer day and this choice was warm Orval or warm Bud- I would take the Orval, but under no other circumstances.
609 characters
Orval Trappist Ale from Brasserie d'Orval S.A.
Beer rating:
4.2
out of
5
with
5,514
ratings