Traverne Universum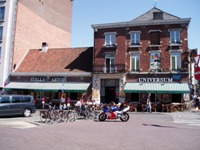 Reviews by desint:

desint from Belgium
2.88
/5
rDev
-24.2%
vibe: 1.5 | quality: 3 | service: 3.25 | selection: 3
May 26, 2015
More User Reviews:
YvesB from Belgium
4.18
/5
rDev
+10%
vibe: 4.5 | quality: 4 | service: 4.25 | selection: 4.25 | food: 4
been here a lot during my student time, always enjoyed it there. Decent selection of beers and spirits. Never had any complaints about service or the place being too crowded. Would definately go back there once in a while if I would live closer to Leuven.
Oct 28, 2015
Bierschenker from Belgium
4.05
/5
rDev
+6.6%
vibe: 4 | quality: 4.5 | service: 4 | selection: 4 | food: 3
-12 beers on tap
As TheLongBeachBum already mentioned, Den Universum is a student hang-out. It is situated right in the university borough. Close to the University Library, donated by American universities and colleges after WWI. The bar consists out of two distinctive parts. The main building is a typical 1900 classicistic style house. It used to be a famous religious bookshop. Famous because of the woman who owned it, her brother was a writer. She had the shop until she died. Then the building was bought by then Interbrew, now Inbev. The shop on its own was too small to turn it into a bar so they added a 1 floor building. From the outside it has the same architectural features as the main building, but inside they recreated a typical Kempische barn (Kempen is a region in the provinces of Antwerp and Limburg. The soil there is comprised out of sand. It used to be a very rugged terrain with large sand dunes. The life there was very harsh, and a lot of romantic feelings come with the remembrance.). They wanted to let the students from Antwerp feel at home there. It is more or less a commercial initiative.
Nevertheless It is a very cosy bar. It has an old-fashioned interior, but that's just thanks to the interior designer. Throughout the year you will find a lot of different types of costumers. During the academical year a lot of students. You will also see tourists as well as locals. They come there for the cheap and simple, but decent food and of course the wide variety of beers. About the problem TheLongBeachBum mentioned. That not all special beers are always available. This is not really a problem of date. If a beer has just sold out, he has to wait for the brewer to deliver new beer. the time between deliveries can be long. If you walk in the bar and the night before a student club had a beer rolling (going from bar from bar, drinking special beers or pils), it is possible that he just ran out of that special beer.
All in all one of the better bars in Leuven. Especially the fact that it is not just focused on students and you will see different types of costumers makes it a very pleasant bar. But you will notice that the waiters are pro's when it comes to work with, and handle students.
Ut vivat, crescat, floreat!
Feb 22, 2005
TheLongBeachBum from California
4.08
/5
rDev
+7.4%
vibe: 4 | quality: 4 | service: 4.5 | selection: 4 | food: 3.5
The "other" Bar definitely worth visiting whilst in Leuven is the Universum. After you have been in the Domus (see BeerFly), or even been asked to leave here at 2am when it closes, exit from the corner door at the front (as opposed to the side exit) turn right up the street called "Tiensestraat", and keep walking until you get to a large square. After a few minutes walk uphill the road plateaus and you will see that on the far side of Herbert Hooverplein, almost in front of you, is the Universum.
Apparently this place is a student hang-out, but every time I have been it was "out-of-term" time, namely Easter and early September, so I cannot comment. As you take a few steps up and enter, the first thing that strikes you is the huge interior. A long, Baronial-style hall with a high pointed roof. Very reminiscent of being inside a spacious Farmhouse Barn. The bar is in front of you as you enter and runs perpendicular to the entrance with a smallish room to your right. On the left lies the larger of the room space and several bench tables.
Beer range does alter, whether it is a supply & demand problem, or whether stocks alter depending on the time of year, who knows? On our last visit they had most of the beers listed on the menu. There are some great beers to choose from; I counted around 75 beers on the menu, with a good range of styles. My last visit was with about 9 friends, and the waiter offered all the women of the group some free ice-cream (I'm single but watch the waiters guys!!!). Later they also brought our Table a huge bowl of free mixed-centred chocolate miniature Easter Eggs.
Very clean and the service was exceptionally sharp, polite and at times we chatted at great lengths with the smartly attired waiters. You could tell that these waiters are used to being busy and get bored during the quiet Easter break. Stays open very late, or, is that very early????
I have been here many times, but sadly, I noticed on my last visit at Easter 2002, that it now has several TV's installed, but there was no sound. However, I assume that when the Students are resident, someone locates the remote control and this alters. Music was played as well – but this was welcomed.
Food is mainly based on quick and easy to prepare cold and warm food (proper Student Fare?!). We had Pancakes, Pizza and Omelettes which were OK. The Ice Cream was very popular I noticed as well.
A great bar, very friendly and a good place to settle for the night, or… morning?
Jan 22, 2003
Traverne Universum in Leuven, Belgium
Place rating:
3.8
out of
5
with
4
ratings