Montgomery Brewing Company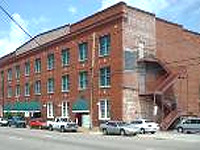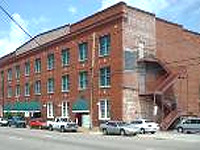 PLACE INFO
Type:
Brewery, Bar, Eatery
12 W Jefferson St
Montgomery
,
Alabama
, 36104-2516
United States
(334) 834-BREW
// CLOSED //
Notes:
Closed in October 2010
Added by BeerAdvocate
HISTOGRAM
View: Beers | Place Reviews
Ratings: 14 | Reviews: 14
Reviews by harpus:
3.38
/5
rDev
-3.7%
vibe: 3 | quality: 3.5 | service: 3 | selection: 3.5 | food: 4
I have been to the Montgomery Brewing Company/Brewery & Cafe twice. The first time I went, I ordered food. The food that I ordered was good and they has a pretty good selection of Sea Food. The second time that Brewing Co./Brewey Cafe I just had beer. The beer was OK, they have a seasonal beer that is rotated every once and a while. I would go back again if I was in the area to try the new seasonal beer. The Second time that I was there, we stayed for the night life. They had a pretty good 80's Rock Band playing.
518 characters
More User Reviews:

3.18
/5
rDev
-9.4%
vibe: 4 | quality: 2.5 | service: 4 | selection: 2.5 | food: 4
I visited this brewpub while touring through Alabama. This place was pretty spacious and the staff easily accommodated our large party. There were a half dozen beers available on draft, but nothing adventurous or exciting. The quality of the beer was quite mediocre, and at times, worse. The food was very tasty, with a nice variety of meals available from the menu, including some zesty Cajun offerings. The price was reasonable. If you're in the area, you should check this place out. There just aren't any better options in this part of the country.
552 characters
2.93
/5
rDev
-16.5%
vibe: 3.5 | quality: 3 | service: 3 | selection: 2.5 | food: 3
The old building this bar was in was pretty cool, I was told that recent(maybe gone now?) brewing laws permitted breweries only in buildings that at one time housed a brewery...anyhow enough about the conservative alcohol laws in AL.
Food was decent, we had a big platter of onion rings and split a crawfish/sausauge pizza.
Beer selection was standard for a brew pub, I was hoping for an IPA but no dice. The most hops I could get was a Pale Ale. They also had a Blonde, Red, Seasonal Berry Wheat, Stout.
If you're in town this may be one of the few options.
561 characters

3.5
/5
rDev
-0.3%
vibe: 3 | quality: 3.5 | service: 3.5 | selection: 3.5 | food: 4
Want fresh brewed beer in Montgomery? Well, this is your only option at the moment. Luckily, it's not too bad.
The Montgomery Brewing CO. is located in an old warehouse building a few blocks from the waterfront. Smoking is definitely still in effect here as the place was a little hazy in mid afternoon. You can see all of the brewing equipment behind the bar which gives it an authentic old-school feel. At the same time...it does feel a little uneven with furnishings. The bar and entrance area are nice, but the tables and booths are a little bit beat up.
Tables are pretty much scattered throughout the place with a few booths lining the front wall.
While we were there they had a stout, APA, blonde, light lager, red, and a seasonal Belgian dubbel (thanks to the new beer laws it was over 6% ABV).
The APA was mild and pretty boring, although considering the beer tastes in the area, that might be intentional. The red was solid if you favor malt over hops...which I do. The stout had just run out, but supposedly it's good. The blonde, which is a style I don't really like, is good. Definitely one of the best examples I've had. My wife got the dubbel and we were both surprised to find that it was pretty authentic and quite tasty. Overall the beer's good, but stick to certain offerings. If you like, they also carry draft Woodchuck, too.
The food's typical bar food with a twist. The burgers and sandwiches have smoked gouda, the fries are really fresh, and the portions are plentiful with good prices.
Overall, it's a good place to stop when you're in the area. The thing to keep in mind with the beer is that they're really shooting for a non-BA crowd here. Nothing is overly hopped or pushing style boundaries mainly because it won't sell. At the same time, they really aren't dumbing much down either. The APA was really the only thing that I didn't like.
Stop in here and the new "Alley Bar" (loaded with lots of good beers from all over the place) if you're in search of decent brews in Montgomery.
2,016 characters
3.58
/5
rDev
+2%
vibe: 4 | quality: 3 | service: 4 | selection: 3.5 | food: 4
Stopped by here after a recent business trip.
Atmosphere is good. It doesn't look like a whole much from the outside but once you get inside it's a bit friendlier. A pretty good-sized dining room is to the left as you walk in and the bar with the brewing equipment behind it is on the right. TV's dot the bar area.
Quality is alright. The first beer I had was a bit on the warm side however the second was more on-par with the correct temperature. Head was good on both beers and all were served in unmarked pint glasses.
Service was good. I didn't have to wait long for drinks or food and the bartender knew what was and was not on-tap.
Selection was alright. They had six beers on-tap - all their own - and I'm not sure if they had bottles or not. The styles ranged from a light to a stout, with a hefe and pale in between.
Food was good. I had a Philly cheesesteak with au jus and fries - nothing special but solid.
Value was good. Everything was priced reasonably.
Overall the beers here certainly weren't stellar but this seemed to be the best place to stop in Montgomery. Worth stopping by if you're in the area.
1,125 characters

4.13
/5
rDev
+17.7%
vibe: 4 | quality: 4 | service: 4.5 | selection: 4 | food: 4
This brewpub was a welcome stop in our travels. The streets between I-65 and the brewery/cafe are a little tricky, but that's what your GPS is for. Parking wasn't a problem. It's nothing elegant inside, but there is a nice use of daylight in the center of the long inside area. I'd like to know more about the venerable old building - glad to think our drinking dollars are supporting its preservation/renovation.
Judging from past reviews, Montgomery Brewing has improved their food and drink offerings substantially over the years. The overall ratings may be suffering due to older bad marks.
The business end of the bar is on the right as you come in - it's suitably dark with brewing equipment behind the bar and a stage overhung with the front end of 1959 Dodge - a nice decorative touch. The bar is good sized, maybe 20+ stools, lots of tables and lots of room. We were there 4:30 - 6:00 on a Thursday afternoon, and it was uncrowded but not empty.
The usual beer selection (PA, stout, red ale, and blonde lager) was supplemented by seasonals - a peach wheat, a hefeweissen, and a light lager. There was also a "Seeing Double" IPA at 7.5% ABV, which I got a pint of. It was tasty but not overly strong. (The server said they'd cut you off after 2 DIPAs because of the "extra kick".) I tasted sips of somebody's sampler. The Goat Hill PA was tasty, generously hopped, the seasonals were well crafted. Good marks, a solid B++ on the beers, maybe better depending on your style preference.
The service was quick and good. We ordered food and my creole gumbo and salad were quite good. Food selection is better than average for pub grub. The mixed greens salad was fresh and tasty. No complaints from anybody in the party, so good high marks from me on the food as well. My only complaint was that they were overly quick in collecting the empty glassware. That may just be over-efficiency or may reflect an inadequate supply of glassware.
I highly recommend this brew pub for a visit.
1,993 characters
2.75
/5
rDev
-21.7%
vibe: 3 | quality: 3 | service: 2.5 | selection: 2.5 | food: 3
I always like it when a business owner or anyone really, moves into an area that has seen better days and adds some new life. That is what Montgomery Brewing has done; they are located near the river and just off the interstate in Montgomery, surrounded by fairly old buildings housing all sorts of businesses. There may have been some housing nearby but I do not remember. Anyway, the warehouse look is not really a look since this probably used to be a warehouse or manufacturing facility. There is plenty of room and it certainly feels open thanks to vast ceilings. It is somewhat dark inside but fear not, the beer does not bite. It is average micro brew, and fairly old for a brewery located in Alabama.
708 characters

4.13
/5
rDev
+17.7%
vibe: 4 | quality: 4 | service: 4.5 | selection: 4 | food: 4
A good friend and I visited The Montgomery Brewing Co. / Brewery & Cafe recently on a Monday night just before we attended a Montgomery Biscuits game. We parked in the usual Biscuits parking area and walked the couple of blocks to the Brewpub.
Upon entering, we headed right and found ourselves a table. There was a pool table, 2 dart machines, a small stage, and of course a bar with some brewing equipment behind it. A pleasant young lady quickly came to take our order.
I started with the alligator tail and found it to be tasty with the sauce it was served with. My friend had a salad with grilled chicken added to it. He said it was good. We later split an order of nachos and I think this was the best food item of the evening.
Okay, lets talk about the beer. I had a sip of my friends Old
Montgomery Blonde and found it tasty but too light for me. All of you Bud Light/Coors Light drinkers out there should visit this place and try the Montgomery Blonde and see how good a light beer can be.
The Riverboat Red and The Old World Porter were not available this night so I started with the Home Run Hefe. The Home Run Hefe is a seasonal that was listed on a little chalkboard above the bar. It was cloudy and semi-wheat flavored but not as good as I had hoped. It was the most disappointing beer of the evening.
Next I had the Goat Hill Pale Ale. It was a decent flavored beer with some nice malt. It finished with some slightly bitter hops. This beer went well with the nachos I ordered.
Finally, I finished with the Wipe Out Stout. It was nice and flavorful with hints of chocolate and coffee. It made a nice desert beer for me.
All in all I would have to say that the Montgomery Brewing Co. / Brewery & Cafe is a fine place for some food and brews. Service was quick and the food and beer were tasty. We played a game of pool and darts and later watched The Biscuits beat the Mississippi Braves in a close one. A very enjoyable evening I must say.
1,961 characters
3.68
/5
rDev
+4.8%
vibe: 4 | quality: 4 | service: 3 | selection: 3.5 | food: 4.5
The Brew Pub has a nice atmosphere with two separate sides--dining and pub. Housed in an antique red brick building, the Brew Pup has a very historical, artisan feel to it. Wood floors, nice tables, and the pub/bar side has fermenters and boilers right behind the bar--a lovely aesthetic effect. The lighting is low, but adequate.
The beer's pretty good, and it's served correctly (obviously!). They have a few bottled macros (for what reason, I don't know), but aside from that, it's only their beer.
Service was a little bit slow, but the people are very friendly and accommodating. No problems with the reservations or order.
Selection is alright (beer-wise), and decent (food-wise). Obviously, they pretty much only serve their beer, and then some wine and liquor, but most people get the beer. They only had 4 beers on when I was there (3 out of the 4 regulars, Riverboat Red wasn't on; also a Rye Lager seasonal, I was not impressed).
As far as the food goes--it's excellent. We had alligator tail as an appetizer, and I ordered a Cajun pizza that had sausage, crawfish, bell peppers, onions, three cheeses, and cajun spicing--it was excellent paired with the Goat Hill Pale Ale. For dessert I had the Wipe Out Stout, which was decent, but nothing special.
Overall, I would recommend the Brew Pub to anyone looking to have a nice evening or dinner in downtown Montgomery. I think it serves better as a restaurant than a bar, though.
1,443 characters

4
/5
rDev
+14%
vibe: 4 | quality: 4 | service: 4 | selection: 4 | food: 4
Entering under the green awning and passing through a large vestibule, the maitre d' sataion was directly in front of us (Uncle JedI was with me) with a glass case of logo items to the immediate left. The bar area was to the right and the restaurant area was to the left. The WoodCompass, you may remember, points to "Bar".
Behind the long bar were the brewhouse and several fermenters. A stage sat in the far right corner with the front of a vintage magenta-colored Cadillac suspended above the stage. There was also a pool table to the right of the stage, along the front of the building. I took note of there being lots of exposed ducting and wood beams throughout the space. The bar area was mostly standard tables and chairs and the bar was copper-topped. There was copper facing in the overhead with plaques commemorating "The Founders' Club".
Beers: I started with the sampler, which consisted of Montgomery Blonde (not much to speak of); Riverboat Red (passsable, kind of malty); Goat Hill Pale Ale (slightly hoppy, but enough to sustain me); Extra Innings IPA (a seasonal (!), but very good); and Wipeout Stout (seemed kind of thin, but with a good smoky/light charcoal taste).
1,189 characters

3.55
/5
rDev
+1.1%
vibe: 4.5 | quality: 4 | service: 3 | selection: 3 | food: 4
I've only been here one time, but my experience was great. Walked into a pleasant, laid-back atmosphere and was able to get a table immediately. We were in front of a huge window with a decent view. I just had a house sandwich that was very tastey and very reasonable.
It is in a shoddy part of town in an old building. I was a little worried it would be a trashy place, but it's like an oasis. They had 3 house beers available when I came in. I had a pale ale and a red ale. Very decent, solid brews. They also have seasonals, and I think it was a bock when I came in but they were out. There was also a stout but I didn't try it.
My only compalint is something I've seen a lot of brewpubs do. They pour the beer trying their hardest to reduce foam. When it came out it had about 2 millimeters of head. You would think servers in a brewing establishment would understand that an inch or two is a good thing.
It's definitely worth the trip if you ever find yourself in Montgomery. It's very impressive for the size of the place.
1,031 characters
3.63
/5
rDev
+3.4%
vibe: 3.5 | quality: 3.5 | service: 4 | selection: 3.5 | food: 3.5
If you are in Montgomery, this seems to be pretty much the only place to go for good beer. Basic selection seen at many brewpubs (blonde, red, pale, stout and seasonal) and you can see the brewing equiptment right behind the bar. Apparently a place for live music on the weekends, a standards bar stage is in the back of the restaurant with plenty of seating. Dim lighting with a big screen tv behind a flat bar.
I tried the Octoberfest and then the Stout; both were good, but nothing to write home about. Had some hearty nachos and more importantly some fired alligator tail. Kinda tough and chewy and now I can say I've had some! Could have just ordered that small appetizer without the nachos, because it was heavy and filling, but I am only 175, so it doesn't take much anymore. Bartender was knowledgable about the beer and attentive at all the right times. Things were not too busy over happy hour, but enough to keep the place in business.
If you are in Montgomery, stop by for a pint and some bar food. Downtown on a one-way street. Website has details info about beers/menu/bands.
1,095 characters

2.35
/5
rDev
-33%
vibe: 3 | quality: 2.5 | service: 1.5 | selection: 2.5 | food: 3
The Atmosphere: Not bad for just getting some food with friends, but nothing special.
Service was terrible, waited 20 min for water and another 10 for my beer before I ever was able to even order food. It took about an hour, in all, to get food after we sat down.
They had 4 beers on tap that they brewed and 4 others (Bud, Bud light, Coors, and Miller) so not much in the form of selection.
Food was average, nothing to go back again for.
I tried 3 of their beers (they were out of the stout) and all were watery and had little flavor.
All in all a disappointing considering the price was really high.
618 characters
4.2
/5
rDev
+19.7%
vibe: 4 | quality: 4.5 | service: 5 | selection: 3 | food: 4.5
I went to this place on a saturday evening in 2006.
This is a very nice establishment with great food and good beer. Although the fancier foods were a bit expensive the burgers were cheap and very tasty. After seening what other tables ordered, I think the food may have been worth what they were charging. looked tasty.
The atmosphere was nice. Well kept and fancy enough but not too fancy. the waitress was very nice, even wrote a list of other good spots to hit whle I was in the town. On the weekends they have live bands playing in the evening (I didnt see one) on a nice, intamate stage.
The beer was good, I tried the sampler and was most impressed with the Pale Ale. The others were not bad, but not the best. I would rank the stout as my second favourite.
Overall I was impressed with this place, and would encourage anyone around to check it out. the only downside... they have no beer to go, not even in growlers.
937 characters
Montgomery Brewing Company in Montgomery, AL
Brewery rating:
0
out of
5
with
0
ratings