Tuzlanski Pilsner
| Pivara Tuzla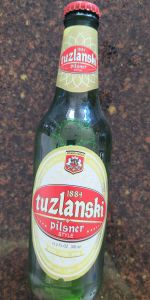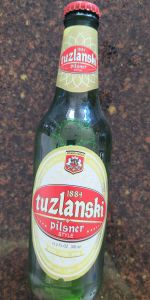 BEER INFO
Brewed by:
Pivara Tuzla
Bosnia & Herzegovina
pivaratuzla.ba
Style:
Bohemian Pilsener
Alcohol by volume (ABV):
4.30%
Availability:
Year-round
Notes / Commercial Description:
None provided.
HISTOGRAM
Ratings: 13 | Reviews: 6
Reviews by ThinkAgain:
3.28
/5
rDev
+10.4%
look: 3 | smell: 3 | taste: 3.5 | feel: 3.25 | overall: 3.25
More User Reviews:


4.83
/5
rDev
+62.6%
look: 5 | smell: 4.5 | taste: 5 | feel: 4.5 | overall: 5
Great pilsner type beer with excellent taste and pour. Made on traditional, old way, in steam brewery which exists since 1884 in small bosnian town Tuzla.
It is opened by austrian.
Beer is rich with hop and seems that is true when they say that every lager is poor copy of any pilsner.
This beer is living proof !!!
316 characters

2.34
/5
rDev
-21.2%
look: 2.5 | smell: 2.25 | taste: 2.25 | feel: 2.5 | overall: 2.5
2.44
/5
rDev
-17.8%
look: 4 | smell: 2.5 | taste: 2.5 | feel: 2 | overall: 2
Pours a clear and golden color with a very generous and lasting white head.
Immediately after opening there is slight skunkiness present, which gives way to grains and malt later on.
The taste starts a bit too sweet. The body is bland, lacks some carbonation, but it does finish with let's say decent bitterness.
312 characters

2.9
/5
rDev
-2.4%
look: 2.75 | smell: 2.75 | taste: 3 | feel: 2.75 | overall: 3

2.33
/5
rDev
-21.5%
look: 2.5 | smell: 2 | taste: 2.5 | feel: 3 | overall: 2
a punishing product. not as bad as its sister erster, but still a rather offensive product. pours thin and uninspired yellow. has a little english malt sweetness in the nose, but not in that rich cerealy way, more of a residual sugary wafer cookie way. flavor is akin to some of the thirdworld rice beers ive tasted, a little sweet up front with a tangy aluminum finish that isnt quick and dry at all. the flavor and aroma together is a stomach turner, but when its freezing cold it doesnt taste like much, which is a pro in this case. feel makes it passable, good refreshing carbonation and a lighter body. at the same price in bosnia there are much better beers on offer, so i wont be drinking this again unless desperation calls for it.
739 characters

2.52
/5
rDev
-15.2%
look: 2 | smell: 2.5 | taste: 2.5 | feel: 2 | overall: 3
Sort of a typical pale lager that tried to be better. Pours a light yellow, with a small, close to a 1/2 finger head. Their is a ring of lace at the top, where when you first pour the beer the head settles. Nothing underneath that. Not much of a smell. Bit of hops, some malt, and a little more bittering. Light taste. Sort of a mellow sweetness, mingled with a dry bitterness. Mouthfeel is light, like water. But, it is drinkable and it is thirst quenching. Extra half point for that.
485 characters
4.45
/5
rDev
+49.8%
look: 4 | smell: 4 | taste: 4.5 | feel: 4.5 | overall: 5
Pours a thin white head, dissipating quickly. Beer has a classic light yellowish pilsner hue and excellent clarity.
Smell is classic Czech pilsner, Saaz hops, flowery, slightly sweet, subdued, no harshness whatsoever.
Tastes light, slight bite in the mouth with an underlying smooth and slightly sweet taste of malt. This seems even lighter on hops than other Czech style brews from Europe, though.
Moutfeel is refreshing, slightly too light even for my taste (and I love delicate pilsners), but this could be nectar from heaven on a hot summer day.
Summary: nice beer, closely tracks Urquell and the other Czech pilsners but slightly lighter and less flavorful. Not a bad beer but it is the cream of the class.
715 characters

2.28
/5
rDev
-23.2%
look: 3 | smell: 2.5 | taste: 2 | feel: 2 | overall: 2.5
Golden yellow, greenish reflexes, white and compact head.
In the smell malt, hop, honey. Something sweet, but not boring. Grassy hop.
The taste is a little more sweet, but again, no bad taste. Again hop, not overwhelming, but quite fresh.
Drinkable beer.
Quite hoppy aftertaste, with a good dose of honey.
Light in body.
325 characters
3.03
/5
rDev
+2%
look: 2.25 | smell: 2.25 | taste: 3.5 | feel: 3 | overall: 3.25
Tuzlanski Pilsner from Pivara Tuzla
Beer rating:
2.97
out of
5
with
13
ratings