Nova Schin Munich
| Brasil Kirin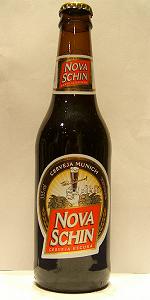 BEER INFO
Brewed by:
Brasil Kirin
Brazil
brasilkirin.com.br
Style:
Munich Dunkel Lager
Alcohol by volume (ABV):
4.20%
Availability:
Year-round
Notes / Commercial Description:
No notes at this time.
Added by soper2000 on 05-14-2005
Ratings: 7 | Reviews: 5
2.81
/5
rDev
-7.6%
look: 4 | smell: 3 | taste: 2.5 | feel: 2.5 | overall: 3
Bottle printed: best by 15 12 11
Obrigado Paulo e Duda!
Dark brownish black, ruby glint when held to the light. Lasting tan foam that surprisingly lasts for the duration of the glass. Sticky spindly lacing all around also.
Watery molasses, vague lagery scent.
Wet cardboard, caramel, weak watery coffee. Slightly bitter and astringent. Easily drinkable, but too diluted and one dimensional. Not a beer with fortitude unfortunately. Some molasses sweetness and caramel at first, but it peters out quickly... skip it.
518 characters
3.08
/5
rDev
+1.3%
look: 3.5 | smell: 3 | taste: 3 | feel: 3.5 | overall: 3
Poured a nice head with beige color but that vanished quickly. Very dark color.
In the aroma caramel is predominant (when armed up got a hint of hops). Good carbonation.
Taste follows the same aroma path and I could notice some mild bitterness and toasted malt that was welcome. Not overly sweet as its Malzbier brother. I did not get any metallic off flavor, though a little watery with no ending.
I was expecting a bad beer, though it is drinkable. I though the style was more towards a Schwarzbier with some reasonable drinkability.
536 characters
3.15
/5
rDev
+3.6%
look: 3.5 | smell: 3.5 | taste: 3 | feel: 3 | overall: 3
Appearance – This one is a dark, dirty brown in color with a cheap-looking head, which is typical of the style.
Smell – The malts are dominated by a heavily-toasted scent with big molasses influences and a light bready compliment. The sugars are dark but very light. There's a bit of zesty fruit in here as well that seemed a little off.
Taste – The malts came through at the taste but, unfortunately, so did the zest. It was a bit bigger at the tongue and spoiled the light bitterness at the finish.
Mouthfeel – This MDL is a tad bigger than light-bodied with some annoying zesty tanginess throughout.
Drinkability – I like the way they did up the molasses aspect of the malt profile, but the lemon-lime soda flavor will keep this one out of my DBF.
768 characters

3.45
/5
rDev
+13.5%
look: 3.5 | smell: 3.5 | taste: 3.5 | feel: 3 | overall: 3.5
Single, twelve ounce bottle purchased from
The Palisade Liquor Store in Jersey City...
Pours a mahogany brown hue with a minimal head that deposited a thin film of lacing around the edge of the serving glass...
Mildly assertive aroma replete with hints of dehydrated fruits, figs, and spices...
Taste strongly paid homage to the smell, with nuances of figs, prunes, candied malts, dates, nuts, brown sugars, and a slight tinge of vanilla...
Watered-down, average-at-best, loose mouthfeel along with a fair level of drinkability mainly in part to the low, modest 4.7% ABV...
Interesting take on a classic German sample from a South American brewery...
651 characters

2.5
/5
rDev
-17.8%
While the caramel is not sweet, and (almost) mask the presence of the Brazilian corn. Undergoes a well cold dark beer.
118 characters
3.08
/5
rDev
+1.3%
look: 3 | smell: 2.5 | taste: 3 | feel: 3 | overall: 4
Ample creamy tan head is not retained diminishing quickly but never disappears producing little lacing. The body is dark brown color and rather opaque, however, when held to light the beer is clear and dark amber with a ruby hue, due to the Munich malt, with low carbonation.
The nose is first dominated by steely Carmel Malt aromas then bittersweet chocolate notes with hints of sweet maltiness come through. Brown sugar and a raw malt smell are detectable as the beer warms. Unfortunately no real hop character is present in the nose, perhaps German noble hops were not used.
The taste starts slightly sweet, of caramel, quickly turning bitter with hints of bittersweet chocolate, as with the nose. A full bodied well balanced middle of sweet and bitter with the brown sugar really coming through as it warms. Finishes with bitter roasty maltiness and very faint hop bitterness. Overall there is a bitter roasty malt taste to the beer, not as balanced and complex as guidelines suggest for style.
Mouthfeel is watery with slight oiliness but finishes a little dry. The rich taste and light mouthfeel combined with the low alcohol level (4.7%) make this a very drinkable session type beer. I enjoy this beer and drink it often as it is inexpensive (+/-R$1.50).
1,271 characters
Nova Schin Munich from Brasil Kirin
3.04
out of
5
based on
7
ratings.