Pompous Pompadour Porter
| Wolf Brewing Company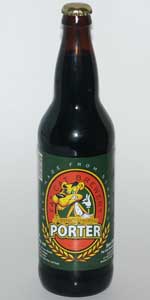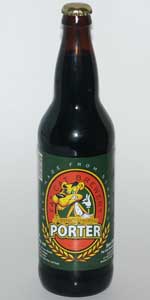 BEER INFO
Brewed by:
Wolf Brewing Company
British Columbia
,
Canada
wolfbrewingcompany.com
Style:
American Porter
Alcohol by volume (ABV):
5.00%
Availability:
Year-round
Notes / Commercial Description:
No notes at this time.
Added by BDTyre on 09-24-2005
This beer is retired; no longer brewed.
HISTOGRAM
Ratings: 10 | Reviews: 9
Reviews by IllNate:
4.08
/5
rDev
+10.6%
look: 4.5 | smell: 4 | taste: 4 | feel: 4.5 | overall: 4
A - Nice porter color, very deep brown. Ruby highlights around the edge. Just barely see light through the glass. Good amount of long standing tan-brown head.
S - Good aroma too. Chocolate and roasty aromas. Bit of earthy and herbal hop.
T - Chocolate and coffee comes out more in the taste, but still not overpowering. Well pronounced domestic malt backbone. Again a bit of earthy and herbal hop. Quite well balanced, it's enjoyable to drink.
M - Good weight to this one, but smooth and enjoyable. Good carbonation.
D - Good
Of all the Fat Cat offerings I think I enjoyed this one the most.
598 characters
More User Reviews:
3.55
/5
rDev
-3.8%
look: 3.5 | smell: 3.5 | taste: 3.5 | feel: 3 | overall: 4
A well drinkable porter yet really sour on top of medium body and little head. The lace is there and this was fairly fresh. Some chocolate and malty. OK as a porter and beer, but the sourness must be accepted. On sweet side as you drink it, yet sourness builds up slowly and then lingers on.
291 characters
1.53
/5
rDev
-58.5%
look: 2.5 | smell: 2 | taste: 1 | feel: 2 | overall: 1.5
650 ml bottle:
Pours a very dark brown with a thin light brown head that fizzles away.
The smell is of brown sugar, dark fruit - very yeasty. Lightly roasted chocolatey notes are overwhelmed by the yeastiness. Vinegar and plastic interfere as well.
The vinegar and acid are too much. Plastic-like chocolate is something akin to a chocolate-flavored "Fruit Roll-Up". Dark fruitiness hardly stands a chance. Sour, vinegary finish.
It has a thin body with a nasty aftertaste.
Yikes - I hope that they didn't intend this to be this way. Sour. Awful stuff!
Oh well - thanks to jcwattsrugger for bringing this back from Canada to share with me. I struggled through most of a pint of it, but it is eventual drainpour.
716 characters

4.17
/5
rDev
+13%
look: 4 | smell: 4.5 | taste: 4 | feel: 4.5 | overall: 4
650 ml Bomber purchased at the Brewery. 5.0% ABV, unpasturized. Ingredients: Water, Malt, Hops and Yeast.
A: Ruby-black, tan head, not a lot of retention, but some very nice lace.
S: VERY malty (like malted milk). Chocolate, a little vanilla, very nice.
T: Similar to a Milky Way chocolate bar up front (if they were made from dark chocolate). Dark chocolate and bready malt through the middle, a hint of tart fruityness, then a sharp roasted bitterness in the finish.
M: Moderate body is a little creamy and chalky. Carbonation is moderate.
D: Quite good.
572 characters
4.3
/5
rDev
+16.5%
look: 4.5 | smell: 4.5 | taste: 4 | feel: 4.5 | overall: 4.5
Poured from the bomber fresh from brewery, black/brown, red edges, thick light tan head forms, great retention, lots of nice lacing. Smell is roasty, coffee and chocolate, some dark cherries, very nice. Taste is sweet, very roasty, great bitter chocolate middle and roasted coffee finish. Mouthfeel is medium to full bodied, medium carbonation, carbonation was a tad too aggressive I thought, but a fantastic porter, one of the best porter I've had.
449 characters
3.92
/5
rDev
+6.2%
look: 3.5 | smell: 4 | taste: 4 | feel: 3.5 | overall: 4
This porter from Fat Cat pours about a 99% opaque dark brown with a solid 1 and 1/2 finger tan head that reduces quite quickly to a very thin film and bubbly ring that leaves some nice lacing.
Smell is full of roasted malt notes like chocolate and some coffee with some nice light hints of marshmallow-y fruit flavours and toffee.
Taste has quite a bit of dark fruit and citrus and candied sugar right off the bat with the roasted chocolate and coffee malt flavours coming through mid-sip and all the way through the finish. The bitter hop presence really only comes across on the linger.
Mouthfeel is creamy but with noticeably high level of spicy carbonation that really tickles the palate and leaves the mouthfeel surprisingly clean. It's not the heaviest or smoothest porter out there but it's interesting in its own right.
This beer drinks quite well. It's only 5% and isn't as heavy of some other porters. I could see myself having a couple of these bombers at one time. Overall, this is a tasty brew that I would buy again. Not a classic by any stretch but still an enjoyable taste experience.
1,104 characters

4
/5
rDev
+8.4%
look: 4 | smell: 4 | taste: 4 | feel: 4 | overall: 4
This is a pretty good drinking porter. Lots of balance and burnt malt but not high in alcohol and thickness. Not quite at the level as Tree's Spy Porter this is the best beer I have had from Fat Cat. Real smooth finish with a pleasant roasty nose. Big tan head and jet brown body. I will buy more of these as the days grow colder.
330 characters
4
/5
rDev
+8.4%
look: 4 | smell: 4 | taste: 4 | feel: 4 | overall: 4
A good, but not excellent porter, sampled at the Great Canadian Beer Fest. It comes out a nice dark colour, and smells of dark malts, chocolate and hints of coffee.
The taste is that of a typical porter. There is nothing special, but nothing terrible about this. This is enjoyable and easy to drink. I would have no problem downing a full pint (or a few) of this.
I have thus far sampled all of this brewery's regular offerings and have not had anything terrible to say...I hope I can sample their seasonals soon.
519 characters
4.34
/5
rDev
+17.6%
look: 4 | smell: 5 | taste: 4 | feel: 4 | overall: 4.5
A - Almost opaque brown liquid and a thick, creamy head. Solid and jiggly. Decent lacing.
S - Sharp slight funky touch. Also lots of fruit, molasses and roasty aromas. Earthy. Reminds me of that chinese bamboo fungus.
T - Coffee for starters but with fairly tart edge.Dark, dried fruit and a coffee bean finish. Don't notice the hops much with all the roast.
M - Medium body with a mild carbonation. Lightens up in the finish, which is nice.
D - Interesting. The nose on this porter is something else - it's probably not everyone's cup of tea though. All said definitely worth trying. You may hate it though.
613 characters
Pompous Pompadour Porter from Wolf Brewing Company
Beer rating:
3.69
out of
5
with
10
ratings