Golden Honey Ale
| Wolf Brewing Company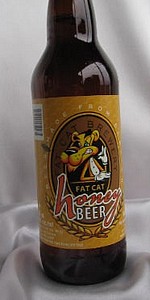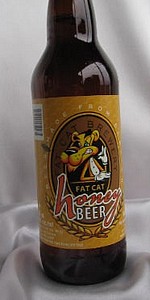 BEER INFO
Brewed by:
Wolf Brewing Company
British Columbia
,
Canada
wolfbrewingcompany.com
Style:
American Blonde Ale
Alcohol by volume (ABV):
5.00%
Availability:
Year-round
Notes / Commercial Description:
No notes at this time.
Added by BDTyre on 10-07-2006
HISTOGRAM
Ratings: 13 | Reviews: 10
Reviews by crwills:
2.73
/5
rDev
-18.5%
look: 3.5 | smell: 3 | taste: 2.5 | feel: 3 | overall: 2.5
I didn't really enjoy this one, although it's the first beer I've had from this brewery so I'm glad I got to try it. Overly sweet for my liking, with some off flavours (cardboard and maybe a bit of DMS) that did not mix well with the honey elements. As it warms up, it gets a little more mead-like (think Trafalgar meads), which is OK. But definitely not a drinkable beer.
372 characters
More User Reviews:
3.27
/5
rDev
-2.4%
look: 2.5 | smell: 3 | taste: 3.5 | feel: 3 | overall: 3.5
Served in 4oz taster @ The Island Beer Fest, Club 919
A: Pilsner-golden, light, nice clean lacing, small retent. frothy head
S: Bready, almost shortbread, bit of yeast, little hop and honey in back
T: Shortbread, yeast, hop, floral after
M: Very light, creamy for PA, pretty basic
O: Would be a good chuggable (as the advert states), but overall not that impressive. I do like the yeast/malt the brewery uses, though, which is more prominent in their Blacktail Porter.
473 characters
3.57
/5
rDev
+6.6%
look: 3.5 | smell: 4 | taste: 3.5 | feel: 3 | overall: 3.5
Thanks to Mike and Jason for bringing. Honey colour with big head. Above average carbonation and medium mouthfeel. Pleasant honey aroma, like a mead. Modest (English?) hops and faint bitterness. Not bad but not too special either. Just another honey beer, and decent for that sort of offering.
293 characters

3.58
/5
rDev
+6.9%
look: 4 | smell: 3.5 | taste: 3.5 | feel: 4 | overall: 3.5
Wolf Brewing 'Golden Honey Ale' @ 5.0% , first sampled @ The Island BEER Festival ,
on cask into 4oz taster , now served cold from a 650 ml bomber from my fridge
A-poured into a stein clear gold with nice head and plenty of lacing
S-pale malts with citrus and honey aroma
T-easy drinking the honey flavor is there , not strong
MF-smooth , bit sweet , medium body , good carbonation
Ov-drinkable , give it a go as this isn't Fat Cat Brewing anymore , it's Wolf Brewing !!
cheers LampertLand
490 characters

3.67
/5
rDev
+9.6%
look: 4.25 | smell: 3.5 | taste: 3.75 | feel: 3.25 | overall: 3.75

3.1
/5
rDev
-7.5%
look: 3.75 | smell: 3 | taste: 3 | feel: 3 | overall: 3.25

3.06
/5
rDev
-8.7%
look: 4 | smell: 3 | taste: 3 | feel: 3 | overall: 3
A: Dirty straw, white head, some retention & lace.
S: Citrus rind/marmalade, honey, cider.
T: Honey, grainy biscuits, slight earthyness & sweetness.
M: Light to moderate body & carbonation.
D: Very approachable, but not very enticing.
I'm not sure who the target consumer is?
280 characters
3.63
/5
rDev
+8.4%
look: 4 | smell: 3.5 | taste: 3.5 | feel: 3.5 | overall: 4
Once again thanks to either Paul or Harry for this one, I have a soft spot in my heart for the Fat Cat.
Pours a hazy amber, medium sized white head forms, some decent lacing, settles to a thin layer. Smell is grassy, honey, cereal graininess, quite malty, some light floral, interesting. Taste is corn and grain, honey, grass, dry floral, light citrus, not much going on but I like it. Mouthfeel is light to medium bodied with low to medium carbonation, pretty drinkable. THanks!
480 characters
3.45
/5
rDev
+3%
look: 3.5 | smell: 3.5 | taste: 3.5 | feel: 3 | overall: 3.5
Purchased at the brewery and beer was treated very well on the journey to my fridge.
A - Clear gold in color. Finger of white fizzy head, that subsides quickly. Moderate retention.
S - Pale malt with slight citrus and honey aroma.
T - Pretty darn decent. Honey is actually coming through which is somewhat rare when honey is added. Light malt base with a citrus and honey component. Bit of a harsh aftertaste, but still a decent beer.
M - Light in body, bit fizzy in the mouth as well.
D - Decent.
506 characters

2.65
/5
rDev
-20.9%
look: 2.5 | smell: 2.5 | taste: 2.5 | feel: 3 | overall: 3
650ml bomber from a BIF :
Poured a dark gold with a smallish cap that didn't last well.
Aromas are a tad flat, mostly grains sweetness and some must.
Flavor is malty-sweet, some floral a bit of grass and a wet malty sweet finish.
Not really my type of honey beer but I suspect this sample was on the shelf a while.
322 characters
3.98
/5
rDev
+18.8%
look: 4 | smell: 3.5 | taste: 4 | feel: 4 | overall: 4.5
Golden colour with copper tinges to it. Lighter than expected, but not too much. This is probably due to the presence of honey.
Not an unpleasant smell; fairly standard. Decent blend of pale malts and some hops, with an uncertain honey character to it. Not very strong.
Sweet malty taste. No detectable hop presence. Honey in the background, and it blends very well with the malts. Lacks the harshness I find in some pale ales. The flavours mix well and the honey neither overpowers the malts nor completely disappears. Rather, they compliment each other well.
Decent carbonation, sometimes a little much. The pleasant flavour however, makes for a very drinkable beer.
677 characters

3.61
/5
rDev
+7.8%
look: 4.5 | smell: 3.5 | taste: 3.25 | feel: 4 | overall: 4
L: Dark gold, think white head, decent lacing
S: Honey, pale malt, subtle bread crust/toast notes
T: Honey, biscuity, slightly sweet with just enough bitterness to keep it balanced
F: Medium-light body, good carbonation, with a slightly sweet finish
O: Above average honey ale, nice honey notes with a good balanced sweetness, very easy drinking
345 characters

Golden Honey Ale from Wolf Brewing Company
Beer rating:
3.35
out of
5
with
13
ratings