Shruggie ¯\_(ツ)_/¯

Kent Falls Brewing Company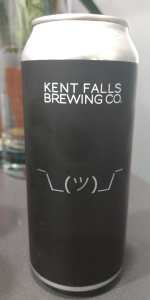 Write a Review
Beer Geek Stats:
| Print Shelf Talker
Style:

ABV:

6.2%

Score:

Avg:

4.28

| pDev:

7.71%

Reviews:

13

Ratings:

From:

Avail:

Rotating

Wants

Gots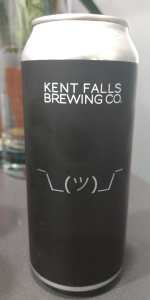 Notes:

4.4
/5
rDev
+2.8%
look: 4 | smell: 4.5 | taste: 4.5 | feel: 4.25 | overall: 4.25
Canned on 11/04/19 clearly stamped on bottom of can. Served in a Samuel Adams Perfect Pint glass.
Hazy lemonade hue with 1-finger off-white frothy head that dissipates quickly but leaves quite a bit of lacing.
Overripe peaches and mango with honeydew melon and tangerine. A bit of dank weed in the background.
Flavor is more citrus than the nose with a lot of tangerine and mandarin orange with a nice zinger of citrus pith bitterness to offset the sweet fruity mango and apricot flavors that come through mid-palate. There is an essence of marijuana there too. Bitterness is almost medium with a lot of fruity yeast-based esters.
Low carbonation and medium body leave a highly drinkable creamy, soft feel that avoids the chalkiness of some NEIPAs.
An exceptional NEIPA with a misleading nose but tons of fruit flavor and a bit more bitterness than most which I welcome.
877 characters

4.09
/5
rDev
-4.4%
look: 4.25 | smell: 4 | taste: 4 | feel: 4.25 | overall: 4.25
Pours a hazy orange with visible particle suspension. Light bulb can be made out through the liquid when held against a light. Transparency drops to null, with an opaque consistency when the final couple ounces are poured into the glass. Head is two fingers of dense, bubbly, white foam, with fair retention. Aroma is tangerine, orange, mango, and manderine orange. Sweetness is high, with an immediate sugary note. Flavor profile is sugar mango, orange, mandarine orange, lemon peel, and floral hops. Hop burn becomes more apparent as the beer notes linger on the tongue. Mouth feel is pillowy and soft, with a medium-thick consistency. Overall, sugary and sweet tropical fruits in a hazy blend.
Served in a 15.5oz Spiegalau tulip from a 16oz can. Reviewed on phone.
768 characters

4.35
/5
rDev
+1.6%
look: 4.25 | smell: 4.25 | taste: 4.5 | feel: 4.25 | overall: 4.25
Very large head on this beer, I mean half my tulip glass. Piney, clementine, orange pith. Hazy body and not overly hopped. I'm really enjoying this ipa. Seek it out.
167 characters

3.98
/5
rDev
-7%
look: 4.25 | smell: 4.25 | taste: 3.75 | feel: 4 | overall: 4
Drank from a 1 pint can at Flora Plant Food + Drink, West Hartford, CT
1/23/18
Served in a stemmed wine glass
Hazy, peach colored appearance. The nearly opaque liquid was topped by a fluffy, finger-tall, off-white crown that fell to a lasting collar. Some streaky lacing stuck along the glass.
The aroma contained light citrus notes initially, but they intensified as the beer warmed. Big juicy orange presence. Touch of vanilla. Orange creamsicle came to mind. Tangerine was also noticeable. Bit of malty sweetness. By the drink's end, the sweetness became more pronounced.
The flavor profile was also dominated by citrus. Tangerine and clementine came through strong on the front end. Fairly big lemon notes too. Grapefruit appeared mid palate and really ramped up as the beer moved along the palate. Notes of pithy, bitter grapefruit rind and resiny pine sap took over in the finish.
Nice frothy mouthfeel. Somewhat lighter bodied for the style. The liquid contained a larger bubbled, greater-than-average effervescence that turned fluffy on the palate.
¯\_(ツ)_/¯ might be one of my favorite non-name names for a beer ever. That said, the beer itself did not quite live up to my expectations. This is a respectable citrus-forward IPA with a great aroma, but the pithy bitterness on the finish was rather excessive.
1,328 characters

4.5
/5
rDev
+5.1%
look: 4.5 | smell: 4.5 | taste: 4.5 | feel: 4.5 | overall: 4.5
A huge thanks goes out to Patrick for this beer.
I gotta say, I generally don't think these opaque IPA's are good looking, but this one is beautiful. It glows bright yellow and looks like something you'd enjoy on the white sands of a tropical island. The wispy and foamy white head leaves a rocky but creamy looking island in the center, and it plasters the glass from top to bottom.
I might be in love. Pineapple and mango burst at first, then dank weed and pine creep their way up to surface. Notes of lemon and lime reveal themselves from time to time. This smells like a wonderful blend of new and old styles.
It is indeed unique, and full of life. Plenty of ripe fruits and rind pave the way before stepping aside to let that resin and damp pine shine. A little of a burnt rubber bite and plenty of lime make this a great foray on the taste buds.
Despite it's appearance, this feels quite light and crisp. It's well carbonated giving it a spritzy feel, and it is aggressively bitter on the end. Exactly what this style usually seems to lack.
This beer is outstanding. Finally, one to make me reconsider a style that I like but have yet to come to love. I would drink this anytime, and feel that an IPA lover of any style would agree. Thanks again Patrick, this is wonderful. Cheers!
Edit: After can #2... Damn, this is effing delicious.
1,361 characters
4.33
/5
rDev
+1.2%
look: 4.25 | smell: 4.25 | taste: 4.5 | feel: 4 | overall: 4.25
Matte yellow body, very vibrant, with a faint one finger white head that fizzes away leaving some wet lace and a pencil like ring around the glass.
Big aroma of grapefruit, tangy rind and some papaya floating around back. Grassy, green and fruity with wheat-like malts.
There is a malt backbone to this "imperial pale ale" and while it doesn't stand out taste wise it does a great job at backing up the hops. Any sweetness in the aroma yields to the dominate grapefruit and orange flavors. Some citrus rind shows itself, along with some green onion and under-ripe pineapple. A nice finish of mint and pepper from the hops.
The mouth feel is medium even though the body is truly light. Medium carbonation cuts through the initial creaminess to give it a nice finish.
I have had this on tap many times and while I am happy to see it in cans, I believe I like it more on tap where it may not be so creamy.
904 characters

4.41
/5
rDev
+3%
look: 4.25 | smell: 4.5 | taste: 4.5 | feel: 4.25 | overall: 4.25
L - glowing yellow ball of mild haze. So Kent Falls. Minimal head that quickly dissipates.
S - bright green melon and acidic lemon rind. Potent and mildly grainy. Spicy and bready. Pineapple. Nose is really fantastic.
T - taste is crisp and lemony. Lags behind the nose, sadly. Floral and prickly. Pineapple zest with a clean, slightly tangy juiciness. Gets better as it warms. Finishes with a real earthy, natural pineapple herbaceous bite.
F - pillowy, but not too thick and creamy. Silk with some life.
O - one of KF'S better offerings. Let it sit in the mouth and really appreciate the raw flavors. The name means absolutely nothing to me, but it usually doesn't with this brewery
692 characters

4.05
/5
rDev
-5.4%
look: 4.5 | smell: 3.75 | taste: 4.25 | feel: 3.75 | overall: 4
Some pineapple and lemon notes to the hop profile. Malt body is light but not lacking. Mouth feel is oddly creamy and smooth. Wish it had a bit more sharpness to it. Very nice overall
183 characters
4.62
/5
rDev
+7.9%
look: 4.75 | smell: 4.5 | taste: 4.75 | feel: 4.5 | overall: 4.5
Absolutely stunning. A terrifically hoppy and smooth IPA. Kent Falls is an outstanding Brewer with world class IPAs. Juicy and delicious! A truly fantastic beer!
165 characters

4.59
/5
rDev
+7.2%
look: 4.5 | smell: 4.25 | taste: 4.75 | feel: 4.5 | overall: 4.75
A huge surprise with this one. The hops offer tropical fruit, pineapple and grapefruit, as a light bready malt compliments the beer and a familiar Galaxy note of medicinal astringency comes in. Think of a smaller version of Society and Solitude #5.
248 characters

4.75
/5
rDev
+11%
look: 4.75 | smell: 4.75 | taste: 4.75 | feel: 4.75 | overall: 4.75
WOW! Kent Falls really needs to open up a tap room and/or start canning these IPA's. They are legitimately world class. Right on the same level as Trillium and Tree House. A great, opaque yellow juice like color. Smell is super citrusy and the taste is exactly what Im looking for in a world class IPA. I wish I had the time to chase these beers at the bars.
366 characters

4.41
/5
rDev
+3%
look: 4.25 | smell: 4.5 | taste: 4.25 | feel: 4.75 | overall: 4.5
L: A murky gold with a bright white frothy head. I love the way this beer looks, but it's a little unpolished.
S: Delicate citrus aromas--a lot of meyer lemon. Some very subtle floral notes come through as the beer warms.
T: Citrus juiciness, subtle but chewy malt flavors.
F: So soft, so drinkable.
O: I wasn't expecting something like this from Kent Falls, after the first couple beers I had from them. These guys are legit and have a range of talents. This is a world-class beer.
482 characters

4.52
/5
rDev
+5.6%
look: 4.75 | smell: 4.5 | taste: 4.5 | feel: 4.5 | overall: 4.5
A: cloudy, golden yellow glow w/ 1 finger of head
S: vibrant floral-citrus bouqet
T: piney, grapefruit, mango, citrus burst
M: light, refreshing, i'm not getting any alcohol
O: damn....when these dudes start producing and distributing at a rate similar to the local bigs...
Up and comer here! Solid brew. Cheers!!
321 characters
Shruggie ¯\_(ツ)_/¯ from Kent Falls Brewing Company
Beer rating:
93
out of
100
with
54
ratings