Mons Abbey Witte
| Brasserie Belgh Brasse
BA SCORE
81
good
15
Reviews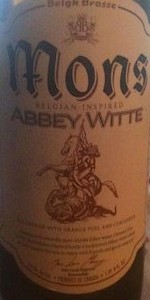 BEER INFO
Brewed by:
Brasserie Belgh Brasse
Quebec
,
Canada
monsbeer.com
Style:
Witbier
Alcohol by volume (ABV):
5.00%
Availability:
Year-round
Notes / Commercial Description:
No notes at this time.
Added by JayQue on 09-15-2012
Reviews: 15 | Ratings: 55
3.78
/5
rDev
+8.6%
look: 3.75 | smell: 3.75 | taste: 3.75 | feel: 4 | overall: 3.75
pale yellow and cloudy. White head melts to a white ring of foam.
Citrus and light hops.
Tastes orange and lemon peel.Some bitterness. Neither sweet nor bitter.
A very refreshing beer. Tasty citrus flavors. Feels very light but not thin nor watery.Lots of carbonation but the bubbles melt into an evanescent froth. Buy it in summer!
Very nice and easy to drink with no heaviness and some complexity.
+
402 characters

3.31
/5
rDev
-4.9%
look: 3.5 | smell: 3.75 | taste: 3.25 | feel: 3 | overall: 3
Mons Abbey Witte from Brasserie Belgh Brasse bought a 12 mix pack for 21,99$
Look: Pale golden color. Very hazy
Smell: Orange, like the orange juice
Taste: Lot's of orange. A little bit of wheat. A zest of carbonation.
Feel: Easy drinking beer. Nothing too spectacular.
So overall would I recommend it ? Sure, I mean it is a refreshing but this beer is way too expensive for what it is...
396 characters

2.83
/5
rDev
-18.7%
look: 3 | smell: 2.5 | taste: 3.25 | feel: 2.5 | overall: 2.5
Lets start with the smell. The first impression is that beer is past date. The smell is Horrible. The sulfur smell is not attractive.
For the look the white is a nice whitish orange.
The taste is like other white I had in the last months. A little bit less attractive than other white I love.
The 330 ml bottle retailed for 2.79$. The ABV is 5.0%.
The verdict, .... The smell make this beer less attractive than all the other white on the market.
Pretty sure my bottle had a problem of freshness. I really don't have the same feeling for smell than other rating people gave.
587 characters

3.77
/5
rDev
+8.3%
look: 4 | smell: 3.75 | taste: 3.5 | feel: 4.25 | overall: 4
750 ml bottle served cold into a pint glass. Purchased from the LCBO about 6 weeks ago for something in the neighbourhood of $7 CDN.
Appearance - Pours a very pale golden colored beer with brilliant clarity, copious amounts of effervescent carbonation and a finger and half of bright white head that won't quit.
Smell - Inviting, fruity and yeasty, orange peel, coriander and plenty of pepper. Maybe a spritz of lemon too.
Taste - Initially sweet, fairly grainy with the fruitiness translating to the flavor as hints of orange and lemon mix with some coriander and pepper. A certain amount of zest here. A slight metal finish.
Mouthfeel - Quite smooth, carbonation is plentiful but soft. Slightly dry finish and body is exceptionally light.
Overall - This is a very well made and very light wit bier. Mons Abbey Witte is definitely worth a shot although I can see this being even more popular in the summer time as opposed to on the brink of the biggest winter storm this year.
983 characters

3.58
/5
rDev
+2.9%
look: 3.5 | smell: 3.5 | taste: 3.75 | feel: 3.25 | overall: 3.5
Hazy straw color with a powerful amount of activity. Frothy white 1 finger head, lasting around 15 minutes, with a good amount of leggings.
Aromas of lemony citrus, fresh flowers, and sweet grains. Flavors of coriander, malty and yeasty, lemony, floral spices. Well balanced sweetness and sharpness.
Smooth full body with strong zesty carbonation. Light and short clean finish, ending with a slightly roasted grainy feel and a citrus tongue coat.
Overall a good quality craft offering pleasant flavors and good freshness. Well balanced and rounded, but lacking a little sharpness intensity. Slightly metallic.
612 characters

3.75
/5
rDev
+7.8%
look: 4.25 | smell: 3.5 | taste: 3.5 | feel: 4 | overall: 4.25
750 mL bottle picked up at TBS; coded A0225 and served well-chilled.
This one pours a bright, sunny golden-yellow colour; clear in complexion and highly effervescent. Roughly two fingers of puffy, sparkling white head is generated at the surface, which then proceeds to wilt away over the next five minutes or so. A dense, creamy cap remains in place, with a foamy collar leaving behind a few deposits of lace as it recedes. The aroma is subtle, but enjoyable - pale, wheaty malt sweetness, and some breadiness, but it's mostly just grainy. Minor notes of lemon zest, coriander and orange give the bouquet some much-needed depth, but on the whole it just smells like an average witbier.
Turns out, the nose is not at all misleading - this is an approachable wit, but an otherwise unremarkable one. The flavour is pretty clean, with grainy sweetness and bready wheat malts preceding some citrusy nuances of lemon and orangepeel. Lightly yeasty, with coriander and perhaps a hint of banana at the finish, accompanying some grassy hop bitterness. Some briefly-lingering spice, but otherwise the aftertaste is dry. Medium-bodied, with aggressive carbonation levels that give this beer a crisp, lively mouthfeel that works quite nicely with the lightly-spiced flavour profile. It's very refreshing, and quite easy-drinking.
Final Grade: 3.75, eking out a B+. Mons Witte is a pretty good example of one of my least-favourite Belgian beer styles. Everything you'd expect to find in a wit can be accounted for easily - some citrusy flavour, some wheat malt sweetness, some coriander and some yeastiness. I'm not enamoured with the flavour profile, but it feels great on the palate and goes down as easily as I'd expect a witbier to. Tasty stuff - it's solid 'summer patio' material and certainly worth a shot, but I'd probably take a Hoegaarden over this.
1,850 characters

3.03
/5
rDev
-12.9%
look: 3.5 | smell: 3 | taste: 3 | feel: 3 | overall: 3
A very subtle brew. So subtle it may have missed the point.
Great bigs head, so it's a tough pour taking patience. Pale, pale yellow with a brilliant white head. Has all the elements you'd expect of a witte - yeast, fruit, spice, wheat - but very light handed. No real harmony, none of the presence you'd get from a proper witte.
Drinks easy enough, just too subdued.
369 characters

3.62
/5
rDev
+4%
look: 3.75 | smell: 3.5 | taste: 3.75 | feel: 3.5 | overall: 3.5
It's not difficult to see why this style came to be called 'Witbier' ("white beer"): though technically yellow they look far lighter than even the lightest pilsner and have a milky complexion and ghostly pale tone. Mons Abbey Witte fits that description and adds white suds and rock salt-like bubbles.
Belgian yeast, coriander and orange zest are all extremely aromatic ingredients. Witbier - made with all three - is hence a notoriously aromatic style. This particular example, however, though nicely perfumed, isn't exactly brimming. It has a general citrusy character but there's nothing especially 'zestful' to it.
Being impressed by the first sip is understandable: the combination of lemony acidity and Moroccan spice is indeed interesting, and makes a more than pleasant initial impression. But subsequent sips offer less of that dynamic duo and more of the wheat and yeast, making for a fairly plain bready flavour.
Care to know the difference between a great beer and an average one? A great beer leaves you with its flavour, and that flavour makes you desperate for another sip; an average beer soon tastes like nothing and leaves you indifferent about having more. I like this... but I'm not terribly attached to finishing the bottle.
Mons Abbey Witte is a lackluster example of the style (in that it lacks that enticingly zestful personality that characterizes the best examples). A pleasant beer, however, it has enough of the citrus and spice elements to impress most mainstream drinkers used to the likes of, say, Hoegaarden or Blue Moon.
1,567 characters
2.08
/5
rDev
-40.2%
look: 2.5 | smell: 2 | taste: 2 | feel: 2.5 | overall: 2
look - pale pale yellow with tons of floating yeast 2 finger fizzy white head that fades to a small film
smell is very faint - smells a little medicinal and belgian yeast
taste is not much better watered down wheat no spice at all
mouthfeeel - light body very flat and blah
overall - very disappointing and puts me off from trying anything else from this brewery - i was a little ashamed that i shared this beer with another person
436 characters
3.6
/5
rDev
+3.4%
From BeerAdvocate magazine Issue #71 (December 2012):
We can see the balance here, nearly perfect there though expect a very light bodied or slightly thin brew with light subtle complexities a best. Lands about a half step ahead of the middle of the pack. The one trait we probably appreciate the most is the dryness. Enough of a beer to do some pairings with as well.
STYLE:
ABV: 5.0%
AVAILABILITY: Year-round
LOOK: Hazed pale straw hue, bubbly, two fingers of head
SMELL: Lemon pith, nutty yeast, orange peel, coriander, dough biscuits, spicy hops
TASTE: Lighter bodied, dry, yeasty, walnut pith, bready, lemon oil, orange peel, pears, coriander, modest hopping, dried grass, nearly bone dry finish
706 characters
4.08
/5
rDev
+17.2%
look: 4 | smell: 4 | taste: 4 | feel: 4.25 | overall: 4.25
a very special wheat, very carbonated, very crisp
not heavy banana, citrus, coriander. just fruity tasty refreshing
happy I can find this in Ontario, great with BBq on a warm day
pours typically cloudy, need to roll the bottle to get all the good stuff in the glass
We will have this on hand all summer
302 characters

3.68
/5
rDev
+5.7%
look: 3 | smell: 3.75 | taste: 3.75 | feel: 3.5 | overall: 3.75
A: Initially very clear when coming out of the bottle but eventually fogged up due to the yeast. It was almost BMC like in color and very pale.
S: Very refreshing smelling. Bready yeast with coriander.
T: Like the smell. More yeasty flavors come through then I would have initially thought. Clove like phenols come through but are in the background of coriander and a touch of bitter curacao. Maybe a bit of spicy hops too but they are almost undetectable.
M: Very spritzy and somewhat seltzer like. Its refreshing but I do find the body a wee bit thin.
O: It was a good beer. A touch watery and not too overpowering but that's good for a simple Wit. I could easily drink a few and would enjoy it. I might possibly purchase some in the future and drink it with a group.
773 characters

3.81
/5
rDev
+9.5%
look: 3.5 | smell: 3.75 | taste: 3.75 | feel: 4 | overall: 4
Appearance: It has a nice hazy golden/yellow color to it. It has a nice white head that dies down moderately fast and leaves little lacing.
Smell: The aromas definitely give out hints of Belgian yeast, corriander, some spiciness and wheat malts.
Taste: Like the aromas, it has a some bready yeast, definite corriander and citrus, faint spices and wheat.
Mouthfeel: It has a low/medium carbonation with a nice overall balance and feel.
Drinkability: It's a very smooth drinkable beer accompanied with good flavors and aromas.
531 characters
3.7
/5
rDev
+6.3%
look: 3.25 | smell: 3.75 | taste: 3.75 | feel: 3.5 | overall: 3.75
Bottle: Poured a pale yellow ale with white haze and a medium size foamy head with average retention and minimal lacing. Aroma of coriander and light orange peel is quite dominant. Taste is a mix between nice coriander and orange peel notes with medium wheat malt presence and light lingering sweet notes. Body is about average full with medium carbonation. The level of spice is pretty bang on but it lacks a bit of body and better carbonation.
445 characters

3.88
/5
rDev
+11.5%
look: 4 | smell: 3.5 | taste: 4 | feel: 4 | overall: 4
Purchased a 750 ml corked and caged bottle at Chips in Moyock, NC. Had not seen this beer or anything from the brewery before, Poured into a Busch Gardens Bud Select flute as a clear golden color with a big delicately bubbly white head.
Aroma is Belgian yeast, spices (pepper and coriander) and the orange peel. Fairly mild.
Taste is more robust. A good amount of yeast and wheat bitterness. Spices and orange are prominent as well. Very tasty and refreshing.
Mouthfeel is crisp and light. Spicing and carbonation are just right.
I like this one. Would have it again. A good summertime beer with dinner or just to sip.
630 characters
Mons Abbey Witte from Brasserie Belgh Brasse
3.48
out of
5
based on
55
ratings.