City Tap House - Logan Square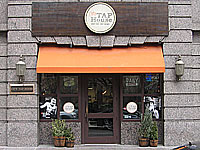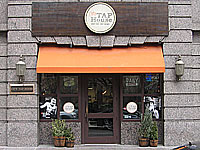 Bar, Eatery
2 Logan Sq
Philadelphia
,
Pennsylvania
, 19103-2707
United States
(215) 587-9040 |
map
citytaphouselogan.com
Notes:
Reviews by jmdrpi:
jmdrpi from Pennsylvania
4.04
/5
rDev
+0.5%
vibe: 3.75 | quality: 4 | service: 4 | selection: 4.25
large space, all one room with a huge bar to one side, and lots of dinning tables. tv's over the bar with sports.
they had a very long tap list - good variety of styles and some quality beers. service was very good. I did not eat any food.
Feb 27, 2016
More User Reviews:
JohneHoodlum from Pennsylvania
3.5
/5
rDev
-12.9%
vibe: 3.5 | quality: 3.5 | service: 3.5 | selection: 3.5 | food: 3.5
Jun 04, 2018
Rifugium from North Dakota
3.94
/5
rDev
-2%
vibe: 3.5 | quality: 4 | service: 4 | selection: 4
Cool location for a bar, but with this comes the biggest downfall...ridiculous prices. I'm a big fan of CTH's other location, but this one just doesn't do as much for me. The layout is similar, but with a much smaller bar area. Everything is pretty polished and tidy. Lots of TVs. Draught list is solid, even if not as extensive as UC, and they keep a good number of cans and bottles in the fridge. Good menu descriptions for all beers. Speaking of menu, the food choices aren't too plentiful; there is some good stuff on there, but the prices just tend to keep me away. This is not a bad place, but really comes off more as a business lunch spot, or somewhere within walking distance of what are probably some of the priciest hotels in the city. But at the end of the day, this is still a good bar...just perhaps not worth going out of the way for.
Sep 28, 2016

damndirtyape from Ohio
3.98
/5
rDev
-1%
vibe: 3.75 | quality: 4 | service: 4 | selection: 4 | food: 4
Visited at 1230PM on a Sunday afternoon. Had the brunch menu.
Vibe: Lots of wood, big open space - like a sports bar with the main setup of TVs over the bar, but plenty of tables (both normal height and high table height) throughout the place. There were people with families in the place, so for brunch anyway not a super noisy sports bar type of place. Had some of that distressed wood/semi-industrial vibe to the place.
Quality: All craft beers, some of which are owned by larger companies, but they're craft companies which are not slouches.
Service: Just right attentive waitress. Got me what I needed and once she realized I knew how to navigate the beer list, told me what was recently tapped and went away until I was ready. The only minor beef I had with the service was the glassware - looks like for most beers shaker pints are all you get, and you only get snifters and tulips for the high ABV stuff.
Selection: Quite extensive selection of cans and bottles, and well organized by beer type and ABV. Something for everyone in my opinion, whether looking for hop bombs, easy to knock back beers, stouts or really potent barleywines and strong ales.
Food: Seemed like a good menu for brunch. I had the bacon braised eggs hollandaise - quite tasty.
Aug 21, 2016
Drinkalot from Pennsylvania
4.23
/5
rDev
+5.2%
vibe: 3 | quality: 4.25 | service: 5 | selection: 4 | food: 4
Sep 02, 2015

IdrinkGas from Pennsylvania
3.71
/5
rDev
-7.7%
vibe: 3.25 | quality: 4 | service: 3 | selection: 4.25 | food: 3.75
Aug 23, 2015

mltobin from Connecticut
3.65
/5
rDev
-9.2%
vibe: 3.5 | quality: 3.75 | service: 3.75 | selection: 3.5
Aug 10, 2015
NeroFiddled from Pennsylvania
4.18
/5
rDev
+4%
vibe: 3.5 | quality: 4.25 | service: 4.25 | selection: 4.25 | food: 4.25
City Tap House is a sharp looking tavern that occupies the space the original Dock Street once did at 18th & Cherry Streets.
It's got a copper top bar lit from above by a simple row of Edison bulbs, a poured/sealed concrete floor, and reclaimed wood on the walls (as well as a decorative outer-beam-Georgian kind of thing) - it's the whole rustic/modern things. The bathrooms are even nicer with communal sinks and individual stalls, mini subway tiles, and a hexagon marble floor.
The former open-kitchen layout remains, and they're putting out some decent food: Avacado & Grapefruit salad $12, Ten Spice Wings $13, Sausage & Mushroom Flatbread $15, Tap Burger w/ Bacon $17, Citrus Brined Heritage Pork Chop $26, Center-Cut Filet Mignon $34
As to the beer, there are 2 hand pumps (although I'm not sure if they pour more than one variety), around 40 taps, and 3 cooler doors full of bottles (roughly 46). Some draft highlights from my last visit include: DuClaw Umeboshi Gose, Aventinus, Elysian The Omen, Hitachino Nest Red Rice, and Jack's Abby Hopstitution.
The service is very good, and the bartenders will try to remember your name and what you order. Table service is efficient, professional, and seemingly genuine or the most part.
I've never been there during a sporting event, or weekend for that matter, but they've got a massive multi screen display above taps at the main bar, and 5 or so other TV's spread about. The general clientele, however, seems to be more of a young lawyer crowd so if you're going to sit at the bar you can expect some douche-baggery. Hopefully a beer nerd or hipster will occupy the spot next to you and you'll be at least partially shielded. Still, except for the prices, the good outweighs the bad.
Jul 28, 2015

KTCamm from New Jersey
4.33
/5
rDev
+7.7%
vibe: 4.5 | quality: 4.5 | service: 4 | selection: 4.5 | food: 4
Visited this summer. Place was packed, live music, great atmosphere. Robust beer menu, lots of variety to choose from, with knowledgeable servers. Had a Free Will Whit and a Black Butte porter. Will bring samples if you ask, but when really crowded, might have to wait it out. The food is very good - the menu is somewhat small and creative. If you are in the area, check it out, and focus on the daily specials.
Jul 19, 2015
captainkrad from New Jersey
4.76
/5
rDev
+18.4%
vibe: 4.75 | quality: 5 | service: 4.75 | selection: 4.5 | food: 4.75
May 19, 2015

DoubleSimcoe from Pennsylvania
3.9
/5
rDev
-3%
vibe: 3.75 | quality: 4 | service: 4 | selection: 3.75
This branch of City Tap House has only been opened for about two months as of late December 2014... I went there on Black Friday '14 for a Goose Island Bourbon County release party.
After only one visit, I can already say I like it better than the "original" Philly City Tap at University City. Maybe because I was there for the Goose event, but the joint struck me as more beer-focused than the other one. At University City, it feels like the clientele is there for the football on TV and bartenders don't know Bud Light from a barrel-aged porter. Here at Logan Square, shit is more serious.
They have two bars, the main one as you enter and a smaller one to your left. There are also a ton of tables for dining with waitress service. I stood around drinking my Goose Vanilla Rye and Coffee- the place was pretty packed with beer nerds enjoying their stouts.
Service was nice and on top of things despite being busy, and everyone was nice and ready to help (which is something you can't always count on at bars in Philadelphia and elsewhere)
I've looked at the beer menu after the Goose event and it is definitely not as exciting, but I would come back here if I happen to be around the area. They have enough taps to please a beer lover...
Dec 29, 2014

City Tap House - Logan Square in Philadelphia, PA
Place rating:
4.02
out of
5
with
13
ratings